Although we had a foot, plus of new snow and a wind to drift it, Will got out early the next morning, swept off the plow truck, and got to plowing. My son, Bill, had called saying on Sunday he and grandson, Mason, were going to come up, bringing the frozen venison and "fixings" to make it up into pepperoni and sticks. I told him the roads were still snow covered up here but he said "Hey, it's Minnesota." and didn't give it more thought. He even had time to plow out the Oak Lake Lutheran Church's parking lot for services that morning. (It does help that he lives next door and up the hill.) So Sunday morning they arrived and unloaded the venison. One big package (in a turkey freezer bag) was clumped together and frozen hard. We set them in the kitchen sink and ran hot water into it to help thaw things out. Then we un-boxed our electric meat grinder — there was no cutting knife in the box! I never put small parts another place, except with the tool they go with, but somehow it had been misplaced. We spent a few minutes searching obvious places — nothing. Bill headed for the nearest town's L & M farm store, 25 miles away, while I called a friend to see if, worst came to worst and Bill couldn't find a replacement knife, could I borrow their meat grinder? Jeri said "sure" and I told her if I needed it I'd call.
Meanwhile, I kept working on that big block of frozen meat, turning it over and over, tearing loose outside pieces as they started thawing out. In a little over an hour, Bill returned with a knife, but it was a different brand than my grinder. Would it work? Holding our collective breaths, Bill slipped it in and turned the collar tight on the cutting disc and knife. Yes, It fit! To make sure, we turned on the grinder. Yep, it turned just fine.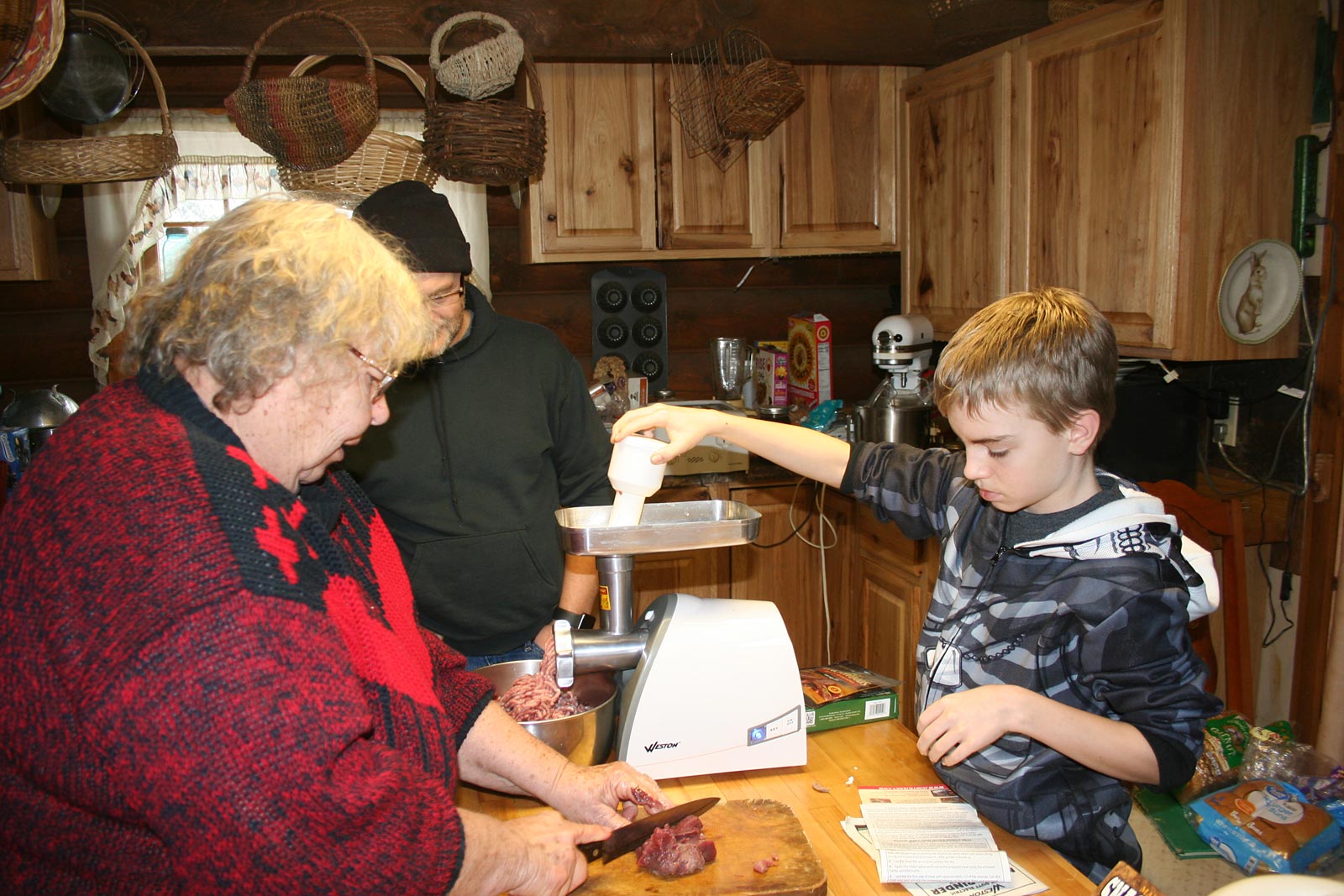 Bill brought three fatty pork loins as we wanted to mix pork with the venison. So I cut a few strips of venison and then started cutting pork. Mason, who had shot the deer in the first place, started stuffing meat into the chute with the plastic stomper. You don't want to chance getting fingers down that chute! Meat squiggles started flowing out of the cutting disc. We cut and ground meat for an hour and everything went just fine. I had mixing bowls full of ground meat all over the counter and island. We decided to make four-pound batches as that would be easier to mix in my big bread bowl. So Bill weighed a bowl full then dumped it in the big bread bowl. I added the cure and seasoning, per directions, then Mason mixed, by hand, for five minutes.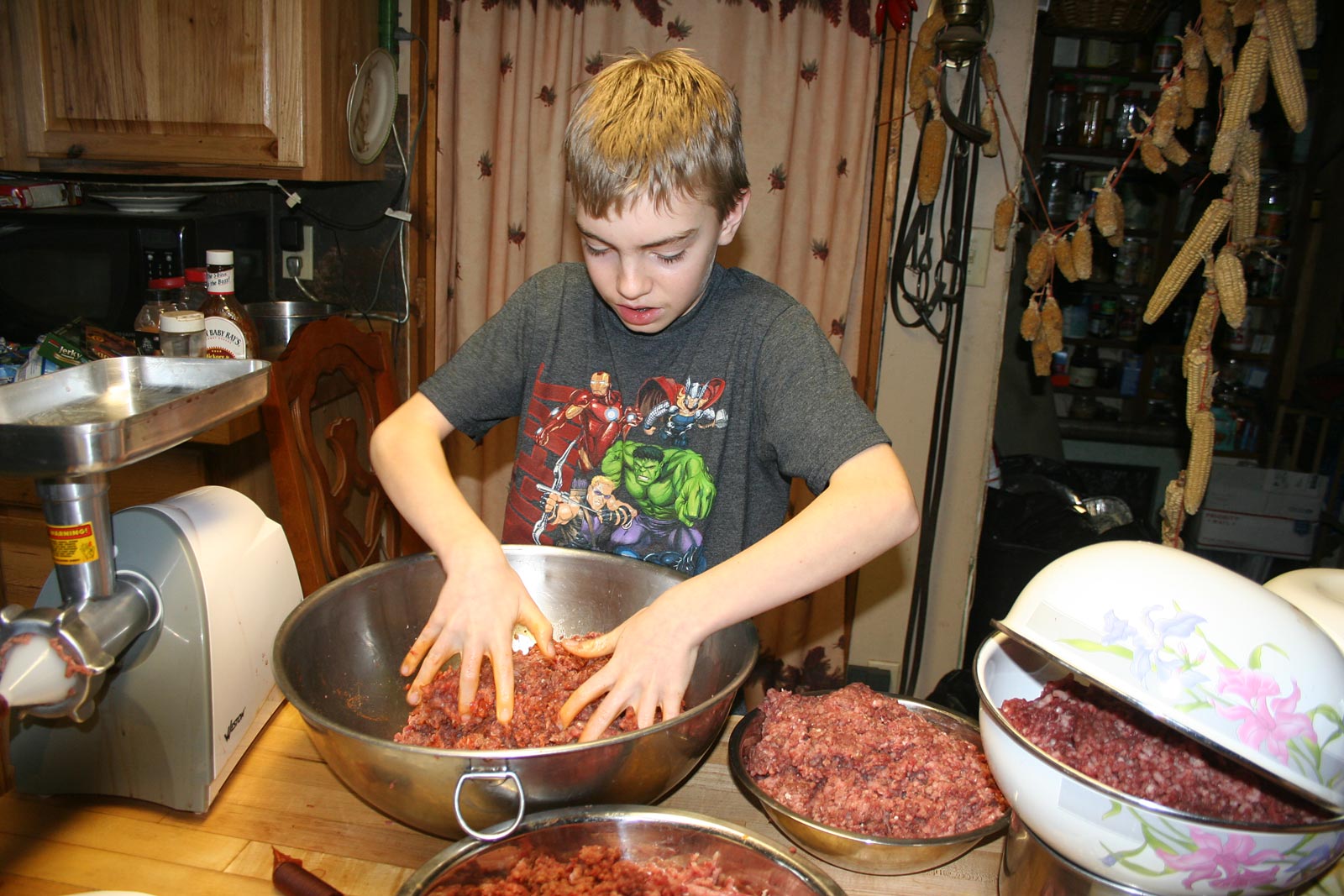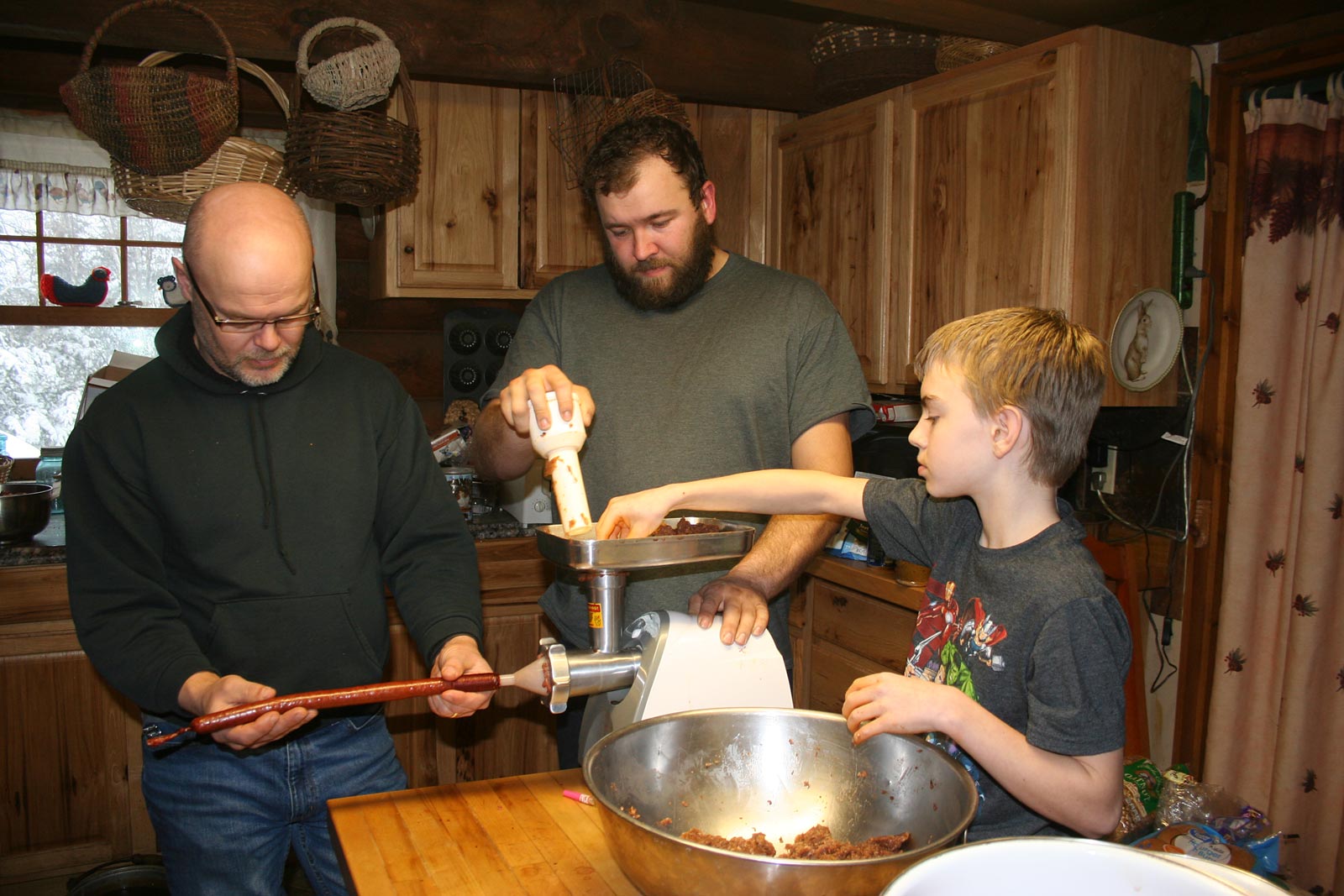 While Mason was mixing the first batch, we switched the cutting disc and knife for the stuffing blade and nozzle, sliding casings onto the nozzle. It was time to make pepperoni! Mason stuffed ground meat into the grinder and Bill held the casing onto the nozzle. I took out a big cookie sheet and put it on the wood range, which was not burning. Then as each long stick came to an end, Bill would pull out some extra casing and I would cut it off and tie it while he tied the end for the start of the next stick. We did this for 12 pounds of the meat, then switched to another flavored seasoning.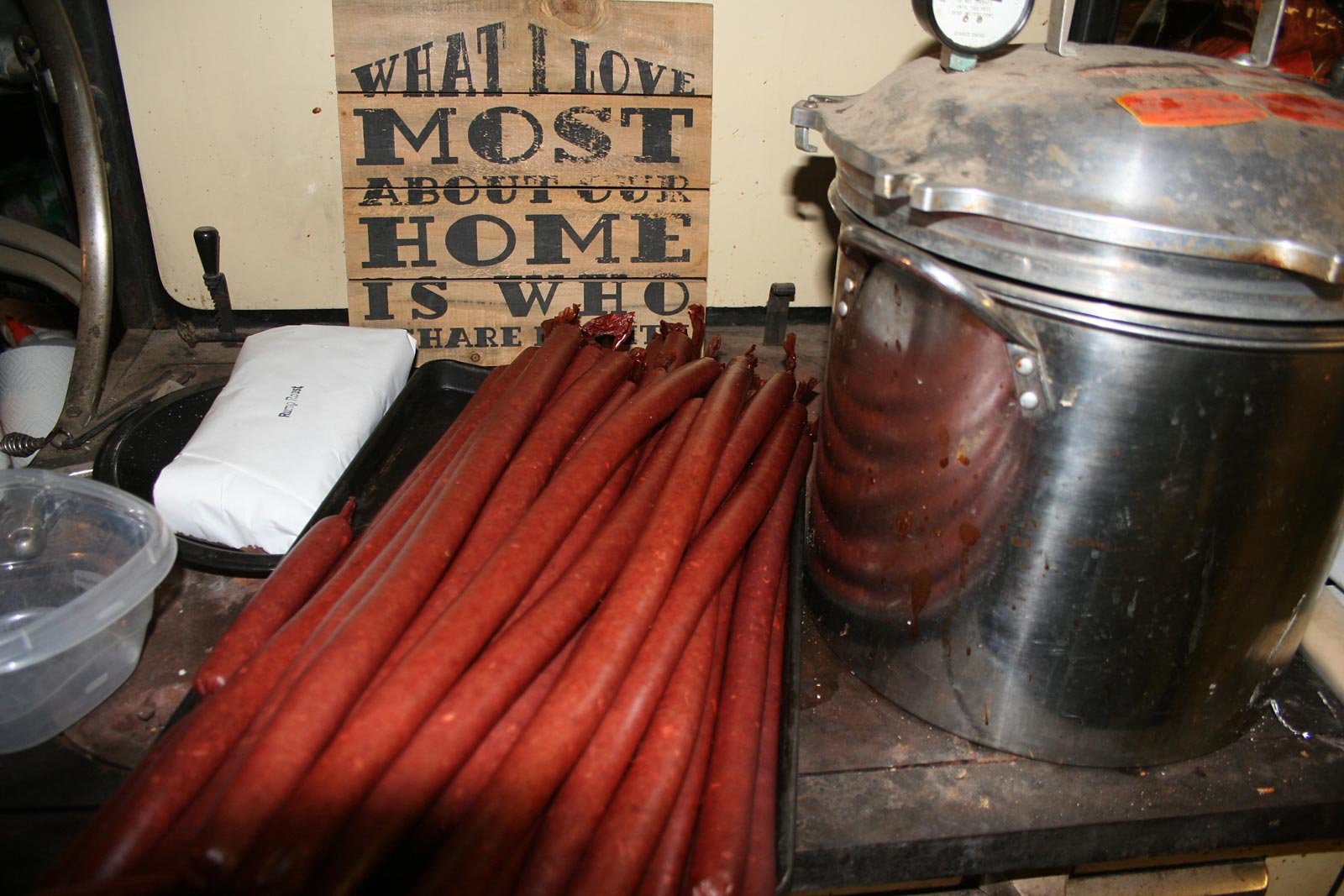 It was so cute, listening to Mason singing to the sausage as he stuffed it into the grinder! He was totally into creating sausage! Talk about the whole package; here was a 12 year old boy who'd shot his first deer at 11, helped skin it out, and was now creating tasty foods from it. I was so proud I could bust. David took over after about 16 pounds of meat had been ground and stuffed as it was hard for Mason to reach up and shove down on the stomper, which required plenty of push to get the ground meat to be forced out of the narrow stuffing tube. We finished about 8 o'clock and the "boys" took home their big cooler, heavily laden with wonderful meat sticks. Today we are "cooking" it in our respective ovens. Mine are done but I only wanted a few to try out, figuring Mason deserved plenty to enjoy at home. What a fun day! — Jackie