Due to lots of requests, Will and I have decided to do what may be (due to our age, etc.) our last seminar. It will be held August 28th, 29th, and 30th. As usual, we'll be covering a lot of things from making cheese, harvesting and saving seeds, to building a cheap hoop house (hands on). A deposit will hold your spot; we're limiting the seminar to 15 people so everyone gets personal time. If you'd like more information, just e-mail me at jackieclay2007@yahoo.com. This seminar might change your life.
Alisha, our wonderful apprentice, arrived after a harrowing road trip on icy and foggy roads through northern Wisconsin. But she was ready to go yesterday when we went to the local spinning group's gathering. My friend, Dara, gave her a spinning wheel and Alisha is learning to spin. We all had a great visit and last night, Alisha was settled in on the couch, spinning away on her wheel. We had to laugh — Mittens, our cat, was fascinated with the wheel and especially the spun yarn. She loves any kind of string: boot laces, corn ropes, bean strings, or hay string. She hopped up, closer and closer, reaching out a cautious paw to touch the wheel in action. She simply drooled at all that "string!"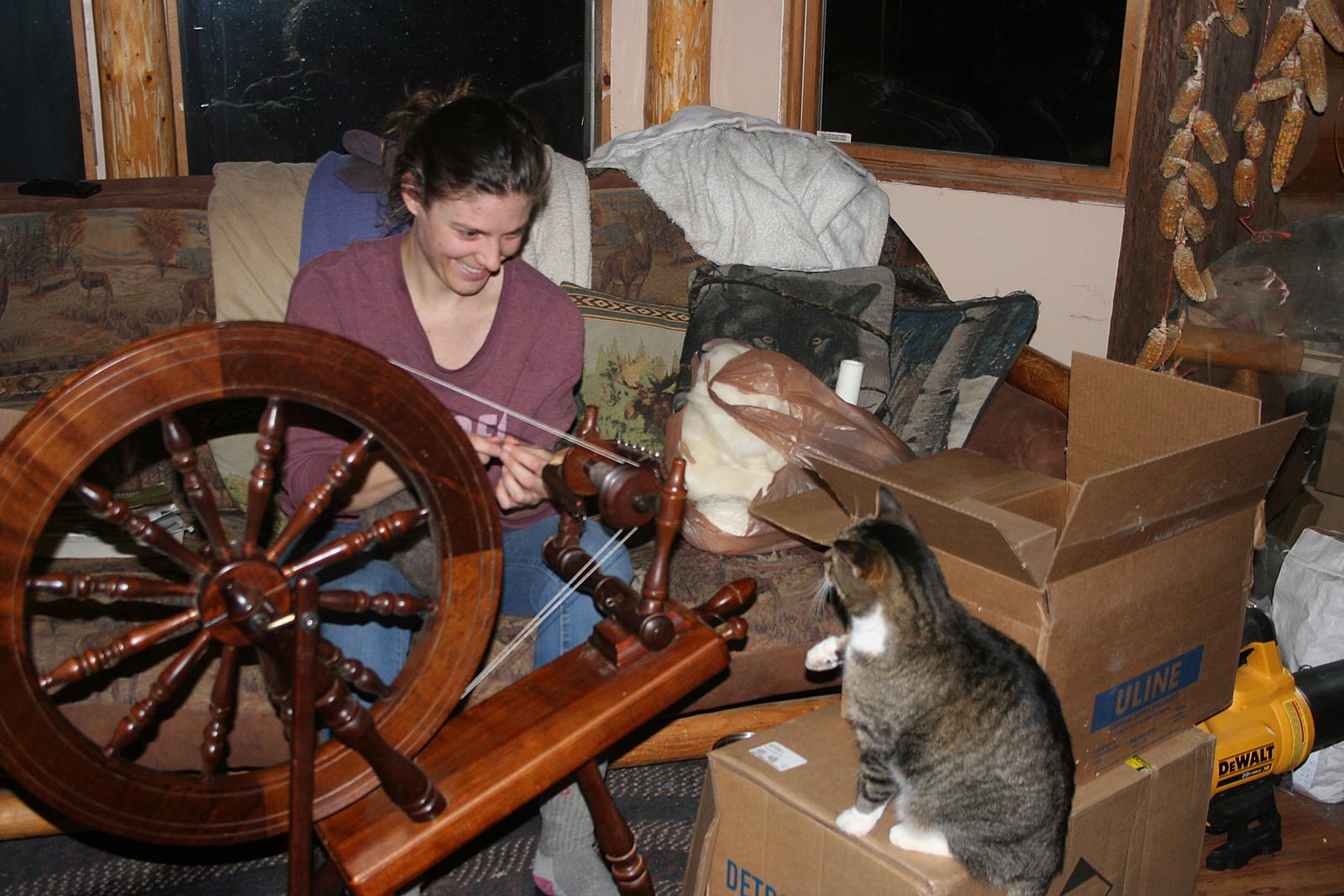 On Saturday, we showed Alisha our last Olinka pumpkin. She had never seen a naked seeded pumpkin before and was very interested. I gave her a seed to try eating and it passed, even though it wasn't roasted. They are very good! So then I had her open up that pumpkin and take out the seeds to save. I'm sure she'll be planting this one for sure. It is a neat pumpkin and so pretty too, as it is dark green with orange stripes.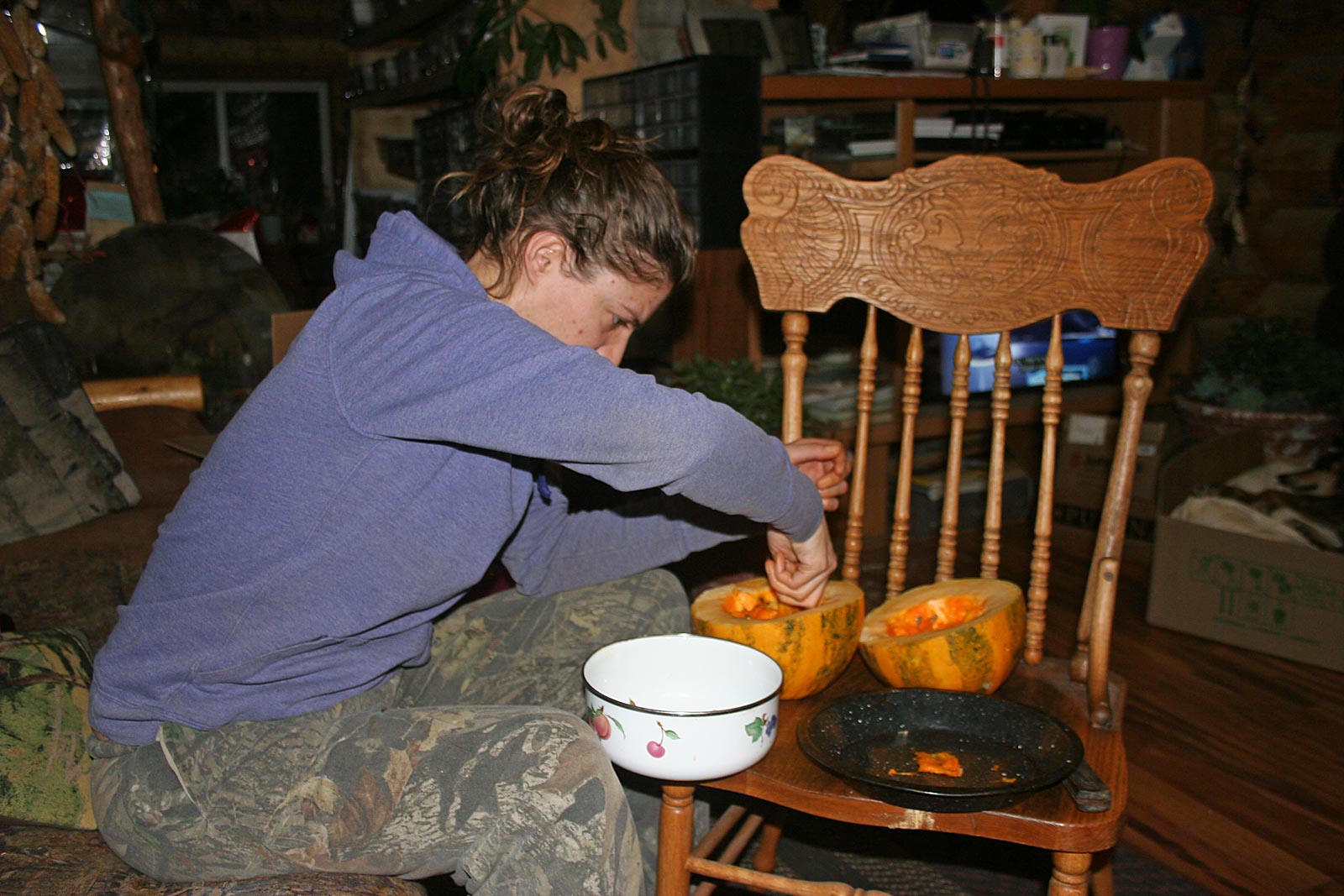 For three years now, I've been wanting to replace my old gas kitchen range. It works fine but the grates over the burners are lightweight and when I can food, they tip and slide out of place, creating a lot of drama while I try to use a fork to pull them back into place under the canner while I hold the full canner up off of them. Finally, the stove I wanted went on sale, and luckily, I had just gotten a check that would cover the cost! So David and I took his Yukon to Lowe's and brought the stove back. Then he and Will worked for two hours, exchanging the natural gas jets for propane ones, fitting all the parts together and getting it hooked up. Of course, Will had to clean the floor where the old stove had sat for 14 years. No mess, right? Ha ha.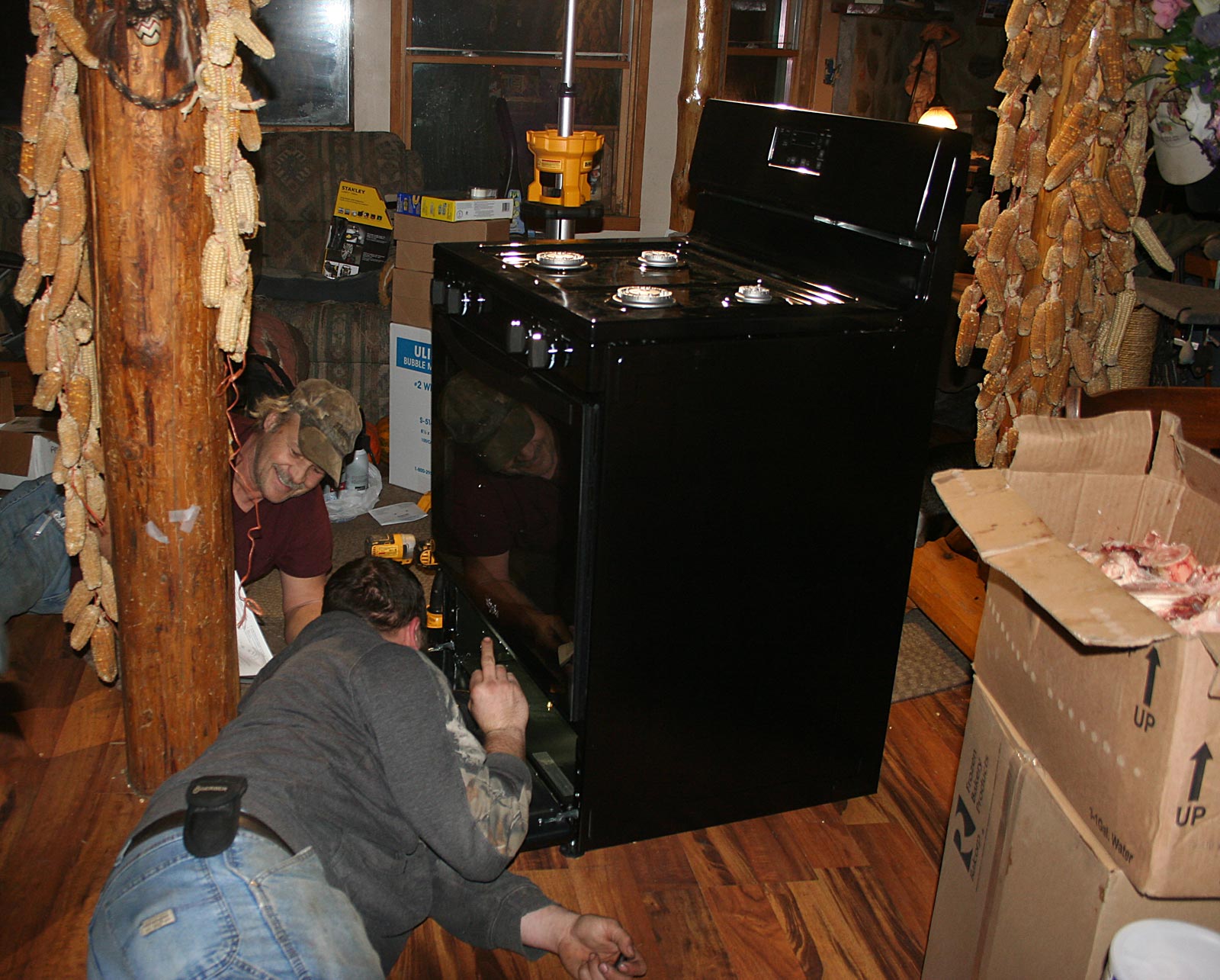 The grates on this stove are very heavy and in just two pieces so my canners will sit just fine on them with no messing around. But then we ran into problems. As this is a "modern" stove, it has digital controls. Well, we live off-grid and don't have an expensive pure sine wave inverter. And the stove doesn't like that! The top where the electrical digital read-out lights are heated up after a couple of hours. I was so disappointed. But I can just light the burners on top with a lighter and it cooks just fine. To use the oven, we'll have to either just bake for a shorter time or turn on the generator while it's on and run it off the generator not the inverter. Oh well, you learn to adjust when living off grid on a shoestring. Maybe we'll find a cheap, pure sine wave inverter in the future.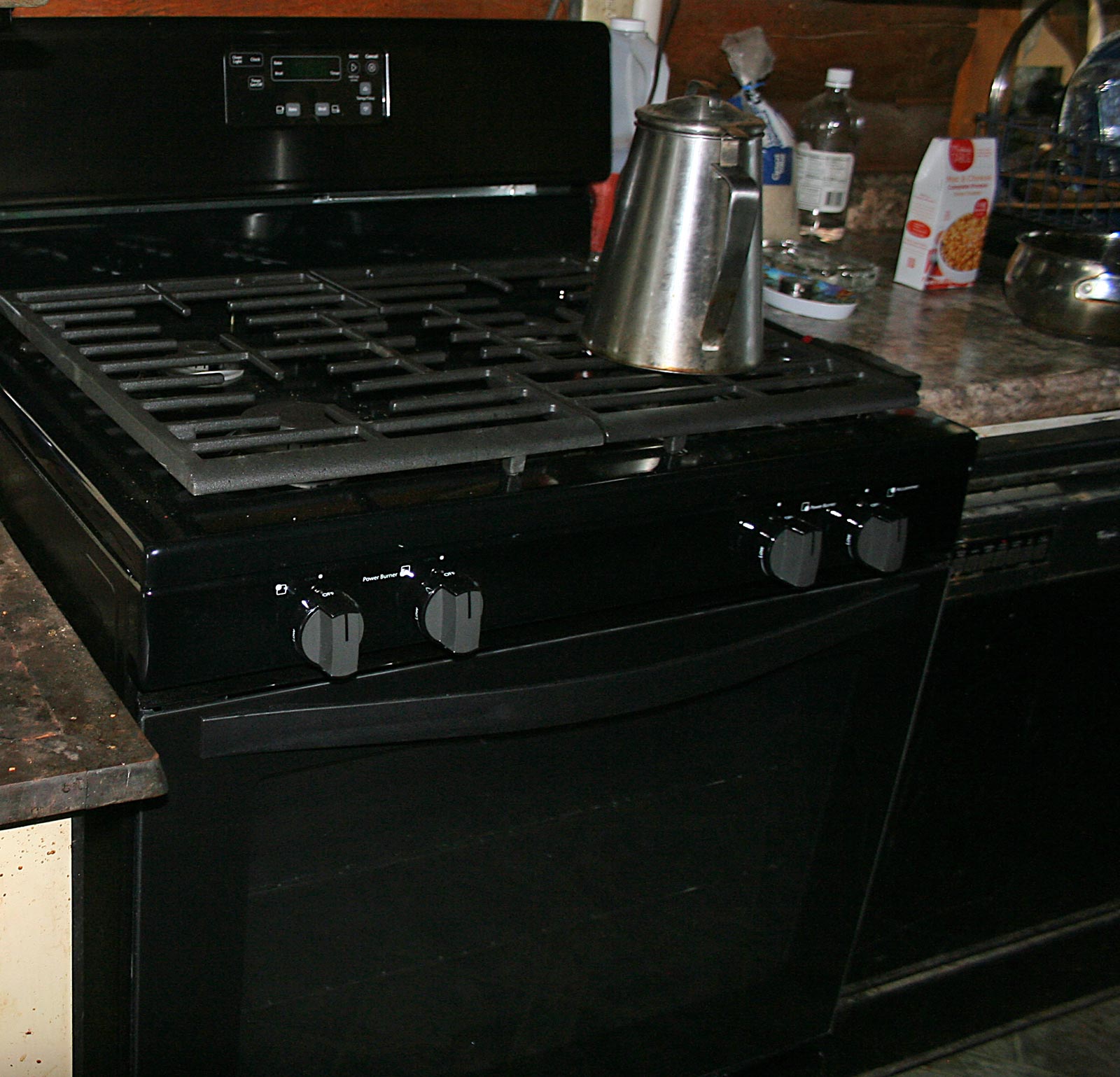 — Jackie