Yesterday we got a blessed ¾ inch of nice, steady rain. No hail. No strong winds. No torrential downpour. And to make it better, we're supposed to get some more this week too. (We'll see about that…) The North and Wolf gardens are saved, although the cows and horses spent an hour or so in the North garden Monday night. Somehow the electric fencer didn't get turned back on after one of us had been in the North garden. But most of the crops seem pretty good, considering I was expecting to see a stomped, naked garden. There are actually corn plants in rows standing as well as a lot of squash. The potatoes and tomatoes didn't seem to be hit at all. Thank God! Will got busy and fixed the fences and, of course, turned the fencer on. Now the electric fence around the 8-foot-high 2×4 wire fence is hot again.
The Central garden looks fabulous. The corn (Navajo Robin's Egg Blue and Seneca Blue Bear Dance) are excellent with the Robin's Egg up to my waist. No kidding. But then so is the Glass Gem popcorn in the Main garden and it was direct seeded where the Robin's Egg was started inside by our friend Dara. All the beans are doing very well. Many are even starting to bloom. So, we should be having green beans in about two weeks. (If you'd like to read more about growing beans, check out my article, Growing beans in Issue 158 of BHM or the Twenty-sixth Year Anthology.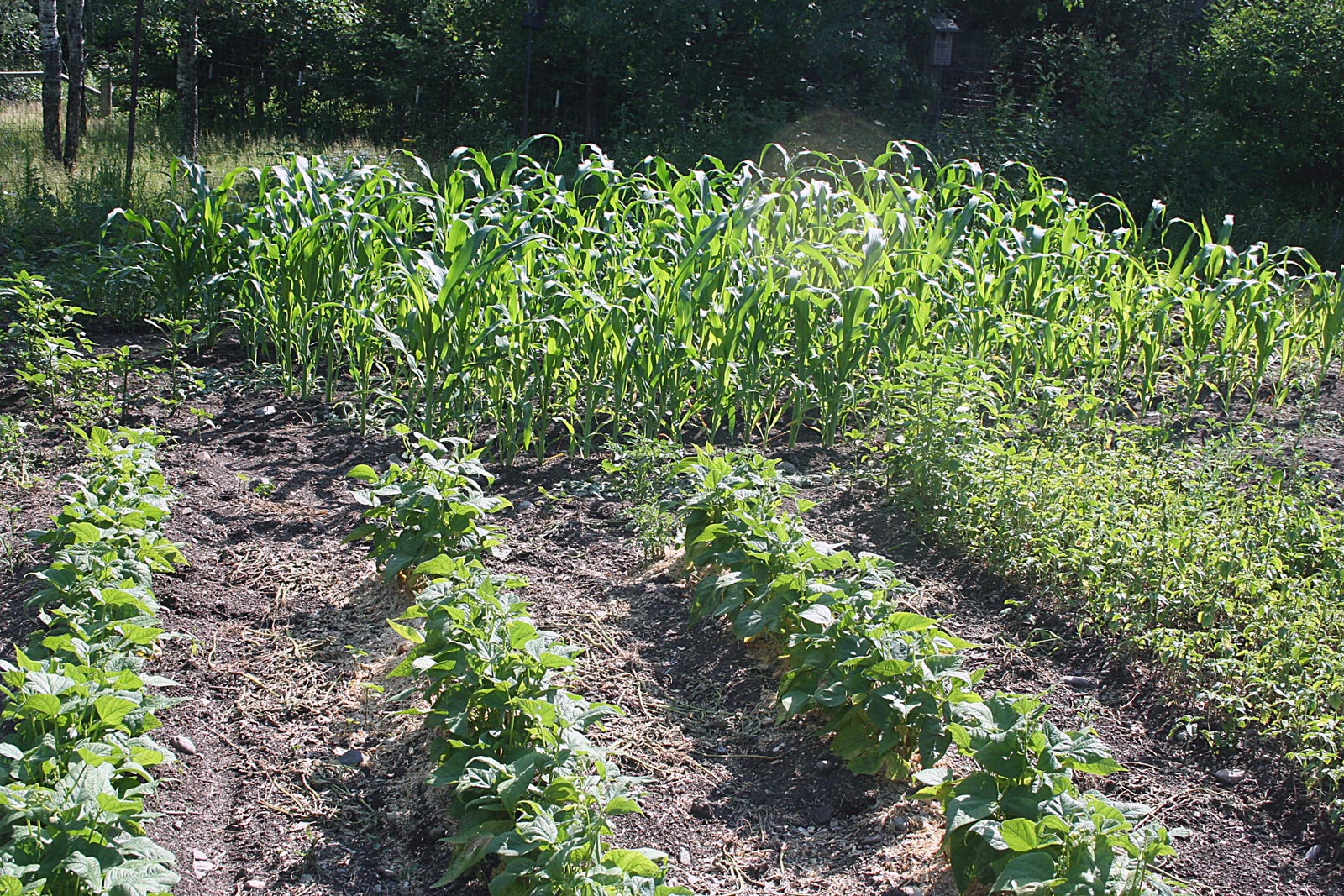 Today our first purple Jackmanii clematis are blooming. There's the older vine, perhaps four years old, along with two younger ones, one planted two years ago and one last year. I'd like to cover that fence behind my front flower bed with purple vines! They bloom most of the summer too.
Our part-time apprentice, Heather, came today, bringing her three teenage children. Boy, what a lot of weeding got done today! With six of us weeding we got a whole lot done in two gardens. I couldn't believe how quickly those kids got rows cleaned up nicely. I was so impressed. They said they'd be back too. You can bet I'm looking forward to that.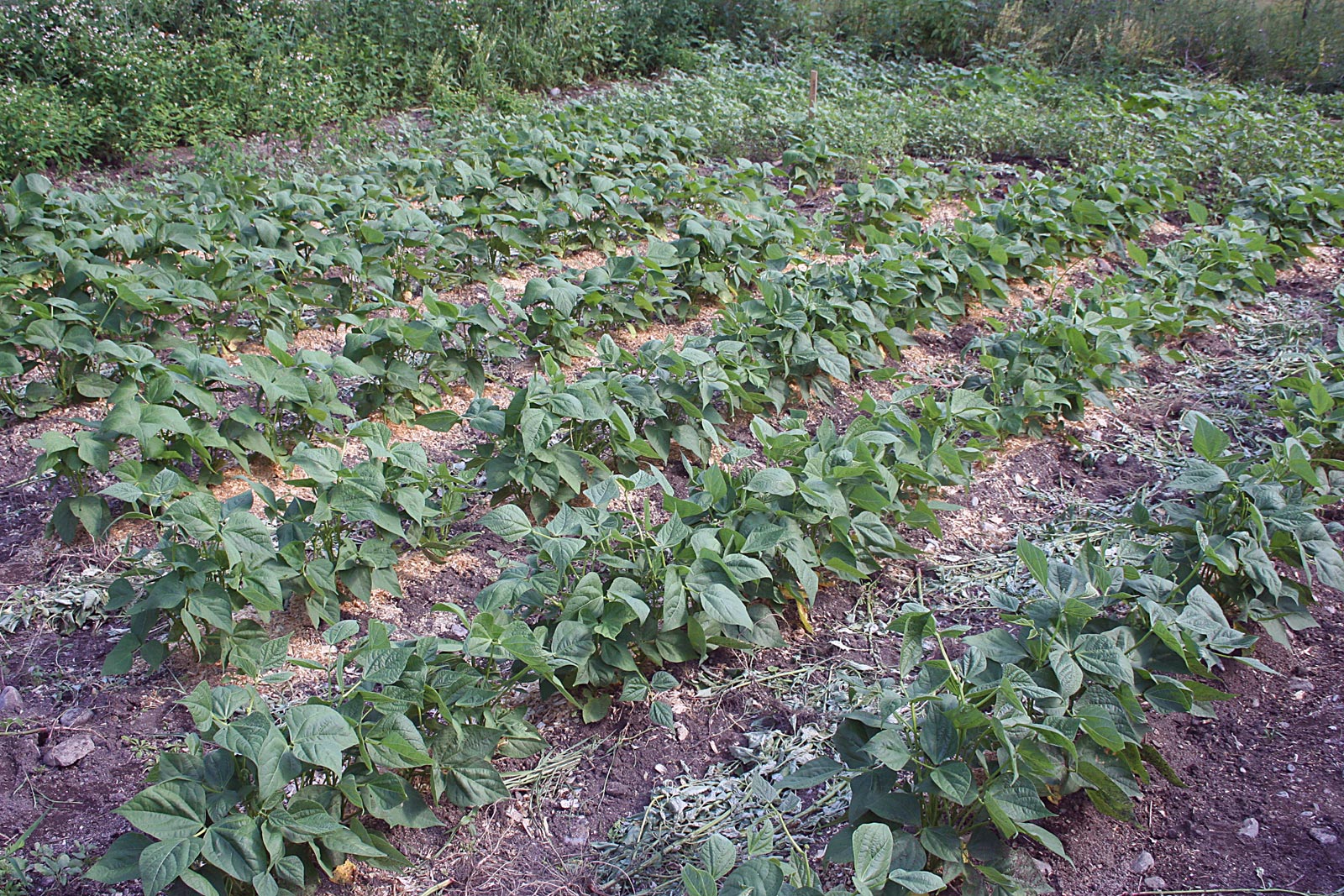 Will's still working hard on fencing the Wolf forty so the cows will have extra pasture. Due to the logging we had done, there's a trillion small poplar trees coming up all over. And poplar leaves are our cow's very favorite food. They even straddle small trees, walk up them to bend them over, then eat all the tops. This thins the woods so the remaining trees grow super fast. And because of the drought, we can sure use the extra pasture. The fifty some acres they're on now is getting eaten pretty short in some spots (like where the clover is!). But like everything, if you just keep plugging away, that fence will get done. All the corners and braces have been in for a year now so they're very solid as are the wooden posts, which were put in last summer. Now he's adding steel T posts between them and stringing the barbed wire on the line. He's about halfway around the new pasture now. But haying will be starting soon so he's in a yank to get it done or at least mostly done, before haying gets going in earnest. There's always something … — Jackie