Our winter continues — cold and snowy
For us, winter is kind of a rest-up for spring because of the intense cold. Will and I do our daily outside chores but find time for inside stuff that doesn't happen when we can be outdoors working.
I just baked three loaves of honey whole wheat bread (recipe in my cookbook) and boy was that yummy! What great toast it makes too. Since it's cooler in the kitchen now than in the summer, the bread doesn't mold before it gets eaten up. Store-bought bread is so awful and getting so expensive. I figured that my bread cost about 50 cents a loaf to bake. Not bad, huh? And it's real wheat, real honey, real food.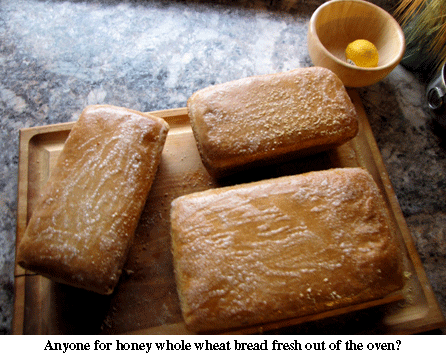 I just took out my bucket of sauerkraut and skimmed off the yuck on top. Then I tasted it — just right! Tomorrow I'll be canning it up. I was planning on doing that today but we took two more steers in to butcher and wow, were the roads bad! It was snowing hard, five degrees and the windshield wipers couldn't keep up. Ice built up on them in a heartbeat and we could hardly see to drive. The plows hadn't been out so there were nearly whiteout conditions. And we had to drive about 22 miles, pulling a 16-foot stock trailer. If we had known it would be that bad, we would have called and taken them later. But we didn't know it until we were five miles away from home and there was NO turning around. Will drove about 30 miles an hour, finding the road by mailboxes along it and by plow berms. Every so often we would have to stop right in the road (when there was nobody behind us!), let the defrosters heat the wipers and windshield, jump out and pick the ice off the wipers. Whew, were we glad to get to Al's place with the steers and us in one piece.
We've got 3½ steers' meat sold already and if we don't sell the other half, we'll split it between my son, Bill, and ourselves.
Meanwhile, Hondo and Spencer have been having fun playing. Did you ever know dogs that had a toybox? Well they do, full of "babies" (stuffed animals from the thrift store), balls, and chew toys. Every day we pick them up and then they go stand there and pick through their toys to figure out what they want to play with next … until they have a dozen toys out of the box.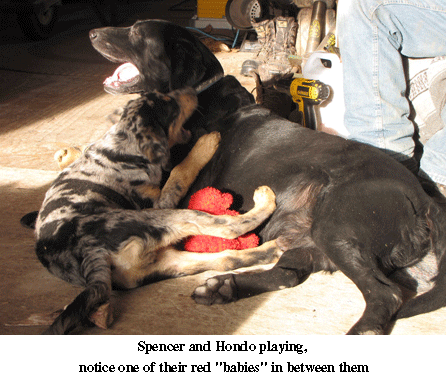 Will's been working on transforming an antique cherry dresser into a bathroom vanity. He first had to glue the laminate back into place, then cut the legs off a few inches to vanity height. Now he's got the hole marked where the sink will drop in. Next he has to cut down the drawers so the sink and plumbing will fit. Boy, will it be nice not to have to wash our hands in the bathtub! I haven't said much but it has been nine years without a sink in the bathroom. But, hey, there have always been more pressing places to put money. That's homesteading! — Jackie