Here is my latest video:
David got busy the other day and dragged out all our outside Christmas lights. I always shop right after Christmas at the "big" stores and have picked up sets of icicle lights for $2 and others for as low as .50 a set. So we haven't a lot of cash invested in boxes of great lights. Last year, with the deep, early snow, and everything else that was going on, we just didn't get around to getting lights up. But this year, we do, and it's oh so cheerful!
I've also been canning up the last of David's deer. Last night, I marinated the last of the boneless meat and tenderloins and ground up the meat from the neck and shoulders. So today I roasted the pieces of meat to partially cook it and fried up the ground meat with onions from the garden. I added 3 quarts of water with some spices to the roasts, near the end, so when I packed the hot meat in pint jars, I had great seasoned broth to pour over it. The ground meat, I packed hot, without liquid, also in pint jars. Then I processed it all in one big batch in the canner. Boy does it look tasty! But I AM glad that's finally done. It's kind of tough when half the deer freezes solid outdoors and you have to chop it and saw it apart with a hatchet and hand saw…Not real "dainty," for sure!
We have been having real cold and several inches of new snow every day or two. Real cold. As in below zero, cold. Brrrr. But the new snow is helping our plants survive the winter and helping keep the septic tank, which I covered with hay, and water line, from freezing. So that's a good thing. Besides, the fluffy snow on our beautiful log cabin and those glowing Christmas lights really make it look a lot like a Christmas card.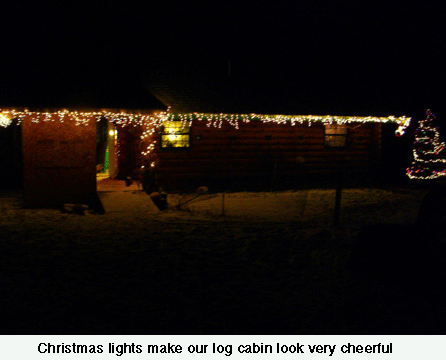 Readers' Questions:
Hopi Pale Grey seeds
Just a quick note to say thank you for the Pale Grey Hopi seed. You sent plenty of seeds to plant this spring and to hold some back for next year, just in case. Thank You.
Dan Jones
Chickamauga, Georgia
Glad you got your seeds okay, Dan. Remember not to plant any C. maxima squash or pumpkins in your garden this year, except for the Hopi Pale Greys. That way you'll keep pure seed and can pass some along to other neighboring gardeners and friends. — Jackie
Cranberry juice for bladder infection
I just love your blog and of course the magazine. You stated that your Mom suffers from frequent bladder infections. My mom did to but she found that drinking cranberry juice was really helpful in preventing the infections. Maybe it would help your mom.
Nancy Hanson
Washburn, Wisconsin
Thanks for the thought. Mom drinks bottles of cranberry juice every week. The doctor thinks that she may have a pocket of infection that just doesn't clear up completely. She has an appointment with a urologist January 19th. They had NO earlier appointments! Wow! Kids: consider urology as a career! — Jackie
Bread machines
Do you recommend bread makers? I once had one and wasn't too impressed but did like it for the temperature. When making bread by hand I always messed up the water temp/yeast factor…I never liked the bricks that came out of the bread maker and would just take the dough out and then make it in the oven. That bread machine died 10 yrs. ago. Have they gotten any better at not making bricks? I saw one at Walmart and the container was so tiny, yet the machine huge. Or do you just say phooey on them and say don't waste your money?
Deb
Bemidji, Minnesota
I've never had a bread machine, although Mom had one and really liked it because her hands had such bad arthritis that she could no longer mix and knead bread. Ilene Duffy uses one a lot and her breads turn out great. I'd say that newer bread machines ARE much better than they used to be, but with everything else, often you get what you pay for…the cheaper machines probably won't work as well as the more pricey ones. I like the old fashioned mix and knead method, myself. It's relaxing. — Jackie
Canning link sausage
I canned link (chicken) sausage in pint jars (dry, no liquid added) at 10 lbs for 75 min. without cooking the sausage first.They turned out well and every jar sealed.Would it be better to cook the sausage first and then pressure can it or is it sufficient enough to go ahead and can it like I did? I am looking for a basic reasonable long term storage on this item.Thank you for your time and consideration!
Pam Ayala
Arlington, Washington
I've canned sausages like you did, but now I'm gently browning them, then packing them hot, in hot jars. I never had any trouble raw packing them, but they seemed better after I browned them before packing. — Jackie