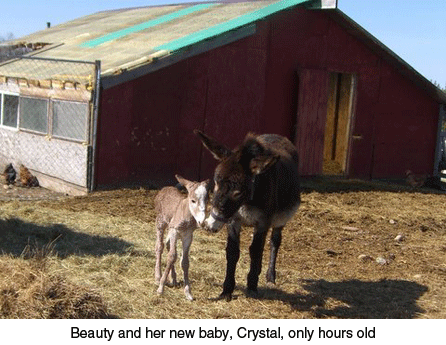 Beauty had her foal this morning before we were up and what a pretty little girl she is, too! She is even a very different color, being a light red roan with a blaze face from two black parents. I've been in with her, getting her used to me already; and she is totally fearless. This afternoon, she was climbing up on her daddy Moose's back while he was napping. He was interested, but didn't move. We are really proud grandparents.
Readers Questions:
Canning coffee
I am trying to find out if it is possible to can your own coffee? I think you would be able to do it like you would peanuts? But would the temp and time be different?
Regina White
Marion, Ohio
I really don't know. You might experiment; you won't poison yourself with coffee. The worst it would do is go rancid. Any readers out there with more information for Regina? — Jackie
Blackberry syrup
I was getting ready to make and can some blackberry syrup from some frozen blackberries I have. The recipe calls for 6 1/2 cups blackberries, 6 3/4 cups sugar, and 2 Tbsp. lemon juice. I believe I only have about 3 1/2 cups of blackberries. Can I cut the other ingredients in half and process for the same time with less jars? Thanks for all your help!
Leslie Glenn
Lancaster, Ohio
Yes, you can do just that. Enjoy your syrup. It's awfully good on ice cream, cheesecakes, and on pancakes! — Jackie
Buying a horse
I am purchasing a horse for my young granddaughters who are 6 and 9 years old. Can you recommend some of the basics I need to consider before I go looking? I have a barn and fenced-in pasture but have never owned a horse. What size, breeds, age, habits, etc. do I need to consider? Also, could you tell me what books you think would be most helpful in learning to care for the animal once we purchase it?
Deborah Motylinski
Brachsville, Ohio
I would look for a middle-aged horse with a very calm and patient disposition. Other than ease of mounting and care, any size horse will do, but obviously a smaller horse will make things easier for youngsters; perhaps a horse around 14 hands high. I would definitely have the girls take some riding lessons and have you go along to watch and learn so you can help them at home. Maybe you could even volunteer at the stable to care for horses so you can learn the ropes there. I totally love horses and really want people to have good experiences with them. Hands-on experience is a lot better than reading, although there are a lot of very good books on horse care and riding out there. — Jackie
Getting rid of fleas
I was wondering if you know of an inexpensive way to get rid of fleas? I need a way to get rid of fleas without breaking the bank. We have such short winters here in Louisiana that it doesn't kill bugs like in other parts of the US. I have tried just about everything on the market but nothing seems to work I just spend a lot of money.
Lynne White
Lacombe, Louisiana
Where are your fleas? On your pets? In your home? In the yard? Let me know and we'll go from there. — Jackie
Canning Italian sausages
Can a person can Italian sausages and Brats? I cant find any information at all on this.
Diana Bowers
Grand Junction, Colorado
Yes, it's possible, but I haven't been satisfied with these types of sausages; they end up tasting overcooked. — Jackie
Canning pickled eggs
I was wondering if you could CAN pickled eggs? I thought I saw you write about it sometime but I can't find it. If so what would be the procedure and times for quarts?
Richard burns Jr.
Keyser, West Virginia
Yes, you can home can pickled eggs. It is a good way to can up all those surplus eggs we have every spring. You can use these pickled eggs simply as-is or make deviled eggs or egg salad sandwiches with them. To can them, hard boil and peel as usual. If they are fresh, boil them, then toss them around in the dry pan afterward, while hot, till the shells crack up. Then immediately put several changes of cold water on them until they cool down, then soak in cold water for an hour in the fridge. They peel much easier than when you use other methods. My fresh hardboiled eggs used to look like chipmunks had been chewing on them.
Okay, now you have a big batch of cooled hardboiled eggs. Pack them into wide-mouthed quart jars to within an inch of the top. In a large saucepan, for each quart of eggs you have, add the following: 3 cups vinegar, 1 small dry red pepper, 1 Tbsp. mixed pickling spice, and 2 tsp. salt. You may tie the spices in a spice bag, if you prefer, then bring to a boil. Pour boiling liquid over eggs, covering them completely. Process for 20 minutes in a boiling water bath canner (unless you live at an altitude above 1,000 feet and must adjust your time to suit your altitude; consult your canning manual).
Remember that with eggs, a low acid food, there is always a chance of botulism in improperly canned pickled eggs. Use perfect, uncracked, fresh eggs and handle them with very clean utensils and bowls. Be sure to cover them entirely with the pickling solution. — Jackie
Tomato powder
I have another dehydrating question. Do you know a way to make tomato powder in a home dehydrator? I don't like the tomato leather, it's hard to store and I would think powder would be easier to work with.
Connie Mellott
Brunswick, Ohio
To make tomato powder, just dehydrate peeled tomatoes, then when they are dry, dry, whiz them in your blender, a few at a time. I then dry this powder a second time to make sure it is absolutely dry before I store it. I've also dehydrated a thin layer of tomato puree very dry, and done the same thing with it. This is a very useful product and I'll bet you'll love it. — Jackie
Outdoor wood burner
Love your latest article in the current magazine. My question is about your outdoor wood burner that you are going to install. I am thinking about doing that for an addition that we are building on our house. Does it need to be hooked into electric to power a fan, and I don't want to use it for hot water at this time. How would it be installed then. All of the sites that I read say that it has to be hooked up to water for the heat is water based. You answered a question of mine and said that your son didn't use the hot water part of the furnace at the present. By the way, you got a great price on your outdoor burner.
Michelle Chapin
Fresno, Ohio
Yes, a wood fired outdoor furnace has to be powered by electricity, both for the pump and blower, if you have one. For this, we'll have to double our battery bank, so we'll also be hooking up to either a wind generator or solar panels to help with the extra charging. The water that circulates (antifreeze is better, because there are no freezing accidents) is in a continuous loop, heating and cooling. In some systems, there is a series of loops of line under the floor. In others, there are radiators to provide heat. With some systems, there is a heat exchanger with a blower distributing the heat. We are still learning and hope to have the stove here this week…but not hooked up for awhile yet.
Purchasing canning lids
I know this is early in the season but have you seen the price of canning lids? I have bought mine at Fleet Farm on sale in the past. Well, now this year they are $1.59/box of 12 regular size lids. That is quite an increase. Right now they are 15% off which makes them $1.35/box of 12 lids. Is there anywhere else to get lids at a cheaper price? I guess we better stock up on these now!
Your house is looking great and I bet you can't wait to finish it! How are your plants for the garden coming along? I can't wait to see your new book too.
Cindy Hills
Wild Rose, Wisconsin
I get my regular lids from a local Family Dollar store…for $1 a box. I buy cases when they have them and don't can too many foods in wide mouth jars because of the cost of the lids. These I buy on sale at the local L and M Supply (farm store), in quantity.
Yes, I'll be glad when we get the house finished, but now it's quite livable, we're holding off, as spring is here and we are oh-so-busy outside. — Jackie
Pole barn and travel trailer
I currently live in the Twin Cities, and hubby and I are thinking of starting a homestead in 3 years or so…we have next to no money and our present plans are this: try and buy 5 to 10 acres, put up a pole barn, park our travel trailer in it, insulate around it, and make that our home. The question we have is just how hard is it to do something like that as far as the authorities allowing it? Most of the rural areas we drive through in MN have signs to the effect of building codes enforced. So I'm guessing we wouldn't be allowed to do the above–plan is live in the RV, have a compost toilet or outhouse, drill a well for water, maybe hook up to the grid if it is nearby, otherwise try and get a few solar panels or a wind turbine.
I understand you live in MN so are perhaps familiar with what we could get away with. We would like to be in the north–Grand Rapids, Hibbing area perhaps. Do you know of people who have done what we suggest and not have any problems with the local officials?
Sharon LeMay
East Bethel, Minnesota
Here, 30 miles north of Hibbing, we only had to have our septic system inspected; no electric, plumbing, building inspections. We did have to have permits for our well and "land use" (building permit), but they were not stressful.
I would not advise putting an RV in a pole barn; I've known people who did and not only was the RV cold and dark in the long winter, but it was damp, as well. Instead, you might consider building a 2 car garage on a slab and using that as a starter home, which you could easily add on to as finances became available. My son, Bill, did this as he was building his log home and they got by very well.
I hope your homesteading plans bear fruit. The north is a great place to live. — Jackie
Automatic chicken coop door opener
How can you rig up an automatic chicken coop door opener/closer? Also, you might note that an old metal kids swing set is a great metal a frame with hooks for hanging sheep, goats, and deer while butchering.
Holly Schmadeka
Lebanon, Oregon
I'm sure you could, but I don't know how. Any readers out there with help for Holly? Good idea for the old swing set! — Jackie
Amount of water in canner
When canning in a pressure canner do the jars need to be covered completely or will half way do? I checked in the Ball Blue Book but could not find anything on my question. I know when canning in a water bath the jars need to be covered with 1 or 2 inches above the jar. I want to do some canning and found a pressure canner at a yard sale but don't know exactly how to use it. We love your articles and look forward to reading them. Its nice to know there are still some down to earth people out here. Thanks again for the wonderful articles and the time you spend to answer my question as I know how busy you must be with spring here.
Teresa Ward
Yellville, Arkansas
No. When canning with a pressure canner, you only need about 2 inches of water in the bottom of the canner to produce the steam in which the jars are bathed. With a water bath canner, you need water covering the jars to thoroughly heat them. — Jackie
Skimming cream from goat's milk
With each issue, I read your pages first. In May/June 2009 (issue 117) you said in "Ask Jackie" that the cream from goat's milk can be skimmed by using a covered 9×12 cake tin. How is this done?
I am just starting to milk Oberhaslis and have one that gives 1/2 gallon of the finest milk, daily and another registered Obi that will be breed for the first time soon. Water is just now receding from the Satilla River flood that was approximately 12 feet over flood stage and just a couple of inches shy from the 100 year flood record. The goats got flooded out of their pasture and barn but are happy in the garage. Honey hasn't missed a beat in milk production and enjoys being milked on the carport.
I have two more does and a buck reserved from quality Obi breeders when they are born this Spring.
I want to get into cheese making and have searched the internet for various recipes. I trust your wisdom and experience but have never found any published goat cheese recipes by you. Are there any?
John Williams
Hortense, Georgia
To skim cream from goat milk, you pour your fresh milk into covered cake pans and refrigerate them for a day or two. The cream will eventually rise to the top to some extent, allowing you to carefully skim it off with a large spoon.
I really don't have any "personal" goat cheese recipes; most are universal and I use these, as do most cheesemakers. There are a lot of simple, good cheesemaking recipes in GOATS PRODUCE TOO, which is available through Hoegger's Goat Supply. They also have a lot of goat supplies and cheesemaking stuff.
Goats in the garage sounds reasonable, given your circumstances. I've had horses (colts) in the house! — Jackie
Round hay bales
Here is another question regarding round bales. My daughter just got a horse and there seems to be a controversy over what type of hay is the best — round or square. What do you think. Some say that you have to remove the first 2 inches of the round before giving to the horse and others say no. What are your thoughts since if I remember correctly from reading past articles you use round bales.
Michelle Chapin
Fresno, Ohio
We use both round and square bales, for the convenience of both. For in and around the barn, squares work best. In the pastures, the round bales mean much less work for me. If the hay has been put up well cured, round bales are great for horses; no dust or mold. We do not remove the cap or outside covering. The horses won't eat it unless starving…which mine certainly are not. They eat the center first, then enlarge it. The bale will finally collapse and they'll polish off all the good hay, leaving the yucky weathered cap and strings. We then gather up the strings and burn them in a pile of stumps and other wood debris in the pasture.
I have had moldy, dusty square bales and moldy, dusty round bales in my horse keeping past. You just have to know your farmer and keep watch of what you are feeding. — Jackie
Making wheat crackers
With the price of groceries going through the roof, and my disdain for most processed foods, I'm always trying to make my own versions of the processed foods I like. One of these foods is wheat crackers. It doesn't matter if they are multigrain club crackers or the famous wheat crackers that are "thin" I like crackers. What I haven't been able to find is a recipe for any wheat or rye crackers. So, just how would I go about making a whole grain cracker.
Joshua Schrader
Middleburg, Pennsylvania
Here's a recipe for you. You can adapt it, using rye flour in place of whole wheat, if you wish.
1 1/2 cups flour
1 1/2 cups whole wheat flour
1 Tbsp. sugar
1 1/4 tsp. baking soda
1 tsp. salt
1 cup buttermilk
1/4 cup vegetable oil
melted butter or margarine
Heat oven to 350 degrees F. Mix dry ingredients well. Stir in buttermilk and oil. Make into 6 balls. Roll each one into a 9″ square on a floured surface. Cut into 2 1/4″ squares. Brush with melted butter. Sprinkle with coarse salt and/or poppy or sesame seeds, if you wish. Bake for 8-10 minutes until golden and crispy. Enjoy! — Jackie