For some folks, canning comes in the fall, then they're done for the year. I can all year long. With the huge jump in the price of grain, it was time we butchered our three extra White Rock roosters. We bought some straight run White Rock dual-purpose chicks this spring, ending up with four roosters and six hens. The hens are just starting to lay nice brown eggs and we'll be keeping one rooster to use. But yesterday, Will and I butchered the three extra roosters.
No, I still can't cut the heads off. Will did the deed. Then I helped pluck the unlucky birds while Will eviscerated them. It was only 13 degrees out, so we did the work quickly while ice was forming on our little table. I brought them in to the kitchen to finish cleaning them up, picking pin feathers and cutting off the feet. I cooled them in a sinkful of ice water, then put them into a cooler on our back porch.
They are very cold, but not freezing. Perfect.
I cut one up today and put it into a stock pot full of water and seasonings. It simmered most of the day. Then I cooled it, deboned the meat, and packed it hot into canning jars. With the fragrant broth, the full jars went into the canner. I was so happy to get one quart full of nice big breast pieces, 5 quarts of broth (two with chicken meat in them), and 5 pints and one half-pint of mixed broth and diced meat. That's a lot of meals from one 10-pound rooster!
Tomorrow, I'll do the next one and we'll roast the last bird Wednesday. I'm so glad we have our own chickens! All that canned meat and broth, plus dozens of beautiful brown eggs! And I know exactly what went into both the chickens themselves AND the processing.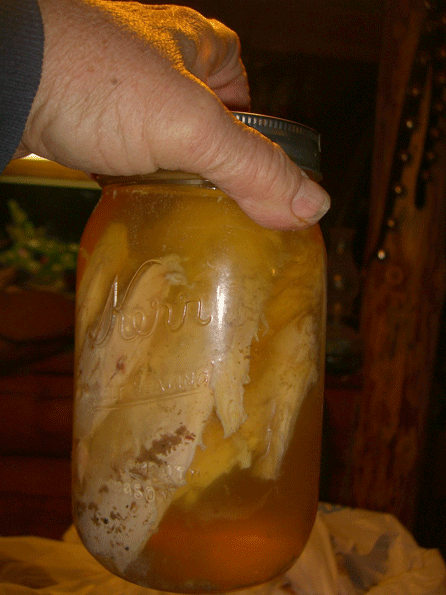 Readers' Questions:
Canning beef stew
Somewhere in the last few months I received a recipe for canning stew in a jar. I wanted to try this but I can not find the recipe. Do you have a really great but simple recipe? I believe you canned it for 10# pressure about 20 minutes. It may have used beef boullion. This will be my first attempt since being confined to a wheelchair at canning due to a rare degenerative disease.
Steven Stuckey
Sheridan, Indiana
Here's a recipe from my new canning book. You can also substitute a light gravy for the tomato sauce if you prefer gravy instead of a tomato sauce in your stew. I love the tomato sauce; Will loves the gravy. Both versions work and taste great! Can the gravy version just like the tomato version. Just don't thicken your gravy very much, for safety reasons.
Beef (or venison) Stew
5 pounds stew meat
1 Tbsp cooking oil
3 quarts cubed potatoes
2 quarts sliced or cut carrots
3 cups chopped celery
3 cups chopped onions
1 quart or more tomato sauce or stewed tomatoes (optional; may use water)
1½ Tbsp. salt
½ tsp. black pepper
Cut meat into 1-inch cubes; brown in oil. Combine meat, vegetables, and seasonings in large stockpot and cover with tomato sauce, tomatoes, or water and bring to a boil. Do not cook. Ladle hot stew into hot jars, leaving 1 inch of headroom. Remove any air bubbles. Wipe jar rim clean, put hot, previously simmered lid on jar and screw down ring firmly tight. Process pints for 75 minutes and quarts for 90 minutes at 10 pounds pressure. If you live at an altitude above 1,000 feet, consult your canning book for directions on increasing your pressure to suit your altitude, if necessary. Good canning! — Jackie
Water in jars still boiling after being removed from the canner
I have just started using my pressure canner this year so I've never seen this before. I've already canned 20 jars of chicken and turkey stock uneventfully. However, I just finished canning some ham and bean soup that I had already fully cooked in the crockpot. After the pressure cooking time was up and the pressure was at 0, the soup in the jars was still "boiling." I removed the jars to a towel, all of the lids have sealed, yet the food in the jars is still churning. Is this something to be concerned about?
Cheryl Spencer
Douglass, Kansas
Not in the least. In fact, tonight I just finished canning chicken in broth and MY jars boiled for 45 minutes after removing them from the canner. It's perfectly normal. — Jackie
Canning lentils
I love the convenience of canning foods for easy preparation when hunting and camping (besides stocking my pantry) and would love to incorporate canning lentils. But I can't find any recipes to do so? Is it possible and if so could you tell me how to do it?
Teague O'Meara
Minneapolis, Minnesota
Lentils can be canned just like dry beans. But as they cook quicker, you can skip the soaking part. Just cover well with water and bring to a boil. Simmer 5 minutes to thoroughly heat them up. Then ladle them into pint (or quart) jars, filling the jars about 2/3 full to allow for expansion of the lentils during processing. Fill the jars with hot cooking liquid, leaving 1 inch of headspace. Add spices, a tsp. salt, and a little chopped ham or bacon if you wish before filling with water. Process at 10 pounds pressure for 65 minutes (quarts 75 minutes). If you live at an altitude above 1,000 feet consult your canning book for directions on increasing your pressure to suit your altitude if necessary. — Jackie
Internet service in a remote area
My wife and I live in a rural community in southeast Tennessee we access the internet by dial-up connection which is very slow and frustrating. No hope of DSL coming out here to the sticks any time soon. We were wondering how you access the internet way out there where you are. Is it expensive and are you happy with it?
Tony
Decatur, Tennessee
I have Hughes Net satellite access. There's a small dish on top of our south-facing roof. Dave Duffy, my boss, pays the monthly fee for it, but I understand it's a little above $50 per month. The service is very good and we are really out in the sticks so I am pleased with the speed and reception. — Jackie
Making summer sausage
My family is making summer sausage for the first time. The kit we are using calls for the finished product to be placed in the fridge. My knowledge of food storing in the fridge is only good for 7 days. How can we keep the summer sausage longer, so we can enjoy all winter? Our sausage is made with venison and pork and slow cooked in the oven.
Allen Brown
Argyle, Florida
Summer sausage is usually able to be refrigerated for extended periods of time without spoilage. However I don't know the method you are using, or recipe, so if I were you, I would freeze my excess summer sausage and just take out what you plan on using in a few days and refrigerating that. — Jackie
Jars breaking in canner
We've experienced broken canning jars while pressure canning chicken with the 10# weight. They are older jars (square style mason)…maybe as old at 40 years? Do you know if the glass in older jars was weaker than glass made today? Could it be just that pressure canning is hard on the glass? If a jar breaks, it's always the bottom that breaks out.
Todd Overbeek
Kingsport, Tennessee
I don't think there was anything wrong with your jars. Instead it was probably one of the following causes (all of which will break the bottoms out of jars):
1. You put hot jars full of liquid on a cold counter before filling the canner. In canning, hot + cold often results in breakage.
2. Like the above reason, you might have loaded hot jars into a cool canner. I had jar bottoms break out from time to time until I figured it out. Now I load hot jars into a canner that has been warmed up as I fill the jars. That way you put hot jars into a hot canner. I haven't had jar bottoms break out for years now.
3. You might not have put your rack in the canner and set the jars right on the bottom of the canner. The rack must be used as the jars can't take the direct heat from sitting on the bottom of the canner, directly over the heat.
4. You might have put hot broth/meat into cold jars. It helps to keep your jars hot, even in a sink full of hot water so they are hot when you put hot food in them.
The glass in the old jars is just as strong as it is in modern jars…often stronger as it is thicker!
I'm hoping that one or more of these was the cause of your misfortune and that you won't have this trouble again. — Jackie