This last few days it's been below zero with a 25 mph wind, bringing the wind chill down so miserably that we couldn't do much outside. So, because we've built as we could afford around the homestead, there are plenty of jobs yet to do, both outside and in.
This week we've been working on the entryway — the log wall that was cut out to make the grand arch into the dining area. For months, we'd been puzzling out how to fix the cut out notch in the top log, where the old entry door frame was placed. We couldn't cut it further, into an arch, as it's the top log on the wall and it needed structural strength. But how do we hide the cut-out nicely? Finally, Will figured out an idea.
First he sanded the old uneven stain off the log wall so when we stain the whole thing, it'll match. What a nasty job! We hung old sheets on both sides, making kind of a booth. He donned a doubled bandanna and started sanding away with the angle grinder, equipped with sanding flaps. It sure worked, but boy did the sawdust fly! I'll sure have a cleaning job once it's finished! The sheets did help, though.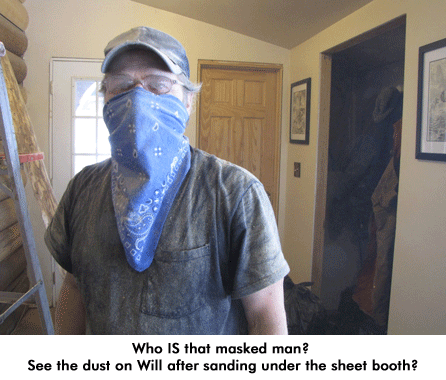 Once the walls and log ends were sanded, he cut and fit a 1×8-inch board on the undersides of the top log, filling the gap where the door frame was with scrap lumber. Then he added molding on both sides, neatly hiding the gap! Wow. It was gone! How cool.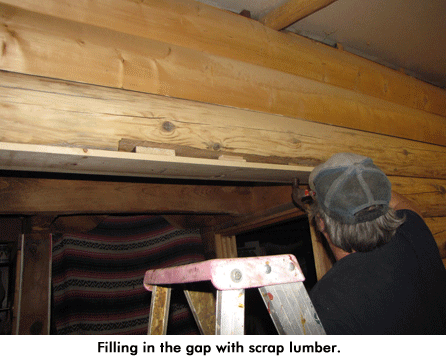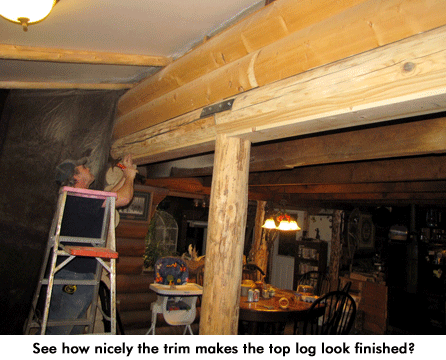 Now, we're finishing out the log trim on the very top of the log wall, under the decorative log beams over the sheetrocked ceiling of the addition. Once that's done, I get to stain the whole thing and I can't wait. I feel so good because we're using very little boughten material, instead we are using a lot of what we had on hand from leftovers from other jobs.
Readers' Questions:
Snow peas
I have been told to plant snow peas now and every 10 days. We are having a lot of snow, is that too early? Can they be canned or put up in the freezer?
Linda Walker
Ft. Towson, Oklahoma
Wait until your snow is finished. Peas like cool weather, but really don't love being buried in snow, despite snow peas' name! Wait a few days/weeks until this unseasonable weather moderates and you can work the soil easily. Snow peas freeze very well, but don't can up worth a darn. — Jackie
Rendering goat fat
I know that you can render pig and beef fat but what about goat? I have a very fat wether that needs to go to freezer camp and I hate to waste anything when I take a life. Even if it is only fit for the birds and as seasoning for the dogs.
Patti Hall
Oneonta, Alabama
Yes, you can. But goat and venison fat does not taste nice. So you can certainly use it to feed the birds and dogs, but you can also use it to make soap. Any lye soap recipe will work and you'll be SO glad you used everything! — Jackie
Buying a generator
We are in the process of buying a generator. Between the gas, diesel, and propane which do you think would be the best and how do you use your generator? Some people put it thru their fuse box and some have it fed back thru a 220 outlet.
Michelle
Fresno, Ohio

They all have pros and cons. Gas and diesel fuel doesn't store well for extended periods. It's harder to store enough of these fuels for an extended period of time. If you already have propane for heating or other use, that's an advantage; there's no hauling of other fuels on a regular basis. If you plan on using your generator for emergency situations while you are living on grid, the gas stations will probably be closed and you can't buy extra gasoline or diesel fuel for your generator.
Cost; gas generators are cheapest but don't last as long. Propane and diesel are more expensive but will last longer with regular use. Don't oversize your generator; cost and fuel use increases with wattage. With energy conservation, you can get by with a lot smaller generator than you'd think. Do get one large enough to run your most important well, furnace, and appliances, if necessary. We are off grid, permanently, and run our power directly from the generator to our fuse box. I'm assuming that you are on grid now. BE SURE THAT YOU HAVE AN APPROVED TRANSFER SWITCH SO THAT WHEN YOU ARE RUNNING YOUR GENERATOR IT DOES NOT FEED BACK ONTO THE POWER LINE AND KILL WORKERS who are trying to fix a line during an outage! — Jackie and Will
Freezing flour and oats
I have been told that if I put my fifty pound bags of flour and oats into the freezer for a week I will not have a bug problem with them. Is this true?
Mary Lou

Yes. That is the recommended treatment for any cereal grain products to avoid "bugs". — Jackie
Kerosene for heating
We're considering purchasing a kerosene heater for back bedroom at night to keep chill out. I'm just wondering if there would be too much fumes to be safe. Do you know much about the use of these heaters?
Betty D.
Covington, Georgia
I wouldn't recommend a kerosene heater. First off, there is a smell involved and second, kerosene is getting VERY expensive! I'd use a small propane heater, instead. There are several that would work well in bedrooms, both vented and unvented (but approved in nearly all states for safety). — Jackie
Pressure canning without a stove top
Now, I am needing an electric pressure canner. I have seen "pressure canners", "pressure cookers", "electric pressure cookers", even an "electric canner", but no electric PRESSURE canner. Does such an animal exist? I hope so because I'm unable to can on a stove top. Are they as safe to can meat and veggies as a stove top pressure canner? I hope you can help.
Mrs. Steve Carton
Birch Tree, Missouri
No. As far as I know there are no electric pressure canners. You don't say why you can't can on a stovetop, but I'm thinking you have a glass top? You can buy a propane countertop stove very inexpensively through Northern Tool and other places that can be hooked up to a 20-pound propane tank. You can use this in your kitchen, shop, garage, or summer kitchen. They are safe and work very well for canning. My grandmother and Mom used one in the basement for years; it didn't heat up the kitchen in the hot summer. — Jackie