Yesterday, the big fuel truck came out to deliver 150 gallons of bulk fuel to our new fuel tank. Will had installed a hose, filter, and nozzle so we were ready. By buying bulk farm fuel for our generator, tractor, and bulldozer (also chainsaw, rototiller, on-farm ATV) we save 27 cents a gallon! And with the increasing price of gas, that's considerable. I just wish we'd done it sooner! Most of that savings is in state road tax. Because farm vehicles don't get used on the road, we don't have to pay this tax. But we have been for years by buying it in town in 5 gallon containers. Bad us!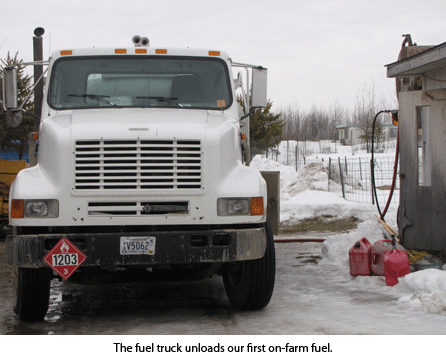 I just thought you'd like to see a couple of neat things we did. Three years ago, when I went to visit Will in Washington, we picked up these neat cast iron fruit and vegetable hooks. We needed a place for visitors to hang their coats instead of throwing them on a chair. So Will and I made this coat rack. And no, we didn't kill the bear. It's an antique I picked up years ago.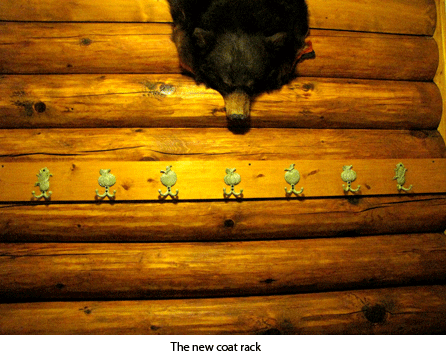 The Indian came from New Mexico, from an old general store. Will found this beaver-cut black ash tree when he was cutting firewood and brought it in the house as it was neat. The two go together real nice, don't you think?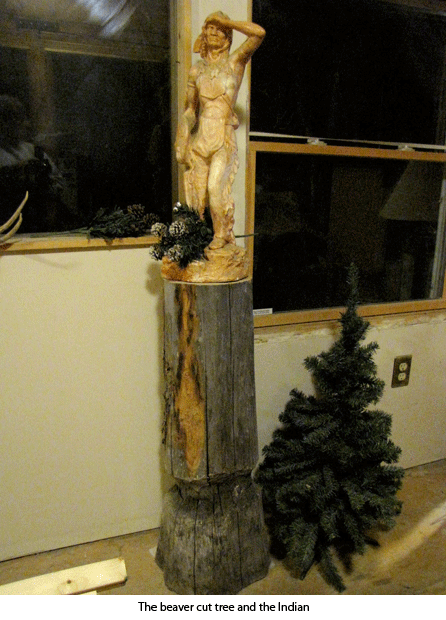 Readers' Questions:
Canning bacon
I have just bought 10 pounds of bacon. Would like to cut up into bits and use pint jars. Do you know steps in processing in pressure canner? Went to one site and it was suggested to cook till soft but about ready to eat then place in sterile jars pour fat 1/2 full in jar then processed. Do you have steps for bacon pieces and do you know how long shelf life is if bacon kept in cool dry basement area?
Smith
The way I do bacon pieces is to dice up the bacon, then spread it on a cookie sheet and bake in the oven at 250 degrees just until heated well and the meat shrinks some. Then pack into a half-pint or pint jar, leaving 1 inch of headspace. Do not add liquid or fat. Process for 75 minutes at 10 pounds pressure. If you live at an altitude above 1,000 feet, consult your canning book for directions on increasing your pressure to suit your altitude, if necessary. This bacon will keep for many years in a cool, dry basement, just like any other meat. — Jackie
Canning on a glass top stove
I just canned some dried pinto beans in a tomato juice mix. My stove is one of those glass tops with a thermostat to keep the temperature even. No matter how much I try to stay at 10 lb pressure the best I can get it is at 10.5 lb. pressure and that's set on low. Do I can less than 65 minutes for the pints or do I cut down on the time? Just want to make sure they don't come out as mush.
Betty
Covington, Georgia
Just can your beans at 10.5 pounds. That half pound won't hurt a thing! NEVER cut down on your processing time if you process at a higher temperature by accident. They'll be fine.
Remember that glass top stoves' manufacturers don't recommend canning on them, although many homesteaders do just that. They do crack, on occasion. — Jackie
Canning ham
When you answered the question about canning ham, you didn't say whether you cook the ham first. We cooked ours first but that seems to be overcooking. If you don't cook it, does it still need to be heated before putting it in jars?
Sam Allen
Bessemer City, North Carolina

I cut my ham into convenient pieces, then just lightly brown it in a little oil. Just enough to heat it. Pack into jars, then make a broth with pan drippings and water. This way it stays tender and juicy. — Jackie
Goat milk
I am interested in having a dairy goat for milk, But, I don't really like the musky flavor. And my family is to small for a dairy cow. What breed of goat would have less of the musky taste?
By the way congratulations to you and your man. Do you have a date for the upcoming nuptials?
Greg Ringele
Newblaine, Arkansas
Goat milk should not taste musky or goaty. There are reasons it does — heredity, poor cleanliness, having a buck in the does pen, having a dirty pen/yard or not clipping the doe's belly and udder. Not one of our does has milk that tastes the least bit "off." All breeds and crossbreeds produce good tasting milk, but the best way to pick a doe with good milk is to sample her milk before you buy her. Or choose a doeling from a good milker you have sampled milk from, then keeping her clipped, well cared for, and away from bucks. There was an article on goat milk in the current issue of BHM (March/April 2011).
Thank you for your congratulations. Will hasn't set a date yet. (I think he's chicken!) LOL — Jackie
Growing onions
I have never grown onions and would like to know if they can be grown like the daffodils? Put them in the ground and let them take care of themselves and multiply or must they be dug up?
Jim G.
Mount Vernon, Ohio
You plant either onion sets (little onion bulbs) or small onion plants in the spring in your garden. They are only planted about an inch deep in the soil. They do not multiply, but get much larger, making nice sized storage onions by fall. All summer you can use the extra ones as green onions. You can buy multiplier or potato onions. These, you can leave in one place (multiplier) or dig and replant the small ones to continue your "patch." Both of these also produce small bulbs on a "seed" stalk, which you can pickle or use as whole small onions in recipes. — Jackie
Making pine tar
I'm not sure where to turn for this information. I'm trying to find out how to make pine tar at home. I saw a video by British Bushcraft Expert Ray Mears in Sweden, and the guy he was with had a neat little setup for making pine tar. I can't find any hard data or guidelines on how to do it myself though. It'd be great to be able to make a natural preservative like that at home for fence posts and such!
Rick Dobert
lifetime subscriber
I have never made pine tar, but I have collected pine pitch globs, then heated them in a used tin can in order to patch small holes in my canoe. I looked online and found some information though, so if you'll type "how to make pine tar" in your browser, you'll find quite a bit of varied information. But it looks like making enough pine tar at home to use as fence post preservative may not be labor-wise. — Jackie