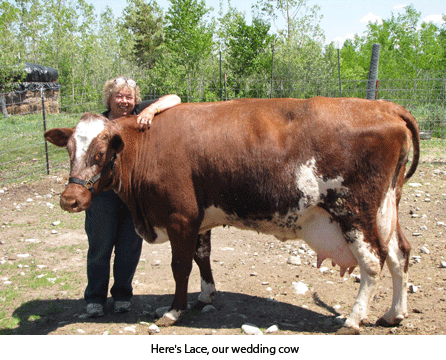 What do old, going-to-be-married homesteaders buy each other for their wedding? Diamonds, jewels, a tractor? No. Will and I bought a milk cow. Last year we went to Carol and Abner Miller's farm down in Staples, MN to buy a couple of Boer goats from their nice herd. We also saw their herd of Jersey and Milking Shorthorn cows in the cleanest, nicest dairy barn I've ever seen. I tried to talk Abner out of a heifer calf or a cull cow. No dice. He was building up his herd and needed every one. But we spoke for a few more goats for the spring of this year and when I talked to Carol, she mentioned that Abner had a couple of cows he might sell. It didn't take long to finalize the deal on our new cow, Lace. She's a big girl with a nice udder and is bred to freshen this month. We chose a Milking Shorthorn, even though we love Jerseys, because shorthorns handle our very cold climate and homestead conditions better than the thinner-skinned Jerseys. And the bull calves make excellent beef, too.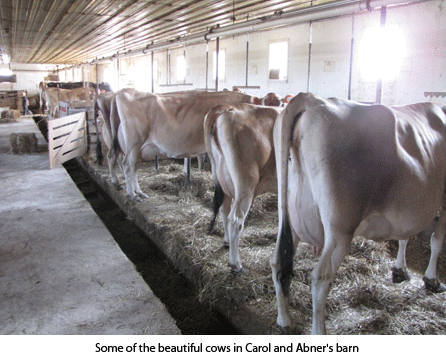 We don't have a dairy barn or much of a way to handle a cow yet. So I hoped she'd be gentle. Turns out she is not only very gentle, but is also broke to lead, which surprised Abner too, as he'd never tried. His cows just come into their stalls, are tied, milked, then turned out. She even hopped right into our trailer with absolutely no fuss at all!
Of course, we also got our goats, too. One is a registered Boer buckling from Collateral Damage breeding. We also got a purebred Nubian buckling that is black and white spotted and a Boer/Nubain spotted brown and white buckling out of the hugest doe I'd ever seen. Carol "threw in" his sister, who was born with weak front legs. One straightened out and the other has a contracted tendon. We have it splinted to keep it as straight as possible and are doing range of motion exercises on that leg to try to stretch out the tendons and free up the knee joint. I sure hope it works. I fall in love with my animals and sure hate to have one having trouble of any kind.
Oh, just a note: I'm told that copies of my new book full of recipes for your pantry and homegrown foods are being shipped to the MREA fair in Custer, Wisconsin (www.midwestrenew.org/energyfair), where Will and I will be spending our honeymoon manning the Backwoods Home booth. So anyone who wants to pick up one of the very first copies (and autographed too) can stop by and see us there. Of course, we'll also have Growing and Canning Your Own Food and tons of other books, anthologies, and issues of the magazine at a very good price. If you already have the canning book, bring it along and I'll autograph it for you right on the spot. — Jackie