We've only had one sunny (kind of) day in a week. It's weather for ducks and geese. This makes getting anything done around here a nasty job — squish, squish, squish. We were thrilled this morning though when we looked out our living room window to see a pair of swans and three juveniles swimming on our beaver pond. Wow, so pretty.
I'm racing to get the tomatoes all seeded and canned up before they go bad as a few are trying to do (and succeeding). Yesterday I put up 12 quarts of spaghetti sauce, 8 pints of pizza sauce, and 10 pints of taco sauce; and saved seeds from eight more tomato varieties. Whew, only eight more crates and 20 more varieties to go! And the weather's getting cold. We had 32° F for a low three nights in a row and we're holding our breath that it doesn't go too much lower as we still have crops to bring in.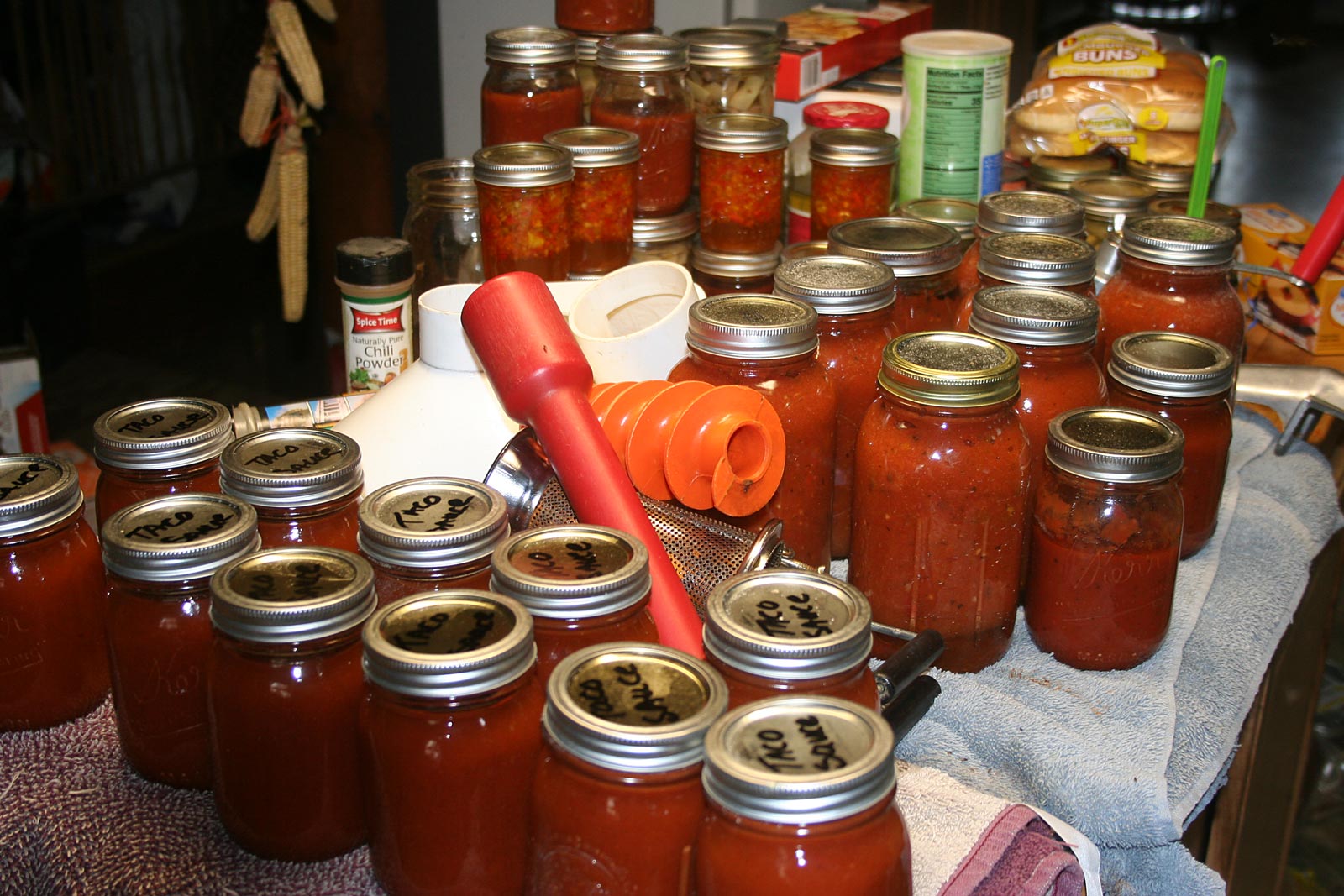 Our friend, Tom Roncheti brought a borrowed pickup over and finished cleaning out my goat pen. We took down the goat fence and Will managed to get the loader in the outside yard and loaded the truck with all that lovely composted manure. What a win-win situation — they needed lots more manure, and I sure needed that pen cleaned out for winter. Now we are both happy. Tom brought his rescue dog, Recess, and she and Hondo had a good time playing while the folks worked. When they left, Hondo sat up on the back of Will's chair and looked out the window, hoping they'd come back.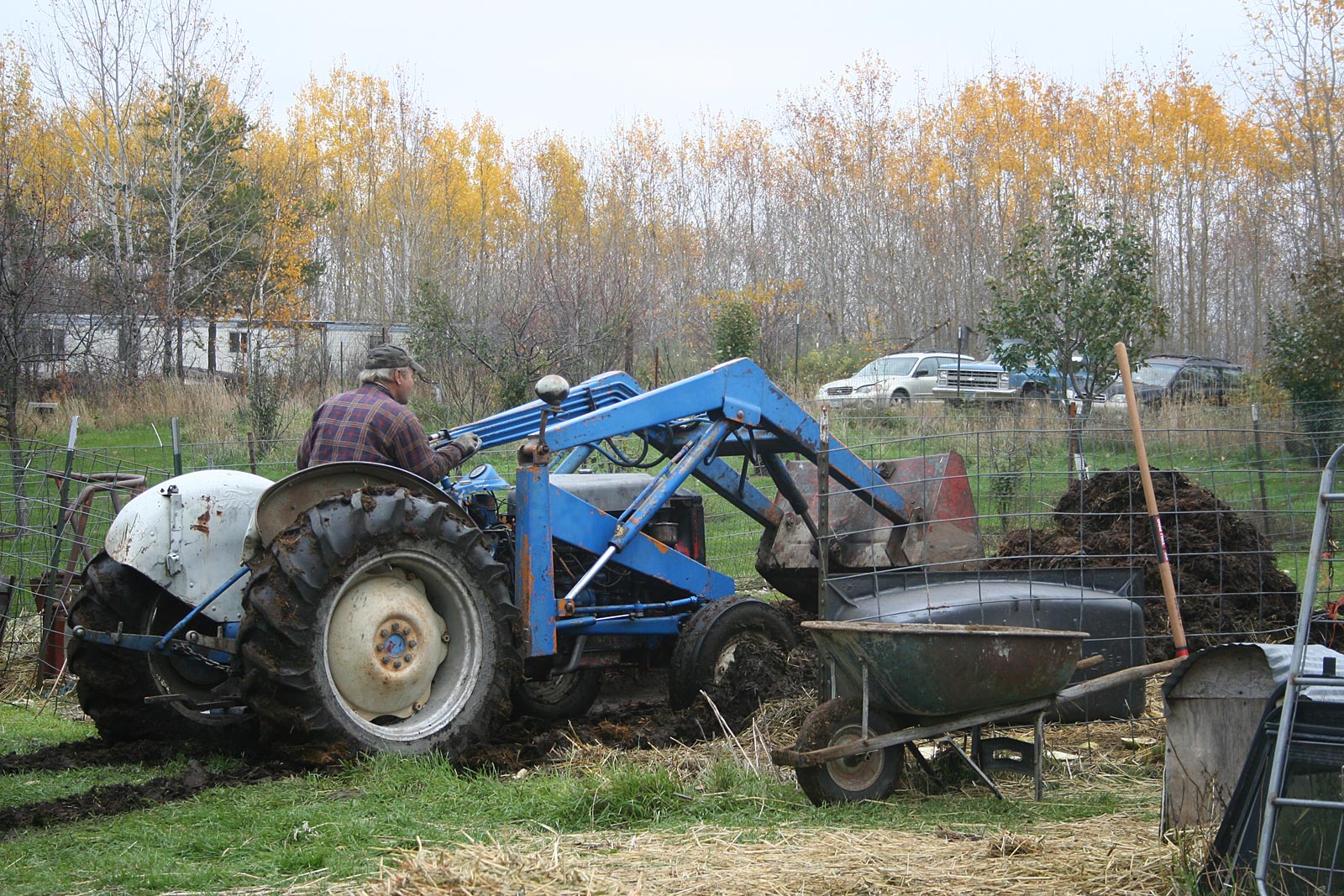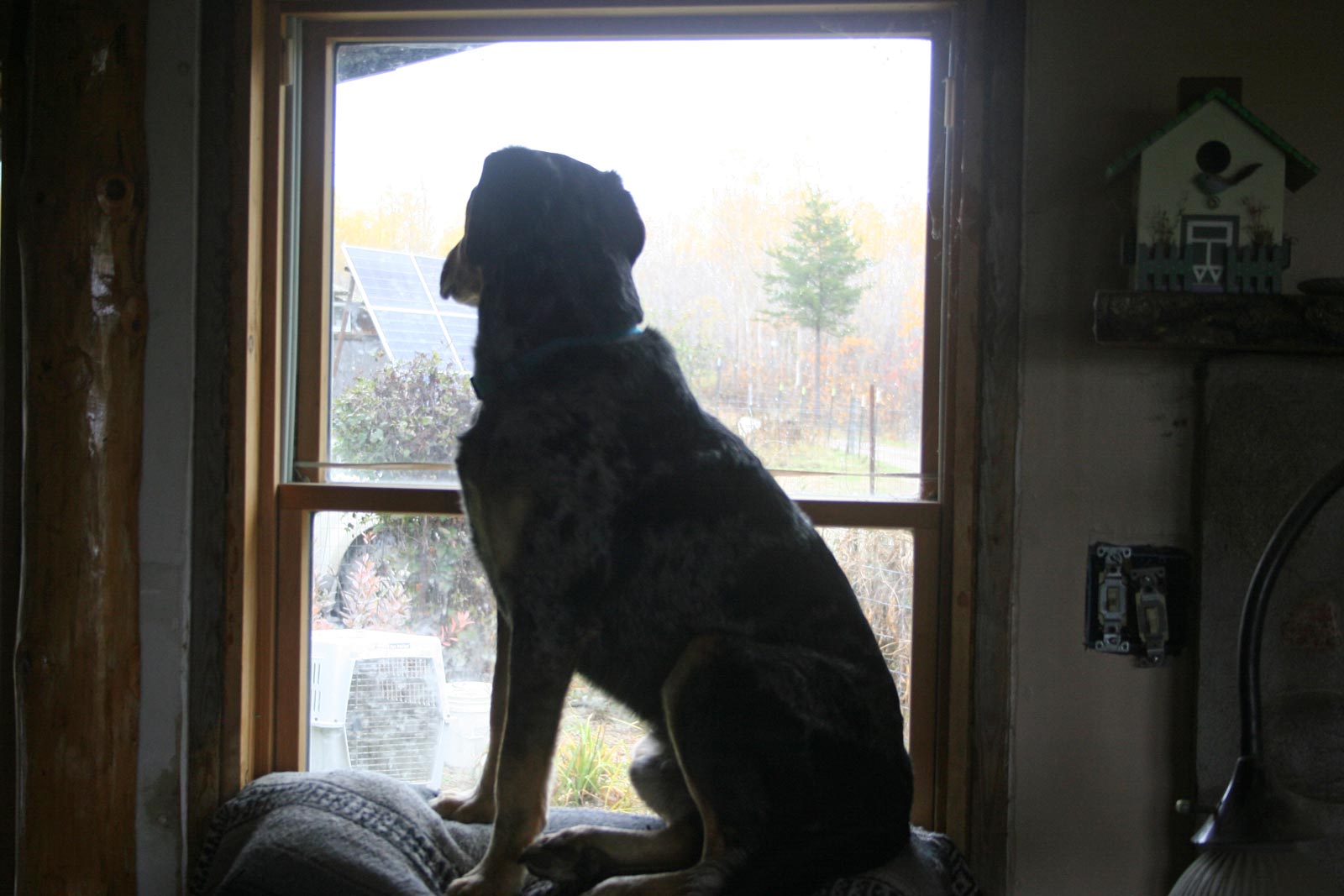 Every evening I've been shelling more dry beans. Last night I finished up a big bucket full of Early Warwick. These red and white speckled beans are so good in chili, soup, and stews. We like them used as a pinto bean. (We can't grow pintos reliably as they are a pretty long-season bean and we live in northern Minnesota.) Tonight I have a wash tub full of Strike green bean pods to shell. We now rank these with Provider as a very dependable, hugely productive green bean for canning and fresh eating. We simply love them!
Our living room and barn are bursting with squash and pumpkins. Such a good harvest this year. We are already eating Hopi Pale Greys, even though you really should wait a month after harvesting to let them cure as they get sweeter. But who can wait? We've also discovered a few new ones, which we are waiting to let cure before trying. Two of our favorites this year are Borchardt's Wonder, which looks like a pink Hopi Pale Grey, and Theron's Winter, a huge, gorgeous, very different-looking squash with a kind of turban end and gorgeous light green and white coloring. Then there's Lakota, a smaller, flame-orange gem with dark green stripes that's very good. We grew some last year and we really liked them. (If you'd like to learn more about raising squash, check out my article in Issue 135 of BHM or the Twenty-Third Year Anthology.) My son, Bill, and his family are headed for Yellowstone Park on Wednesday and they invited me to join them and be a tour guide. We used to live about 90 miles from the Park and went often while David was young, so I know all the "sweet spots." This is a bad time of the year for me to be gone for four days, but I'm so excited to go West again and will just rush around and try to get ready. Will is going to man the fort with David. David couldn't go because he has training on some new big equipment for two days during that time. Even homesteaders need a small vacation sometimes! — Jackie