Recipe of the Week
 
Blueberry wine jam
 
Courtesy of
Jan Cook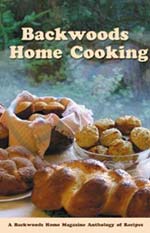 You'll find this recipe and over 400 more in Backwoods Home Cooking.
Click Here
Ingredients
1 pkg. (10 oz.) frozen blueberries, unsweetened
4 cups sugar
2 cups berry wine
2 Tbsp. frozen orange juice concentrate
1 bottle (6 oz.) liquid pectin
Method
Assemble canning jars, lids, and ring bands. Choose jars that are free of nicks or cracks. Discard rusted or bent ring bands. Always use new lids. Sterilize jars by placing them in boiling water bath for 15 minutes and keep hot. Scald lids and ring bands. Keep lids in very hot water until ready to use.
Mash thawed blueberries. Mix with sugar, wine, and orange juice concentrate. Cook over high heat, stirring to dissolve sugar. Bring to a boil and let boil very hard for 1 minute, stirring constantly. Remove from heat and pour in pectin. Stir and skim for 6 minutes.
Pour into hot jars, spoon off any foam, and add more fruit to within 1/8 inch of top. Wipe rims with a clean, damp cloth. Place lids on jars and screw on ring bands hand tight. Let cool on a towel out of drafts. Press lids with your finger. If they stay down, they're sealed.
---
---
Have a recipe you'd like to share? Please send it via email to webmaster@backwoodshome.com. Contributed recipes may appear online or in the BHM newsletter.