Letters To The Editor
From Issue #113
My first fan mail letter
I love the magazine. Thank you! I never write fan mail so you're my first. Please accept this check for 3 more years. I plan on getting some chickens soon so that beginners handbook will be quite handy!
Veryl Garibay
Forks, Washington

A brief letter like yours means a lot to my staff. We think we do a good job of not only educating people, but motivating them to act in their own behalf. If our efforts encourage someone to write their first "fan mail" letter, it indicates we are succeeding. Thanks for the feedback.
" Dave
95-year-old subscriber
To the total staff: I enjoy the magazine very much. Would order for three years. But I'm 95 years old "my wife is in a home and I have no grandchildren or children.
If I continue to stay alive when this order runs out I will order again one order at a time.
P.S. I forgot to tell you I'm legally blind but I'm lucky I have a machine. Have a good day.
Harry McKinley
Wilmington, Ohio
Small-scale grain production
After reading "Get Serious About Gardening" and about the wheat prices I thought it might be nice to run an article on small scale grain production. Grain can be grown in the home garden yet most of us would have several questions should we try.
-What varieties (non-hybrid)
-How to grow
-How to process
-How to store
and probably others.
Eric Witter
Loganville, Georgia

I hope Jackie Clay's article in this issue answers your questions.
" Dave
Just now "catching the bug"
I was in the store looking at magazines, and saw your May/June 2008 issue. The cover and topic immediately caught my attention, so I purchased the issue.
These articles in your magazine were extremely intriguing. The magazine is packed with excellent, useful information that gives the reader a sense of empowerment. I even enjoyed all the display ads that show important information. Jeffrey Yago's article on the "pantry," Dorothy Ainsworth on "scrounging," Jackie Clay on "protein" and "gardening," Ayoob on guns, all very eye opening. I particularly enjoyed Claire Wolfe on "Circle of Friends," Corey Gage on "Rule of Three," and Sylvia Gist on "Whole Grains." They got my brain thinking of these topics in a depth I never have before.
Your magazine is very attractive and readable. I wish I was turned on to this lifestyle of self-reliance 20 years ago, but alas, I am only now catching the "bug."
Dale F. Lein
Campbell Hall, New York
Too modern for me
Your magazine is too modern for my lifestyle. I don't have domestic animals or garden but live in a cabin in a swamp, eat wild plants and game, fish, run trap line in season. Looking for more self sufficient lifestyle, old time magazine. I have no job but do have part time outdoor education and applied living skills. Tell me about a more simple nature based living how to style.
Part of your mag is good. I drink water from stream, use out house for toilet, cook on campfire or wood stove, have dry food storage, built our house mostly of free material. Hunt, Fish, Trap, Travel, Canoe, Hike.
Colbert Sturgeon
Valdosta, Georgia
Your absolute best issue
We received our regular copy of the May/June 2008 (Issue No. 111) and loved it! My husband took it with him to visit some family and they loved it also. Since that copy has a new home we need another! You should be very proud of every issue you produce but this one is the absolute best issue! It's full of useful information and very well written. Every article is easy to understand and wasn't meant to scare a newbie to death! The original issue we had…those family members that now have it are now starting to look at prepping in a new light! Thank you, thank you, thank you!
James Shepherd family
Conesville, Ohio
Surviving a flood using a tow-along trailer
The BHM Special Preparedness Issue (May/June 2008) "Gearing Up For An Economic Squeeze" was right "on target," as always.
However, I would like to add something that has only been occasionally alluded to, and directly mentioned only by Dave a while back. This was when he was involved in Gold-Beach-wide discussions of surviving a potential tsunami caused by a tectonic-plates-shift only a "few miles" offshore. Fortunately, Dave's home is sufficiently elevated, not so for Gold Beach business area.
The "something" I'm talking about is surviving "a flood." A flood caused by a tsunami has the same results as the folks currently living in the Flood Plain Areas are currently experiencing the length of the Mississippi, Missouri, Arkansas, and many other rivers around the nation. The best stocked food pantry and most other preparedness measures are useless if your home (and land?) is flooded, or worse, washed away.
For these folks, keeping their food pantry and other emergency items in a tow-along-trailer, ready to go in an instant, is one temporary solution. A more permanent solution is to not live in any areas designated as even a 500-year Flood Plain, since all these FP designation criteria have proven to be of dubious reliability. And, of course, not live in an area "protected" by levees. Levees have not proven reliable protection of an unpredictable Mother Nature long-term. This "staying secure plan" could also be extended to encompass fire-prone canyon locations also.
"Living high" should mean land elevation, not "stuff." Only after a home (and land?) has sufficient elevation to live and is safely secured, can other "stuff" be safely secured for the long-term. After being "wiped out," starting over (even with sufficient money on hand"not always the case) is most definitely not an easy task. Why take this risk under duress?
B. Galioto
E. Elmhurst, New York
Good idea! Folks here in the northwest coast essentially live in a 300-year-old flood plain, since that is how long ago a giant tsunami hit the area. Ninety-nine percent of these folks, including me, only learned of the danger after a tsunami caused by a similar tectonic fault hit Asia in 2004.

It's hard to move from such a beautiful area when the next big tsunami may be 300 more years off (or tomorrow), so very few think of moving. My family spends 70% of their time at home in the mountains. The rest of the time we are in town and vulnerable. I am one of the few people in my town who think about this possibility fairly frequently. Such an event would kill at least half our population and leave most of the rest homeless. I stock more preparedness food and supplies than I need because if a tsunami ever hits, we'll have a lot of neighbors making their way to our house. I have no plans to move, so if our home doesn't slide down the mountain during the tectonic event that precedes the tsunami, we'll be there to take them in. " Dave
A complimentary subscription
I would like to subscribe again to "Backwoods Home," for I love your magazine, but at this time I can't. Financially I only draw a small amount of Social Security, which I barely make it on. Now, planting the garden to help others with, I had to buy alot of wire to fence the garden off, to keep small critters out. So, that took all I had put back. In February, I also found out I have diabetes, so that takes a little extra a month for meds.
I will miss Jackie Clay's articles and John's too, and especially the views of Dave Duffy as that column tells it about like it is, with the sad state of world conditions. Keep up the good work, all of you.
When garden time is over, maybe then I can send in a new subscription. God Bless all the family of "Backwoods Home."
The Old Pioneer Lady
Lillian Faubus
Leslie, Arkansas
We've given you a one-year complimentary subscription to tide you over. " Dave
Can't do without BHM
We are enclosing our subscription renewal for 3 yrs. of Backwoods Home. My husband & I love this magazine, the books, & CD-Roms. Last year we hit some hard times & tried to cut back on some things. The only thing I ever heard Bruce complain about was how he missed your magazine"(everything else that we had to cut back on, he was OK with!)…
Paulette M. Wolff
Fall River, Wisconsin
No. 111 "really special"
You know if you keep up having all these specials I'm going to "save" myself right into the poor house. Just kidding; keep it up; we love it!
This newest magazine #111 (May/June 2008) was right on. Excellent. I think I am more or less prepared (I grew up an "Army brat," was born & raised in Louisiana with all those hurricanes & tornadoes, sandstorms at Fort Hood, Texas, snow & blizzards in Fort Leonard Wood, Missouri & Fort Belvoir, Virginia (outside Wash. DC) but this magazine brought up quite a few things that even I didn't know about or had forgotten. Right on! We love them all (of course), but this one was REALLY SPECIAL!
P.S. Bless you for all you do. We loved Lenie's recipes, too.
Johnnie Kelley
Seattle, Washington
Voting lesser of 2 evils perpetuates the problem
Massad Ayoob's article, "Preparing gun owners for the short-term future," struck a nerve. He would have been better keeping politics and economics out of the article, but since he did not…
First, I beg to differ on Massad's statement that the "recession" is caused by "global economic factors that the United States can do little to control." Do a Google search with the keywords "united states hyperinflation GAO 53 trillion debt." We got ourselves into this mess.
Secondly, when potential voter's say that Ron Paul is "unelectable" and whine about which Republican or Democrat candidate is the "lesser of two evils," they perpetuate the problem. If you want to unconditionally support the Second Amendment, vote for a Constitutional Party candidate.
There can be no meaningful changes with the current Republican/Democrat system. Does it really matter if the "left" hand or the "right" hand steals your freedoms, since both hands are being controlled by the same source?…
Marc Ries
Grants Pass, Oregon
Jackie, our matron saint
I wanted to tell you that I just received my May/June issue in the mail,and it is the best issue of any homesteading/self reliance magazine that I have ever had my hands on, including everything written back to the early 70's. While other folks are trying to make a cash cow out of the climate change/carbon scam, you folks are getting it right, and where it counts.
Please consider making a hardcover edition of this issue so that other generations can check it out of the library (it's kinda like the "Have more plan," but way better).
Jackie Clay is is one very inspiring person. She is the matron saint of your fine publication.
Doug Lucas
Corning, California
Walking onions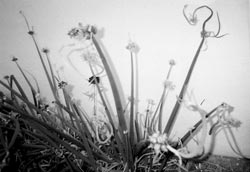 I'm sending you a picture of my walking onions. I have raised them for 3 years now. This is the first time they did this. After they make a cluster of new bulbs, the new ones send out a new shoot with new ones on it. I have shared them with a lot of friends and theirs don't do this.
I enjoy your magazine so much. Keep up the good work. I recently renewed my subscription.
Daisy Watts
Pleasant View, Tennessee
Thank you for sharing your photo. You can read more about walking onions in the September/October 2007, Issue #107. The article is entitled My Permanent Onion Patch by Lynne Sanford. " Dave