Recipe of the Week
 
Pecan twerps
 
Courtesy of
Alice Brantley Yeager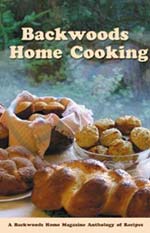 You'll find this recipe and over 400 more in Backwoods Home Cooking.
Click Here
Ingredients
1/2 lb. butter or shortening
4 heaping Tbsp. powdered sugar
2 cups flour
pinch of salt
2 tsp. vanilla mixed with 1 Tbsp. water
2 cups chopped pecans
Method
Cream butter and sugar together until smooth. Mix in flour and salt and add vanilla. Add pecans and stir until all ingredients are thoroughly mixed.
Hand roll bits of dough into date size pieces and place about 1/2 inch apart on an ungreased cookie sheet. Bake at 250°, about 50-55 minutes or until very lightly browned. When cookies have cooled, roll them in powdered sugar.
This should make about 55-60 pecan twerps.
---
---
Have a recipe you'd like to share? Please send it via email to webmaster@backwoodshome.com. Contributed recipes may appear online or in the BHM newsletter.