Recipe of the Week
 
Smoked Salmon
 
Courtesy of
Lisa Nourse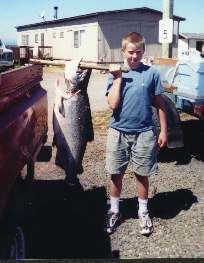 The best meals are made from stuff you grow–or catch. Here's a tasty smoked salmon treat made from a 38-pound king salmon caught by 11-year-old Ian Nourse, who is the son of Backwoods Home Magazine Administrative Assistant Lisa Nourse. He caught it on a garden worm and ear plug at the mouth of Lobster Creek, located on the Rogue River 17 miles from the ocean. Ian, from Wedderburn, Oregon, had been fishing with his dad, Gary, and he said it took him only five minutes to land the big fish. To which I said, "Yeah, right!"
His mom smoked about 20 pounds of the meat and made dinners with the rest. The recipe actually belongs to Helen Houghson, one of the very few female fishing guides operating on the Rogue River. The river has four salmon runs and this one has been the best salmon year in five years. Lisa brought some of the smoked salmon into BHM's office and all of us will testify to its deliciousness.
–Dave Duffy

Ingredients


20 lbs salmon
2 cups good Soy Sauce
1½ cups white Sugar
1½ cups brown Sugar
8 – 10 cloves fresh Garlic, minced


Method

Filet salmon, remove skin, and cut in 2″ x 3″ pieces that are 3/4″ thick. Marinate overnight in sauce. Smoke according to directions of the smoker you are using. We use a charcoal water smoker. Using charcoal briquets to smoke with, we put 3 or 4 small chunks of green apple branches on top of the briquets about every 1/2 hour during the smoking process to give salmon a good smoky flavor. Our smoker takes about 4 1/2 hours to smoke 20 lbs of salmon.
For best results use freshly caught salmon.
---
---
Have a recipe you'd like to share? Please send it via email to webmaster@backwoodshome.com. Contributed recipes may appear online or in the BHM newsletter.