Recipe of the Week
 
Tomato and basil sauce
 
Courtesy of
Richard Blunt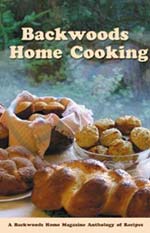 You'll find this recipe and over 400 more in Backwoods Home Cooking.
Click Here
Ingredients
1 clove of garlic
1 small onion
4 fresh basil leaves or 2 dried leaves
4 Tbsp. virgin olive oil
12 fresh plum tomatoes, peeled and seeded, or 3 cups of canned tomatoes without the juice
1 tsp. kosher salt
freshly ground pepper to taste
1 lb. of your favorite pasta to serve 4-6 of your favorite people
freshly grated Parmesan cheese as a topping
Method
Chop onion, garlic, and basil finely.
Sauté them in olive oil until onions and garlic are light gold in color.
Chop tomatoes finely and carefully add them to olive oil. I suggest you remove oil from heat to prevent spattering.
Cook over a low heat until natural juices have boiled down and sauce has thickened. This should take about 20 minutes to 1/2 hour.
Add the salt and freshly ground black pepper to taste and cook for a few minutes more.
Cook pasta, get your friends to the table and excite those taste buds!
---
---
Have a recipe you'd like to share? Please send it via email to webmaster@backwoodshome.com. Contributed recipes may appear online or in the BHM newsletter.