Tuesday, September 2nd, 2014
This time of year, we're constantly busy harvesting and putting up not only the garden produce but our wild crops as well. Luckily we have many on our homestead and this year we've been happy to see that our wild plum crop is outstanding. As wild plums bloom quite early, we only get a good crop about one year out of three. This year the trees are loaded! And finally, most are ripe. Once they are ripe, they easily fall off the tree and the critters such as wolves, fox, and bears, not to mention squirrels, gobble them up. (We can't take Spencer on our wild fruit expeditions as he also loves fruit!)
We used both a ladder and the back of our pickup to stand higher to pick. Then we gently shook the trees to free any high-up fruit. Thud, thud, thud, it rained plums! We picked those up off of the ground. How good they smell — sort of like plum mixed with vanilla. Mmmm.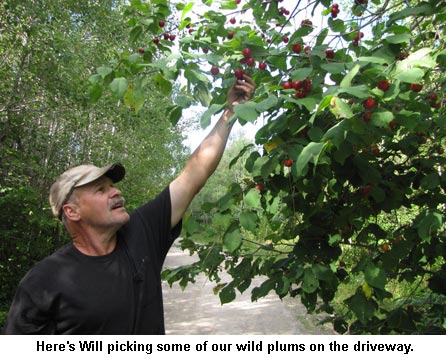 Will crawled through our fence to harvest some inside the pasture. But as crawling is very hard on my poor sore knees, I told Will I'd walk down to a spot where the lower wire had been broken to cross the fence there. I knew there was a seasonal drainage to cross but it's been pretty dry so I figured it'd be easy to cross. Yeah, right… There were still water puddles in it so I tried to step across on the high spots. Bad idea. I sunk to my knees and my left shoe pulled off in the clay; then I was stuck! Will came to help, giving me something solid to pull against. I ended up losing my right shoe too! But I got out. Yuck was I a mess! Will dug out my shoes by hand and I got back through the fence to the drive in my stocking feet encased in clay mud. But we ended the day with three big pails of plums.

I juiced the first batch last night in the Mehu Liisa steam juicer and got a gallon and a quart of beautiful juice. Today I'll do another batch and make jelly from some of the juice. The rest I'll can up to make jelly when things aren't so hectic. Will is saving some pits to plant for our own baby trees.
Just a reminder guys: when you ask questions try to use the email link provided at the top of the blog not the comments section. It's too easy for your questions to get lost in the comments and not get answered. — Jackie