Tuesday, August 19th, 2014
After a period of prolonged drought, we are finally getting some rain. It's tough for some of our neighbors who still are haying but boy was the ground getting dry. Our poor corn/pumpkin patch way out in the new forty was getting pretty stressed but it perked up and is setting ears and pumpkins. It's strange to compare the growth out there, where our tallest corn is about five feet tall (Painted Mountain) and the Glass Gem popcorn in the berry patch which is now topping eight feet and growing taller every day. Of course the Glass Gem was planted in VERY fertile ground and did receive watering. I'm sure that helped.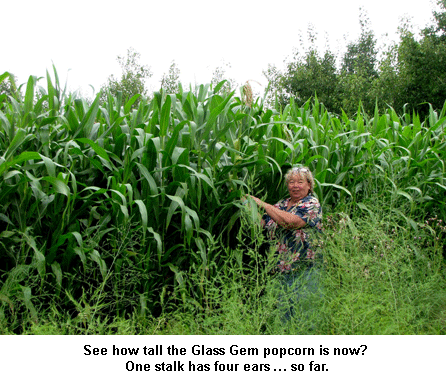 Our "forty" corn patch was an experiment, mostly to see if the deer would eat it all down when it was a few inches tall. They didn't. (But they did mow down the potatoes out there, regardless of the hot wire, peanut butter on aluminum foil.) We already have a huge compost pile of rotted manure ready to dump on the corn/pumpkin ground as soon as we harvest what we can this fall. As the ground is white clay with some manure worked in, I'm sure tons more manure will make a drastic improvement for next year. We homesteaders are always planning on "next year!" I'm real interested to find out if A, we get some Apache Giant squash and B, if the seed from our middle plant which shows pretty variegated leaves will breed true and its babies will have variegated yellow and green leaves as well. That would be cool!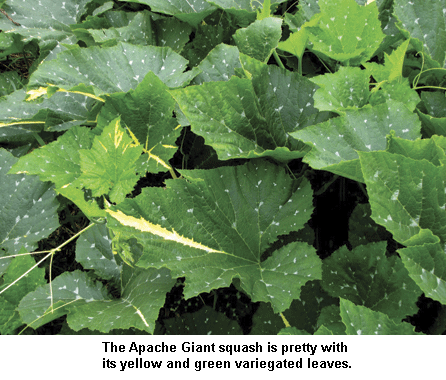 God was busy planting sunflowers here and there all over our gardens and in my flower beds this spring. (I'm sure He had help from some little birds carrying seed from our bird feeders.) Those bright, happy sunflowers sure cheer up the place. We have them in our squash patches, flower beds, and even in our big garden. Some have big heads and some have multiple smaller heads. But all are sure pretty! — Jackie