I saved a turkey roasting pan full of sliced pumpkin pieces from our huge pumpkin to dehydrate. As the temperatures were hot and dry (unusual for this time of year in northern Minnesota!), I just put the pieces out on large screens. For good airflow and to separate the screens I used a couple of pieces of peeled fir poles. All in all, I had four screens full. And just three days later, those pieces are shrunk down to less than a quarter of their initial size and are now ready to pick off and put into jars to store. I not only use this dehydrated pumpkin for stews and casseroles, but I throw a handful into mixed grain bread after grinding it up into flour. No one guesses and it makes the bread taste great!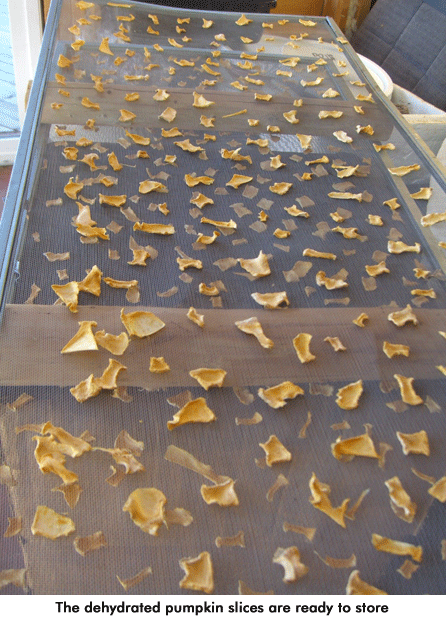 Just when harvest is finally winding down (I only need to dig a few more carrots, harvest the celery, and the rutabagas), we have a new, young crop growing in our greenhouse. This time it's LEMONS! This spring Mom bought a Ponderosa lemon from Logee's Greenhouse. Dad's grandmother had one on her heated sun porch that was old and huge. It also furnished her with lemons for baking — in Michigan! We figured if she did it, so could we, so Mom's lemon bloomed and now has two lemons set on it. One is already large and the other is still pretty small. Mom would really love that! And I'm happy to find just another way to be more self reliant. We DO like lemon meringue pie and lemon bars.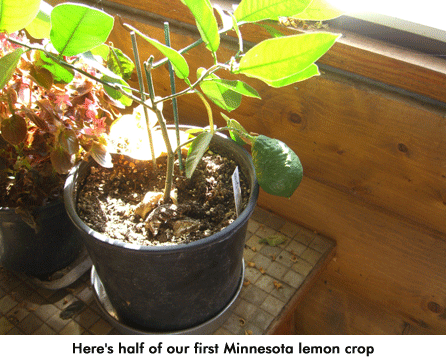 Readers' Questions:
Expelled broth during canning process
I canned some sloppy joe mix from your recipe in your canning book, which is quite wonderful. My problem is that the jars expelled some broth during the canning process, because there was red grease in the canner when all was finished and the jars were greasy. All jars sealed. My question is, do you think that the contents are safe to eat, or could the grease prevent a good seal even though the lids appear to be sealed?
Judy Gold
Fredericksburg, Texas
As long as your jars sealed, the mix is good to go. Usually the broth/juice expels due to fluctuating pressure or because the canner has not quite returned to zero before you let steam escape through the petcock or valve. (I have been guilty of this on occasion, when in a super hurry. "Oh it must be zero," I think…when it's actually 1, not zero. And oh how the jars bubble and hiss on taking them out! Just wash off your jars with warm soapy water, remove the rings and you'll be fine. Enjoy your sloppy joe's! — Jackie
Storing butternut squash
We are just getting ready to harvest our Butternut Squash. We have read different ways to get ready to store. One way is to dip in a Clorox solution and the other way is just to set out for a couple of weeks before you store.
Joni Warren
Canyon City, Oregon
I just cure my pumpkins and squash by leaving them in the garden after ripening to develop a nice hard skin. I'd just as soon not use bleach on my food, even though I don't eat squash skin. I've never had trouble keeping squash and pumpkins unless they were frosted/frozen a little. Then they go bad quickly. I recently gave my grandson, Mason, a huge pumpkin that we harvested LAST year and just kept in our entryway for decoration. No special care and it was as hard as a rock. — Jackie
Canning potato soup
I want to can my potato soup but will it be alright? The ingredients consist of milk, cream of chicken, bacon, and potatoes etc. My question was about the milk and I know that in your canning guide it contains the experimental milk recipe but I didn't see any soups that contained milk in the book. I think 75 minutes for pints and it should do fine what do you think?
Challis Moffitt
Ramseur, North Carolina
The trouble is that when you can a recipe with milk, it tends to look curdled. That's why I don't can any recipes with milk in them, although I DO can milk. I don't know why that happens, but it seems to. You can can your potato soup with "cream of" soup, diluted with water, then add milk after you open the jar. — Jackie
Mouse-chewed sweet potatoes
I dug my sweet potatoes and the mice have eaten on several of them(1/2 bushel) can we cut off the eaten part and cook the other part?
Sue Wilson
Russell Springs, Kentucky
Yes, you can. But sweet potatoes really need to cure awhile before you use them to develop a nice sweet taste. Watch your sweet potatoes carefully for signs of shriveling or mold. At the first sign, I'd recommend beginning to eat them. Don't cut the mouse chewed parts off until you cook them, though, as they'll probably cure better uncut. You can also can or freeze your sweet potatoes, if you need to use them up quickly. — Jackie
Canning pumpkin
I looked up the time to can pumpkin chunks in your new book. It lists 90 minutes for quarts. Is this the correct time? Also, if it is and you don't have a canner full, you can home-can dry beans with them as they require 90 minutes for either pints or quarts. I only use 1 cup beans for quarts and 1/2 cup for pints. I use less for Lima beans, black beans, 15-bean soup and garbanzo beans as they can up thicker. My husband likes mixed beans (pinto and great northern) with some hot pepper added in or just mixed beans and onions.
Your book is great. I will be ordering another one for my mother soon. Looking forward to the next book you are going to produce.
Teresa Parker
Evansville, Wyoming
Yes, the time is correct. And yes, you can also can up anything else that requires the same (or a little less) processing time as the pumpkin. True, the food that requires less processing time will be a bit overcooked, but generally it doesn't hurt anything and you'll get more done quicker! Don't try it with potatoes or anything with pasta in it though or you'll end up with mush.
Glad you like the book. I'm working like mad trying to make my new book the best homestead recipe book for self-reliant people as possible. — Jackie
Canning beef stroganoff
I want to can some Beef Stroganoff. Can I can it with the sour cream in it or should I do so without it and add the sour cream when I want to use it?
D
Troy, Montana

To can beef stroganoff, I'd make it with cream of mushroom or other "cream of" soup, with water added to thin it out well. Don't add too many noodles; they swell and expand. You don't want so thick a food in the jar that the heat doesn't penetrate to the center safely. Add your sour cream when you heat to serve it. Adding it before you process it may result in curdled appearing sour cream. — Jackie
Canning squash soup
I have a wonderful recipe for squash soup.
2 T. butter
5 C. peeled squash
2 C. 1/2 inch cubed potatoes
1 t salt
1/2 t pepper
1/2 C. chopped onion
4 C. chicken broth
1 C. Milk
Saute squash, potatoes and onions, in butter, add salt and pepper. Add broth and boil until tender. Process in a blender or food processor. Return to pan, add milk. Heat and serve.
I would like to can this soup and am wondering at what point should I do that. Can it be preserved as is with the milk added? If so, how long would you pressure cook this? It is a wonderful recipe!
Robin Novotny
Ironton, Minnesota

I think this is one recipe I'd just enjoy fresh. Canning pureed squash isn't recommended. I know that it isn't as thick as "pumpkin pie filling" squash, but I'm not sure just how thick it would be without the milk. I haven't had much luck canning any recipe with milk in it, as the milk seems to either darken a lot or look curdled in a recipe. Plain canned milk is okay, but in a recipe it isn't so hot. — Jackie
Finding parts
I got one for Will. I was wondering where ya'll find parts at a good price? On-line or local? The motor on the tiller final died on us, so we need a replacement. It was an 8 horse Wheel Horse. I was told 400 bucks for one? Sounds high to us.
Shawn & Karen Moore
Ada, Ohio
We get parts wherever we can find a good deal. For an 8 horse (Briggs & Stratton?), you might try Northern Tool or go on your nearest Craigslist (online). If you don't know about Craigslist, just type in your nearest big city, followed by craigslist. A menu will pop up. Choose Farm and Garden. Often there will be parts machines or engines at a good price. You might also only need a short block (half of the motor), so the price would be less, too. Good luck! — Will
Corn cob jelly
I have just tried the corn cob jelly recipe in Issue 106 p.49. This is the 2nd time I have tried it, the first I thought I did the measuring incorrectly. But this time I KNOW I did it alright. I canned 10-4 but today, 10-5 it has not set up. Last time, I added more sugar/pectin and re-batched it and some of it jelled, not all. What can I do…is the recipe incorrect?
J from Missouri
This was a recipe Linda Gabris had in BHM. I think there might have been a typo, as my corn cob jelly recipe has 4 CUPS of water, ending up with 3 cups of juice. Here's my recipe:
12 large corn cobs
4 cups water
1 package (1-3/4 ounces) powdered fruit pectin
4 cups sugar
Yellow food coloring
Cut corn kernels from cobs and reserve for another recipe. Or use clean field corn cobs, broken into pieces. In a stockpot, place corn cobs and water; bring to a boil. Boil for 10 minutes.
Discard the cobs; strain liquid through cheesecloth. Liquid should measure 3 cups. Add additional water if necessary.
Return to the kettle and stir in pectin. Bring to a full rolling boil. Add sugar and bring back to a boil. Skim foam and add a few drops of food coloring. Pour into hot jars. Process in a boiling water bath for 10 minutes. I hope you have better luck the next time! — Jackie