Issue #177 • July/Aug/Sept, 2019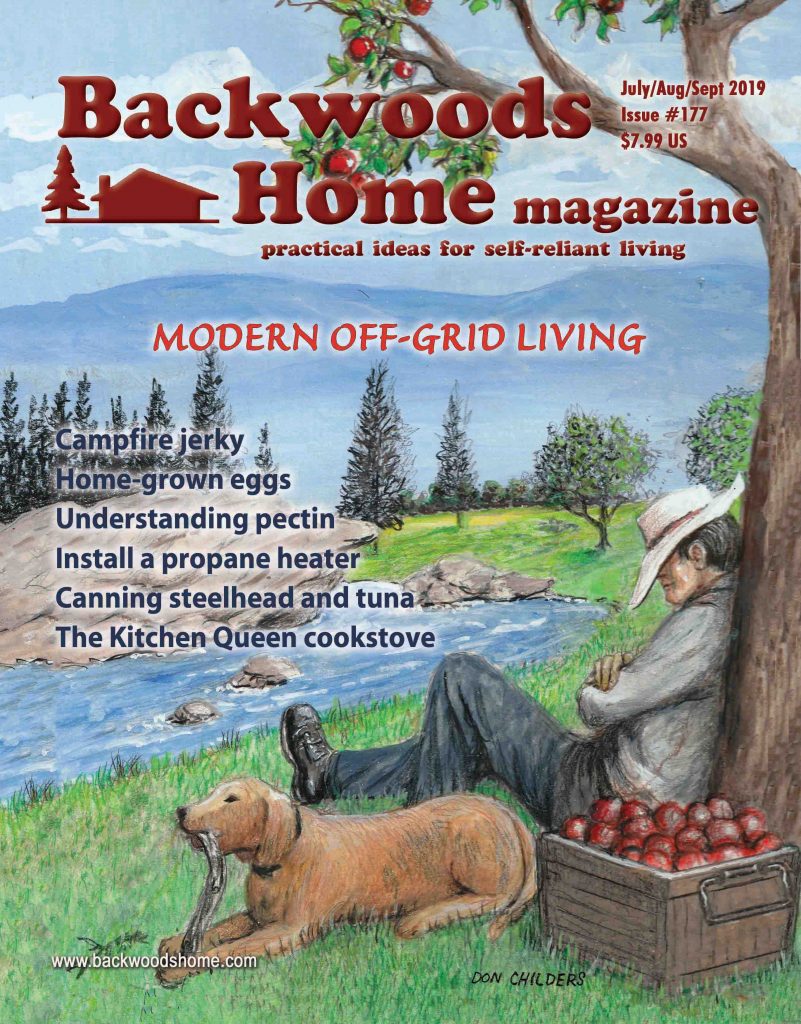 ABOUT THE COVER
In this cover painted by longtime artist Don Childers, a rugged mountain man takes a break from harvesting wild apples he found in an old, abandoned orchard. With his  loyal dog at his side, and a belly full of sweet apples, it's easy to drift off to sleep on this warm day. 
6  Publisher's Note
6 Editor's Note
7  Editorial:
Call me Miracle Man!
70  Ask Jackie:
Milling wheat for bread, leather britches, poor potato harvest, cow artificial insemination, etc.
48 Ayoob on Firearms:
Understanding opposition to "Gun Control"
56  The Irreverent Joke Page
75  Advertiser index
97-98  BHM anthologies & books

Self-reliance
26  Installing a propane heater
By Watt Jones
44  Tarp shelters
By Robert Van Putten
54  Carry an emergency "get down" bag
By Pete Cecil
63  The Kitchen Queen cookstove: Some tips and tricks
By Kai Moessle
77  Using less electricity
By Rick Brannan
84  Make a simple alcohol stove
By Robert Van Putten
Alternative energy
15  Our journey to modern off-grid living
By Jackie Clay-Atkinson
Building
8 Build a trapper's tilt
By Robert Van Puttten
67 How we built a storm shelter
By Eliza Bilby
Food and recipes
21  Dry-rubbed and marinated jerky
By Linda Gabris
30  Canning steelhead and tuna
By Lisa Nourse
88  Understanding pectin
By Kristina Seleshanko
Farm and garden
36  Cheaper than store-bought eggs
By Kristina Seleshanko
40  Hatch chicks this fall for springtime eggs
By James Kash
58  Conserving water in the garden
By Kristina Seleshanko
61  Plastic bottles in the garden to save money and increase yield
By Dana Benner
74  Raising Red Wattle hogs for meat
By Donna O'Shaughnessy
91 Container gardening
By Everett Lindsey