Letters To The Editor
From Issue #160
Improving a rural economy with legalized marijuana
I just received Issue #159 (May/June 2016). I've been a subscriber for a while … I've ordered most of your anthologies.
But when I opened #159 (May/June 2016) and found your support for pot, I started to trash the issue. Instead I cut out the pages and trashed them.
I know you can print pretty much whatever you want, but I don't support drugs legal or illegal. So if you want to push pot use cancel my subscription as I don't.
Thank you for all the other years.
Clifford Salsbury
Yucaipa, California
I'd like to give a one-year gift subscription, but I never will if you ever print another pro-marijuana article again. In fact, I will cancel my subscription if you do. Marijuana has been the cause of much grief in my family.
N.B.
Boise, Idaho
I have been a subscriber for many years. Every time your magazine arrives, I stop what I'm doing, grab a cup of coffee, and read. I have always enjoyed Jackie Clay, as she does things the way I do them. And of course ALL articles on self-reliant living. I live self-reliant off the land by gardening, raising dairy goats, chickens, pigs, and canning. So your magazine really keeps me going.
BUT I AM APPALLED AT YOUR 12 PAGES OF ADVERTISING MARIJUANA. We do not agree with LEGAL or illegal drugs. WE DON'T DO DRUGS, WE DON'T RECOMMEND DRUGS; OKLAHOMA IS A NO MARIJUANA STATE AND THE PEOPLE HERE (mostly) OPPOSE IT. I have lots of grandchildren that all parents are trying to lead them away from drugs and here in a supposedly good magazine, you throw it in their faces.
I will not ask for a full refund BUT I will not renew — EVER! …
Gloria Jochmans
Chelsea, Oklahoma
For many years I have looked forward to reading your magazine from cover to cover. I trusted the wisdom of the information in the articles. I thought that your values were the same as mine. My disappointment is the article in the latest issue (Issue #159, May/June 2016) titled, "Improving a rural economy with legalized marijuana." I suppose in the short run that there will be an increase in the taxes and local economy. The residents don't realize that there will be a trade-off for this money and that it will attract questionable visitors and other problems. Just because something is legal does not make it right …
Dennis Dragon
Wallingford, Pennsylvania
Things kids should learn before leaving high school
I'm writing in response to a recent article by John Silveira on some of the things that "should be" taught in the schools. (Issue #159, May/June 2016, "The Last Word")
I'm a retired teacher with 35 years in classrooms ranging from the 7th grade into college-level classes in both math and science. This was done in several states in the SE part of our country.
In my first 20 years I often strayed from my curriculum to touch on many of the areas cited by John Silveira. Doing a checkbook, doing a 1040 tax return, explaining how an employer in most cases had to match the Social Security deductions they griped about, requiring a worksheet or two on correct shaping of numbers. The last 15 years of my career I was told by administration that such things were not part of an algebra class and to cease doing it. Several different principals assured me this had already been covered in elementary classes or would be in more appropriate classes.
Paul C. Keller
St. Augustine, Florida
I have felt for some time that all of the points in this piece should be taught in our schools.
The portion on taxes will be particularly difficult to calculate since so many of our taxes are buried in other costs.
A useful addition to the items to be taught would be a calculation of total interest paid every year. For many years all of the interest paid by a taxpayer was deductible on your income taxes. This was changed so that only mortgage interest is now deductible.
A calculation of all interest paid might result in a reduction of use of credit which would greatly help many family budgets.
Nelson Gothie
Bedford, Pennsylvania
I'm so glad you decided to go print with Self-Reliance! I was beginning to feel discriminated against by reason of my minority status as a non-computer owning female. Thanks, also, for giving us the two-year book so we can catch up on all we've been missing.
John's article this issue (Issue #159, May/June 2016) is spot-on, too, and way overdue. I've been watching America's education system deteriorate for at least 60 years now. I got Latin in the tenth grade. Who even teaches Latin anymore?
I've been accused of being a half-bubble off of plumb, but every time I open a new issue of Backwoods Home, more often than not, I find Dave and/or John out here with me. That pleases me no end.
And I have to say, I've been growing alliums of various sorts for years but when I read Jackie's great article I learned a few things I didn't know. I guess I just can't find anything about your magazine to complain about.
Kate Patrick
Baker City, Oregon
Dave and John's articles are right on target
Okay, both you (Dave) and John must have been sitting on your front porch looking over the green pastures drinking a tall glass of ice cold tea and said ….. let's see if anyone is reading "My view" and "The Last Word" (Issue #159 May/June 2016). Well if no one else addresses these great, down-to-earth messages, they are asleep at the switch. Both messages are on target and need to be on some sort of mass media outlet; even though the media is upside down these days. Can you email your story to the Washington Post or to George Will? There must be a way to get this message across to all of the progressives who are draining the coffers with all the free stuff. What bothers me the most is the term "entitlement" when they address Social Security. We the people pay into that fund, but no, Congress gives the money away. Trump has hit the feelings of the silent majority or what some reporters are calling the "White Nationalist" core of voters. My rant is now complete. Please keep up the great work by you, all of the authors which send articles, and your wonderful staff.
Robert Jirka
Wenatchee, Washington
BHM applause
Your magazine is the only one that can compete with the Internet and Youtube for hands-on information. It is the quality of your articles that makes it stand out. Thanks for your product.
Ginger & Thomas Cox
Statesville, North Carolina
Thoroughly enjoy each magazine, as well as my husband does. I didn't think he would read anything but Ayoob's articles, but he does. Amazing. But he always goes to the joke page first. Go figure. Thanks and keep up the good work.
Carol Haines
Tucson, Arizona
Bless you, Dave, for keeping your cool under fire ("My view," Issue #159, May/June 2016). Personally, I have no tolerance or patience for PC. I was hoping you would get a little more aggressive, but understand why you didn't. When I'm approached by some PC'er I tell him/her what I really think. I used to hold back but no more.
Like you, I'm also not a Trump fan but like and enjoy his "up-front" attitude. Sorry to see Rand Paul leave. Maybe Ron Paul will appear third party. Wishful thinking.
Regarding projects: As a ham radio operator I just finished putting together an emergency communication kit, which includes two ham radios (one VHF and the other HF), a power supply, two AGM 12v 35Ah batteries, battery charger and antenna. Everything is contained in three "somewhat small" heavy-duty plastic containers. During a disaster the ability to communicate with others should not be overlooked.
Thank you and 73s.
Joe Grisafi
Houston, Texas
Feminists read BHM, too
I found the "Gee-whiz!" page in Issue #159 (May/June 2016) of Backwoods Home very interesting, but I have to admit that I didn't appreciate the author's snarky comments about feminists. Men's sports are popular because two-thirds of sports watchers are men, not because women find athletes attractive, unless you're trying to imply that all sports-watching men are gay. And what would feminists say about a nude sports event? Feminists are varied in their opinions just like any other group, and although some would be mad, some would embrace it. Honestly, I can see way more conservatives getting bent out of shape by nude sports than feminists. I don't see a need to make fun of a group of people trying to protect the rights of women. Please let the author know that feminists are normal people who do normal things like read Backwoods Home.
J. Daelhousen
Jamestown, New York
The "McKenzie Method" still changing lives
Dave's article on The McKenzie Method in Issue #144 (Nov/Dec 2013) made a huge impact on my life. I've suffered from lower back pain since grade school, approximately 43 years ago. I had just accepted that I would continue to have back pain for the rest of my life. After reading the article and purchasing a book on it, I soon began living most days without back pain and now only rarely use a back brace when I work. Thank you very much!
Tim Drahman
Spokane, Washington
Charging batteries emit hydrogen gas
… I settled in for the night and found myself reading the magazine from cover to cover. In Issue #157 (Jan/Feb 2016), I ran across Part 3 of the off-grid cabin project on building a cabinet to house 12-volt batteries and an inverter so I went on to read Issue #158 (Mar/Apr 2016), Part 4 of the off-grid cabin project. A reader stated that while charging, batteries emit hydrogen gas, which can be ignited by any small spark, such as that produced by the fan motor of an inverter, or in our case a WOOD STOVE! We have been charging our batteries inside the trailer.
I thank our Lord and BHM for publishing this magazine and for Mr. Sanders for writing this article, and most importantly, my guardian angel — the reader who wrote in …
The Franklin Family
Garfield, Kentucky
Making a boat planter
I am 70 years old, I use a rear-tined and a regular tiller, and I do my garden myself. I needed a way to plant my tomatoes because I cannot plant them in the regular garden because the soil is not right for them. I needed a way to keep from buying something to put the tomatoes in, and we did have a boat we stopped using. A .38 Colt Special turned it into a great planter.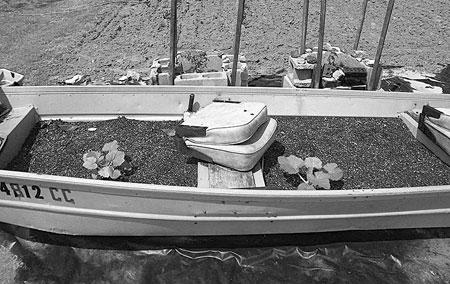 Donna Hill
Goldsboro, North Carolina
Fireproofing a homestead
I do have two suggestions for fireproofing a homestead.
Put in an irrigation system. I was up in the Redding, California, area with an elderly woman who wanted to visit her sibling before we went to a wedding of a mutual friend in San Jose, California, during a time when there were many fires in the Redding area. We got to her family's house and saw that the neighbors' houses were recently, very recently, burned to the ground. A fire had come through a day or two earlier. Their house was standing for one reason. They had a small orchard on their property and they had thoroughly watered the orchard on the morning of the fire just because the trees needed watering. A wildfire in their immediate neighborhood hadn't been on their minds at the time they had turned on the faucet. But their moist orchard spared their property when the fire came through a couple of hours later.
I also had rented a studio apartment from a retired fire chief. His house had shake shingles as siding and was located one street away from a coastal canyon in San Diego County. I hadn't realized it as a newcomer to California, but it really was in a position to get overly toasty. He decided to put in a goldfish pond in part so he and his fire captain son who had a studio cabin on the property would be guaranteed a supply of water to use if they needed to put out a spot fire.
Neither of these suggestions will help in an intense firestorm, but they both add a layer of protection against wildland fires.
Holly
Michigan
Possible method to control hornworms
Recently, I read an article in a garden publication about green tomato hornworms. The author of the article mentioned "picking" them as opposed to spraying or dusting. I lived in Winters, California, for several years and I had hornworm problems there. By chance, I hung a bug zapper near the garden as mosquitoes were also a problem. Right away, I noticed large black moths in the zapper grid.
At about the same time, the hornworm problem went away. Apparently, the hornworms are the larvae of the moth. I have nothing scientific to support this idea. I just know that it worked in that situation. Perhaps this could help other people.
Terry Wolf
Deary, Idaho
Self-Reliance
… It's nice to get a chance to see it in print. Not everyone has a computer and those that do — not everyone enjoys "reading" a computer monitor. Can be very hard on the eyes. There's nothing like having an actual good book in your hands.
Susan Arthur
Hilger, Montana
Thank you for putting Self-Reliance in print form so we can read it even if the grid goes down. And thanks for the Book One anthology.
Bernie & Holly Arcand
Rugby, North Dakota