Friday, September 4th, 2015
Yesterday, Will and I went out and picked up the very last square bales from the last hayfield. It was so good to be done haying finally and know that our animals will have all the hay they can eat and all the bedding they need. And we have stacked 100 bales of reed canary grass hay separately to use as mulch in our gardens next year.
I made another batch of Cowboy Candy (candied jalapeños) yesterday, using the leftover syrup to do two half-pints of red bell pepper pieces in the syrup. As the syrup is spicy hot from the boiling jalapeños, it perks up the sweet peppers very nicely. And I don't waste the syrup! Waste not; want not.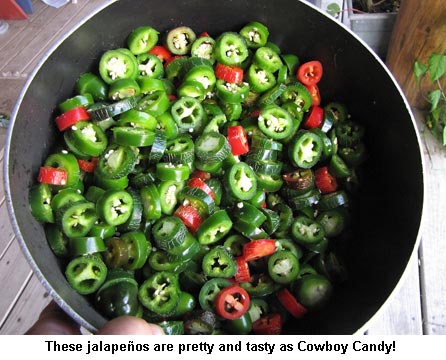 One of the red sweet peppers I sliced up was a beautiful Lipstick from our house garden. We grew these in isolation so we can save seeds. (Lipstick peppers only have about two dozen seeds per pepper, at most!) These are such a tasty, pretty pepper. We sure love them.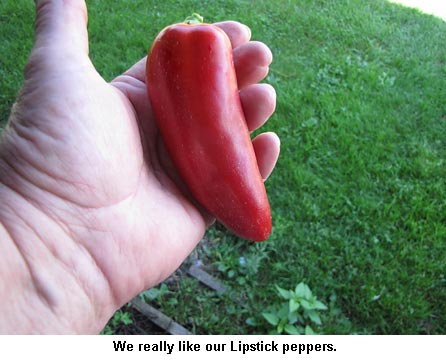 Our son, David, now works at Voyageur Log Homes, and brought home a section of log railing from a remodel job that had been destined for the burn pile. For now I put it in front of our house, by the flower bed. Mittens just loves it. She thinks we put it there just for her to play on. She spends lots of time laying down, running around, and sleeping on it!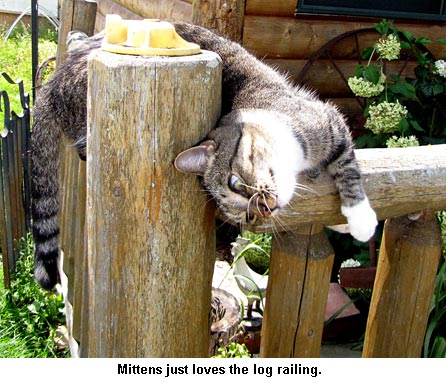 We've got some big Gila Cliff Dweller squash down in our barn isolation plot. We've never grown them before and they promise to be a great addition. They are big, white- and green-striped, and real pretty. It's fun to try new, rare varieties. I picked a few ears of Bear Island Chippewa flint corn yesterday because the blue jays were starting to eat it. It's a real nice, colored corn with large ears that have 12-14 rows of large kernels. And it's quite early, too. We grew it several years back and were impressed with the quality of the cornmeal from it. And, as it's very rare, we're happy to add it to our growing list of seeds! — Jackie