Wednesday, June 24th, 2015
We've been having a lot of rain lately, with a few sunny days stuck between them, thank goodness. Will pounded 104 T-posts in the garden to stake up the tomatoes we have growing in there. Our big tomatoes would break off wooden stakes in the wind! Then he weeded and mulched them with our seed-free reed canary grass hay. Once mulched, they'll need no more weeding.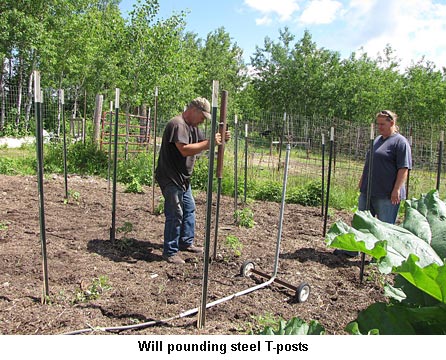 Yesterday, he finished putting wire cages over most of the tomatoes but he had to start making more cages as we're growing so many more tomatoes this year in the garden. The ones I planted on the new forty acres won't be mulched or caged; it's just too much work for us.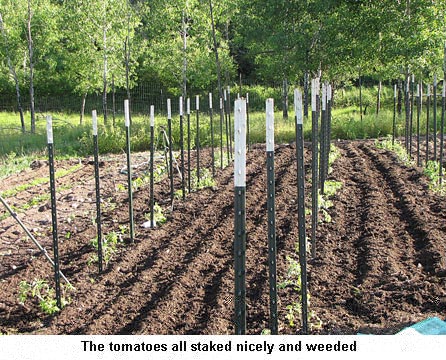 Today the sun's out and Will's busy making more cages and also side dressing our small household patch of corn in the garden with rotted manure. The corn sure jumps once that's done and it already looks pretty good. On the end of the sweet corn is a small patch of Glass Gem popcorn.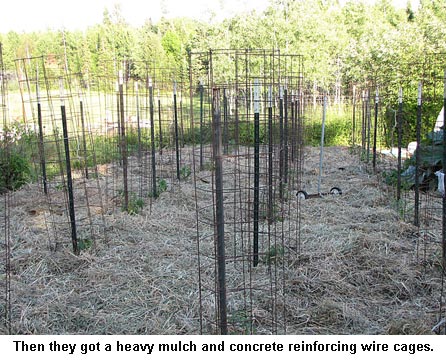 Unfortunately the chickens got in the garden (we do have a few "wild" escapees) and scratched around in that patch. And ate some corn. But they are ousted from the garden and most of it has come up anyway.
The pumpkin patch/corn patch is doing well as is the pig-pasture corn and pumpkins. So we'll pray for warm sunshine and alternate days of rain to keep it going. Lookin' good so far… — Jackie