Thursday, September 25th, 2014
We're still hauling in our garden treats and enjoying it so much. I still can't get over the productivity of our garden squash patch. I counted over 37 BIG Hopi Pale Grey squash and that's from only six hills! And both the Winter Luxury pumpkins (Cucurbita pepo) and Canadian Crooknecks (C. moschata) have produced very well. I haven't counted them yet, but there are a lot.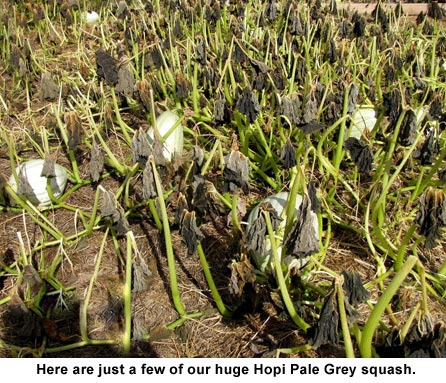 Will harvested a couple of buckets of ears of our Painted Mountain flour corn and for the bad situation in that new patch (17 inches of rain on white clay, minimal manure, and weeds from hell) we were real happy with what we got. There are still more ears to harvest, too. We've got the Painted Mountain out on a table in the living room to finish drying and Will's Seneca Sunrise sweet corn on a long table in our enclosed porch to finish up.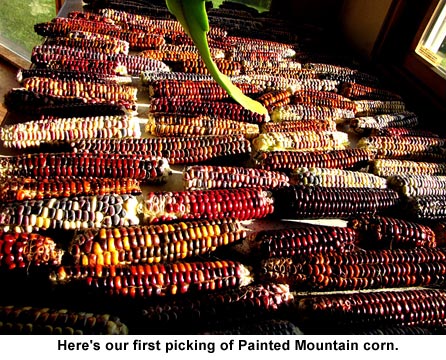 I'm still harvesting tomato seeds every day and we are talking about some new varieties of tomatoes to add next year (and maybe a corn).
This afternoon, I'm pulling in our onions. They weren't as good as last year but we are happy with them anyway. The carrots are huge and, boy, do we have lots. The goats are loving all those carrot tops! They see a white bucket and come running with no calling needed. Yesterday I took a machete and chopped off the spent cauliflower leaves and the goats thought that was REAL nice. Munch, munch, munch!
We're expecting kids this fall with four does getting fatter and making nice bags. It's nice to have some fall kids as then we have winter milk.
I've got to go cut another head of broccoli to dry. See you in a few days! — Jackie