Monday, August 18th, 2014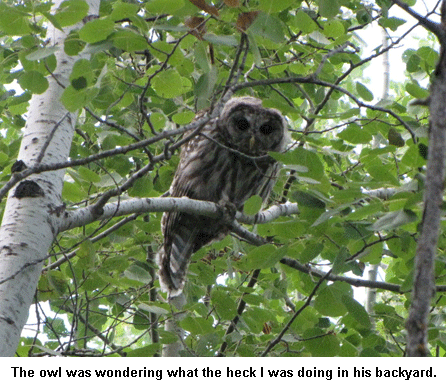 Back here in the big woods, you're never alone. If you stop and hold still, you'll most always find one of the "neighbors" watching you. In this case, it was a barred owl. He was perched in a poplar tree on the edge of the woods. And he was checking me out to see what I was up to. He decided I was pretty boring and finally flew off to another tree deeper in the woods. He was waiting for dark, hoping to swoop down on some small rodent out in the open. He saw me instead and was pretty disgusted.
We've been haying like mad and are almost caught up now. I just spent six hours on the tractor, raking hay while Will baled another field. He finished before I did and started baling "my" field way behind me. He cut the field three days ago but we had a rain shower and had to let it dry out an extra day before raking it. It was nice and dry today. One more small field and we're done with our first cutting. We should get a second cutting off of two small fields to finish up before fall. Whew!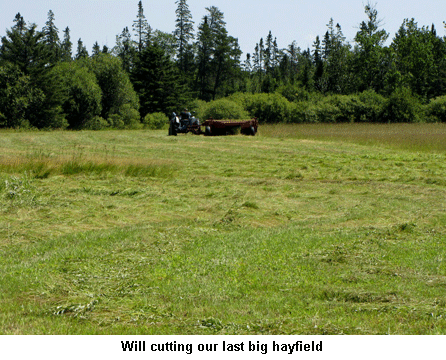 Yesterday we moved the cattle from the big pasture to the east pasture that has been ungrazed since last fall. The grass and clover is better than belly high and the cattle were pretty thrilled to be "driven" through the gate to eat it. This morning they were all lying down chewing their cuds, just about hidden in the grass. Cow heaven! — Jackie