Recipe of the Week
 
Chow-chow
 
Courtesy of
Marjorie Burris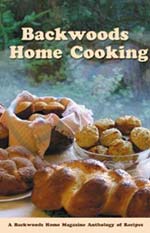 You'll find this recipe and over 400 more in Backwoods Home Cooking.
Click Here
Ingredients
1 peck (12-1/2 lbs.) green tomatoes
8 large onions
10 green bell peppers
3 Tbsp. pickling salt
6 hot peppers, seeded and chopped
1 qt. vinegar, 5% acidity
1 Tbsp. ground cinnamon
1 Tbsp. ground allspice
1/4 tsp. ground cloves
3 Tbsp. dry mustard
4 bay leaves
1-3/4 cups sugar
1/2 cup horseradish (optional)
Method
Remove seeds from peppers and chop with the tomatoes and onions. Stir in salt and let stand overnight.
Next morning, line a colander with cheesecloth, pour mixture into colander, and let drain. Bring edges of cloth up over mixture and squeeze to remove all liquid possible. Put in a large kettle.
Tie the spices in a cheesecloth bag and add to the mixture along with the vinegar and sugar. Allow to boil slowly until tender, about 15 minutes. Add horseradish, return to boil. Remove spice bag.
Pack into sterilized jars within ½ inch of top. Put on cap. Process in boiling water bath 5 minutes. Yield: 10 or 11 pints.
---
---
Have a recipe you'd like to share? Please send it via email to webmaster@backwoodshome.com. Contributed recipes may appear online or in the BHM newsletter.