Hardyville Hungers for Home

By Claire Wolfe

November 15, 2004
People will occasionally ask why Hardyvillians hang out at the Hog Trough Grill and Feed. It's certainly not for the food, which is only slightly more appetizing than Soylent Green. It's not the service. The service is okay, but a bit disconcerting, what with all the snippy remarks and the threat of hot coffee poured over our heads if we misbehave. And it's not the ambience, which mostly consists of peeling linoleum, the odor of chickenfeed and saddle leather drifting over from the Feed side of the operation, and several paintings of John Wayne on black velvet.
I could tell you we gather here because of the convenient location (one block north of Hardyville's only stoplight, which some people still find wildly entertaining). But the real, down-to-earth truth is that it's the only hole in this hole-in-the-wall town that will hold us all — and is willing to.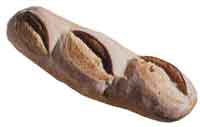 As long as we keep buying what passes for coffee and choke our way through the occasional chicken-friend steak or plate of Rocky Mountain oysters, the Hog Trough will keep putting up with us.
But as we poke through the fat lumps in our pork and beans and attempt to interpret tricky new specials of the day (hint: "Dee John," means coated in burnt French's mustard), we often long for bettter things.
And this time of year, with the Thanksgiving, Christmas, and all those more politically correct (but still feast-oriented) holidays surrounding us, we often start longing for the foods of home.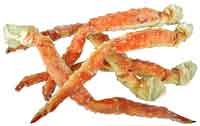 In the way of the west, nearly everybody in Hardyville is from someplace else. Someplace where they grew up on New England boiled dinners, fresh-caught Seattle salmon with mint sauce, genuine N'awlins jumbalaya, midwest Cornish pasties, southern Moon Pies, Minnesota lutefisk (unbelievable, but there are people who actually like fish cured in lye until it resembles seafood jello), New York bagels, Tex-Mex chili hot enough to burn the roof of your mouth off, or Brooklyn egg creams to cool down the fire.
A lot of people who've moved to the middle of nowhere will tell you that the hard part isn't setting up your own homemade off-grid power system, pulling stumps, putting up with the howling winds, or enduring the complete lack of Ikea stores. It's going nuts with cravings for some food you knew at home and can't buy or duplicate out here in the wayback.
For me it is and always has been San Francisco french bread (and only San Francisco french bread; accept no substitutes).1 Oh, the things I would do to get my hands on fresh San Francisco french bread, with crusts so crisp that their crumbs shoot off and impale innocent bystanders.
align="right" border="0″ vspace="10″ hspace="10″>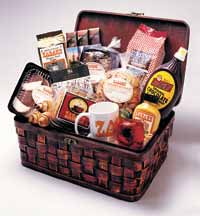 But everybody has their something from back home that they'd gladly commit misdeameanors or perhaps the occasional federal offense to sink their teeth into.
Well, we may not have Moroccan lamb or Philadelphia cheese steaks out here in the sagebrush. But we do have the Internet. And bless it, now anybody willing to pay the price can fulfill almost any back-home food craving.
This being the aforementioned holiday season, I offer a small selection of regional buy-by-Net goodies that might not only fulfill your own midnight munchie mania, but might also make waaaay better gifts than that oh-my-goodness-what-do-we-get-Aunt-Selma-this-year? basket of oranges or Hickory Farms mystery foods.
Some of these regional treats are quite reasonably priced. But let's go whole hog — or rather, part crab — and start out with an item you'd only buy for Aunt Selma if you really, really liked her (or figured she might leave you big bucks if you fawned on her enough).
Alaska king crab legs For a "mere" $300 (on sale now for an even merer $270), 10 pounds of this delicacy can be on their way via FedEx overnight service from Great Alaska Seafood. How can you resist?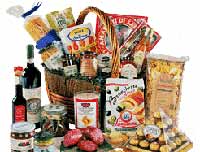 Can't afford the king? Or crave some other regional seafood? Try the Simply Seafood Superstore, where they've got 2 pounds of Dungeness crab from the Pacific Northwest ($22), 5 pounds of Florida rock shrimp (on sale for $69), live or frozen Maine lobster ($79 for two poor, unfortunate live critters shipped overnight or $35.95 for four 4-ounce lobster tails). The Superstore also has Alaska king crab (3.5 pounds for $99 and pre-scored for "ez eating").
If you grew up slightly south of Alaska, you might get your cravings for the substantial sort of goodies sold by Early's of Spring Hill, Tennessee. Consider: Griddle-cake mix, barbecue sauce, real pork barbecue ($27.95 for 3 pounds), one half spiral-cut ham ($49.95 for a 7-8 pound ham half), Goo Goo Clusters ($17.99 for 24 bars — "the candy that made Nashville famous"), grits, sorghum, and some of the best bacon you'll ever eat (in packages from $10.95 to $59.95).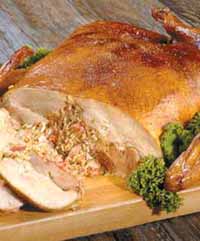 Moving on — way on — we come to New York City, where that famous old Greenwich Village institution, Balducci's now vends its Italian-flavored groceries around the world. If your Aunt Selma is a displaced New Yorker, she might appreciate anything from the Primi Piatti Italian gift pack ($25) to the World of Balducci's ($120), whicn contains all kinds of stuff, from roasted red and yellow peppers to tri-color pasta
(Another source for individual Italian gourmet items: D'Italia Foods. You can go there for
pasta, polenta, tomatoes, balsamic vinegar, cheeses, olives, coffees, prosciutto, breadsticks, and biscotti, among other items. And they've also got a few gift baskets, mostly oriented to the gourmet Italian cook.)
Let's stay put in the Big City for a while, long enough to drop in at the even more famous New York landmark, Zabar's delicatessen at 80th and Broadway in New York City. Now, once again if you're gift shopping, you're going to have to be really fond of Aunt Selma, because Zabar's gift baskets start at $100 and go up-up-up from there. But you can also buy individual items — like those unforgettable authentic New York bagels that even non-New Yorkers crave. And oh my. Delancy Street apricot rugelach, chocolate babka, Zabar's coffee, Perugina Baci Italian chocolates. What former New Yorker, now bunkered in Butte or hiding out in Hardyville would not drool for such stuff?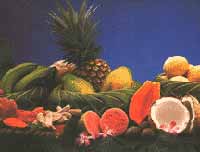 All right, here we are in New Orleans. And in honor of Thanksgiving, what meat eater could go through life without ever tasting Cajun Turducken ($129, including overnight shipping). Of course, some meat eaters might be asking, "What the blank is a turducken?" Well, it's a turkey, stuffed with a duck, stuffed with a chicken. And in this case, it's additionally stuffed with your choice of seafood jumbalaya dressing or cornbread dressing. If that's too rich for you, the same outfit that sells the turducken also sells stuff like Cajun marinades and barbecue sauces at a slightly more affordable price ($2.99 and up).
Back in the Northwest, and thinking once again of Aunt Selma (now that you've spent all the big bucks for yourself on that turducken), consider Pacific Northwest gift baskets and Smoked sockeye salmon gift baskets.
And here's a Pacific Northwest treat that qualifies as a "best-kept secret": Jammees. These are handmade jams and jellies lovingly created by Kathi Rydman of Westport, Washington. They come in phantasmagorically exotic flavors (apricot jalapeno is a personal favorite; other exotics include blackberry brandy, raspberry amaretto, cran-raspberry Triple-Sec — and Kathi makes several additional concoctions from local cranberry crop). Jammees are so secret they don't even have a web site. But e-mail Kathi and she'll send you a list of lucious, and quite reasonably priced, concoctions.
And if you're still reeling from those king crab prices but would like to give somebody a little Alaska treat, there's Alaska Gift Baskets, which contain stuff like wild berry jelly, fireweed honey, reindeer meet jerky, salmon jerky, and teas made in Alaska from wild berries.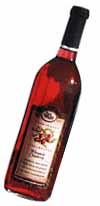 Getting cold there in the Northwest. Let's try Hawaii, where the Kauai Fruit & Flower Company is just waiting to send you island-grown coffees, Hawaiian pineapple, macadamia nuts, and other such evocative fare.
We're not skipping the upper midwest (though at this time of year it's a temptation). But I'm absolutely not giving anybody a source for mail-order lutefisk. If that's your habit, find your own pusher. But how about cranberry wine from Wisconsin? Follow that link and you'll also find rhubarb wine, pumpkin wine, and even kiwifruit wine (okay, I know kiwifruit isn't exactly a midwest tradition, even if fruit wines definitely are, but hey, even midwesterners can change with the times). If you're not that fond of old Selma, and if the lady hits the sauce, this is the place for you, with prices running typically $7.95 to $9.95 per bottle.
And while we're up here in the Great Middle, I know that anybody who grew up in Amish country might crave items like Amish church peanut butter ($11.50 for two pints) or some of the locally famous Amish cheeses, meats, jellies, jams, and apple butter ($5.49 for a quart). For you (and your Aunt Selma), there's Aunt Sarah — that is, Aunt Sarah's Amish Foods from Illinois.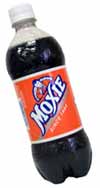 I was surprised not long ago to learn that Moxie soda, the drink that was around before Coke and 7-Up were born, still existed, and is still a major must for some Atlantic coast folk. If you want a softdrink that tastes like herbal medicine (I know because somebody just gave me a can of Moxie), this is the stuff for you. (It's weird, but still better than lutefisk.) The same Net store that will ship Moxie to Biloxi (and just $1.00 a can, too), Hometown Favorites, also carries hard-to-find candies like Laffy Taffy ($11.79 for a 3-pound, 165-piece jar) and a few other munchables you might recall from your misspent youth.
And although Vegetaria isn't a region of the U.S., those who were grossed out by the live lobsters but are hungry for the holidays might consider this just-for-the-season whole meal deal: Turkey dinner without the turkey — tofurkey from Turtle Island Foods ($49.95 for a 3-½ pound meal). This non-meat feast not only includes a soy-based faux bird, wild-rice stuffing, gravy, and dumplings, all ready for you to heat and eat, but it's got a non-meat wishbone for your kids to pull. What'll they think of next?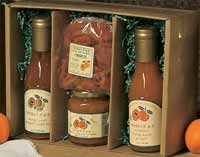 I was going to conclude that you can get almost any regional item, thanks to the wonders of the Net, but that some things you still have to be there for. Like a genuine Brooklyn egg cream (the fabled New York drink that, naturally, contains neither egg nor cream). But by golly, you can even get a chocolate-flavored egg cream delivered to your door nowadays. How authentic it is, I can't tell you. How good it is, I don't know. But you can get one. And after looking at the prices of some of the above items, you might just want to give this 99-cent-per-can item a try.
And now, if you'll pardon me, I've got to end this column and head for my kitchen (you'll note, not head for the Hog Trough). For some reason, I'm suddenly starving.
1My San Francisco french bread craving is in addition to my notoriorious nosh-o-mania for California dried Blenheim apricots, which two astonishing readers (and now friends), TGP and RWB, have been kind enough to order for me in five-pound boxes. Wow. Everybody should have such friends. My offer to run off to Tahiti with you guys is still open. However, please don't consider my mention of SF french bread a subtle (or not so subtle) hint. Even if I were so brassy, nobody can get the stuff from there to here fast enough to preserve that dangerous crust.