Lenie in the kitchen
Lemon scones, pound cake, and pie
By Ilene Duffy
Issue #165 • May/June, 2017
How did 28 years go by so quickly? It was a beautiful fall evening in November 1989 when I took a fateful walk on the Ventura Pier, the night I met my future husband, Dave Duffy. He told me about his 7-year-old daughter Annie, the house he was building in the mountains of southern Oregon, and his new venture, a small magazine that he was single-handedly publishing. In fact that's why he was fishing on the pier. He needed time to unwind after completing the first two issues of that young enterprise. I don't remember if he caught any fish that night, but we sometimes joke that he caught a wife instead. Lucky me!
I was a kindergarten school teacher at the time. So during our first months of dating, I was busy in my classroom during the week, but I spent many weekends typing articles for the magazine. It's fun to look back through those early issues and remember the excitement when we would receive the first copy of a newly printed issue. Reading Dave's "Publisher's Note" is like reading not only a history of the magazine, but our lives together. Family events, both happy and sad, while raising Annie and our three sons, Jacob, Robby, and Sammy, are chronicled throughout the years.
By now you probably have already read Dave's "Publisher's Note" in this issue and know that we have decided to cease publishing the bimonthly print portion of Backwoods Home Magazine. Bittersweet is a word that keeps cropping up in my thoughts lately. The kind words from our readers have sweetened the sadness we feel about ending the magazine. Gratitude is another word that comes to mind. We are so grateful to our fantastic group of writers for sharing their expertise and wisdom. Our hardworking staff at the Gold Beach, Oregon office take such good care of our customers. And, of course, we are so incredibly grateful to you, our readers, who have continued to support us with subscriptions and book purchases for so many years.
At a recent trade show this past September, Jackie Clay-Atkinson and I managed the booth and got to meet many of our readers. The show had barely opened up on the first day when a BHM customer walked up to our booth, leaned over the table, and gave me a big hug and a kiss on the cheek! Later that day, a subscriber visited us at the booth. I listened to her intently as she talked about how she shares her magazines and takes pages out of issues to give to family members, friends, and co-workers. At one point she said expressively, "You have no idea how many people you have helped because of your magazine and all the information in it." By the time she was done speaking, I had tears in my eyes and I truthfully told her that I just flew diagonally across the country, and she made it all worthwhile with her kind comments. Jackie and I both were very touched.
It has been a wonderfully rewarding journey for all of us.
Over the years, I've enjoyed sharing some recipes in this cooking column. But recently, I needed some inspiration to come up with a theme for this issue. My good friend, Alison, just gave me a big bag of homegrown, juicy Meyer lemons from her family's farm in Corning, California. So when you're given a bag of lemons, as the saying goes, you make lemon scones, lemon pound cake, and lemon cream pie!
Lemon scones
1½ cups flour
½ cup whole wheat flour
½ cup sugar
1 Tbsp. poppy seeds
2 tsp. baking powder
1 tsp. fresh lemon zest
½ tsp. salt
4 Tbsp. cold butter
1 cup plus 1 Tbsp. cold heavy whipping cream, divided
1 Tbsp. lemon juice
¼ tsp. vanilla
Preparation:
Preheat oven to 350° F.
Lightly grease and flour a rimmed baking sheet.
In a large bowl, combine flour, whole wheat flour, sugar, poppy seeds, baking powder, lemon zest, and salt. Whisk well. Use a pastry fork to cut butter into flour mixture.
In a small mixing bowl, combine 1 cup cream, lemon juice, and vanilla. Add to flour mixture, stirring gently to combine. Bring mixture together with hands gently until a dough forms.
Turn out dough onto a lightly floured pastry cloth or surface. Knead gently 3 to 4 times. Roll dough with a rolling pin to a ½-inch thickness. Use a 2-inch cutter to cut 16 scones from dough. Place on baking sheet. Brush scones with remaining 1 Tbsp. cream.
Bake until edges of scones are golden brown, about 18-20 minutes.
I don't make pound cake in a bundt pan too often, but it sure is fun to see a pretty cake turned upside down on a big serving plate. The addition of walnuts and poppy seeds makes this cake extra special.
Lemon buttermilk pound cake
For the cake:
2 cups flour
1 cup whole wheat flour
½ tsp. baking soda
½ tsp. salt
½ cup walnuts, chopped fine
2 tsp. poppy seeds
1 cup unsalted butter, softened
2¼ cups sugar
3 large eggs
1 cup buttermilk
2 Tbsp. grated lemon zest
2 Tbsp. fresh lemon juice
For the syrup:
1/3 cup water
1/3 cup sugar
2 Tbsp. fresh lemon juice
For the glaze:
1 cup powdered sugar
2 Tbsp. fresh lemon juice
½ tsp. lemon zest
1 tsp. unsalted butter, melted
Preparation:
Preheat oven to 325° F. Grease a 10-inch bundt pan with oil and dust with flour.
In a medium bowl mix flour, whole wheat flour, baking soda, salt, walnuts, and poppy seeds.
Cream the butter and sugar on medium speed until fluffy. Beat in eggs one at a time, beating well.
In a small bowl, combine buttermilk, lemon zest, and lemon juice.
On low speed, beat in some of the flour mixture, then some of the buttermilk mixture, alternating several times until all is mixed in. Spoon thick batter into pan, smoothing top with a spatula. Bake 1 hour or until tester comes out clean. Cool the cake in the pan for 10 minutes on a rack.
To make the syrup, combine water and sugar in a saucepan and bring to a boil. Remove from heat and stir in lemon juice.
Invert warm cake onto a rack. Slowly brush the hot syrup over the cake, letting it soak in. Cool cake completely, about one hour.
Combine all glaze ingredients in a medium bowl, mixing with a fork until smooth. Add more sugar or lemon juice until glaze is the consistency of thick honey. Spoon glaze over the cake.
This was my first time making this lemon cream pie. I've made plenty of banana cream pies before, but with my bounty of juicy lemons, I thought this would be something different to add to my list of favorite pies. I wasn't disappointed.
Lemon cream pie
1 baked graham cracker crust (9-inch)
1 cup sugar
¾ cup freshly squeezed lemon juice
1 Tbsp. grated lemon zest
3 large eggs, whisked gently
12 oz. cream cheese, softened
Topping:
Store-bought whipped cream or:
1 cup heavy whipping cream
1 Tbsp. powdered sugar
1 tsp. vanilla
Preparation:
Using a double boiler, simmer water in bottom pan. Measure the sugar, lemon juice, and lemon zest and set them aside. With a hand mixer (or you can use a lot of elbow grease with a whisk) add the eggs to heated pan, cook and whisk until thick and frothy, about 2-3 minutes. Slowly add sugar, then lemon juice and zest. Blend together and then use a whisk to continue cooking about 8 minutes, stirring constantly. If you can draw a line through the custard on the back of a spatula with your finger and the sides stay separated, then remove the pan from the heat and let cool almost to room temperature.
In a large bowl, beat cream cheese until soft and smooth. Then gradually add the cooled custard. Beat until smooth and completely combined. Pour into the cooled crust. Refrigerate at least 4 hours or overnight.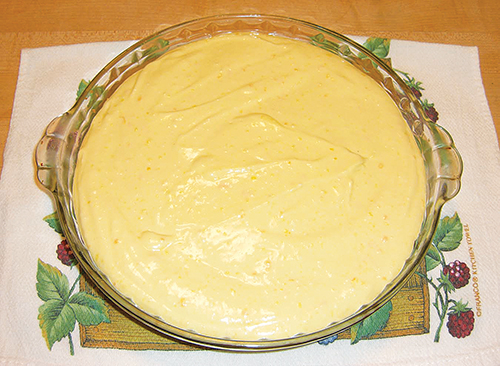 Just before serving, you can decorate the top with store-bought whipped cream or make the homemade cream topping. In a medium bowl, beat the cream on medium speed until thickened, then add powdered sugar and vanilla. Beat until peaks form. Dollop cream on pie. Serve cold.