Issue #175 • January/February/March 2019
As many of you know, I've been the managing editor of this magazine for the last four years. But what you may not know is that when I'm not working at my job, I'm busy developing my 50-acre homestead with my husband, Tim.
Starting with a dream (and a plan)
Back in high school when we first started dating, I vividly remember a romantic evening stroll discussing our future. Tim looked over at me and said, "I think I just want to be a mountain man."
I thought about this seriously for a while, then replied, "I'll be a mountain man with you."
When we got married four years later, we knew we wanted to immediately start saving for a move to the country (although our reasoning now involved self-sufficiency and a desire to live a simple life). So how did we do it?
Saving money
We were both lucky enough to graduate college at Oregon State University without any debt. We worked hard every summer, me at the Forest Service and Tim as a seasonal firefighter, which paid for our tuition and most of our living expenses during the school year. Even luckier, we both landed jobs in our majors: my job at Backwoods Home Magazine for my English major, and my husband as a Forest Officer with a wildland fire department for his Forestry major (he's since gotten a different job as a Forester for a lumber company).
For the first year of our marriage, we lived in a one-room apartment. Rent was cheap, and we learned that we didn't need many material things to be happy. When we moved to the Oregon coast, we rented a small one-bedroom, one-bathroom cottage.
This cottage had enough of a backyard for us to begin learning skills for when we purchased our future property. We kept a small flock of chickens and built three raised beds for gardening. The yard even had a plum tree and an apple tree, which allowed me to learn how to can and dehydrate.
While other friends were traveling to exciting places, buying new cars, and eating out almost every night, we had "stay-cations," drove banged-up used cars, and learned to cook from scratch.
After three years of marriage, when we were both 25, we had saved up enough money to start looking for land. We knew we wanted to put a 20% down payment on our land (thus avoiding a mortgage tax), so that gave us an exact budget, based on the money we had.
We met with the loan officer at the bank and got pre-approved for a loan within our determined budget. I should note that my husband and I both had good credit, so it was easy to get approved for a loan with a low interest rate.
Finding the perfect place
We wanted to stay near our current location, so with a trusted realtor helping us, we began our search. We had a simple list of requirements:
within our budget
at least five acres
forested, but with open areas for an orchard and garden
distance from neighbors
out of the tsunami zone
Discouraged after searching for a long time — at one point our realtor had to convince me not to give up on this dream — we finally found a promising tract of land. It was 50 overgrown acres with a tear-down cottage that was in our price range. We made an offer that was $30,000 below the asking price and, much to our surprise, the offer was accepted.
However, there were complications. The bank couldn't loan on a house in that bad a state of disrepair. As such, we had to get a bare-land loan to purchase the land, a construction loan to build the new house, and then finally a regular mortgage loan when everything was finished. Since my husband was working long hours at the time, I was the one in charge of filling out all the loan paperwork and county permits. It was exhausting, but I knew it would be worth it in the long run.
Additionally, we couldn't find the papers proving we had water rights to the developed spring on the property across the road — apparently it was just a handshake agreement. We would have to develop a spring on our own property.
We bought a fairly cheap, used trailer, and moved out to the property, where we started tearing down that old house and salvaging what we could (the metal roof, some lumber, concrete footers, and even the door).
When some friends came to visit and see our new place, one of them said, "Well, good luck with this mess." And we were sure going to need it!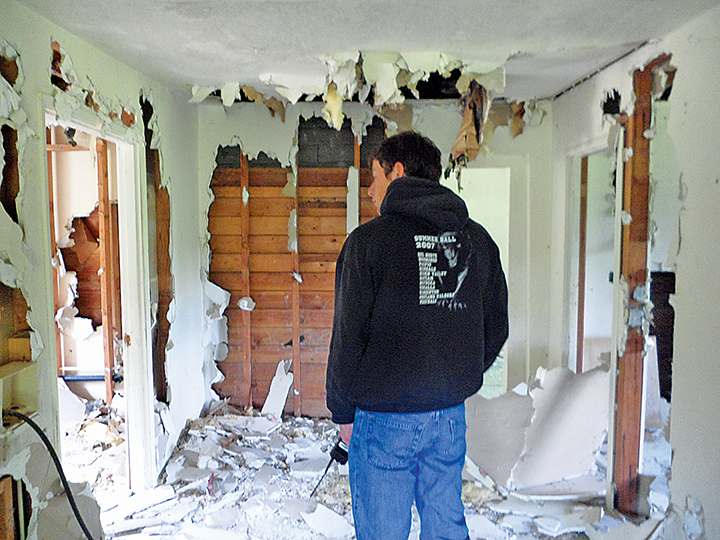 Building the new house
Neither my husband nor I had construction skills, so building our own house was out of the question. And with the construction loan, we had to build within one year of living on the property. So we sat down and figured out what tasks we could do. Tim's family owns a rock pit in a neighboring town, so we had access to a tractor and a one-ton truck with a dump feature. We could clear brush, fix up the driveway, tear down the old house, put up fences, build a shed, and develop a new spring ourselves, but we would need to hire someone to build the house for us.
We found a company that would build an 1,800-square-foot, two-story house on the exact footprint of the old house (since we were "grandfathering" in certain elements of our homestead, this was a requirement) within our budget and time frame. It was a perfect house to accommodate our future plans.
We had to switch our bare land loan over to a construction loan at this time, in addition to getting several permits from the county.
While our house was being built, we hired professionals to put in a septic tank and an electric panel.
Finally, after a year, our house was complete. We switched over to a 15-year mortgage loan and moved in. We will have the loan paid off before we are 40 years old. We made sure to calculate the mortgage payment carefully; it's no more than one-fourth of our current income. That way, if one of us loses our job, we can still make the mortgage payments and have enough money on which to live.
I should mention that since we bought such a diamond-in-the-rough, the value of the property had nowhere to go but up. The appraised value has doubled since we bought it. It's not great for our taxes, but it is nice to know that we would make a hefty profit should we ever need to sell.
Asking for help
Tim and I are both private people who don't like to ask for help. Ironically, as we moved forward on our path to self-reliance, we found ourselves needing help more than ever before. From the very beginning of this homesteading project, we've had a generous amount of help from family and friends.
Tim's dad was instrumental in creating our homestead. He taught Tim how to masterfully operate the tractor and helped us prepare the building site, develop a spring, and grade our roads. My dad was able to help with all of our building projects. He taught me how to plan a project, buy lumber, and operate power tools. And both our moms were more than willing to pick up a machete, polesaw, or weedeater to help cut down brush.
The biggest section of brush — we're talking about eight-foot-high blackberry brambles — was over our lower field, which covers about an acre. Zip Fendrick, a friend from church, volunteered to take care of this problem for us. He used his bulldozer to flatten and clear the field and some surrounding areas in just a couple days.
We invited some of the burliest men in our church and some friends from college to come over one day and tear down about half of the old house. Without that man-power, it would have taken several days for us to get the same amount of work done.
The spring we found on our property that we started to develop was running into problems with mud and possible contamination from groundwater. Two family friends, Wayne and Scott Adams, came over to help dig out the spring in a better location. They even welded a custom metal spring box for us. When we had our water tested, we were told it was the purest water they'd seen in years.
There were numerous other people that came forward to help us: friends from college helped tear down the old house; my Uncle Mark drove from Nevada to help build the front porch deck; Heather (formerly a co-worker at BHM) helped paint the house trim; John and Lila, our neighbors down the road, gave us free gravel; and my mom's hairstylist, Marna, gave us our giant dog. Even my dad's boss gifted us some beekeeping equipment.
For Tim and me, self-reliance isn't about living in a way that excludes the need for other people; it's about receiving help from the community and living in such a way that we will be able to help others when they need it, too.
Recent projects
Since Tim and I both work full-time, we've had to rein back some of our original homesteading plans. We've been starting small and not overextending ourselves or our budget.
We installed a fence around our orchard, which took a lot of time and effort, but it successfully keeps out the deer and elk and keeps our chickens in.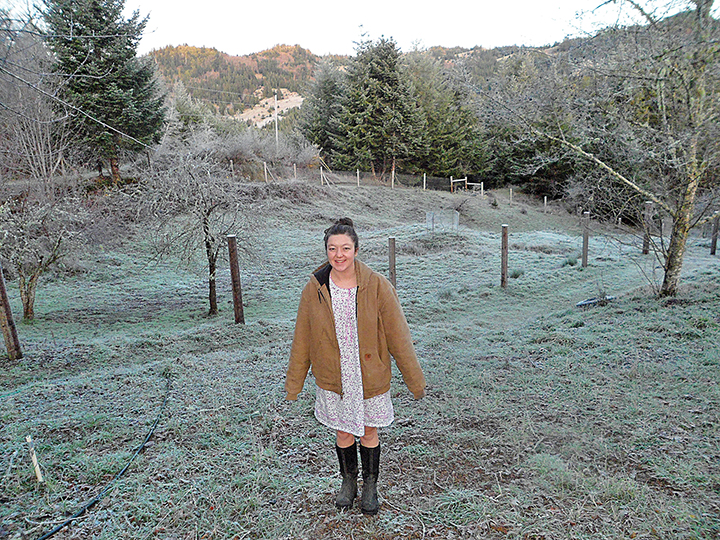 Our garden is just a 15×30-foot plot in the middle of our field. It continues to get better every year, as I learn more about gardening and what works in our area.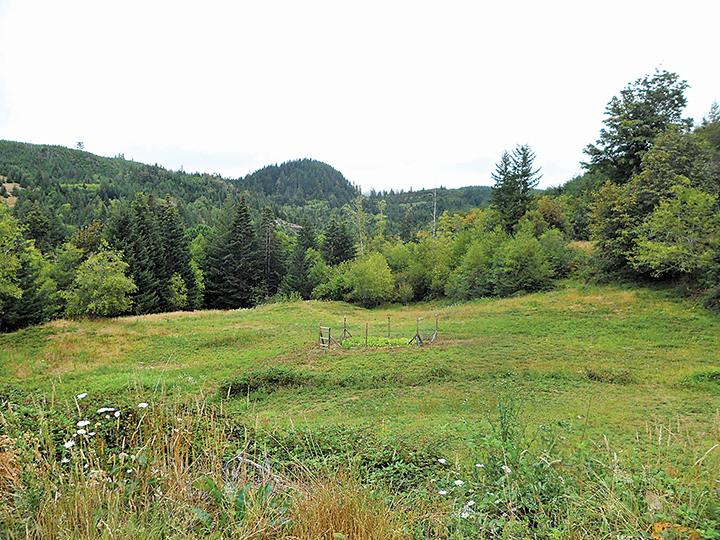 We built a utility shed at the same time our house was being built in order to have a storage space for our tools, building supplies, and other homestead equipment.
We saved up enough money to have a woodstove installed in our house, and then we built a lean-to against our utility shed to use as a wood shed shortly after. When the power inevitably goes out in the winter, we'll still be able to stay warm.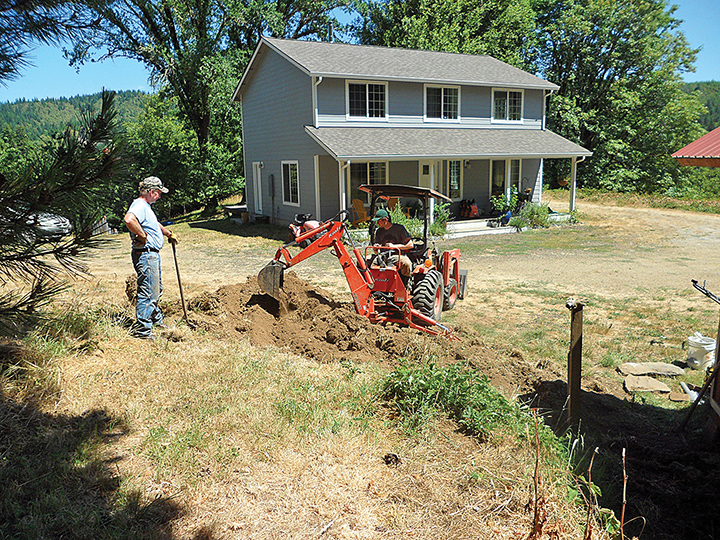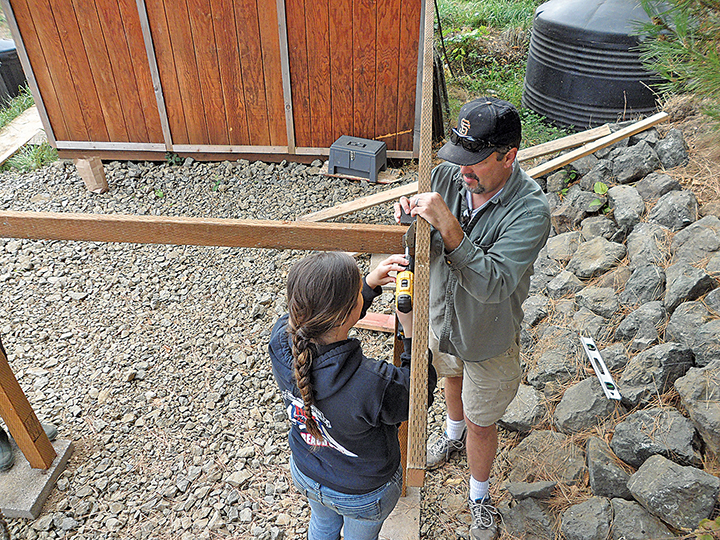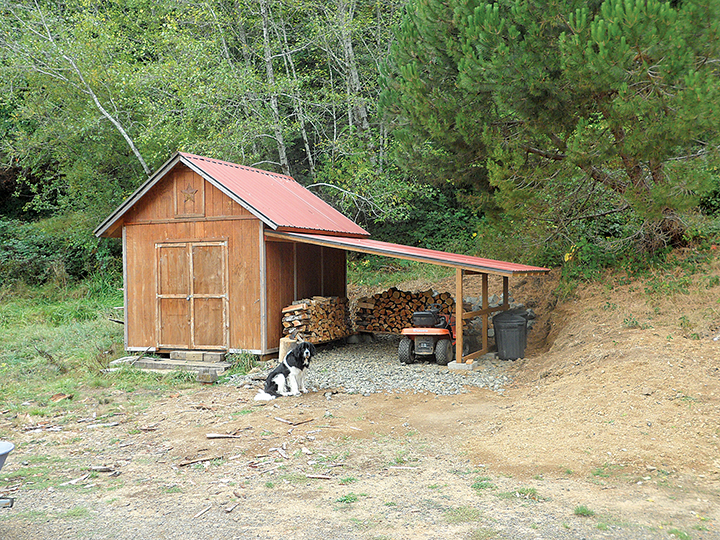 Shortly after purchasing our land, I read an article by Jereme Zimmerman called "Grow gourmet mushrooms" (Backwoods Home Magazine: The Twenty-seventh Year Anthology). I instantly knew that this was something I wanted to do. A few months ago, we cleared out the lower branches of a forested section of our property, ordered two different types of mushroom spawn online, and got to work inoculating logs with a chainsaw and duct tape. We harvested wine cap mushrooms this summer and hope to harvest shiitake mushrooms any day now.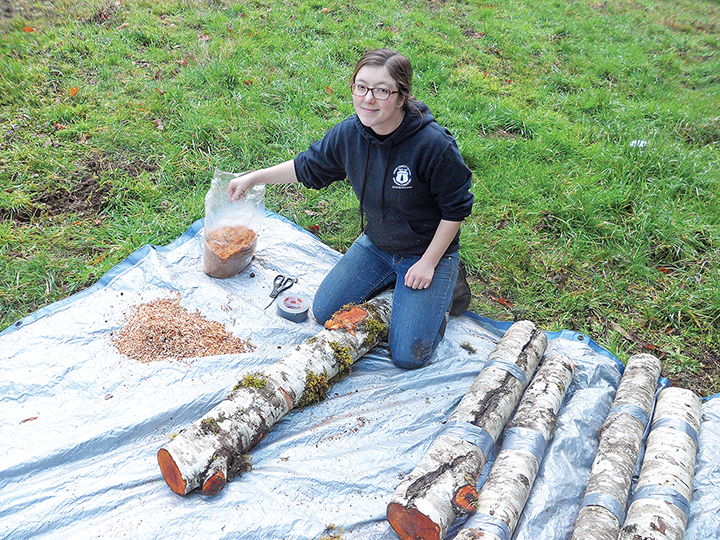 My dad and I built a large deck on the back of the house two summers ago, and I finished staining it this past summer.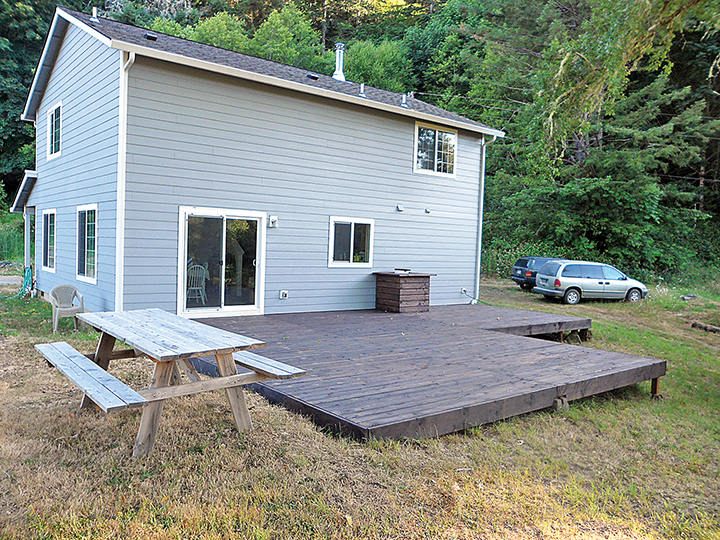 I've found that the homesteading activity that takes the most time is preserving the harvest. My freezer is full, my downstairs pantry is full, my upstairs pantry is full, and I still have more food to preserve.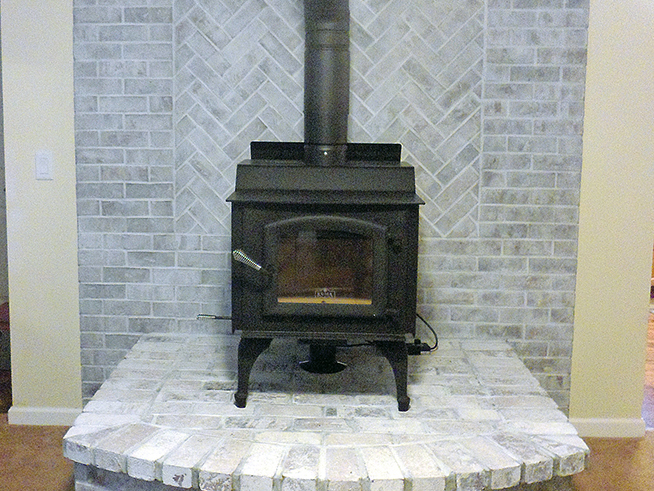 Plans for the future
Our plans for the immediate future are to split and store all our wood before the rains set in, preserve our remaining apples — I've given away about 10 laundry baskets full now, harvest our shiitake mushrooms, build a bigger pantry, and shoot an elk.
When my cousin told me that my property was large enough to sign up for a landowner's hunting permit, I jumped at the chance. For a small fee each year, I am allowed to register up to two tags for an antlerless elk on my property. My season starts in December and goes through February. Tim bought me a rifle for my birthday this year, so now that I've sighted it in, I've been reading books and watching videos on how to butcher an elk in anticipation of shooting one.
Even though we are starting small, that doesn't mean our plans are staying small. We plan on building a barn, putting in more fencing, clearing out a large pasture, buying a milk cow and goats, planting hazelnuts and more fruit trees, building a bigger chicken coop, making a cider press, and building an addition on our house to make room for other projects (like processing an elk), since we don't have a garage.
We are eager to do more, but we are determined to stay within our budget and not get homestead burnout (see Jackie Clay's article "Homestead burnout" in Backwoods Home Magazine: The Twenty-third Year Anthology).
With both of us under the age of 30, we're happy to have made such a good start in living the self-reliant lifestyle, but there are still many more things for us to learn (and lots of time to learn them).