BHM Newsletter
Volume 12 Number #10
October, 2010

INSIDE BHM
Meet Dave and Ilene in Salt Lake City
Backwoods Home Magazine will have a booth at the Self Reliance Expo being held November 5-6, 2010 in Salt Lake City, Utah. The booth will be manned by Dave and Ilene. This should be a great show with many great self-reliance vendors.
Wear a Backwoods Home T-shirt to the show and get a free book (one of our big anthologies, one of our new smaller self-reliance guides, Stupid People, Backwoods Home Cooking, EPSG, or The Coming American Dictatorship). If you don't have a BHM T-shirt, we'll sell you one at the Fair.
Claire Wolfe's New Book
As you all probably know by now there was a goof in the formatting of Hardyville Tales. The center margins are not big enough and it makes the book a little difficult to read without opening the book wider than you normally would. The original price on the book was $14.95 but, because of the formatting error, we've discounted the book to $6.95, plus shipping and handling.
Deadline
We're gearing up for our deadline rush. We have a great mix of articles for the upcoming issue including an article about canning bacon, an article by Jackie Clay about preparing for economic downturns, a new installment of "Building Eric's house," by Dorothy Ainsworth, some nice cozy wintertime articles, and lots more.
Holiday Specials
Buy any big BHM anthology for just $14. That's a 36% savings. Or get The Best of the First Two Years for just $12, a savings of 46%!
There more great deals in the current issue (Nov/Dec 2010, Issue #126) just for magazine subscribers. If you are not a subscriber, you can become one here, or just order the Nov/Dec issue to see the specials.
Holiday Shipping
Just a reminder to order your gifts by November 19th to ensure delivery in time for Christmas. This applies to everything except subscriptions. For subscriptions, we'll send out a gift postcard letting the recipient know that you have given them a subscription.

After November 19th you can choose priority shipping when placing your order, or call us (1-800-835-2418) to have your order shipped FedEx.
Photo Essay
By Rhoda Denning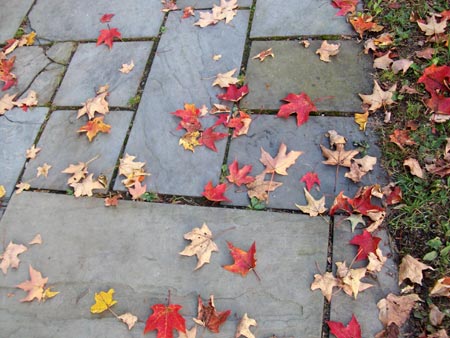 For my 50th birthday, I wanted a trip to New England. In the fall. With friends. Girls. No husbands. No itinerary. No plan. Just friends, fall foliage, and food cooked by someone else for every meal. So Ilene Duffy (BHM business manager), our mutual friend Muriel, and I flew from southern Oregon to Boston for a week of exploring in the northeast.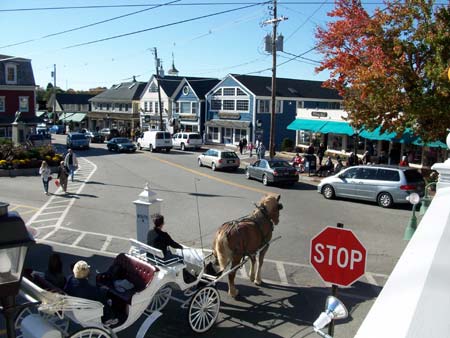 Kennebunkport, Maine. We were so focused on finding food that we forgot to dip our toes in the Atlantic Ocean! (Lobster roll, lobster bisque, haddock)
Ashland, New Hampshire. While stopping at one of the millions (?) of Dunkin' Donuts in the NE (pumpkin spice donut, blueberry muffin), we spied a cemetery across the street, and strolled over to read the headstones.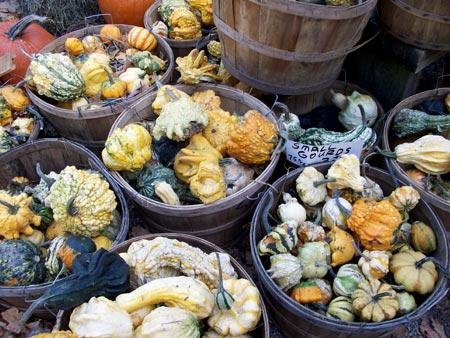 We stopped at a roadside stand to buy sunflowers, jam, gourds, and Maucon apples .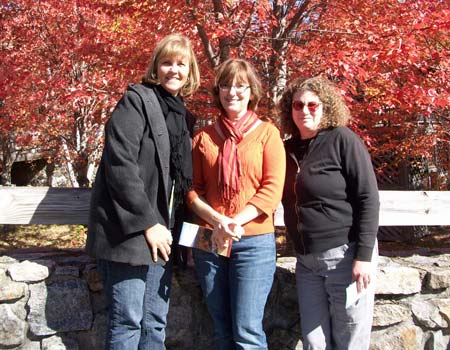 Muriel, Rhoda, and Ilene in the White Mountains of New Hampshire. Later that evening, after accidentally finding Franklin Pierce's home, dinner in Concord (pasta and veggies, mushroom raviolis)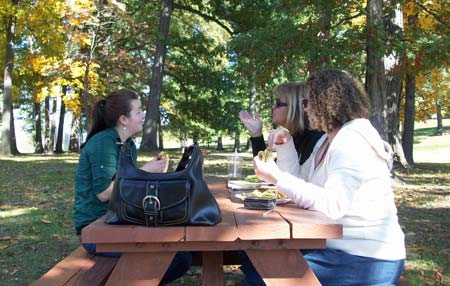 A picnic lunch with my daughter on the campus of Bard College. (homemade veggie burger with avocado)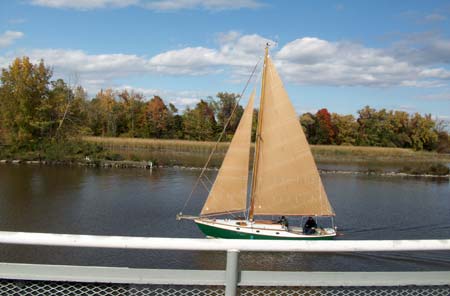 A sunny 2-hour boat ride on the Hudson River out of Kingston, New York after touring my daughter's campus in Red Hook, New York.
Breakfast at the Culinary Institute of America north of Poughkeepsie, New York (the best biscuits, eggs, and potatoes ever, plus pastries to go)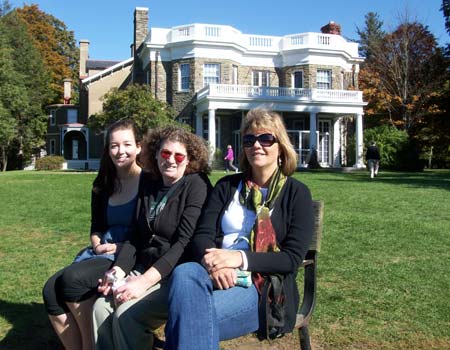 A walk through Hyde Park at FDR's family home with my beautiful daughter (someone from our group brought an apple from FDR's tree back to Oregon!)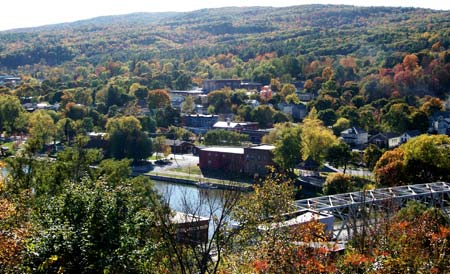 We spied a mansion on the side of a hill in Whitehall, New York and drove up to the grounds. The Skene mansion was closed but we ate our Culinary Institute pastries while we sat on the porch and enjoyed this view of the town. (Hazelnut pastry with Nutella filling)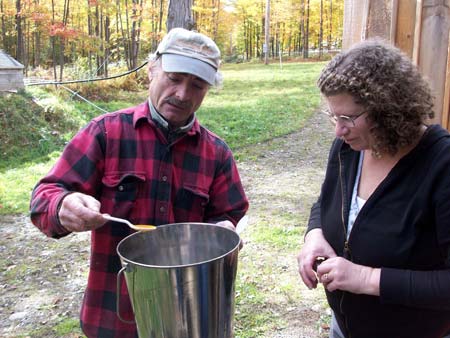 Outside of Williston, Vermont we found a family-owned and operated maple sugar farm. We toured this beautiful property with the owner, Bernie Comeau, and his two dogs. (sampled his dwindling stash of Grade B syrup - his favorite)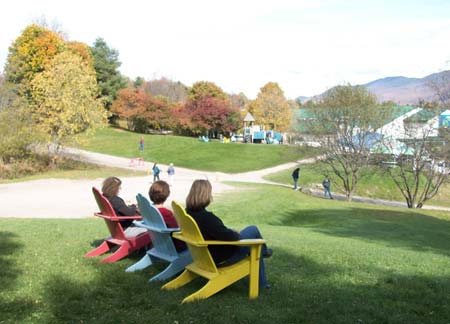 Enjoying the view after touring Ben and Jerry's factory in Waterbury, Vermont. (Imagine Whirled Peace ice cream)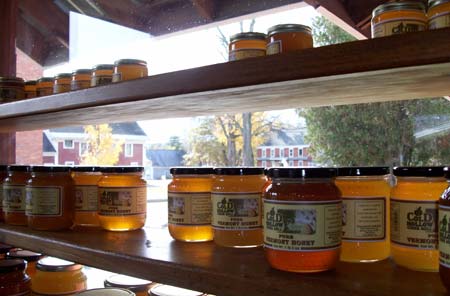 Cold Hollow Cider Mill and store in Waterbury, Vermont (cold and hot apple cider, apple cider donuts for 50 cents!)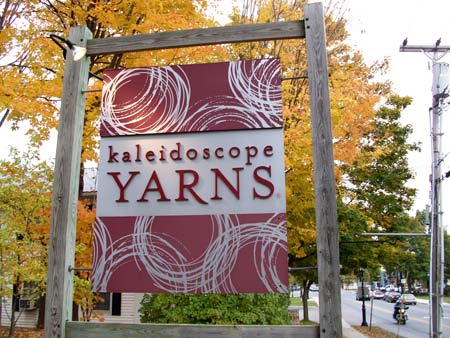 Essex Junction, Vermont. Loaded up on unique yarn for scarves. Lenie taught Muriel to crochet on this trip.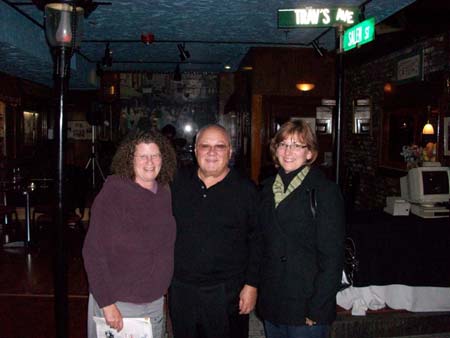 Ended our trip in the north end of Boston at Joe Tecce's Ristorante (Puttanesca sauce, chicken with lemon and artichoke hearts, and, for all three of us, our very first bite of cannoli!)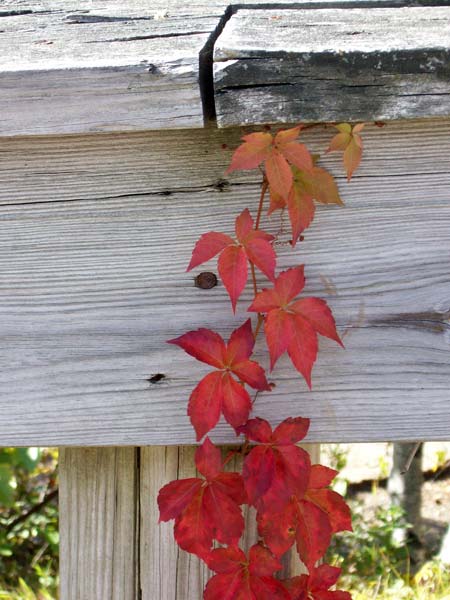 Loved every minute of this trip - we logged 1,900 miles on our rental car, as well as probably that many calories a day. It will be fun to talk to some of the customers who call in from the northeast because now I'll be able to picture the area where they live. I may make this 50th birthday an annual event!
SELF-RELIANCE TIPS
Your Home's Energy Use
The first step to taking a whole-house energy efficiency approach is to find out which parts of your house use the most energy. A home energy audit will pinpoint those areas and suggest the most effective measures for cutting your energy costs. You can conduct a simple home energy audit yourself, contact your local utility, or call an independent energy auditor for a more comprehensive examination.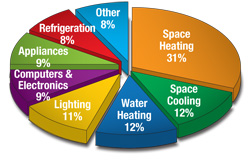 How We Use Energy in Our Homes
Heating accounts for the biggest chunk of a typical utility bill.
Source: 2007 Buildings Energy Data Book, Table 4.2.1., 2005 energy cost data.
Energy Auditing Tips
Check the insulation levels in your attic, exterior and basement walls, ceilings, floors, and crawl spaces.

Check for holes or cracks around your walls, ceilings, windows, doors, light and plumbing fixtures, switches, and electrical outlets that can leak air into or out of your home.

Check for open fireplace dampers.

Make sure your appliances and heating and cooling systems are properly maintained. Check your owner's manuals for the recommended maintenance.

Study your family's lighting needs and use patterns, paying special attention to high-use areas such as the living room, kitchen, and outside lighting. Look for ways to use lighting controls—like occupancy sensors, dimmers, or timers—to reduce lighting energy use, and replace standard (incandescent) light bulbs and fixtures with compact or standard fluorescent lamps.
Formulating Your Plan
After you have identified where your home is losing energy, assign priorities by asking yourself a few important questions:
How much money do you spend on energy?

Where are your greatest energy losses?

How long will it take for an investment in energy efficiency to pay for itself in energy cost savings?

Do the energy-saving measures provide additional benefits that are important to you (for example, increased comfort from installing double-paned, efficient windows)?

How long do you plan to own your current home?

Can you do the job yourself or will you need to hire a contractor?

What is your budget and how much time do you have to spend on maintenance and repair?
Once you assign priorities to your energy needs, you can form a whole house efficiency plan. Your plan will provide you with a strategy for making smart purchases and home improvements that maximize energy efficiency and save the most money.
Another option is to get the advice of a professional. Many utilities conduct energy audits for free or for a small charge. For a fee, a professional contractor will analyze how well your home's energy systems work together and compare the analysis to your utility bills. He or she will use a variety of equipment such as blower doors, infrared cameras, and surface thermometers to find leaks and drafts. After gathering information about your home, the contractor or auditor will give you a list of recommendations for cost-effective energy improvements and enhanced comfort and safety. A reputable contractor can also calculate the return on your investment in high-efficiency equipment compared with standard equipment.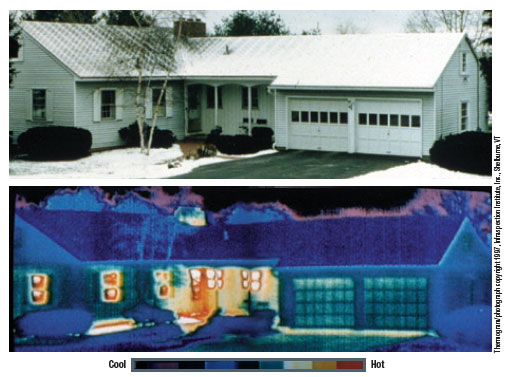 Heat Loss from a House
A picture is worth…in this case, lost heating dollars. This thermal photograph shows heat leaking from a house during those expensive winter heating months. The white, yellow, and red colors show heat escaping. The red represents the area of the greatest heat loss.
Tips for Finding a Contractor
Ask neighbors and friends for recommendations


Look in the Yellow Pages


Focus on local companies


Look for licensed, insured contractors


Get three bids with details in writing


Ask about previous experience


Check references


Check with the Better Business Bureau
Source: Heatboard - Energy-related news, articles, information, links, and resources.
COMMENTARY
Killer Biscuit Revisted
Last month, in the Humor section, we ran piece about a woman who thought she'd been shot when a biscuit can exploded in her car. The story is an old one that is periodically resurrected and passed around the net. Here's a link to last month's issue, if you want to read that version.
Earlier this month, we received the story again, but with a new, political twist. We present it here without comment.
Cleveland Woman Shot
Linda Burnett, 23, a resident of Dayton, OH, was visiting her in-laws and while there went to a nearby supermarket to pick up some groceries. Later, her husband noticed her sitting in her car in the driveway with the windows rolled up and with her eyes closed, with both hands behind the back of her head. He became concerned and walked over to the car. He noticed that Linda's eyes were now open and she looked very strange. He asked her if she was okay, and Linda replied that she had been shot in the back of the head and had been holding her brains in for over an hour.
The husband called the paramedics, who broke into the car because the doors were locked and Linda refused to remove her hands from her head.
When they finally got in, they found that Linda had a wad of bread dough on the back of her head. A Pillsbury biscuit canister had exploded from the heat, making a loud noise that sounded like a gunshot, and the wad of dough hit her in the back of her head. When she reached back to find out what it was, she felt the dough and thought it was her brains. She initially passed out, but quickly recovered.
Linda is blonde, a Democrat, and an Obama supporter, but that could all be a coincidence.
The defective biscuit canister was analyzed and it was determined to be Bush's fault.
RECIPES
In anticipation of the leftover turkey many of us will be scratching our heads, wondering what to do with next month, we thought we'd offer some recipes you might find interesting and tasty!
Turkey Posole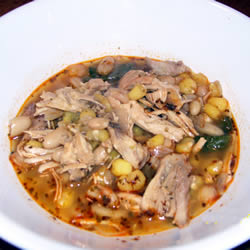 3 tablespoons olive oil
2 yellow onions, cubed
2 fresh poblano chile peppers, seeded and cut into 1/2 inch strips
2 cloves garlic, minced
1 tablespoon chili powder
2 tablespoons ground cumin
2 tablespoons dried oregano
2 quarts turkey broth
4 cups cubed cooked turkey
1 4-ounce can chopped green chile peppers
2 15-ounce cans cannellini beans, drained and rinsed
2 15-ounce cans white hominy, drained
water
salt and pepper to taste
In a large Dutch oven, heat oil over medium heat. Cook onions and poblano chiles in oil until soft. Stir in garlic, and cook for one or two minutes. Season with chili powder, cumin, and oregano.
Stir in turkey broth, cooked turkey, canned green chile peppers, cannellini beans, and hominy. Stir in water if more liquid is needed to just cover everything in the pot. Season to taste with salt and pepper. Bring to a boil, then reduce heat to low, and cover. Simmer, stirring occasionally, for about an hour to blend flavor.
Turkey Curry
1 cup sliced celery
1/2 cup sliced carrot
1 cup milk, divided
2 tablespoons cornstarch
3/4 cup chicken broth
2 tablespoons dried onion flakes
1/2 teaspoon garlic powder
4 teaspoons curry powder
2 cups diced cooked turkey
Lightly coat a skillet with nonstick spray. Saute carrots and celery until tender.
In a bowl, mix 1/4 cup milk and cornstarch until smooth. Add broth and remaining milk and mix until smooth. Pour over vegetables in skillet.
Add onion, garlic powder, and curry powder. Cook and stir over medium heat for 4-5 minutes or until mixture thickens and bubbles. Add turkey and heat through.

Hot and Sour Turkey Soup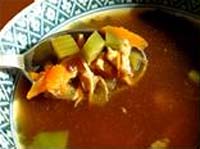 3 1/2 cups chicken broth
2 cups sliced fresh mushrooms
3 tablespoons rice or white vinegar
2 tablespoons soy sauce
1 teaspoon sugar
1 teaspoon grated gingerroot
1/4 to 1/2 teaspoon pepper
1 tablespoon cornstarch
1 tablespoon cold water
2 cups shredded cooked turkey
2 cups sliced bok choy
6 ounces pea pods (fresh or frozen)
1 beaten egg
3 tablespoons thinly sliced green onions
Combine chicken broth, mushrooms, vinegar, soy sauce, sugar, gingerroot, and pepper in a large saucepan. Bring to boiling.
Stir together cornstarch and cold water. Stir into broth mixture and cook until thickened and bubbly, stirring constantly. Cook and stir for 2 minutes more.
Stir in turkey, bok choy, and pea pods.
Pour the egg slowly, into the soup, in a steady stream while stirring 2 or 3 times to create shreds.
Remove from heat. Stir in green onions.
Turkey and Pasta With Peanut Sauce
6 ounces dry fettuccine or 6 ounces linguine
2 cups fresh pea pods
1 cup cooked turkey
1 cup coarsely chopped fresh pineapple
1/4 cup chicken broth
2 tablespoons creamy peanut butter
1 tablespoon soy sauce
1 tablespoon lime or lemon juice
1 garlic clove, minced
1/4 teaspoon crushed red pepper flakes
Cook pasta according to package directions.
Meanwhile, halve fresh pea pods diagonally. Place pea pods and turkey in a large colander. Pour hot cooking liquid from pasta over pea pods and turkey. Drain well. Return pasta, pea pods, and turkey to the hot pasta pan. Add pineapple.
Meanwhile, for the sauce:
In a small saucepan, stir chicken broth into peanut butter. Cook and stir with a whisk until peanut butter is melted. Stir in soy sauce, lime juice, garlic, and crushed red pepper. Heat through.
Pour the sauce over pasta mixture and stir gently to coat.
Cranberry-Turkey Enchiladas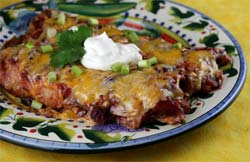 2 to 2½ cups shredded cooked turkey
16 oz can whole berry cranberry sauce
15 oz can black beans, rinsed and drained
1½ cups bottled salsa
1 cup shredded colby and Monterey Jack cheese (or more, if desired)
½ cup sour cream
3 whole green onions, sliced
¼ cup snipped fresh cilantro
1 tsp ground cumin
½ tsp salt
½ tsp ground black pepper
8 whole-wheat or regular flour tortillas
1 tsp bottle hot pepper sauce
cilantro, green onions and sour cream for garnish, optional
Preheat oven to 350°F. Lightly coat a 13×9-inch baking dish with cooking spray and set aside.
For filling, in a large bowl stir together turkey, half of the cranberry sauce, beans, ½ cup of the salsa, ¾ cup of the cheese, sour cream, green onions, cilantro, cumin, salt and pepper. Spoon about 2/3 cup filling on each tortilla. Roll up tortillas around filling. Place, seam sides down, in prepared dish; set aside.
For sauce, in bowl stir together remaining cranberry sauce, remaining salsa, and hot pepper sauce. Spoon over filled tortillas. Cover with foil.
Bake for 45 minutes. Uncover; top with remaining cheese. Bake 5-10 minutes more or until heated through and cheese is melted.
When serving, top with sour cream, cilantro, and a sprinkle of green onions.
Makes 6 to 8 enchiladas
Leftover Turkey And Stuffing Casserole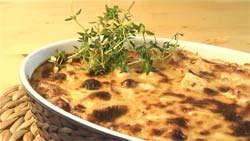 3/4 cup leftover gravy
3/4 cup cream
1 egg, beaten
salt and pepper, to taste
3 cups leftover stuffing
3 cups leftover turkey
thyme for garnish (optional)
Preheat oven 350ºF.
In a mixing bowl, add the gravy, cream, and egg. Season with salt and pepper and mix together with a whisk.
Spray a casserole dish with non-stick spray. Add the stuffing and press it down so that it forms a uniform base for the casserole. Spread the turkey evenly over the stuffing and top it all with the gravy/cream sauce. Place it in the oven for about 35 minutes.
Allow to cool slightly and garnish with thyme.
HUMOR
The New Husband Store
There is a store that sells new husbands in New York City.
Among the instructions at the entrance is a description of how the store operates:
You may visit this store ONLY ONCE!
There are six floors and the value of the products increase as the shopper ascends the flights. Shoppers may choose any item from a particular floor, or may choose to go up to the next floor, but may not go back down except to exit the building!
So...a woman goes to the New Husband Store because she's tired of her old one.
On the first floor the sign on the door reads:
Floor 1 - These men Have Jobs
She is intrigued, but continues to the second floor, where the sign reads:
Floor 2 - These men Have Jobs and Love Kids.
"That's nice," she thinks, "but I want more."
So she continues upward. The third floor sign reads:
Floor 3 - These men Have Jobs, Love Kids, and are Extremely Good Looking.
"Wow," she thinks, but feels compelled to keep going.
She goes to the fourth floor and the sign reads:
Floor 4 - These men Have Jobs, Love Kids, are Drop-dead Good Looking and Help With Housework.
"Oh, mercy me!" she exclaims, "I can hardly stand it!"
Still, she goes to the fifth floor and the sign reads:
Floor 5 - These men Have Jobs, Love Kids, are Drop-dead Gorgeous, Help with Housework, and are Very Romantic.
She is so tempted to stay her heart skips a beat but instead goes to the sixth floor, where the sign reads:
Floor 6 - You are visitor 31,456,012 to this floor. There are no men on this floor. This floor exists solely as proof that women are impossible to please. Thank you for shopping at the Husband Store.
The Wife Store
To avoid gender bias charges, the Husband Store's owner opened a New Wife store just across the street.
The first floor has wives that cook and love to make love.
The second floor has wives that cook, love to make love, have money, and like beer.
The third, fourth, fifth, and sixth floors have never been visited.
---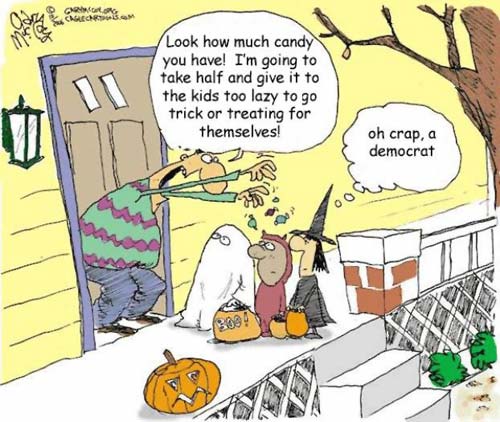 ---
A man was telling his neighbor, "I just bought a new hearing aid. It cost me four thousand dollars, but it's state of the art."
"Really," answered the neighbor,"What kind is it?"
"Twelve thirty."
---
---
The Considerate Husband Always Gets His Due
It is important for men to remember that as women grow older it becomes harder for them to maintain the same quality of housekeeping they did when they were younger. When men notice this, they should try not to yell. Let me relate how I handle the situation.
When I chucked my job and took early retirement a year ago, it became necessary for Nancy to get a full-time job both for extra income and for health insurance benefits that we need. She was a trained lab tech when we met thirty some years ago and was fortunate to land a job at the local medical center as a phlebotomist.
It was shortly after she started working at this job that I noticed that she was beginning to show her age. I usually get home from fishing or hunting about the same time she gets home from work.
Although she knows how hungry I am, she almost always says that she has to rest for half an hour or so before she starts supper. I try not to yell at her when this happens. Instead, I tell her to take her time. I understand that she is not as young as she used to be. I just tell her to wake me when she finally does get supper on the table. She used to wash and dry the dishes as soon as we finished eating. It is now not unusual for them to sit on the table for several hours after supper. I do what I can by reminding her several times each evening that they aren't cleaning themselves. I know she appreciates this, as it does seem to help her get them done before she goes to bed.
Our washer and dryer are in the basement. When she was younger, Nancy used to be able to go up and down the stairs all day and not get tired. Now that she is older she seems to get tired so much more quickly. Sometimes she says she just can't make another trip down those steps. I don't make a big issue of this. As long as she finishes up the laundry the next evening I am willing to overlook it. Not only that, but unless I need something ironed to wear to the Monday's lodge meeting or to Wednesday's or Saturday's poker club or to Tuesday's or Thursday's bowling or something like that, I will tell her to wait until the next evening to do the ironing. This gives her a little more time to do some of those odds and ends things like shampooing the dog, vacuuming, or dusting. Also, if I have had a really good day fishing, this allows her to gut and scale the fish at a more leisurely pace. Nancy is starting to complain a little occasionally. Not often, mind you, but just enough for me to notice. For example, she will say that it is difficult for her to find time to pay the monthly bills during her lunch hour. In spite of her complaining, I continue to try to offer encouragement. I tell her to stretch it out over two or even three days. That way she won't have to rush so much. I also remind her that missing lunch completely now and then wouldn't hurt her any, if you know what I mean.
When doing simple jobs she seems to think she needs more rest periods than she used to have to take. A couple of weeks ago she said she had to take a break when she was only half finished mowing the yard.
I overlook comments like these because I realize it's just age talking. In fact, I try to not embarrass her when she needs these little extra rest breaks. I tell her to fix herself a nice, big, cold glass of freshly-squeezed lemonade and just sit for a while. I tell her that as long as she is making one for herself, she may as well make one for me and take her break by the hammock so she can talk with me until I fall asleep.
I could go on and on, but I think you know where I'm coming from. I know that I probably look like a saint in the way I support Nancy on a daily basis. I'm not saying that the ability to show this much consideration is easy. Many men will find it difficult. Some will find it impossible. No one knows better than I do how frustrating women can become as they get older. My purpose in writing this is simply to suggest that you make the effort. I realize that achieving the exemplary level of showing consideration I have attained is out of reach for the average man. However guys, even if you just yell at your wife a little less often because of this article, I will consider that writing it was worthwhile.
(This was written by the deceased husband of a friend of mine. He mysteriously passed on shortly after writing this. The cause of death is still under investigation.)
---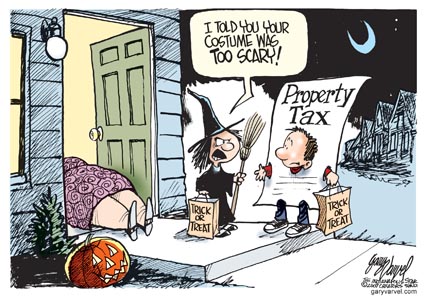 ---
---
Bob Hill and his new wife Betty were vacationing in Europe....as it happens, near Transylvania. They were driving in a rental car along a rather deserted highway. It was late and raining very hard. Bob could barely see the road in front of the car. Suddenly, the car skids out of control! Bob attempts to control the car, but to no avail! The car swerves and smashes into a tree.
Moments later, Bob shakes his head to clear the fog. Dazed, he looks over at the passenger seat and sees his wife unconscious, with her head bleeding! Despite the rain and unfamiliar countryside, Bob knows he has to get her medical assistance.
Bob carefully picks up his wife and begins trudging down the road. After a short while, he sees a light. He heads toward the light, which is coming from a large, old house. He approaches the door and knocks.
A minute passes. A small, hunched man opens the door. Bob immediately blurts, "Hello, my name is Bob Hill, and this is my wife Betty. We've been in a terrible accident, and my wife has been seriously hurt. Can I please use your phone?"
"I'm sorry," replied the hunchback, "but we don't have a phone. But my master is a doctor. Come in and I will get him!"
Bob brings his wife in.
An older man comes down the stairs. "I'm afraid my assistant may have misled you. I am not a medical doctor. I am a scientist. However, it is many miles to the nearest clinic and I have had a basic medical training. I will see what I can do. Igor, bring them down to the laboratory."
With that, Igor picks up Betty and carries her downstairs, with Bob following closely. Igor places Betty on a table in the lab. Bob collapses from exhaustion and his own injuries, so Igor places Bob on an adjoining table.
After a brief examination, Igor's master looks worried. "Things are serious, Igor. Prepare a transfusion." Igor and his master work feverishly, but to no avail. Bob and Betty Hill are no more.
The Hills' deaths upset Igor's master greatly. Wearily, he climbs the steps to his conservatory, which houses his grand piano. For it is here that he has always found solace. He begins to play and a stirring, almost haunting melody fills the house.
Meanwhile, Igor is still in the lab tidying up. His eyes catch movement, and he notices the fingers on Betty's hand twitch, keeping time to the haunting piano music. Stunned, he watches as Bob's arm begins to rise, marking the beat! He is further amazed as Betty and Bob both sit up straight!
Unable to contain himself, he dashes up the stairs to the conservatory. He bursts in and shouts to his master:
"Master, Master!.....The Hills are alive with the sound of music!"


(Okay. We're sorry...but really, you should have seen it coming. Happy Halloween!)
---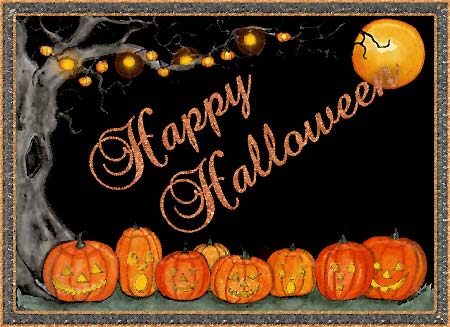 OTHER STUFF
Did a friend or relative tell you about this newsletter? The Backwoods Home Magazine newsletter is free and all you need is an email address so we can let you know when each issue is published and where it can be found. Even better, we sometimes have special offers and discounts that are available only to BHM Newsletter subscribers. Your email address will never be sold, rented, loaned, given, or otherwise provided to any third party.
Just visit the BHM web site at www.backwoodshome.com and click on "Newsletter" in the navigation menu on the left side of any web page.
Contact Info:
Editor/Letters - Dave Duffy, editor@backwoodshome.com
Web Site - Oliver Del Signore, webmaster@backwoodshome.com
Backwoods Home Magazine
P.O. Box 712
Gold Beach, OR 97444
541-247-8900


www.backwoodshome.com designed and maintained by Oliver Del Signore
© Copyright 1998 - Present by Backwoods Home Magazine