A Death in Hardyville

By Claire Wolfe

April 15, 2006
It scarcely felt like spring. Wind pierced the thickest of our clothes. It reddened and roughened our cheeks. Gray clouds hid the sun.
Somehow, the bitter weather was fitting, reflecting our mood. Hardyville had assembled to bury Mrs. Nat.
Marta Rose Ericsson Lyons, born May 18, 1931, died April 11, 2006. Most of us, to tell you the truth, had never even known her full name. She was just Mrs. Nat, one of those women born to be a wife and made in heaven to be a grandmother. Everybody's grandmother.
She had struggled for months against the cancer that ultimately ended her. But last winter as she lay in bed reading that week's Hardyville Independent she laid down the paper, looked up at Nat and (as he told us) spoke with determination. "They always say the same thing. Those obituaries do. 'She fought a long battle with cancer.' 'He fought valiently against cancer.' Well, sweetie, I don't want to end my life fighting and battling."
She patted the bed, then took Nat's hand as he sat next to her. "I've had a good life," she said. "We've had good years together. Lived well. Now it's time for me to die well. No more chemo, sweetie. No more trudging to awful hospitals in the city. I want to get through the weeks or months that are left to me with no more struggles. Just take something for the pain and … well, enjoy whatever's left to me. To us. Will you agree?"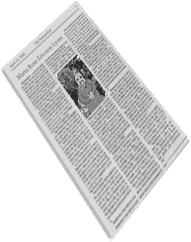 Of course, no matter how it wrenched his heart, Nat did agree. Because it was her life. "I'll help you," he nodded. "However you want it, I'll help you."
And so did the rest of Hardyville. We plied her with baked goods (not half as good as her own) until her body no longer desired food. We gathered to share stories and memories. We left her alone when she needed us to. We held her hand or chatted when she needed that. Hospice staffers, daughters, Nat, and others privileged to be closest to her assisted with harder things — administering pain medicine, changing bed linens, and helping with those personal indignities whose acceptance marks a kind of final letting go.
After it all, we stood in the Hardyville Pioneer Cemetary, surrounding a plain pine coffin made by Nat's own hands. It was closed against the wind, but earlier those of us so inclined had visited Mrs. Nat in the Lyons' living room. She lay there in that lovingly made coffin whose making she herself had peacefully observed. She looked thinner than anyone could ever have imagined. But her head rested lightly on a pillow she'd embroidered herself. And Nat's plain, varnished box was lined with a quilt whose squares were hand-made by all the ladies of Hardyville. (Yes, even I contributed a square; a pirate flag.) Mrs. Nat herself contributed two squares. One showed an arrow-pierced heart with the words "Nat and Marta." The other held a slice of cherry pie.
Shortly after she whisperingly admired a square made by 13-year-old granddaughter Tessa (who showed potential Hardyville spirit by creating a pink kitten with huge claws over the motto, "Don't Shread on Me"), Mrs. Nat slipped away. Her preparations were completed, her journey ended — or begun, depending on how you see these things.
She died well. Not just in the moment of death, but in the whole of getting ready to go.
She died at home.
She died naturally.
She died with everything she needed to ease her pain.
She died knowing that harmony and simplicity would follow.
So we gathered around the hand-made coffin, which was suspended over the grave by painted planks. Nat stood at the head, supported on one side by one of the many Lyons daughters and on the other by Dora. He was silent and far away.
The rest of us spoke, each in our turn. As we passed around a bundle of burning sage we remembered Mrs. Nat.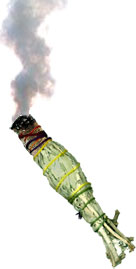 "I wish we'd had you for our cook at the Hog Trough," sighed Janelle as she passed the bittersweet, smoking bundle to the next person who held out a hand for it.
"I never knew my 'real' grandmothers," I said. "Thank you for being my grandmother of choice even though I thought I was too grownup to need one."
"Grandma, I just love you," said Tessa, breaking down in tears.
"And your snickerdoodles!" added one of the Lyons great-grandkids, probably too young to realize grandma would never dust another batch of cookie dough with cinnamon and sugar.
A few elders recalled Mrs. Nat as a lively young girl or a generous young wife. Some went on and on. Many choked up when they took the sage bundle in hand and said nothing at all. Others whispered a few private words. At the top of the grave, Nat listened in silence, head bowed. But we could all see him sway between tears and smiles as the tributes rolled around our circle.
Mrs. Nat was "nobody." No one at her funeral could extoll her worldly accomplishments. She never held high office, never won an academic prize, never wrote a book, founded a company, or funded a billion-dollar charity. She wasn't rich or famous or beautiful. She never starred in a movie or appeared on the cover of People magazine (or even the front page of the Hardyville Independent for that matter). She never invented anything more important than a more delicious way to make chocolate cake.
But anybody looking and listening around that circle could know that Mrs. Nat had done all the things that really counted. She had loved and been loved. She had given and received graciously. She had laughed hard and softly cuddled her grandbabies. And in her gentle, peacemaking way, she had been free and helped raise generations of children in freedom.
Every day of her life she was the kind of person who made life richer for others. And every day, she appreciated the richness of her own life. That beats fame and fortune any day.
"Remember the time she sent the IRS auditor off with a pat on the cheek and a plate of cookies?" someone said. "She said he was probably a good boy, but someone had forgotten to teach him him to mind his own business."
"Yeah. And when the census taker tried to ask how many toilets she had and she offered him some of her home-made potpourri to make his bathroom fresher. But she never told him a single thing."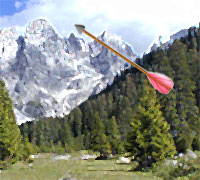 Somehow the tears that streaked down our faces eventually turned to tears of laughter.
After a while, we'd all said our say. Hardyville Pioneer Cemetary was silent, except for the whistling wind.
With no preacher to lead the ceremonies, we all just kind of knew when our town grandma had — almost — been given her proper sendoff.
Then Dora nodded to a 17-year-old Lyons grandson who had been standing tensely holding a bow and a single hand-fletched arrow. Licking his dry lips, he stepped a few feet out from the side of the grave as we all moved into a semi-circle to watch him.
He raised the bow, nocked the arrow, and drew back the string. He paused, shaking a little, aware in that way that only self-conscious teenagers can be of all the eyes on him. Then he loosed the arrow toward the horizon, signaling the flight of Mrs. Nat's spirit.
The arrow started out straight and true. Then it wobbled a bit. And a bit more. It went off course. That wind, you know. That damned desert wind. After a long, slow, painful meander the arrow thunked ungracefully to earth far short of the young grandson's expectations.
He blushed, humiliated in front of the crowd. But just then, Nat stepped forward and laid his arm around the young man's shoulders. He had to stretch a bit.
"She'd have liked it just like that," he said. "Not quite perfect, like most home-made things. Like home-made people. Like us. B'sides, I think that means some whisp of her will still stay close, wherever else she might go."
And at that moment, the wind whispered away and the sun broke out over the Hardyville Pioneer Cemetary.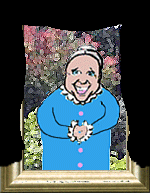 Marta Rose Ericsson Lyons
Born May 18, 1931
Died April 11, 2006