Letters To The Editor
From Issue #96
The Forever Floor
We just built a covered deck off our back door with 2×6's on 24" centers with 3/4′ plywood on top and would like to put the forever floor on top of this. Our concern is that the floor flexes a little when you walk on it. Would this damage the forever floor? Or can it take a little flexing?
Bill Marsh
Wilhoit, Arizona
The slight flexing you mentioned will not harm the flooring. Just be sure the material is 90# roll roofing, not 60# or 30#. The lighter roll roofing is rare (in our area at least) and easy to avoid.

Use a good even layer of Plastic Roofing Cement, not lap cement or any other black juicy roofing products. You need the thick consistency and sealing power to thoroughly stick down the roll roofing, especially for outdoor use.

Use a minimum of three coats of latex paint. More is better. If there is direct hot sun on your deck I suggest using a light color for the finish coat. Follow the directions in the article (Issue #92) and it should be beautiful, or easily changed if not.

Having said all that, make sure the flexing is indeed minimal. Decks often get high loading, as when the in-laws all show up at the same time, and flexing may be a sign that you need more support.

I am assuming your 3/4′ plywood is fitted well and the seams are tight. If there are gaps use a putty knife and fill them with wood filler. Otherwise the roll roofing could sink slightly into the gap and cause problems.

— David Lee
BHM writer
Using a tire to corral loose horseradish
I recently finished reading an article about growing horse radish. I agree; it is a fast spreading plant that will take over an area rather quickly. One method I use to contain my crop was to utilize my daughters old tractor tire sandbox. Being that both of my daughters are "too cool" to play in their sandbox anymore, I removed most of the sand and replaced it with a good rich soil-compost mixture from my compost pile. The tire is easy to mow around, weeds don't grow into my horse radish, and my horse radish cannot grow out of the tire. The tire helps to keep the soil warm and moist, and harvesting is quite easy with a pitch fork or spade shovel. In addition to all that, it just looks good in the backyard (an issue my wife and I don't always agree on). For smaller sized crops, I imagine an old automobile tire would work nicely as well.
Duane Winkler
Roswell, Ohio
A healthy sausage
Being raised in a small town in northwestern Pennsylvania, I grew up loving all types of sausage. Now at age 51, after a heart attack with a 100% blocked artery, I have had to radically change my diet and lifestyle.
Some of the so-called health food out there really tastes bad, and none of it tastes as good as the "real thing" when it comes to good ole country sausage. That's why I've been trying for the last year or so to find a sausage that not only tastes good, but is also a healthy alternative to the real thing.
I finally came upon a combination of ingredients that seems to be a hit, not only with myself, but also to everyone who has sampled it. Here's the recipe:
1/3 cup bulgur wheat (whole cracked toasted wheat) soaked overnight in the fridge with 1 cup water (covered).
1 1/4 lb. extra lean ground turkey (white meat only)
2 Tbsp. rubbed sage
1 tsp. raw sugar
1 Tbsp. kosher salt
1 1/2 tsp. fresh coarse ground black pepper.
1/4 tsp. cayenne pepper (adjust if you don't like it too spicy).
Drain the bulgur and mix it well with all the spices. Add the turkey meat and mix well.
Separate into 10 or 12 equal patties and fry (covered) in a little olive oil over medium heat for about 5 minutes per side. You want it to be nice and brown on both sides, as aesthetically it just looks better if it's a bit browner.
By changing the spice mixture I have also made Italian sausage, Bratwurst, and Kibbi, using the same basic meat/bulgur mix.
Bill Guiher
Chandler, Arizona
Sergeant Jim Duffy
Your brother is no ordinary hero. All heroes are special, especially those who have suffered the ravages of war up close and personal. Many vets have never recovered from the effects of war, including some of my close friends.
The damned shame is there is little help for this situation, though if he were an illegal, there's no end of help, while our vets sleep in parks and under bridges, and VA facilities are closed to "save money." Most of the VA hospitals I've seen are sad examples of medical facilities compared to the public and private hospitals—under staffed, underfunded, under appreciated.
Were it not for our vets we'd be speaking a different language today…God Bless all those who have sacrificed their safety and lives for this country. Freedom has a flavor tasted only by those who have fought for it!
Of the 20+ magazines we get each month, Backwoods Home is the first that my wife and I reach for! Maybe I'll have to get her a separate subscription. Keep up the great work…you folks are a breath of fresh air in a stagnant society.
Andy Anderson
Surry, Maine
I happened to pick up a copy of your "Backwoods Home" Magazine, and was more than touched by your short story of your brother Jim. You see that I am writing you from a Texas state prison. I apologize. I should not be here. But, Fate has its way with those who cheat death. I too am a Vietnam Vet. I was a late comer, in the late 60s and early 70s. I joined the Marines on my 17th birthday. Both my parents were Marines, in WWII.
…You said something in your "View" that hit me pretty hard. Jim "might as well have died on the battlefield, thus averting four decades of wandering, confusion, and misery." I can't begin to tell you how much that comment answers all the questions ever asked about how the people treated Vietnam Vets when we came home. And, for a Marine, whose training is deeper and harder than most others, it's ten times as hard to understand why we could not be honored for our sacrifices in 'Nam. Yes sir, it would have been better to have died on the battlefield than to have come home to the insults, and the rejection from those you fought to keep free. Whether the War (any war) is right or wrong, "It's not for me to reason why, but to follow orders, to do, or die," as we were taught, to jump when ordered to.
I'm 52 years old. I've been in prison for the past 16 years, uninterrupted. I do not blame the Marines. Only that I came home to those I loved the most, who no longer cared if I, or any of us from that era, lived or died. I found a friend in beer and pot. And there you have it. I lived in the woods, and traveled the highways and biways of the United States, running, running, or seeking others who I could call friends. Thanks for the good hard slap, Dave. It does an old Vet good to hear the truth from time to time.
John G. Partlow
Gatesville, Texas
I did not have the honor of meeting Jim in life…But I openly cry at his death!
If I had met him in life, I have no doubt that I would have knelt at his feet and wept…2 tours in 'Nam…one of them at Khe Sang…he deserved no less! He was a true American hero! I wish I was half the man he was! I enlisted in the Air Force in October of 1978…My father was a retired E-7 (Mechanized Infantry…10th Infantry, Fort Drum). He advised me when I left home..(Which I have passed on to two daughters…) that I would run into a "zebra" who thought he knew everything…if he had no patch on his right arm, say "yes sergeant" and keep it moving. If he has a patch on his right arm, climb in his pocket, 'cause that's the Son-Of-A-Bitch who will bring you home! I followed his advice for 14 years! (6 Air Force, 8 Army)…And today I stand as a proud civilian. I openly cry for the Marine named Walter Duffy, Jr. May the Higher Power greet him with open arms.
Rob Stalker
Lockport, New York
I just wanted to tell you that you and your magazine mean a lot to many of us. My wife and I have read Backwoods Home for years and it is sort of like we know y'all and are a part of the circle of friends and family. Jackie Clay's husband passing and your brother leaving gives us all a sense of loss. I am a Christian and believe that your brother and Jackie's Bob are with the Lord and safe and at peace. I am an old Marine and it took me a long time to get over it. I must be two years or so younger than your brother.
David Dodson
Cooper, Texas
Cake in a jar debate
I have been a Backwoods Home subscriber for three years and have always enjoyed each issue, especially Jackie Clay's columns on canning and other methods of food preservation.
However, I was shocked to find a letter from a fellow reader of your publication that included a recipe for Applesauce Cake in a Jar. The recipe states that this product can be stored up to a year. It's obvious that you did not show this recipe to Mrs. Clay before publishing it as she and other Master Food Preservers would let you know that this is an extremely unsafe recipe as the low acid environment harbors the potential for C. Botulinum.
Enclosed is an Article from Utah State University Extension Agency on the dangers of this recipe and others like it. For the safety of your readers, please publish a retraction.
Toni Steger
Plano, Texas
If you had shown me the letter, I probably would have said "Okay!", as I have been canning fruit breads in a jar for years. I am not a Master Food Preservationalist, Master Gardener, just an old homesteader.

With interest, I read the literature on the lack of safety in canning fruit breads at home. It said there has never yet been a case of botulism identified that resulted from eating home canned fruit bread. But it cited lab experimentation that showed home canned fruit breads supplied ideal growing media for the toxic spores of C. Botulinum, which causes food poisoning, possibly deadly.

Where home canning low acid foods, such as meats and vegetables in a water bath canner, has produced many cases of illness and death after eating toxin in them, I feel very strongly in encouraging folks to stop this procedure. But with fruit breads, I suppose it would be safer to stop home canning fruit breads, as the possibility of sickness or death is there, no matter how small. (Remember studies show that one in 10 of us will be involved in a car accident within a year, but do we quit driving?)

Home canned fruit breads are not a "must have for survival" food, so I'd advise readers to hold off until the Master Home Canners tell us a way, such as pressure canning our fruit bread, we can safely home can this yummy bread.

— Jackie Clay
BHM Writer
Some vinegar recipes
I had some info on vinegar I thought you might like:
Swish 1/4 cup vinegar in cavity of a chicken to retard bacteria growth.
This sauce is for grilled meats, poached fish, cold shellfish, mixed with mayo or with salads or salad dressings.
Vinegar mint sauce
1 cup vinegar
4 Tbsp. white or brown sugar or 1 Tbsp. honey
2 cups fresh spearmint, minced
In a small saucepan (one that doesn't react with vinegar) mix vinegar and sugar. Cook over medium heat, stir in mint. Cover, steep several hours. (Heat off to steep.) Refrigerate the sauce. The sauce will keep several weeks.
Vinegar pie
Preheat oven to 325°.
Mix 1 1/2 cups sugar with 1/2 cup butter, melted, unsalted in medium bowl. Whisk in:
3 large eggs
2 Tbsp. white distilled apple cider vinegar
1 tsp. vanilla
Pour into 9" unbaked pie shell. Bake at 325° 50 minutes, until golden brown and sharp knife inserted in center comes out clean. Top with whip cream or fresh berries.
Cider vinegar doesn't need to be refrigerated but keep out of light.
Vinegar cake
3 cups flour
2 cups sugar
6 Tbsp. cocoa
2 tsp. baking soda
1/2 tsp. salt
3/4 cup oil
2 Tbsp. vinegar
1 tsp. vanilla
2 cups cold water
In ungreased 9×13" cake pan sift together first 5 ingredients. Make 2 big holes and 1 small hole in sifted ingredients. In first big hole pour oil, in second big hole pour vinegar, in small hole pour vanilla. Pour water over entire mix, mix well with fork. Bake at 350°, 25 to 30 minutes.
Peanut butter frosting
2 Tbsp. flour
1/4 tsp. salt
1 to 2 Tbsp. milk
2 cups powdered sugar
4 Tbsp. butter, soft
1/2 cup peanut butter
Mix all ingredients except milk. Add milk gradually to desired consistency.
To sweeten up vinegar in a recipe, add a pinch of sugar.
Vinegar cookies
2 sticks butter, cold, cream till light and fluffy, add
3/4 cup sugar, add 1 tsp. vanilla.
Sift together:
1 1/2 cups flour
1/2 tsp. baking soda
Add gradually to mix. Drop by teaspoon on ungreased cookie sheet. Bake at 300° 20 minutes.
Vinegar candy
1 cup brown sugar, packed
1 cup (2 sticks) butter, plus more for pan
2 Tbsp. vinegar
pinch of salt
1/2 cup pecans, chopped (optional)
Mix first 4 ingredients. Cook on medium high until drop of mix forms a hard ball when dropped in cold water (270° on candy thermometer) about 10 minutes. Swirl pan gently, but do not stir (Crystals form on sides, you don't want in mix). Butter 8" or 9" cake pan. Sprinkle chopped nuts on bottom of pan. Pour candy mix over nuts, let cool, then break in pieces. Makes about 20 small pieces.
Herb vinegars
Sterilize the bottle, wash and dry fresh herbs, bruise them, put them in bottle and pour in warmed vinegar. (Don't boil the vinegar.) Set in dark, warm place. Gently shake bottle up and down daily. The herb flavor vinegar should be ready in a couple weeks.
Try a little fresh orange peel and rosemary. Can make in gallon jar and then transfer to smaller bottles. Use in salad dressing, marinades, honey sauces for roasting poultry and meats. Add to water when steaming vegetables.
Dianne Meyers
Lakemoor, Illinois
Liquid apple pie
I saw the letter from Kyle in Colorado in your Sept '05 issue about liquid apple pie and Dave said that the recipe died with Vernon Hopkins. I wanted to share with your readers some recipes from a friend of mine. She calls hers: Lissy's Liquid Pie. She dissolves a packet of vanilla instant pudding and a 1/4 cup brown sugar with a 1/4 tsp. each cinnamon and nutmeg in about a cup of hot water. Then she mixes that water into a 64-oz (or smaller) jug of Indian Summer Apple Juice (or other non-condensed apple juice) and voila: Liquid Apple Pie. She also makes Liquid Peach Pie by substituting the Apple Juice with Indian Summer's White Grape and Peach juice. And she makes Eggnog the exact same way by substituting juice with milk. The recipes can be tweaked to make any combination of liquid pies according to your favorite flavor.
Mmmm, try them with vanilla bean ice cream; enjoy!
Allison Zink
Hastings, Michigan
When I read this intriguing request/letter, I called the reference desk of our local library and this is what he gave me.
Liquid Apple Pie "given by Jan (could be Joan) Mastrianni of Victorville, Ca."
1 gallon apple juice
12 cloves
3 broken cinnamon sticks
Boil 1 to 2 hours (1 pint will boil off). Remove from heat, let cool and strain. Add: 1 pint Everclear and 1 fifth of Whiskey. Put in bottles or jars, cap, and give to friends.
Another interesting old recipe for my growing collection, and one I am sure you will have fun with.
Marilyn Davis
Vader, Washington
Love the magazine and read the letter about the missing Apple pie recipe. Here is the one floating around my neck of the woods. Use or "abuse" at your leisure, goes down better ice cold.
1 gallon apple cider
1/2 gallon apple juice
8-10 cinnamon sticks
3 cups sugar
Boil liquid ingredients and cinnamon sticks (slightly broken up) for 15 minutes (the boil is not a hard boil but more like a simmer). Remove cinnamon sticks and add sugar and boil another 15 minutes. Let cool until room temp. Add 1 liter of grain alcohol after the mixture is cold, put in suitable container(s), chill and enjoy. Note the grain alcohol I use is called Everclear and comes in 190-proof. Enjoy.
Kory Miller
Chaffee, North Dakota
This sounds more like Vernon Hopkins's recipe. He told me that Everclear was one of the ingredients. — Dave
The Avian flu scare
I just got my anthology yesterday. It's great and timeless.
Now I am not one to go nuts over alarming news, particularly when "the truth" is being "suppressed by the gummint," but this is interesting:
"I want to direct your attention toward avian flu, an issue that, given its scope and potential consequences, receives very little attention both in the traditional press and blogosphere. I've been following this for some time. Basically the World Health Organization is doing everything not to raise the alert level from stage 3 to stage 5 or 6, and has tried to explain away clear cases of human-to-human transmission (these cases mean we're at stage 5 at least). There are also lots of rumors China is covering up an outbreak of stage 6 human-to-human bird flu. China has been completely uncooperative with the WHO, refuses to let out most medical samples, and has even threatened epidemiologists…"
And also: "the few published samples available from China (obtained from dead birds in Qinghai) all have genetic traits of strains that infect mammals, including humans. The worry is that these samples come from a major nexus in bird migration routes, meaning that this dangerous virus will soon be dispersed throughout Eurasia (it's already popping up in Russia)."…
In any event, it is an interesting story, and one that you might want to consider as an article sometime soon. As to what to do about it, your guess is as good as mine. Get a flu shot, wash your hands, get plenty of rest and exercise, avoid stress, take your vitamins, avoid stimulants and alcohol, and all the other stuff our mothers told us to do so long ago. Hey, it can't hurt!
Lamar Johnson
Beaverton, Oregon
I believe your concern is well founded. I'm certainly concerned about the potential for an Avian flu pandemic, and I'm re-examining my storage pantry and my family's ability to hole up at home for a while. I hear more and more health authorities talk about the danger that the Avian flu could mutate into a deadly global threat. — Dave

Marlin Model 336
I just finished reading issue 95, and I generally like and respect the opinions found in the articles. However, Massad Ayoob's conclusion that the Marlin Model 36 with micro-groove rifling is unusually accurate left a bitter taste in my mouth.
In the early to middle 60s, I was looking for a deer rifle and was able to buy the above rifle from the Long Beach Naval Exchange store. Off to the range I went, with several boxes of new 35 Rem ammo. I tried to sight it in from the 100-yard line, firing from a sandbag rest from a fixed shooting bench. Back then my eyes were 20-20 and I was a regular competition shooter, in the Navy as Expert with service pistol, and with the Garand service rifle.
The best I could do was about an 8 to 10" group, if you can call that a group, at 100 yards. I could not return the rifle since they claimed there was not anything wrong with it.
The best I could find out from all the experts that I asked was that it was the "micro-groove" rifling that was inaccurate, and I thought Marlin had discontinued that rifling long, long ago?
Paul F. Edwards
Stevensville, Montana
I'm afraid your negative experience with the Marlin Model 336 was highly unusual. It's famous as one of the more accurate rifles of its type. I suspect yours had something wrong with it, perhaps a loose rear sight, or you got into a bad batch of ammo. Most Marlin users get much better accuracy.

— Mas Ayoob
BHM writer
About wild blackberries
About wild blackberries, how do they grow? Are they biennial bearing like "tame" raspberry/blackberry varietals? How do I propagate them? Do I need to thin them out? What about cutting out the old canes that have already fruited? They seem to have a different cane than raspberry. I am finding it hard to find propagation and tending instructions for "wild" blackberries.
Randy Lukas
New Lebanon, New York
Wild blackberries are very similar to the domesticated varieties. They produce yearly until the individual canes become too old. They will grow new canes every year or two which will bear in their second year or late in their first year depending on climate. Old canes will be easily identified when they become thicker than fruiting canes and become a dry brown color. You will want to cut out these old canes. I simply use a pruning shear and cut them close to the ground. I also kept an old garden hoe which blade had broken off so that all that was left was a hook. I use the hook to pull out the cut canes from the tangle of fruiting canes.

I have had the need to thin blackberries. They do grow differently than raspberries. Where raspberries like to grow in individual clumps, blackberries will spread willy-nilly in brambles. In order to pick them easily, it is necessary to train them along rows. When they begin to grow together too thickly, thin them by cutting out canes, fruiting and old, from areas between rows and sometimes between plants among the rows in order to walk between rows for harvesting.

Wild blackberries have an advantage over most domesticated blackberries in that they are non-hybrid. That is, they will not grow for a while, then die off. Wild blackberries, once established will continue to propagate themselves. Allow a portion of the berries from a few selected canes to ripen yearly and fall naturally from the plant. If you have trouble getting your blackberries to propagate by seed, place the ripe berries fallen from the canes in a jar and allow to ferment. Then scratch into the ground where you want them to grow. Make sure your ground is loamy and kept moist. Mulch with pine straw.

To establish a bramble or rows of blackberries, transplant them from the wilds. Prepare your soil before collecting the plants by spading in sand and compost until loamy. Select the plants you wish to transplant by gauging their health, then cut the plant's canes to a couple of feet above the ground. This should be done in the very early spring or fall. Dig individual plants from the wilds by following canes to the ground and digging in a wide circle around the roots. It would do well to water the roots before digging. Place the plants in a cardboard box with as much of it's native soil around the root area as possible. Bring the plants back to your prepared soils and plant them up to their crowns. Do not plant them over their crowns. Mulch the transplants heavily and keep moist. If you live in a wet climate make certain there is some drainage for your plants and do not over water.

— Corcceigh Green
BHM writer
Camping uses for PVC
After looking at the heavy and somewhat expensive mosquito bar frames for my folding cots I decided to use PVC pipe which was easily cut to fit & light enough to pack in the cot sack itself. I did not glue the parts together and can completely disassemble it. Also a piece of PVC hung along the length of a tent ridge pole makes an excellent hanger rod for clothes and equipment if supported several times along its length. PVC also makes an easy frame for a shade canopy.
Jim Ramski RN.
Vernon, Texas
Wow! What a website!
WOW! This is really something. I found the Backwoods Home Magazine (internet) site (www.backwoodshome.com) while looking for a recipe for pear honey. My church has two large Kieffer pear trees and the fruit has been going to waste for years. Anyway there was an article by Alice Brantley Yeager that answered so many questions for me and I just started going thru different features listed. Your article is so beautifully written it was as if I were wherever you are and really sorry to come back to where I am.
I am going to subscribe to the magazine and look forward to more reading on the net.
Louise Brown
Jacksonville, Florida
Another bird nest thwarts another job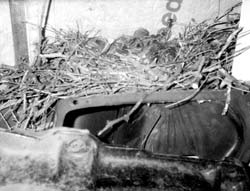 I noticed in the latest issue (No. 94) of BHM that ya'll had a bird work-around happening. I thought I would write in about a similar thing that happened here in South Eastern Arizona.
I am in the process of restoring my 1969 Chevy 3/4 ton pickup. In April I had gotten it taken apart to just the frame. Many of the parts I had removed were on a set of shelves against the wall. One Saturday morning I was preparing to begin sand blasting the frame when I noticed a feather sticking out of the parts on the shelf.
A mother roadrunner had built her nest in the middle of my parts. I determined right then that I was not going to do any work in the workshop that would interfere with the roadrunner. I would go into the workshop after work and she would be sitting on the nest. She did not get excited but she would just look at me.
Eventually, I think it was in May, the eggs hatched and there were six babies. In late June the good sized baby roadrunners got excited while my grandchildren were in from Texas and four of them took off. In the next week the other two moved out of the nest. It has been an interesting interruption but I have plenty of other things to do.
Mitch Collum
Cochise, Arizona
Claire's movie reviews
Regarding Claire Wolfe's review of the cartoon movie "Iron Giant," I must wholly disagree about its suitability for children. Granted, it's a well-made movie with a wonderful characterization of an inept government out of control. It also has a most unnerving and wrong-headed portion that preaches "guns are bad." I've allowed my son to view this movie many times, but I have also been compelled to explain each time that guns are most certainly not bad, as evidenced by the great fun we have every Sunday shooting with friends and family.
William B. Rosser
Holden, Missouri
In the March/April 2005 issue of Backwoods Home Magazine there was a "Claire goes to the movies" article by Claire Wolfe titled "The best TV series you never saw" about the program "Firefly." Well, it's true; I never saw it or even heard of it. (I, like Claire, am not a big TV fan.) Still, based on Claire's recommendation, I bought the 4-DVD set of the first and only season of "Firefly." Man was it a good show! I like it on so many levels that I wouldn't know where to begin to explain it. Way to call it Claire!
Boyd Evans
McLeansville, North Carolina
Plaster as soil additive
One of the commercial uses of bulk gypsum is as an additive to clay soil to help break it up. I use my old or spoiled plaster from work to add to clay areas in the garden and landscape. Mason and plaster supplies might give away old bags of gauging plaster, Red Top plaster or structolite. Structolite or Gypsolite are brands of plaster mixed with perlite which is also a great soil additive. The plaster adds calcium without raising the ph.
Dean Russell
Southold, New York
Where's the last word?
Was disappointed and sorry to not see John Silveira's Last Word in BHM July/Aug 2005 issue #94. The Last Word is an excellent feature addition to BHM and do hope it returns to all future issues. With the above exception, yet another GREAT ISSUE. I'm well aware of the difficulty in maintaining high standards—yet BHM manages to deliver. That is an accomplishment all by itself. Keep up the great work and my compliments to all who contribute to the effort.
B. Galioto
East Elmhurst, New York
More tips on mulching
I would like to add a comment to Raymond Nones' article on mulching (Sept/Oct issue). He waits until seedlings have started and plants are 4 to 5 inches high before surrounding them with mulch. Putting down mulch then is difficult and time consuming. I put down mulch before I plant my seeds. Then I drop seeds down in rows through the mulch. This works well for tiny seeds such as lettuce, kohl crops, etc. For larger seeds I plant before adding mulch, planting them in a shallow trench and leaving them uncovered. Cover with mulch immediately. The large seeds, such as beans or corn, germinate in the time they would if covered with soil. Sometimes, though, the little seeds take longer to come through. Be patient for they will come up. For potatoes or squash, which are planted in hills, I mulch first, then open up planting circles. I don't cover these with mulch, just soil, but do hill up the potato plants with mulch, of course, so they are easy to dig up. Just another way to do things.
Nancy Starr
West Fork, Arkansas
Decided to renew
I subscribed to BHM last year mainly out of curiosity—my first time to subscribe.
Last week I received my renewal notice and, quite frankly, was debating whether or not to renew. Then I got the Sept/Oct 2005 issue (my last issue too) today. I am now sitting down and renewing today because as I opened up this issue it was packed with good stuff: gold panning, which I have just started doing, care of solar batteries, building a component water system, and of course "Ask Jackie" (she's got to be 1 in a million) plus more!
I guess in other words—I'm sold! Keep up the good work and enclosed you'll find my renewal for 2 years this time. (Plus free gifts—I can't wait to get Jackie Clay's CD-ROM.)
Joe Koozer
Ukiah, California
Wild neighbors article
My family loves your magazine! Jackie Clay and Habeeb Salloum have my utmost thanks for their great information and recipes. I love your gardening and livestock articles also. I'm homeschooling our two boys (5 years and 5 months) and my oldest loved the Wild neighbors article (issues #84 and #85)
We are about to move onto our dream property soon and cannot wait to start putting even more of your information to use. Thank you so much for the hard work and love you put into the magazine. It shows!
Jennifer Miller
Asheville, North Carolina
Don't use baker's yeast to make your wine
Regarding "Gather rose hips for health" by Gail Butler in the September/October 2005 issue of Backwoods Home Magazine, on page 47 of the article, first paragraph, "Add one teaspoon of baker's or wine yeast…"
I strongly urge that baker's yeast not be used to make any kind of wine. Save the baker's yeast for your breads. I'm sure you'll be very disappointed in the outcome if you use baker's yeast for your wine.
Vincent S. W. Dymek
Clifton, New Jersey
New backwoods home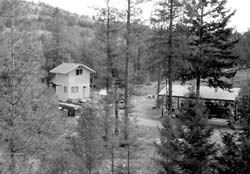 My backwoods home, Tunk Mtn. area, approximately 15 miles NE of Omak, Washington, Okanogan County. Twenty acres cost $25,000. Elevation 3,500 feet.
Cabin is 12×16, two stories with new addition being added to rear of cabin which will be kitchen and storage. Power is solar, propane and oil lamps. Lots of recycled building materials are used, total cash outlay so far in home is about $2000. Sun/snow shelter in front of home is 24×20, log pole construction and metal roofing (used) total cost so far $160 (concrete, nails, bolts).
Your magazine is a continual strong motivator and influence to stick with my goal of off-grid, independent backwoods life.
John Shaw
Riverside, Washington