Recipe of the Week
 
Pheasant and dumplings
 
Courtesy of
Jackie Clay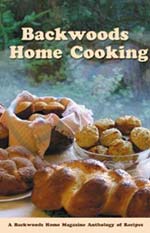 You'll find this recipe and over 400 more in Backwoods Home Cooking.
Click Here
Ingredients
1 pheasant (or equivalent other bird)
2 Tbsp. butter
2 Tbsp. flour
2 cups broth from cooking
1/2 pint sliced canned carrots
1 small onion, sliced
1/2 pint canned mushrooms
1/2 cup dehydrated peas, rehydrated
1/2 pint canned celery
1/2 tsp. black pepper
1/2 tsp. salt
Dumplings:
2 cups flour
1 tsp. salt
2 tsp. baking powder
2 Tbsp. shortening
milk
Method
Cook, cool, and debone pheasant. Chop meat into large pieces. In a deep cast iron frying pan, melt butter, stirring in flour to make roux. Slowly add broth and stir until thickened to medium consistency. Add more broth if necessary. Mix in vegetables and seasonings.
For dumplings, combine flour, salt, and baking powder in a medium mixing bowl. Cut in shortening until it is the size of peas. Mix in enough milk to make a slightly sticky dough. Spoon on top, in individual dumplings.
Cover and bake at 300° for 20 minutes. Do not cheat and peek or your dumplings will not be light and fluffy.
---
---
Have a recipe you'd like to share? Please send it via email to webmaster@backwoodshome.com. Contributed recipes may appear online or in the BHM newsletter.