The Hardy Awards 2005

The Judges Face Off

By Claire Wolfe

November 1, 2005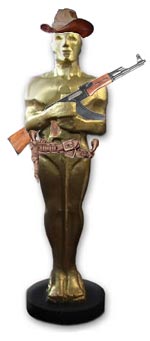 The Hog Trough was deserted. The most hearty, hardy Hardyvillians had fled, wanting no part of the Big Showdown. Even Janelle-the-Owner had poured her last cup of something-vaguely-resembling-coffee and beat a hasty retreat to the kitchen.
The moment of truth was upon us. It was time for the judges to face off and choose the winners of the coveted 2005 Hardy Freedom Film Awards.
Speaking of fleeing, I was feeling overwhelmed and outnumbered myself. There was judge Wally Conger. Libertarian media maven. A large, looming figure in bad-guy black. (That friendly looking pink and orange Hawaiian shirt peeking out from under the studded leather jacket didn't fool me one bit.)
On the other side was BHM webmaster and judge Oliver Del Signore. Oliver, too, did a scary job of looming. These are two big guys. Granted, Oliver is more Santa Claus than Terminator. But there was no "ho-ho-hoing" at the Hog Trough that day. This was serious adversarial business.
And there was I, little skinny me, between these two giants — knowing that neither of them agreed with me about much of anything.
Oliver tossed back a glass of heavy red wine. Wally slugged down a single-malt scotch, blew a decisive puff of cigar smoke. And the judging showdown began.
The 2005 Hardy Awards
For Excellence in Freedom Filmmaking
CONTEMPORARY DRAMA
Judges' Award: The Hardy goes to JFK

The judging started out rough. Nobody agreed on anything.
"Jerry Maguire," I sighed, naming my favorite among the five nominees. "It's got it all. Love, integrity …"
"But it's got nothing to do with freedom!" insisted Oliver. "Tucker: The Man and His Dream. It shows what one determined individual can …"
"No way," scoffed Wally. "JFK. Clearly. For demonstrating what government really looks like up close. Think about this movie next time you hear, 'I'm from the government and I'm here to help you."
The tension was as thick as the goo around one of Janelle's chicken-fried steaks.
Then just before the fisticuffs began, somebody remembered: Oh yeah. Voting. And when the dust cleared, Wally's JFK had an average of 4 (out of 5) points from each of us. (See the sidebar to learn how the votes were tallied.)
Free People's Choice Award: The Hardy goes to: Tucker: The Man and His Dream

Okay, readers, you're a sentimental, inspiration-loving bunch. Tucker blew the competition away with 49 points in People's Choice voting. The only movie that approached it, Traffic (a film all three judges turned their otherwise disagreeing noses up at), got 32.
CONTEMPORARY COMEDY
Judges' Award: The Hardy goes to The Castle

We judges saved the day by more or less agreeing on JFK. But comedies were no laughing matter. Wally said Team America was top dog, the one, the only, the winning team of political wit. I said it was the work of a bunch of potty-mouthed 14-year-olds masquerading as moviemakers. Wally's 5 ranking faced off against my 1 grudging point.
"The Castle," said I, marking my own big, black "5" on a ballot. "With the Supreme Court declaring any government can take anybody's property for darned near any reason, we need a film about a slightly subnormal little family saving their home from the entire Australian government-corporate establishment."
Wally just shook his head. We turned to Oliver.
"The good guys win," he said, marking his own "5" for The Castle. "That's the ultimate standard." So The Castle ended up with an average of 4.33 points per judge.
Feeling triumphant as Wally swallowed his bitter defeat (and another scotch), I began to appreciate why people in majorities like democracy so much.
Free People's Choice Awards: The Hardy goes to Office Space

You guys out there just loved Office Space. You gave it 45 votes. But Wally should feel vindicated. Thirty-two of you also thought Team America was the best of the lot.
SCIENCE FICTION
Judges' Award: The Hardy goes to Serenity
Free People's Choice Award: The Hardy goes to … drumroll … Serenity.

Was there ever even the slightest shred of a hint of a shadow of a doubt? We had to examine all the other Peoples Choice votes in this category with a magnifying glass. Heck, Serenity was running away in the Peoples Choice votes before it even opened in theaters! In the end, the Peoples Choice tally was 70 to just-about-nothing for the combined others.
Me, I dunno. I thought it was just one more ordinary space epic. But I won't admit that in public; that's sort of like coming out in favor of gay marriage at a Southern Baptist revival meeting. My contrariness doesn't matter, anyhow, because Wally and Oliver — those terminator twins — tromped my measly "3" vote for Serenity with both their "5s."
(FYI, the link on Serenity goes to Firefly, the canceled TV series on which Serenity was based. The movie itself isn't on DVD yet.)
ACTION-ADVENTURE
Free People's Choice Award: The Hardy goes to The Outlaw Josey Wales
Judges' Award: The Hardy goes to The Outlaw Josey Wales

Once again, the judges awarded a 4.33 average. And once again, those two big bullies trounced my choice (which was Conspiracy Theory). Oliver was now quaffing his merlot with a swagger, and Wally, I swear, was blowing cigar smoke in my direction as he leaned back in his chair with the aura of a man of power.
By now, I was getting used to being beaten up on. I didn't really mind Josey Wales being the winner. It's not a bad film. It's just that, you know, this democracy thing might not be all it's cracked up to be.
The biggest surprise actually came from you guys out there in Readerland, though. Here you've been clamoring for years to have The Patriot and Red Dawn nominated for the film fest. We nominate them and what do you choose? Josey Wales. Patriot partisans did bring that film to #2, though. And Red Dawn was close behind: 45, 36, 32.
ANIMATED/FAMILY
Judges' Award: The Hardy goes to The Incredibles
Free Peoples' Choice Award: The Hardy goes to The Incredibles

Harmony came closer to reigning in the Animated/Family category. My first choice (The Iron Giant) still didn't win. But The Incredibles was plenty easy to live with — as our 4.6-point average shows.
And with you reader sorts, The Incredibles soared, in proper superhero fashion, above the competition with 51 points.
Only difference is, we judges thought The Iron Giant was a strong #2. With you guys it creaked rustily in at a mere #3, after A Bug's Life.
CLASSICS
Judges' Award: The Hardy goes to Duck Soup

Whodathunkit? A Marxist movie winning in a freedom festival! But so it was. Once again, that Wally person threw his weight around and got his way. But this time, I was too busy laughing to mind.
Meanwhile, Oliver was off buckling swashes with The Mark of Zorro. And who could blame him? We could all use a noble hero to defeat today's taxers and torturers. And few heroes equal Tyrone Power in that 1940 classic.
Free People's Choice Award: The Hardy goes to Shenadoah

Oh my, you guys do go for the sentimental. What a four-hanky tear-jerker! I know, I know. What you really go for is James Stewart's declaration that neither his sons nor his land nor his heart belong to any state. It's a message that we should hear a little more of in this day when government thinks it owns everybody and everything.
The Classics category was the most even of all, with votes all over the place. Not so in our final category.
FOREIGN LANGUAGE
Judges' Award: The Hardy goes to Life is Beautiful
Free People's Choice Award: The Hardy goes to Life is Beautiful

No contest. This gloriously inventive, funny, touching, and inspiring Italian film swept away all competition, winning 15 points out of a possible 15 from the judges. Harmony was restored. Conviviality reigned. Oliver, Wally, and I all patted each other on the backs and agreed that we were all the best of pals and ready to do the whole thing again next year. Slowly, Hardyvillians began to creep back into the Hog Trough, seeing that no duels or shootouts were on the menu.
Life is Beautiful was the runaway favorite of the readers, as well, earning 44 votes. The next closest film in the Free People's Choice voting (Z) earned just 20 votes.
Once again, reader voting was lightest in the Foreign Language category. I'm afraid a lot of subtitle-averse folk are missing some outstanding films. But be that as it may, there are still plenty more wonderful films out there … and Oliver, Wally, and I plan to bring another bunch to you next year.
But next year, we may expand the judges' committe. (And don't tell anybody, but you can count on me stacking it with people who think more like I do.)
Next year in Hardyville
Now the searchlights go dim. The frilly party dresses and the Sunday-best Carhartts are folded up and put away. The parade of well-polished pickup trucks slowly wends its way out of Hardyville, headed back to Pocatello, Moneta, and Winnemucca. The Freedom Film Festival ends for another year.
But recommendations are pouring in for the 2006 film festival. Feel free to pour in a few of your own.
Thanks for your votes. And for making the Hardyville Freedom Film Festival the grand institution that it is. Without you, nightlife in Hardyville would be just another endless round of The Wedding Singer at the one-plex.
---
How the Hardy Award Votes Were Tallied
The Free People's Choice Awards were decided on a straight vote count. If a film got more readers' votes than its competitors, it won its category. We required voters to submit their e-mail address with their votes to cut down on ballot-box stuffing. Not a perfect system, perhaps. But it beat the heck out of either Diebold black boxes or whatever methods they use in Iraq.
The Judge's Award voting was more complicated. The judges first gave the films in each category a ranking from 1-5, with 5 being the best. Then they combined and totaled their rankings. In most cases, the film with the highest combined point score in each category won. In two categories, one of the judges wasn't able to rank all the films. So in those categories we averaged the scores (e.g. 12 points from 3 judges = 4.0; 9 points from 2 judges = 4.5).
My standards for judging were: "Was it a great piece of filmmaking in every way, from the dialog to the editing and the music?"
Oliver's one-and-only standard was: "Did the good guys win?"
Wally's viewpoint was: "Hey, was that cool, or what?" And he must have been right. Because he was the most winning of all three judges and also the one whose votes came closest to the Free People's Choice decisions.