Thursday, March 26th, 2015
Now that we're feeling better, I've been zooming around playing catch-up. I've got 132 tomato seeds started (I only have another 132 to go! After all, we're trialing more than 50 new varieties this year. That's in addition to the 18 varieties we like and are growing again. All are open pollinated so we'll be offering seeds again next year (seedtreasures.com) see box above). And since our "business" is growing greatly, we'll need a whole lot more seeds next year for folks to choose from. So far we haven't run out of a single variety, but are getting a bit low on a couple of the favorites.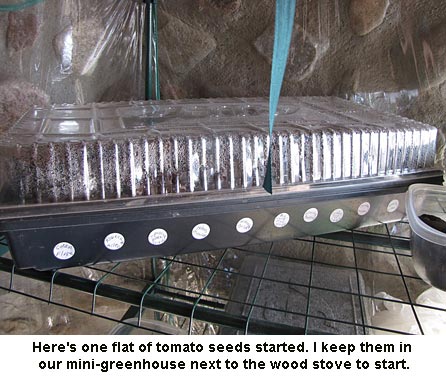 The days are getting warmer and I'm busy canning meat as we'll be emptying our freezer on the back porch. When it's warm, that "energy star" rated freezer sucks our battery bank dry very quickly, so we need to empty it before too long. Right now it's pretty full of beef, pork, and chicken.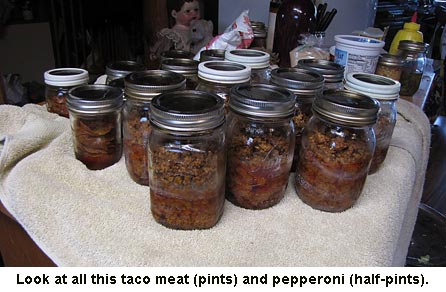 Yesterday I canned up a big batch of taco meat and some pepperoni. Today I've got hamburger thawing and also a big boneless pork loin. I'm going to make chili with some of the burger as we're getting low on that. I'll use some of my quarts of home-canned tomato sauce and tomatoes in the chili. I can up tons of tomato products when we're in a tomato flood in the fall. Then I mix it up with things like chili, baked beans, soups, etc. when I have the time. Yum. — Jackie