Wednesday, October 26th, 2016
We've been getting some real cold nights along with rainy days, so we've been continuing our harvest. I've been shelling the last of our new beans and the star is a dry bean, Monachelle di Trevio. I bought ten bean seeds for this productive pole bean and ended up harvesting two pounds of seed! It isn't enough to offer this year in our seed catalog, but it is enough that I can plant tons next year. Besides being beautiful red and white, this round bean is easy to shell, and quite early to dry down. We'll be tasting a few too, but being from Italy, I'm sure it's very good.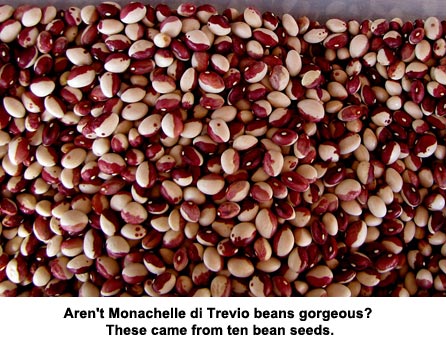 I picked nearly all of our peppers as the plants in our hoop house got frozen a couple of nights ago. Besides taking the seeds from the mature peppers, I've been making big batches of Cowgirl Candy. I'm even thinking of how good it would taste as a topping for cheesecake — sweet with a pop of hot.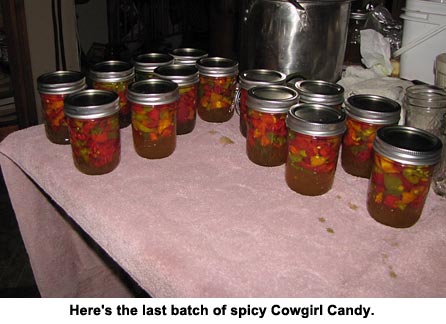 Will got busy and picked the last of our apples, Keepsake, Frostbite and Chestnut crabs, which are two inches in diameter and very good eating apples. Now I've got to get busy and can 'em up as none besides Keepsake really will keep long. Boy, have we ever been munching on them with buckets full on the front porch. Nothing beats an icy, juicy, sweet, crisp apple!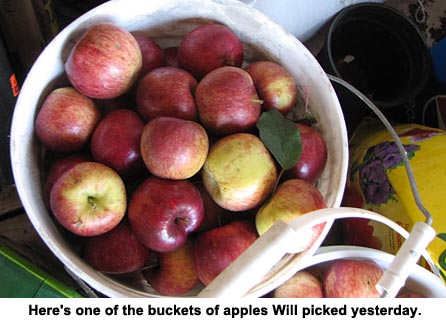 We've also been splitting up more firewood. The last pile will fill the wood shed but I'm sure Will is going to go down and get more to pile up on our enclosed back porch. It's great to have plenty of wood to cook with and keep us toasty warm. Wonderful!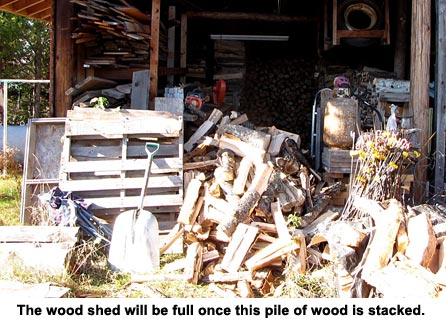 — Jackie