Thursday, August 27th, 2015
But, many thanks to God, it only was on the roof, not in the garden! You can bet we ran out to the garden first thing this morning after seeing it on the house roof.
I've been canning every day. Today it's more corn but this time mixed with peas. We didn't grow many peas this year so I cheated and bought some frozen peas (on sale, of course) to mix with the corn. I love doing the mixed corn because it gives us so much more variety in the pantry. I can Mexican corn, corn with peas, corn with peas and carrots, corn with carrots, and just plain corn.
Then there are the Dragon Tongue beans which are just starting to ripen. I think I'll use them to make more mustard bean pickles — we sure do love them. They're more like a side dish than a pickle.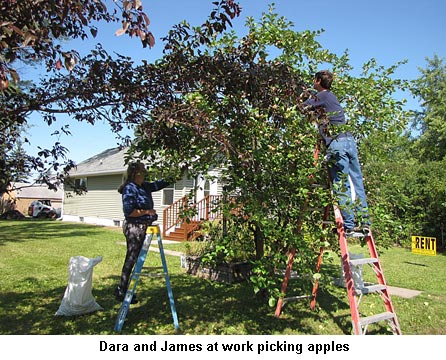 This morning my friend, Dara, called and said they'd be picking crab apples in town. They had found a pair of trees that the homeowner never picked and when Dara asked if they'd trade potatoes for apples, the deal was quickly made. So I met Dara and her stepson, James in Cook and we spent a companionable morning yacking and picking buckets of apples. I'll be making apple jelly, juice and sauce from my share. It's amazing how many folks have fruit trees in their yards and don't pick any. It sure pays to knock on the door and ask! Give it a try and you will be pleasantly surprised. — Jackie