Tuesday, February 25th, 2014
Yep, at the risk of sounding same old same old, we got another 14 inches of snow with 40 mph wind. Now the temp's going down way below zero this whole week! This is getting really tiresome! And to top it off, our water line from the well froze. So we're out of running water for about 6 weeks. At first it seemed horrible. But, hey, we've lived where we never had running water at all. So we sucked it up and started melting snow for flushing the toilet and washing hands. And on trips to town, I come back past a flowing spring and fill water jugs for drinking and cooking water. Heck, it could be worse. We're warm, have plenty of food, and the critters have plenty of feed. We'll get by just fine but still hope for an early spring.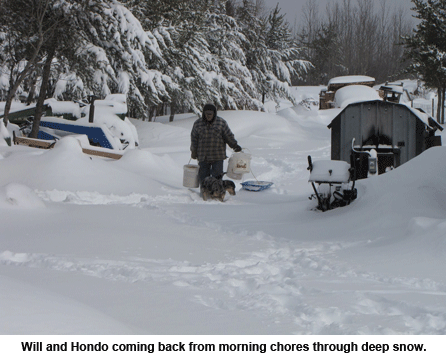 Meanwhile, it gives Will and me more time to work inside. We've been cleaning and hauling furniture out of the living room, dining room, and entryway in preparation for laying the laminate flooring.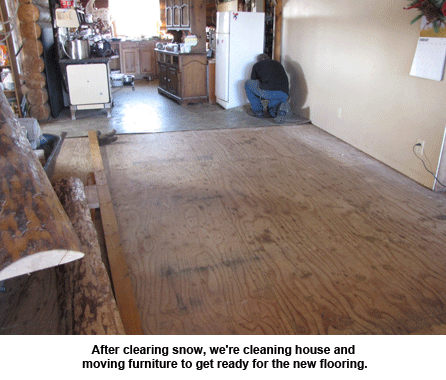 We do chores, shovel, and snow blow to clear paths and clear around equipment, then we come inside to work, taking a "break." Hey, it's working. — Jackie