Thursday, September 1st, 2016
I'll be away from home from September 8th to the 13th, giving a couple of talks at the Lakeland, Florida Self Reliance Expo. Any of you who can attend, please stop by and visit the Backwoods Home Magazine booth, where I'll be helping Ilene Duffy. I truly look forward to meeting my great BHM family on these road trips. Since it's a first-time trip to Florida for me, and just a few miles north of Sanibel Island, which is on my bucket list, Ilene and I will be taking a short vacation and hopefully pick up some beautiful seashells and see wildlife we've never experienced before.
Will is going to man the homestead and (hopefully) keep the garden's produce from freezing. So as soon as I get back, I'll once again hit the harvesting and canning in earnest.
Today Will is cutting our last hayfield away from home. Yesterday he cut two other fields. All we have left is one small field of second crop clover here at home and we'll be done. Hooray! We're supposed to be having 4½ days without rain. We'll see. We've heard that before…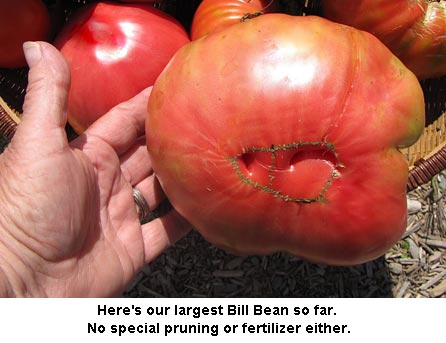 I harvested a basket of Bill Bean tomatoes. The biggest one weighed 4 pounds 3 ounces. And that's not the biggest one out there! I can't wait to see how much the big guy weighs. It's bigger than an ice cream bucket! These are such flavorful tomatoes and so meaty they don't make your bread soggy when you use them on a sandwich. Mmm, I've got half a loaf of whole wheat bread, mayo and…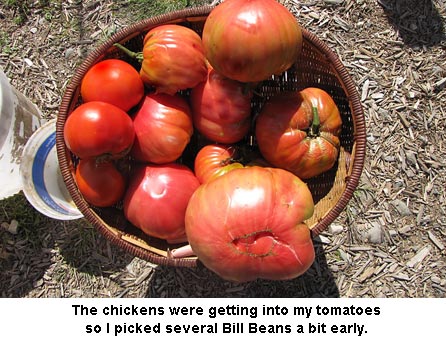 — Jackie