Tuesday, August 5th, 2014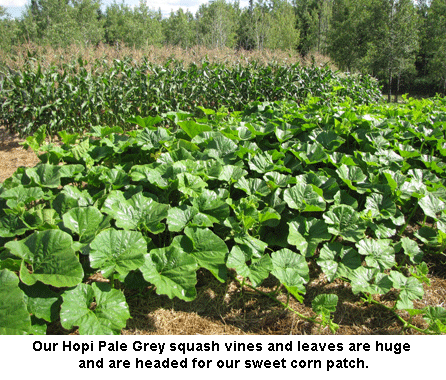 It seems like our beavers' forecast is coming true. We haven't had a speck of rain for 10 days. But we're not complaining. We've been getting a lot of hay up after such a slow, rainy start. And the warm sunny weather has made our garden boom. Our sweet corn has lots of ears set, the squash are loaded with baby squash (the Hopi Pale Grey squash vines are HUGE), the beans are begging to be picked, and, boy-oh-boy, are there ever tomatoes! Our favorite Bill Bean tomatoes are so loaded with one-pound-plus tomatoes that they look like green pumpkins under and on the vines. You'll remember that last year we harvested one that weighed 3 pounds on a scale.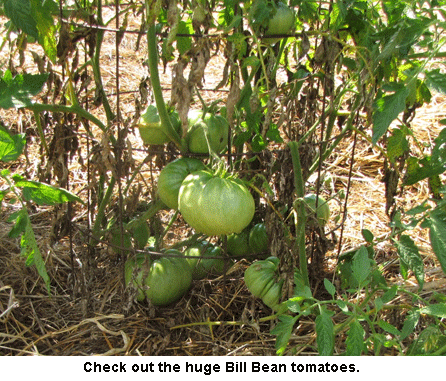 Will baled 130 more square bales yesterday. Our poor round baler blew a bearing (we thought). Will started taking things apart and found that not one bearing is shot but five! Parts ordered and should be here tomorrow. So we've got more square bales to put up in the storage barn.
Our favorite milk cow, Lace, was in heat Sunday so our friends, the Zups, came over Sunday night to A.I. her. Lace is SO hard to catch in heat but this time, it was a full-blown one where she was even trying to jump up on ME. I hope she took. We'll know September 1st, when she has a blood test taken.
We had a mother turkey sneak off into the woods to lay eggs and she came off the nest with 8 babies! Then she tried to run away with them. As we have lots of foxes, coyotes, lynx, bobcats, fishers, and wolves, we herded her into the chicken run/orchard where they'd stay safer. Did you ever try to herd a mother turkey and babies? It's like herding minnows! — Jackie