BHM Newsletter
Volume 12 Number #7
July, 2010

INSIDE BHM
New Issue
The September/October Issue (#125) went to the printer last week. We had so many excellent self-reliant articles we had to expand the issue by 16 pages to fit them all in.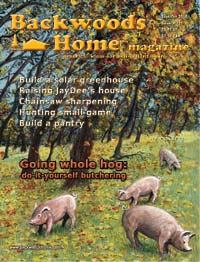 When it arrives next month you'll find a great article by Jackie Clay about building and stocking a pantry even if you think you don't have room for it. She and her friend and neighbor, Jeri, get creative finding areas to store food and other supplies.
You'll also notice David Lee is back in this issue. David retired from writing to pursue other artistic endeavors late in 2008. We're glad to have him back and hope he will continue to contribute more articles. This time, he writes about building an attached passive solar greenhouse that helps to heat his home in the winter and provides them with year 'round vegetables and greens. His wife, Jennifer Lee, wrote a companion article that explains how they make use of the greenhouse with lots of tips and tricks such as keeping bugs out and trellising tomatoes to take up less room.
Along with those, we have articles about butchering your own hog, chainsaw sharpening, hunting small game, and many more!
Hardyville
Claire Wolfe's new book tentatively titled "Tales of Hardyville" is getting closer to being sent to the printer. This book is based on a series of stories about freedom that was published online for a number of years, first on her own blog (which has since been discontinued) then on the Backwoods Home Magazine website.
Facebook
Did you know Backwoods Home has a Facebook page?
We set up the page earlier this year but one thing led to another and we dropped the ball in terms of regular postings.
We're back on the ball now and have been posting several times a week, keeping our Facebook friends updated about what's happening on the website. We even had a one-week special subscription offer for them!
If you have a Facebook page, and would like to "friend" us, Click Here.
And Click Here for the official Backwoods Home page where we hope you'll "Like" us!
SELF-RELIANCE TIPS
Buying A Geothermal Heat Pump
A new Energy Star specification for geothermal heat pumps went into effect on December 1, 2009. The new specification allows water-to-water GHPs to immediately be eligible to qualify for the label. On average, Energy Star qualified products covered under this new specification will be over 45 percent more energy efficient than standard options.
Anticipating advances in technology in the coming years, the US Environmental Protection Agency has set more stringent efficiency requirements to ensure that Energy Star continues to represent top performers in this category.


New requirements for water-to-air and direct geoexchange GHP models will take effect on January 1, 2011. Even more stringent levels will go into effect for water-to-water and water-to-air models on January 1, 2012.


As of December 1, 2009 homeowners who install geothermal heat pumps with the Energy Star are eligible for a 30 percent federal tax credit.
What should I look for when buying a geothermal heat pump?
Although these products can be more expensive to purchase up front, the cost difference will be paid back over time through lower energy bills, which is why it is important to look for the Energy Star label to make sure you re getting the most efficient, and thus most money-saving unit possible.
When buying new equipment, sizing and installation are as important as product quality.
Sizing and Installation
Your new heating and cooling system should be a custom fit for your home. Sizing and a handful of other installation practices can dramatically affect how well your new equipment will deliver comfort and savings. Expect to pay a little more for a good contractor who follows these practices.
Calculate the size of equipment
For starters your new furnace, boiler, heat pump or air conditioner should be sized to fit your home. You can request a copy of the design load calculation used to determine the right size of equipment for your home. Some contractors will use rules of thumb to size your air conditioner, but rules of thumb can overestimate the size needed. A good contractor will use a design load calculation to size a central air conditioner to your home. The contractor will need to check the following six factors.
How well your house is insulated
By adding the proper amount of insulation to your walls and ceiling or attic, your house will require less cooling. By insulating before you purchase an air conditioner, you'll save twice- once when your energy bills drop and again when you need a smaller, less expensive air conditioner.
How well air leaks are sealed
A well-sealed house limits the amount of hot, humid air that gets inside. In many homes the air leaks can add up to as much as an open window. Sealing air leaks and adding insulation can reduce heating and cooling cost by 20%.
How well your ducts are sealed and insulated
Ducts carry cooled air from your air conditioner to where it is needed. Under-insulated ducts actually heat up, which reduces the amount of cool air that gets to you. Leaky ducts can cause your heating and cooling system to work harder to keep your home at a comfortable temperature.
The size, type and number of windows and the direction they face
The size, type and number of windows are huge factors in determining your cooling needs. Thoughtful landscaping and overhangs can greatly decrease the temperature in your house by affecting the amount of sunshine that comes through your windows. In central and southern climates, ENERGY STAR qualified windows can reduce heat gain from the sun by 45 to 60 percent.
Shading provided by overhangs and landscaping
Leafy trees can reduce unwanted heat in the summer, but allow the warmth of the sun to come in when they drop their leaves in the winter. Well-positioned overhangs will also block the sun's heat in the summer, but allow the sun light to come in during the winter to warm your home.
The size, layout, and orientation of your house
The size of a house's walls and roof and their positions in relation to the sun are important factors in sizing an air conditioner.
To complete the design load calculation the contractor will need to take measurements during the initial visit to your home and ask you some questions. The calculation is usually done using software, and should be based on professional guidelines such as Manual J from the Air Conditioning Contractors of America (ACCA) or similar method. Oversized equipment can cause reduced comfort and excessive "air" noise. Oversizing will shorten the life of the equipment by causing it to cycle on and off more frequently than a properly-sized unit. Undersized equipment, with airflow that is too low, can reduce the efficiency of the air distribution and accelerate wear on system components, leading to earlier failure.
After the design load calculation is completed, ducts, supply registers, and return grilles can be sized and selected using professional guidelines in ACCA's Manual D or similar method.
Seal and insulate ducts in attics and crawlspaces
If you're installing a central air conditioner, furnace or heat pump ask your contractor about the condition of your air ducts. A good contractor should be able to test your air ducts to identify and seal leaks.
Duct sealing should be done by a professional using mastic, metal-backed tape or aerosol-based sealing.
In some instances, your contractor may advise you that it is necessary to replace or add ducts. If there are insufficient supply registers or return air grilles in your home, it may be necessary to install additional ducts to accommodate the need for registers or grilles. When possible ducts should be located within conditioned space. If the ducts must be in unconditioned space (attic or crawlspace) they should be insulated.
Check and correct airflow
For central air conditioners, furnaces or heat pumps there is an optimal air flow for comfort and savings.
If airflow is too high, duct leakage increases and the temperature at the register is not sufficient for optimal home comfort.
If airflow is too low, distribution efficiency drops and accelerates the wear on system components leading to premature failure.
A good contractor will test the air flow of your heating and cooling system and make adjustments for optimal performance. Typically, testing and adjustments should be done after duct leakage repairs have been completed.
Proper refrigerant charging
If you are installing a new central air conditioner or heat pump you should know that recent field studies suggest that approximately 75% of installed cooling equipment may have incorrect amount of refrigerant. Incorrect refrigerant level can lower efficiency by 5 to 20% and can ultimately cause premature component failure, resulting in costly repairs that could have been prevented. A good contractor will use one of three methods, recommended by equipment manufacturers, to verify the correct refrigerant level. These methods include super-heat, sub-cooling, or weigh. Ask your contractor how they verify the refrigerant level is correct.
In addition, you should know that since 1992, in order to protect the earth's atmosphere (ozone layer), all technicians must be certified to handle refrigerant. Ask them to show you proof of refrigerant handling certification.
Equipment placement
Placement of new equipment is unique for every home, but a good contractor should follow manufacturer's installation instructions for best results. For example, Indoor equipment should be installed in conditioned space, or a space that is well insulated. The Outdoor compressors should be placed out of the sun and kept free of debris. Equipment should be installed in an accessible area for easy maintenance. Allow plenty of room for free airflow on all sides of the equipment. Thermostats should be placed away from direct sunlight, drafts, doorways, skylights and windows.
Energy Efficiency Requirements for Geothermal Heat Pumps
NOTE: Tier 1 requirements became effective December 1, 2009. The second phase of this specification, Tier 2, shall become effective January 1, 2011.
Table 1: Tier 1 Requirements (Effective December 1, 2009)
Product Type
EER
COP
Water-to-Air
Closed Loop Water-to-Air
14.1
3.3
Open Loop Water-to-Air
16.2
3.6
Water-to-Water
Closed Loop Water-to-Water
15.1
3.0
Open Loop Water-to-Water
19.1
3.4
DGX
DGX
15.0
3.5
Table 2: Tier 2 Requirements (Effective January 1, 2011)
Product Type
EER
COP
Water-to-Air
Closed Loop Water-to-Air
16.1
3.5
Open Loop Water-to-Air
18.2
3.8
Water-to-Water
Closed Loop Water-to-Water
15.1
3.0
Open Loop Water-to-Water
19.1
3.4
DGX
DGX
16.0
3.6
Table 3: Tier 3 Requirements (Effective January 1, 2012)
Product Type
EER
COP
Water-to-Air
Closed Loop Water-to-Air
17.1
3.6
Open Loop Water-to-Air
21.1
4.1
Water-to-Water
Closed Loop Water-to-Water
16.1
3.1
Open Loop Water-to-Water
20.1
3.5
DGX
DGX
16.0
3.6
Models must meet or exceed the energy efficiency ratio (EER) and coefficient of performance (COP) values in the tables above.
The specifications in the charts above apply to single stage models. Multi-stage models may be qualified based on:
EER = (highest rated capacity EER + lowest rated capacity EER) / 2
COP = (highest rated capacity COP + lowest rated capacity COP) / 2
Note:
Commercial (i.e., 3-phase) units are not eligible for qualification under the ENERGY STAR specification at this time.
Test Procedures:
AHRI 870 for DGX systems.
ISO 13256-1 for water-to-air models (open and closed loop systems).
ISO 13256-2 water-to-water models (open and closed loop systems).
Definitions:
Geothermal Heat Pump



A geothermal heat pump uses the thermal energy of the ground or groundwater to provide residential space conditioning and/or domestic water heating. A geothermal heat pump model normally consists of one or more factory-made assemblies that include indoor conditioning and/or domestic water heat exchanger(s), compressors, and a ground-side heat exchanger. A geothermal heat pump model may provide space heating, space cooling, domestic water heating, or a combination of these functions and may also include the functions of liquid circulation, thermal storage, air circulation, air cleaning, dehumidifying or humidifying. A geothermal heat pump system generally consists of one or more geothermal heat pump models, the ground heat exchanger(s), the air and/or hydronic space conditioning distribution system(s), temperature controls, and thermal storage tanks.




Single-Stage



Geothermal heat pumps that are designed to operate at one stage and one capacity.




Multi-Stage



Geothermal heat pumps that are designed to operate at more than one stage or capacity through the use of technologies such as multiple stage compressors, dual compressors, variable speed compressors, etc. Multi-stage models are more efficient while running at lower capacities, but have the capability to supply more heating or cooling using higher capacities when required.




Closed Loop



A ground heat exchange method in which the heat transfer fluid is permanently contained in a closed piping system. Also called a ground-loop system.




Open Loop



A ground heat exchange method in which the heat transfer fluid is part of a larger environment. The most common open loop systems use ground water, reclaimed water, or surface water as the heat transfer medium. Also called a ground-water system.




Water-to-Air



A geothermal heat pump model that provides space conditioning primarily by the use of an indoor air heat exchange coil. Water-to-air models may also provide domestic water heating and hydronic space heating by using desuperheater and/or demand water heating functions.




Water-to-Water



A geothermal heat pump model that provides space conditioning and/or domestic water heating by the use of indoor refrigerant-to-water heat exchanger(s). Water-to-water models may provide domestic water heating by using desuperheater and/or demand water heating functions.




Direct Geoexchange (DGX)



A geothermal heat pump model in which the refrigerant is circulated in pipes buried in the ground or submerged in water that exchanges heat with the ground, rather than using a secondary heat transfer fluid, such as water or antifreeze solution in a separate closed loop.




Coefficient of Performance (COP)



A measure of efficiency in the heating mode that represents the ratio of total heating capacity to electrical energy input. For the purpose of this specification, COP will be calculated for closed loop and open loop systems in accordance with the International Standards Organization (ISO) Test Standard 13256-1 or 13256-2 as stated in Section 5 below. For DGX systems, COP will be calculated in accordance with the Air-Conditioning, Heating, and Refrigeration Institute (AHRI) 870 conditions.




Energy Efficiency Ratio (EER)



A measure of efficiency in the cooling mode that represents the ratio of total cooling capacity to electrical energy input. For the purpose of this specification, EER will be calculated for closed loop and open loop systems in accordance with ISO 13256-1 or 13256-2 as stated in Section 5 below. For DGX systems, EER will be calculated in accordance with AHRI 870 conditions.
Which units qualify for the Energy Star rating?
ENERGY STAR Geothermal Heat Pumps (WatertoAir and DGX) Product List [PDF 224Kb]
ENERGY STAR Geothermal Heat Pump (Water-to-Water) Qualified Product List [PDF 72Kb]
Source: heatboard.com
RECIPES
Kabob Time
The one big frustration with cooking kabobs is trying to turn them and watching the skewer spin instead of turning the meat. To solve that problem, simply use two skewers for each kabob, insterting them 1/16 to 1/8 inch apart. Presto! No more spinning!
Chili-Lime Chicken Kabobs
3 tablespoons olive oil
1 1/2 tablespoons red wine vinegar


1 lime, juiced
1 teaspoon chili powder
1/2 teaspoon paprika
1/2 teaspoon onion powder
1/2 teaspoon garlic powder
cayenne pepper to taste
salt and freshly ground black pepper to taste
1 pound skinless, boneless chicken breast halves - cut into 1 1/2 inch pieces
skewers
In a small bowl, whisk together the olive oil, vinegar, and lime juice. Season with chili powder, paprika, onion powder, garlic powder, cayenne pepper, salt, and black pepper. Place the chicken in a shallow baking dish with the sauce, and stir to coat. Cover, and marinate in the refrigerator at least 1 hour.
Preheat the grill for medium-high heat. Thread chicken onto skewers, and discard marinade.
Lightly oil the grill grate. Grill skewers for 10 to 15 minutes, or until the chicken juices run clear.
Serves 4
Steak & Shrimp Kabobs
1/2 c. catsup
1/4 c. water
1/4 c. finely chopped onion
1 tbsp. brown sugar
3 tbsp. lemon juice
2 tbsp. cooking oil
2 tsp. prepared mustard
2 tsp. Worcestershire sauce
1/2 tsp. chili powder
1 lb. beef sirloin steak, cut in 1" pieces
1/2 lb. fresh or frozen shrimp, shelled
2 zucchini, cut diagonally in 1" pieces
2 ears corn, cut in 1" pieces
2 sm. onions, cut in wedges
1 green pepper or red sweet pepper, cut in squares
6 cherry tomatoes
In small saucepan combine catsup, water, chopped onion and brown sugar. Stir in lemon juice, cooking oil, prepared mustard, Worcestershire sauce and chili powder. Simmer, uncovered, 10 minutes, stirring once or twice.
On 6 short skewers thread steak pieces alternately with shrimp, zucchini, corn, onion wedges and pepper squares. Grill kabobs over medium-hot coals until meat is desired doneness, allow 15-17 minutes for medium-rare. Turn kabobs often, brushing with sauce. Garnish end of each skewer with a cherry tomato.
Makes 3-4 servings.
Pork Kabobs with Yogurt-Cucumber Sauce
Sauce:
1 large cucumber
1 cup plain yogurt
1/2 teaspoon seasoned salt
1/2 teaspoon crushed cumin seeds
1/4 teaspoon black pepper
2 tablespoons chopped fresh cilantro
Peel, seed and dice the cucumber. Let cubes drain on paper towles for 10 minutes.
Mix cucumber cubes with the yogurt, salt, cumin seeds, black pepper and cilantro.
If making ahead, refrigerate until serving time.
Kabobs:
1 pound boneless pork loin, cut into 3/4-inch cubes
1/2 cup lemon juice
1/2 cup olive oil
1 tablespoon Worcestershire sauce
1 tablespoon dried oregano
1 teaspoon dried thyme
1 clove garlic, crushed
1 teaspoon black pepper, ground
1/2 teaspoon salt
1/4 teaspoon ground red pepper (cayenne)
2 pita bread loaves, halved
The night before, stir together the lemon juice, olive oil, Worcestershire sauce, oregano, thyme, garlic, black pepper, salt, and red pepper.
Place pork cubes in a self-sealing bag; pour lemon marinade over pork cubes, seal bag, and refrigerate overnight.
Remove pork cubes from marinade and discard remaining marinade. Thread pork onto skewers (if using wood or bamboo skewers, soak in water for an hour to prevent burning).
Broil or grill for a total of 10 to 12 minutes, turning to brown evenly.
Serve kabobs topped with sauce alongside pita bread. Or remove meat from skewers, top with sauce and serve inside pita bread as a sandwich.
Serves 4.
Spicy Salmon Kabobs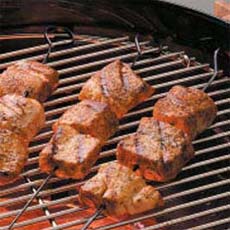 1-1/2 pounds salmon fillets
1 tablespoon brown sugar
1 teaspoon salt
1 teaspoon garlic powder
1 teaspoon celery seed
1 teaspoon pepper
1 teaspoon paprika
1/2 teaspoon onion powder
1/2 teaspoon cayenne pepper
1/4 teaspoon chili powder
1/8 teaspoon fennel seed, crushed
1/8 teaspoon ground cumin
Cut salmon into 1-1/2-inch cubes.
Place the salmon cubes in a large resealable plastic bag. Combine the remaining ingredients; sprinkle over salmon. Seal bag and toss to coat; refrigerate for 30 minutes.
Thread the salmon onto six metal or soaked wooden skewers. Grill, covered, over medium heat for 4-6 minutes on each side or until fish flakes easily with a fork.
Serves six.
Armenian Shish Kabob
1/2 cup olive oil
2 tablespoons fresh lemon juice
1 teaspoon dry white wine
1 tablespoon minced garlic
1/8 teaspoon salt
1/8 teaspoon black pepper
1/8 teaspoon dried oregano
1/8 teaspoon dried rosemary leaves
1 bay leaf
2 pounds boneless leg of lamb, cut into 1 1/2-inch cubes
2 large onions, peeled, cut into 8 wedges each
2 large green bell peppers, cut into 8 wedges each
12 mushrooms, stems removed
2 large tomatoes, cut into 8 wedges
Stir together olive oil, lemon juice, wine, and garlic; season with salt, pepper, oregano, rosemary, and bay leaf. Toss lamb with marinade until evenly combined, then pour into a resealable plastic bag, and marinate in refrigerator at least 24 hours.
Position oven rack to its top setting and set oven to broil.
Remove lamb from marinade and thread onto metal skewers; reserve marinade. Thread onion wedges, green peppers, and mushrooms onto separate metal skewers. Brush vegetables with reserved marinade.
Broil the skewers on a broiler pan, turning frequently. Cook onions for 12 minutes, lamb for 10 minutes, green pepper for 7 minutes, and the mushrooms for 3 minutes. Remove from oven, and allow to cool until cool enough to handle.
Remove skewers from ingredients and set aside. Reassemble skewers, alternating lamb, onions, green peppers, mushrooms, and tomatoes. Place onto broiler pan and brush again with marinade. Discard remaining marinade.
Broil skewers again to finish cooking, turning frequently until the lamb is medium-rare and the vegetables begin to blacken in spots, 5 to 7 minutes.
Pound Cake & Fruit Kabobs With Spiced Rum Sauce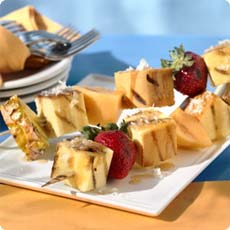 1 pound cake
1 pineapple, fresh cubed
1 cantaloupe, fresh cubed
1 pint strawberries
1/2 cup rum
2 tablespoons brown sugar
6 teaspoons vanilla extract (1 per kabob)
1/2 cup coconut flakes (toasted, optional)
6 metal or soaked wooden skewers
1 cup vanilla yogurt (optional)
Slice pound cake, pineapple and cantaloupe into approximately 1 inch chunks and place on skewers, alternating cake and fruit.
To create the sauce, add rum, brown sugar and vanilla to sauce pan and bring to a slow boil, mixing to dissolve sugar. Reduce heat to simmer until alcohol is reduced.
Brush each kabob with rum sauce and sprinkle with coconut.
Place skewers on clean, hot grill and heat on each side just until golden, 2-3 minutes. If using wooden skewers, soak skewers in a bowl of water for 30 minutes before placing on hot grill.
Place a bowl of vanilla yogurt on the side for dipping.
Makes 6 Kabobs
MY HOMESTEAD STORY
By Chris May Cernetisch, from Burke, South Dakota
Like many others, our path to homesteading wasn't straight or swift. My husband and I both grew up in what was considered "the country" but not in a homestead way. But as we started a family we decided that this was the way for us. We both wanted me to stay home to raise our children rather than day care. We wanted a place to ride our horses and a less stressful lifestyle. We moved from eastern Iowa, each of us working at least 40 hours a week, plus driving around 2 hours per day, to a South Dakota ranch where going to town wasn't even a weekly affair!
We spent the next almost 15 years living on ranches, working for the owners, but in that time we'd found and bought a 16 acre plot with ulitities running to it, a nice old barn, and two old houses. It was a real wreck, but finding an acreage in this area is not easy, and we jumped at it. While still living and working on a ranch 40 miles away, we paid off our land.
Then we got the news the ranch was for sale. Time to move! We burnt down the old houses after "robbing" them of anything valuable. The ranch gave us two, yes, only 2 weeks to move after living there for ten years. I had goats ready to kid, plus dogs, horses, and cats, so I stayed at our property in an old camper, while my husband and daughters lived in a house loaned to us by church friends. Moving day was a crazed frenzy!
As soon as possible, we broke ground and started building our own home. This is not something I can say was fun in any way, especially not having much experience. Long days, getting burnt, bit, and bruised. In ten months though, we were moving in. We had help from friends and neighbors, plus hired electric and plumbing. Without our friends, this would've been near impossible to do for the cost. We bought many of our building materials from Habitat stores and online places like craigslist, plus my husband bought and dismantled a large commerical building for the materials. We live now in a home with almost 2800 square foot of space without buying a 2x4!
Our home is very unconvential, we used foam form and concrete for the first story, then 2x6 for the upper loft area. Basements are always flooding here, so we built ours on top of the ground! The insulation is R38, and we used steel for both siding and roof, so our maintence and utilites are very low. Heat comes from in-floor tubes with a boiler. Its quiet and solid. We are so very happy with what we did. I am so very proud of my husband for building us a home, and my daughters for working like men for most of a year.
This spring I planted vegetables in raised bed gardens. We also keep dairy goats for cheese, soap, and milk, chickens, a couple pigs, and horses to ride, and its all ours! It was not easy, not fun, and not quick. But we just kept on keepin' on, and I think that is "all" it really takes to homestead. And worth it all.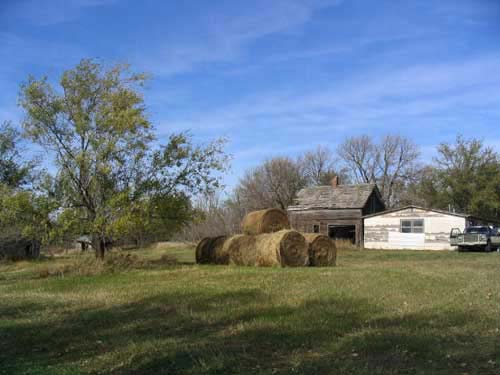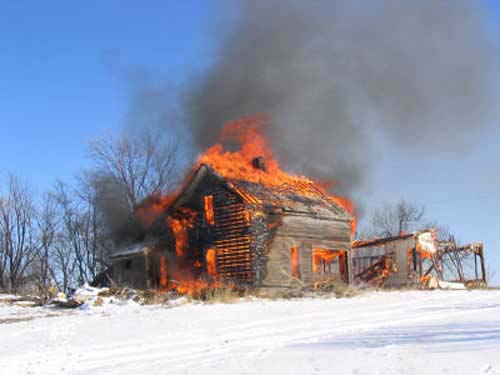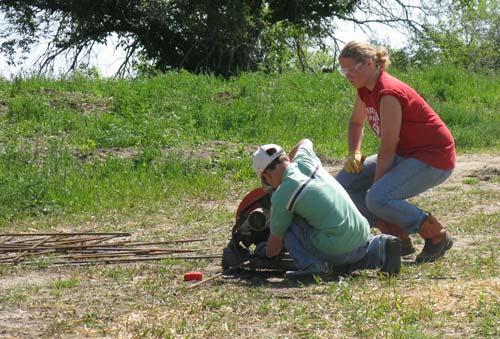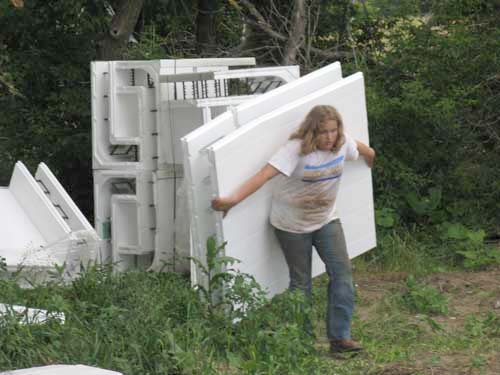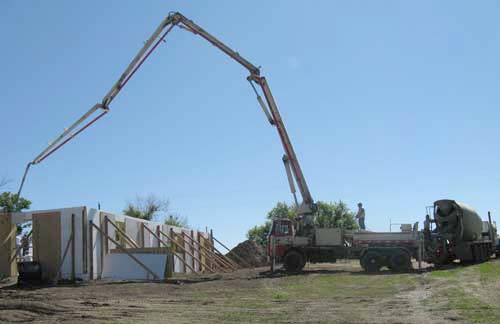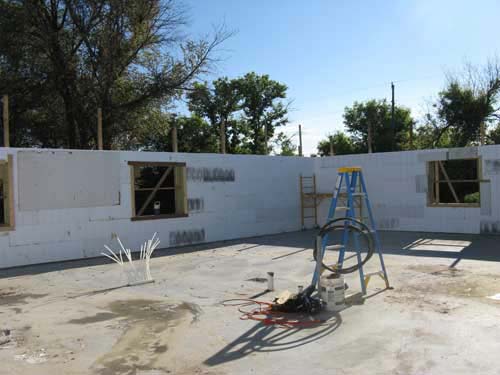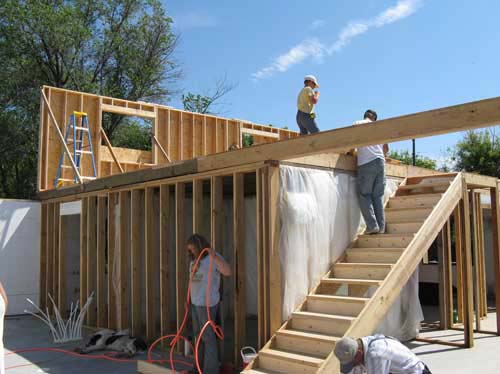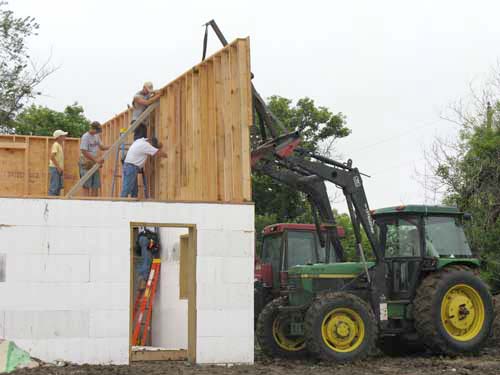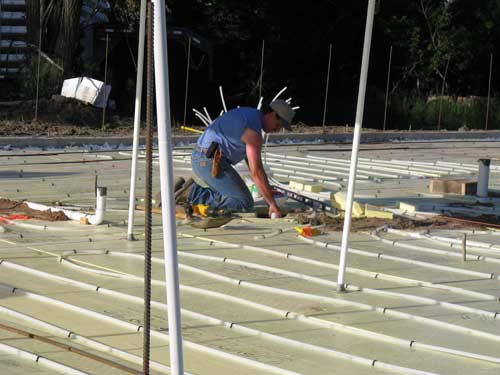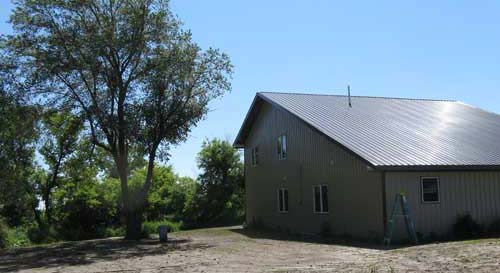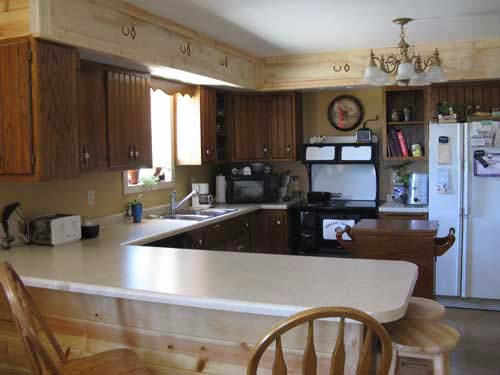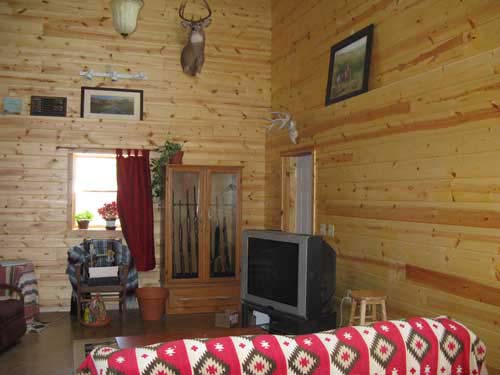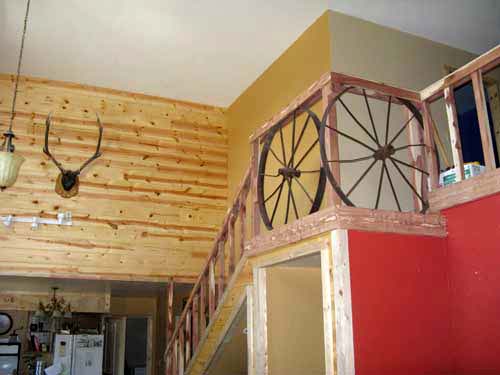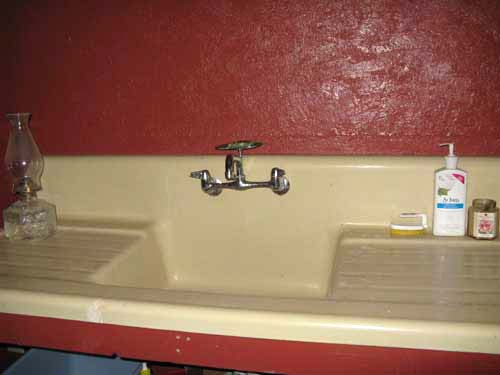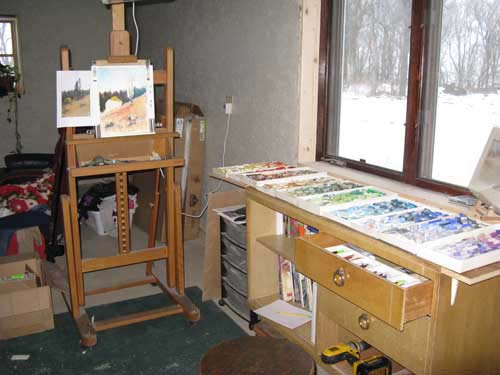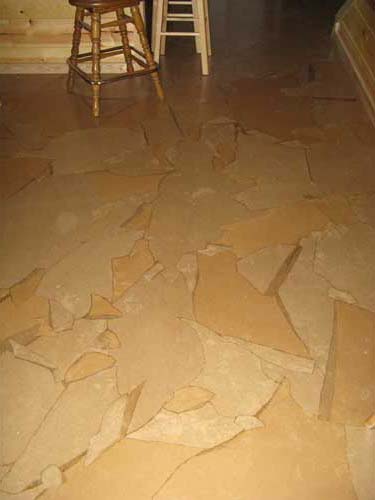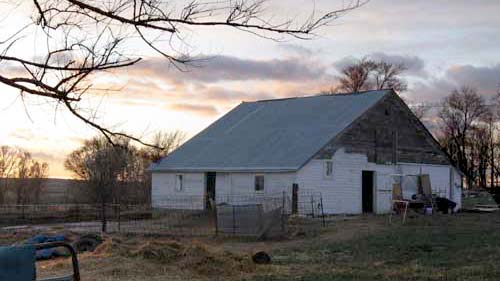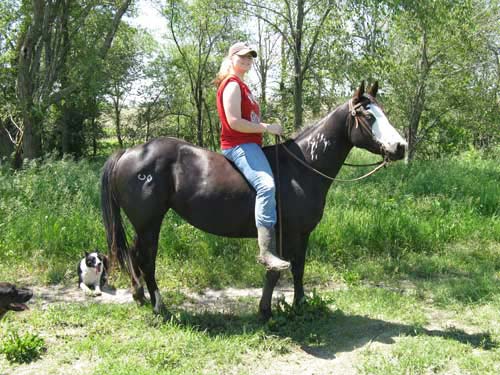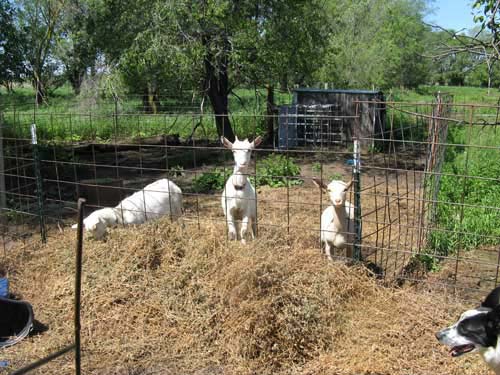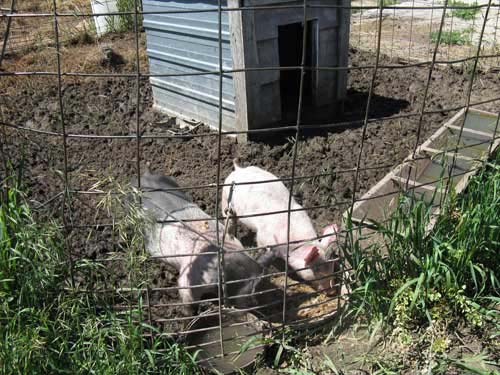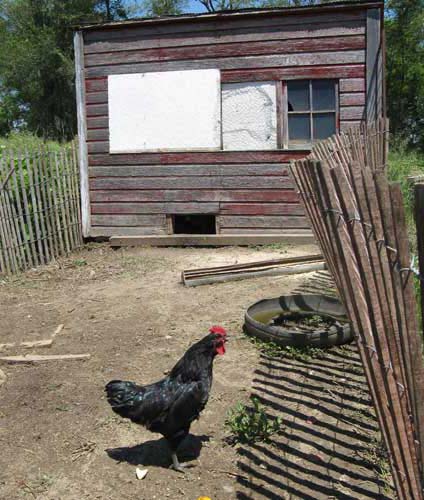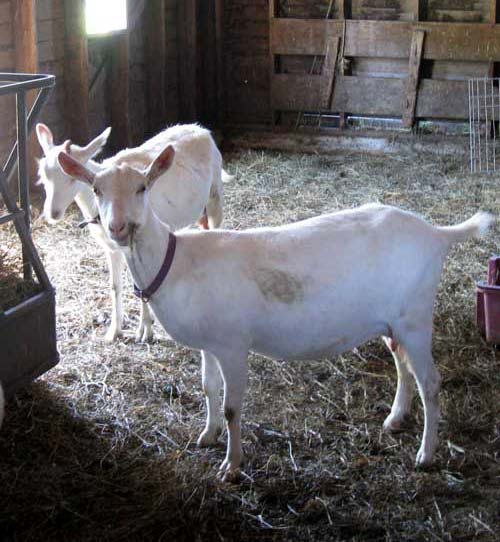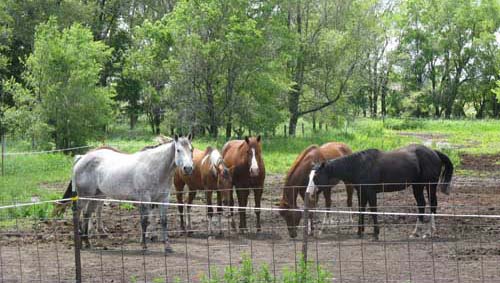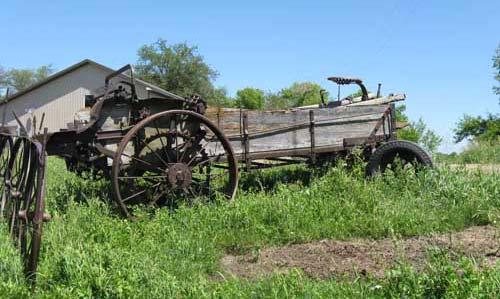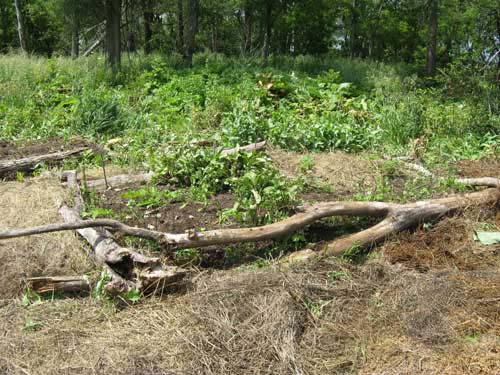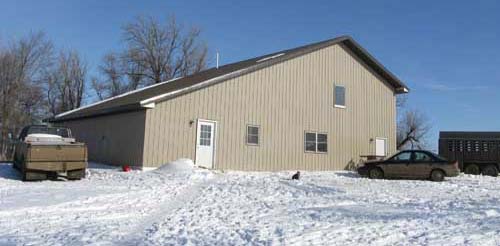 ---
Are you a long-time active homesteader? Are you just starting out?If so, please tell us about your homestead and how you got started. What motivated you? What were the first steps you took? What do you find good and not-so-good about the life?
We'll publish one or more each month for as long as folks continue to submit them.
PLEASE pay close attention to proper punctuation and capitalization.
If you have digital photos that go along with it, please let us know but DO NOT SEND THEM until we ask for them. Just send the story, which should be no more than 1000 words.
Send your story in the body of an email to webmaster@backwoodshome.com Subject: Homestead story
PLEASE DO NOT attach any MS Word or other documents to the email. They will be deleted by our mail server and we will never see them.
Thanks! We look forward to reading and helping you share your stories.
HUMOR
The best-trained dog ever...




---
Six Reasons Not To Mess With Children
Contributed by Gaylene Schwalen

A little girl was talking to her teacher about whales.
The teacher said it was physically impossible for a whale to swallow a human because even though it was a very large mammal its throat was very small.
The little girl stated that Jonah was swallowed by a whale.
Irritated, the teacher reiterated that a whale could not swallow a human; it was physically impossible.
The little girl said, "When I get to heaven I will ask Jonah".
The teacher asked, "What if Jonah went to hell?"
The little girl replied, "Then you ask him".
---
A Kindergarten teacher was observing her classroom of children while they were drawing. She would occasionally walk around to see each child"s work.
As she got to one little girl who was working diligently, she asked what the drawing was.
The girl replied, "I"m drawing God."
The teacher paused and said, "But no one knows what God looks like."
Without missing a beat, or looking up from her drawing, the girl replied, "They will in a minute."
---
A Sunday school teacher was discussing the Ten Commandments with her five and six year olds.
After explaining the commandment to "honour" thy Father and thy Mother, she asked, "Is there a commandment that teaches us how to treat our brothers and sisters?"
Without missing a beat one little boy, the oldest of a family, answered, "Thou shall not kill."
---
One day a little girl was sitting and watching her mother do the dishes at the kitchen sink. She suddenly noticed that her mother had several strands of white hair sticking out in contrast on her brunette head.
She looked at her mother and inquisitively asked, "Why are some of your hairs white, Mum?"
Her mother replied, "Well, every time that you do something wrong and make me cry or unhappy, one of my hairs turns white."
The little girl thought about this revelation for a while and then said, "Mummy, how come ALL of grandma's hairs are white?"
---
A teacher was giving a lesson on the circulation of the blood. Trying to make the matter clearer, she said, "Now, class, if I stood on my head, the blood, as you know, would run into it, and I would turn red in the face."
"Yes," the class said.
"Then why is it that while I am standing upright in the ordinary position the blood doesn't run into my feet?"
A little fellow shouted, "Cause your feet ain't empty."
---
The children were lined up in the cafeteria of a Catholic elementary school for lunch. At the head of the table was a large pile of apples. The nun made a note, and posted on the apple tray:
"Take only ONE . God is watching."
Moving further along the lunch line, at the other end of the table was a large pile of chocolate chip cookies.
A child had written a note: "Take all you want. God is watching the apples."
---
You Can't Make This Stuff Up
Part 1
Contributed by Martin Krueger
Yes, the last one was a real ad. And we know who placed it, when it was placed, and in which publication. If you'd like to discover who, when, where, and why, we reveal it all in the September/October issue of Backwoods Home Magazine, on newsstands late August, 2010.
---
Joe and his wife Mabel went to the State Fair every year. Every year Joe would say, "Mabel, I'd like to ride in that there airplane." And every year Mabel would say, "I know Joe, but that airplane ride costs ten dollars, and ten dollars is ten dollars."
Last year Joe and Mabel went to the fair and Joe said "Mabel, I'm 71 years old. If I don't ride that airplane this year I may never get another chance." Mabel replied, "Joe, that there airplane ride costs ten dollars, and ten dollars is ten dollars."
The pilot overheard them and said, "Folks, I'll make you a deal. I'll take you both up for a ride. If you can stay quiet for the entire ride and not say one word, I won't charge you, but if you say one word it's ten dollars."
Joe and Mabel agreed and up they went.
The pilot did all kinds of twists and turns, rolls and dives, but not a word or a squeal is heard. He did all his tricks over again, but still not a word or a sound.
When they landed, the pilot turned to Joe and said, "By golly, I did everything I could think of to get you to yell out, but you didn't. I can't charge you the ten dollars. The ride is free."
And Joe replied, "Well, I was gonna say something when Mabel fell out, but ten dollars is ten dollars."
OTHER STUFF
Did a friend or relative tell you about this newsletter? The Backwoods Home Magazine newsletter is free and all you need is an email address so we can let you know when each issue is published and where it can be found. Even better, we sometimes have special offers and discounts that are available only to BHM Newsletter subscribers. Your email address will never be sold, rented, loaned, given, or otherwise provided to any third party.
Just visit the BHM web site at www.backwoodshome.com and click on "Newsletter" in the navigation menu on the left side of any web page.
Contact Info:
Editor/Letters - Dave Duffy, editor@backwoodshome.com
Web Site - Oliver Del Signore, webmaster@backwoodshome.com
Backwoods Home Magazine
P.O. Box 712
Gold Beach, OR 97444
541-247-8900


www.backwoodshome.com designed and maintained by Oliver Del Signore
© Copyright 1998 - Present by Backwoods Home Magazine