Letters To The Editor
From Issue #92
Snowed-in, in a small town, on a mountain
Love your magazine. wish it came out once a month. I'm 65 years old, raising my 5 year old adopted son, and live in the country on a small farm. We live the good life. Yes we have struggles but love living in a small town on a mountain looking down the valley. Winter's coming so we're getting stocked up for those snowed-in days. Just love them, it's so quiet and beautiful here snowed in. We're not rich but the two of us are so wealthy!
You're doing a great job. I home school Zac and love the articles on homeschooling.
Julia Leighton
Colrain, MA
I also live in the mountains, just off a small town, and I love being snowed in too. Peaceful, calm, wood stove blazing, full pantry. Helps you realize how nice life can be. — Dave
A "git & go" pack made of pet food will be there during a real emergency
I just read your response to a reader who asked about "git and go" survival packs. Tell ya what I do—I keep a few of those big foil packages of meaty dog food and cat food in the trunk of my little car—you know the kind you open up and it's like ready-to-eat-beef stew? They're flat and easy to store. I have enough to last me about a week—and I know I'm not going to touch them unless it's a real emergency! I use to keep dried fruit, trail mix and freeze-dried camping food, but I would always end up eating it. I live in a little trailer house in the mountains east of San Diego, CA. If I ran a little short of food, it was too convenient to go out to my car for some snacks—plus, being two miles from the Mexican border, I've always got illegal aliens traipsing thru my property begging me for food and water. I always provide humanitarian assistance and point them in the right direction because, if they go the wrong way they could end up as human beef-jerky in the Anza-Borrego Desert—but, I offered my pet food to a few of them and they all pass it up! I just keep a gallon of water and a sleeping bag in my car with the pet food, I'm good to go!
Now, to be honest with you I don't believe that some revolution or Armageddon is coming that we have to be prepared for by being ready to head for the forest and snare rabbits for food. However, natural disasters do occur. For example in October of last year we had tremendous wildfires sweeping San Diego County. A couple of thousand homes burned and a couple of dozen people died. Thousands of people were without electricity for days or weeks, huge areas were without drinking water. grocery stores had tons of meat and frozen foods going bad. I had friends living by candle light for several days. This was just last year—so, we don't have to worry about End-of-the-World scenarios—the poop can hit the fan on a bright sunny day in paradise. So, it's only sensible to be prepared to survive for several days without electricity, running water, or help from anybody but yourself, no matter where you live.
Dale Jennings
San Diego, CA
Bravo for not being mainstream conformist
Bravo! I applaud the controversy that lingers months after your publication of Don Chance's horsemeat article. Story after story from people who also believe you made the correct publicist decision must instill pride. I personally enjoyed Chance's original article almost as much as the emotional outbursts it prompted, which by the way, is a vindication of your selection of articles to print. (Please stand firm!) Allow me to plead for more articles such as Mr. Chance's for they are the very core reason I am continuing my subscription to Backwoods Home.
If I want a mainstream, conformist publication, I'll subscribe to Reader's Digest, but I seek insight on out-of-the-ordinary topics of self-reliance. How about some more insect cooking recipes? I even would like to see a generic meat recipe which would work for most any feral animal and which animal meats specifically one should avoid.
I've got hundreds of beef, poultry, pork, fish, and venison recipes. Big deal! What about when those meats are unavailable? How about the unusual high protein meats like gator, snake, lizard, frog, and even rodent?
Mike Niebuhr
Mcfarland, WI
Don't eat your kids
In the November/December issue, you printed a letter from Jan D. of Albuquerque, NM. She writes the following account of her best friend's dinner menu: She served possum, porcupine, raccoon, muskrat, beaver, squirrel, rabbits, and I ate it as well as my children.
While I defer to others on the matter of eating horse meat, I will insist with my dying breath that in this country it is not, under any circumstances, permissible for humans to eat their own young. I have not yet checked with Miss Manners on the issue, but I am sure she would agree that even browned and basted with a lovely sauce, one must refrain.
Tammi Klusewitz
Wyomissing, PA
Silveira/MacDougal should teach in schools
Enjoy your magazine very much. Especially enjoy the John Silveira/O.E. MacDougal articles. Those guys should be teaching in schools. At least their articles should be required reading. I find myself thinking of the term TANSTAFL—there ain't no such thing as a free lunch. Or as my grandfather used to say, everything has a price on it in one way or another.
Dennis Peters
Heath, MA
Backwoods Home Mag is a breath of fresh air
Thought I'd take time to thank you and the rest of your staff for the most informative and enjoyable magazine on the planet.
Our entire family, from 4-year-old grandchildren to 34-year-old children on through to my 90-year-old Mom, find Backwoods Home articles educational, provocative, and yet balanced. You and John are doing a great job. Simply put, your material cultivates individual thought.
It's clear this controlling society and media are going to continue to attempt to quash individualism, independence, personal initiative, and accomplishment, and deny our personal freedom, "Dave, Your magazine is still a breath of fresh air."
Please for the sake of all of us who are desperately trying to get a handle on some type of hope for the future, don't stop being "just who you are" and stay the course, for it's surely the right one.
Dave, tell John or better show him this letter.
John, the message that comes through in your articles, are at times negative and you might offend some readers, but there is always an undeniable truth in your position.
We humans have a tendency to complacency, apathy, lethargy, and being uninvolved and unprepared. Your tough realism and that of Claire Wolfe and so many other authors you and Dave choose for the publication are an elixir of survival.
"We need to be jolted back to reality!!!"
One last thing John, I honestly disagree that the character and determination of our Founding Fathers can no longer be found in America.
When the time comes, and the need arises, as it surely will, true leaders will rise up and take charge of this country, as long as folks like you "hold your ground," for it is now that the seeds of our salvation must be planted, so that the mental substance of true freedom will be embedded and irreversibly rooted in the minds of our "future" framers and leaders.
So, God Bless you John Silveira!! You owly old bird, we appreciate you in spite of yourself.
Wayne Spiller
Bow, WA
Need info on making hydro-electric power
I have been a reader of your magazine since ASG went out. You are just what I have been looking for. I have enjoyed the 7th year anthology you sent with my subscription. I would love to buy the whole set if I could afford to. Maybe next year. My cabin is located in Northwest Florida. Very hot without air. With the help of my future son-in-law and two very wonderful grandsons (ages 5 & 2) I get a few things done in the cabin. The grandsons help me with the chickens and hogs. We just put in our first winter garden, so I hope it all goes well. I heat the cabin with a wood stove and kerosene heater. I'm almost finished with the installation. The kids help me with firewood.
Anyway, my comment, I really enjoy the articles on solar power. I don't know if it's for me yet. I have a stream 60 feet from my back door. (Nice in the morning or after dark.) It has never gone dry, even when the area was under drought conditions (a few years ago). Shallow wells went dry but my stream was fine. My question is could you please send me information or run an article on hydro-electric power?
Also I'm getting ready to butcher a hog, and a friend wants to do it for us. It's just the last time I had unprocessed bacon it was like eating fried pork roast. What can I do to make it taste like store bacon?
Linda Royal
Chipley, FL
Our energy CD-ROM has a lot of info on hydro systems. I've sent you a complimentary copy. Your question on pork bacon will be answered by Jackie Clay next issue. — Dave
BHM's Whole Sheebang and the online Forum
I just received my shipment of the Whole Sheebang yesterday.What an awesome collection! I can't believe I waited this long to order it! Now, I can catch up on all the information and articles I've missed since I've been a subscriber for just one year now.
I wrote to you once before and you were kind enough to print my letter, but I just had to write and tell how wonderful the Whole Shebang collection is, and I hope more people will order it. It really is a wealth of information, especially for those of us who have not been subscribers for very long.
I love the cookbook too. As I write this I have pumpkin bread in the oven made from a recipe in the book.
I also wanted to thank you for recommending readers to check out the [Readers' Forum], (go to www.backwoodshome.com). It really is a great place. I've been using it for quite a while now and enjoy talking with people from all over the place and from all walks of life.
It's nice to be able to go online and see that there really are other people out there in this crazy world that think along the same lines as your magazine and are living the lifestyles too. It is very inspiring. It helps me to know that what we want from life is possible, we just have to get there. That'll happen soon enough, as long as we can keep on the path that we're on.
I was wondering if you could ask Jackie Clay how they chose Minnesota as the state they wanted to move to? Just curious.
Lee Robertson
Webberville, MI
The Whole Sheebang is the deal of the century. Glad you like it. Jackie says her family chose Minnesota because it is as much like Alaska as you can get and still be in the lower 48. Lots of wilderness and family in Minnesota. Land is also cheaper than in Montana. — Dave
BHM is a right-leaning, gun advocate magazine
Enclosed is a check for a copy of The Coming American Dictatorship.
I enjoy seeing magazines like Backwoods exist and get nourishment from them of a mental and spirited nature. Lately, however, I am noticing a right-leaning, gun advocate, possible paranoid streak in the magazine. I am neither left nor right nor anti-gun, but it was nicer when your magazine just kept to the business of living free, individually and fruitfully.
Roger Freed
Cordova, AK
We are a right-leaning gun advocate magazine. But not paranoid. We are firmly committed to living free, individually and fruitfully, which is what The Coming American Dictatorship is all about. — Dave
Depression relieved by tranquility of country
Thank you for your fine magazine that gets read cover to cover when it comes in our country mail box. We so enjoy reading about what others are doing and how they master the hurdles that are in all our lives.
We retired here 5 years ago this month. We live at the end of the road, thru the fence, on top of Cumberland Mountain. We have 16 acres, 5 kept like a park with our home on it and 11 acres of woods, some of which go sharply down the side of the mountain. We have left briar patches and sumac clusters for the birds and the deer to hide and bed down in. We are in hunting season at present, so the deer have migrated up to our place since we have hunting clubs on both sides of the mountain.
I ran a large restaurant in Memphis for most of my life and always dreamed of a place like this. It became available 4 months before we retired so we bought it. I am a cabinet maker and wood turner and we built a 30 x 40 shop so we could supplement our social security. It was tough starting, but slowly I have gotten local business while still doing wood turning for shops in Memphis and some repair work.
We have a wood stove that heats part of the house, and when "Ivan" the hurricane came thru it blew down 3 large oaks and I am busy blocking and splitting and stacking so it will be dry for next winter.
I guess the most amazing thing is what happened health wise to my wife. She had been in depression for 5 years when she arrived here. It took 3½ more years, but she is now free from depression. We have a good doctor in Huntsville, and this place the Lord has allowed us to live on has been the balm of Gilead for my wife. She has been free from the dismal cloud that hangs over you with this disease.
The peace and tranquility here are medicine for our souls. We love seeing the deer (sometimes 12-14 at a time) and the hundreds of birds that come out of the woods because they like sunflower seed. We do believe in self sufficiency. I have 7-8 cords of wood laid by, adequate food for several weeks, a thorough knowledge of hand tools and power tools, but almost no skill in bringing a garden to harvest. I have never tried raised beds for gardening so I will try that this coming year.
Thanks again for your fine magazine and the excellent work your staff does. May God continue to bless you and yours.
Eddins Hopps
Woodville, AL
My husband, Dave, finally convinced me to have raised beds in our garden last year. They made preparation of the soil, weeding, & watering so much easier. Best of luck with yours. — Ilene
The pocket Constitution on our car dashboard
We really enjoy the magazine. It's helped open our eyes to the nation around us. My wife and I keep the pocket size copy of the Constitution on the dashboard of our vehicles.
I can see the day that we'll stop at a "road check," and some officer will say "Oh! A couple of Constitutional rights nuts" and assume we must be guilty of something!!
Mike Finerty
Poultney, VT
How to build a kid's push cart, and a story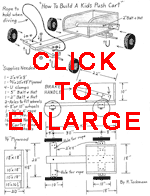 Enclosed is $12 for ½ subscription to Backwoods. Also enclosed is a copy of one of my blueprints (printed at right) that you can use in your mag if you want to.
Also, a joke/story is enclosed (printed below) that you can use if you want to. Well, that's it for now and I really like your magazine.
… The joke/story is about four people named Everybody, Somebody, Anybody, and Nobody…
There was an important job to be done and Everybody was sure that Somebody would do it.
Anybody could have done it, but Nobody did it. Everybody thought Anybody could do it, but Nobody realized that Everybody wouldn't do it.
It ended up that Everybody blamed Somebody when Nobody did what Anybody could have done.
Signed by: Us all!
Ron Tackmann
Attica, NY
That's quite a contribution from a first time subscriber. — Dave
Making fire-starters
As always, the Jan/Feb 2005 issue was excellent. Mr. Yago did a great job in Practical preparedness planning. I would like to add one idea to it—a fire-starter.
How often have we been out camping and it rains making kindling too wet to burn? Well, if you were I, it happens every time you go out. To fix it we learned how to make fire-starters … that would be a boon if a fire is needed NOW, and everything is sopping wet from the storm that put you in the situation.
Here's how to make one. Use a double boiler, or a tin can in a frying pan of water, to melt paraffin down to liquid. Add to that as much sawdust as you can until you have a consistency like thin oatmeal. Take a spoon and fill up paper egg cartons, toilet paper rolls, anything made of paper or cardboard about the size of a golf ball. Let them cool down. That's it!
These fire-starters will each burn about 10 minutes. That's enough time and heat to start wet kindling for a fire. They are also waterproof, will never expire, and present no risk of exploding in your pack like I've had lighters do.
To make extra certain matches are waterproofed, go ahead and dip them about halfway into the wax. Seals and containers crack for any number of reasons so if every match has its own seal of wax, the chance of ruined matches is reduced.
Jason R. Glascock
Green Bay, WI
Raising a family in the remote Alaskan interior
My husband and I raised 4 children in the Alaskan remote interior, 120 miles SE of Fairbanks. We built a farm out of the bush. A log cabin from the trees we cleared for the homesite, and an underground root cellar. My husband being born on an Alaskan homestead knew how to survive in the wilderness and I learned from him. We raise hay for horses and cattle, produce, and potatoes on a large scale, and truck farmed. We hook up power with a generator, and when it's off, have a propane back-up. When thats off, it's lanterns. Heat is wood and lots of homemade bread served with heaping amounts of love and low-bush Alaskan cranberry jam. Children are home-schooled, and we play board games & cards, etc…family fun. We hunt, hike, fish, care for livestock and gardens the Alaskan way—bundled up!
Angeline L. Edge
angeline@gci.net
Alaska
Don't blame us for social security mess
In regards to your editorial about social security, my Grandmother told me when I was about 13 (c.1944) that social security would never work because the people then getting it had not paid into the system, and this would go on, with people paying for what someone else would get. I've been wondering ever since why, if she could see it, no one else could.
It is not fair for you to blame us, today's retirees, for the mess social security is in, as we were not old enough to vote in 1935. The blame falls squarely on Franklin D. Roosevelt and his flunkeys in Congress. My parents opposed the social security bill, as did all the adults I knew. My parents refused to get social security numbers for many years, though finally were forced to. Many times I've hear my mother say that the only time the government could give her a number is if she went to prison. …
Evalyn L. Preblich
Anchorage, AK
Not too many years from now, that'll be all that's left of social security—finding out who's to blame. It's sure not our children and grandchildren, who will inherit the social security mess. Even now, as President Bush proposes we try and fix social security, many politicians and their constituents scream he's going to hurt seniors and gut social security for the future. What a laugh! Social security was gutted long ago. Only a lame duck president like Bush could even propose fixing social security, because it is political suicide for anyone seeking further office. It is now too late for any painless solution, anyway. The partial privatization of social security, as Bush has proposed, is the type of remedy honest think tanks such as the Cato Institute have been proposing for years. Chile did it years ago and they are now the envy of South America when it comes to a secure financial retirement for its citizens. — Dave
The letters that keep us publishing BHM
I love this magazine!! I've been a subscriber for 2 or 3 years now, and so far my only complaint is that 2 months between issues is simply too long to wait!!! The anthologies are great, also, have been ordering those as the cash is available…I feel like I know you all, due to the books and mags. Thank you for all the great stories and informative articles.
Connie Johnson
Peoria, IL
Thank you, Connie, for reading the magazine. Readers' letters are the high octane fuel that keeps us cranking out the magazine. In 15 years of publishing BHM, we have never made a profit, but the magazine is rich in letters like yours expressing gratitude. — Dave