The Hardyville Freedom
Film Festival

By Claire Wolfe

July 15, 2004
Every July sophisticates from around the world flock to Hardyville.
They pour in from as far away as Billings, Casper, even Pocatello. They arrive dressed to the nines in their brand new Carhartts and Oshkosh B'Goshes, wheeling up in well-polished pickup trucks. It's truly a glittering sight.
The event that brings them is, of course, the famous Hardyville Freedom Film Festival.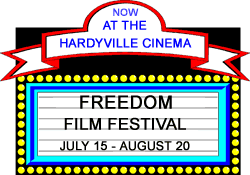 When the festival first began, there were many doubters. "Would the world come to the middle of nowhere to watch movies?" some asked. Well, if they'd put up with TSA airport screeners to go to France to see Michael Moore at Cannes, then why not make a drive to Hardyville – which has the added attraction of encouraging them to keep their pistols and pocketknives? Getting them here: Not a problem.
The more difficult question was, "How the heck do you have a film festival in a town that has exactly one one-plex, and that only opens on Friday and Saturday nights (Closed During Hunting Season and Whenever Else the Owner Feels Like It)?"
Our answer to that: DVD.
All the films in The Hardyville Freedom Film Festival are available to rent or buy and watch at home. And because ours is a DVD-based festival, nominees can be from any era – as long as they promote freedom and individual responsibility, portray resistance to authority, or otherwise celebrate liberty.
VOTE FOR YOUR FAVORITE FREEDOM FILMS
In fact, thanks to DVD (or VHS if you haven't yet reached Hardyville levels of sophistication), this year you don't even have to come to Hardyville to enjoy – and even vote (below) in – the Freedom Film Festival.
You can watch the nominated films in the privacy of your own living room. AND you – yes, you — can vote for your favorites in the Hardyville Freedom Film competition – better known as the Hardies.
This year we'll be giving a Judge's Award and a Free Peoples' Choice Award in each of six categories. YOU get to decide who wins the Hardies.
The nominees are below. You have until August 20 to cast your votes. Just watch any of the movies you haven't already seen (or re-watch ones you've gotten hazy on), then come back and make your choices.
The results will be announced in the September 1, 2004 Hardyville column. Now … grab your popcorn and go!
THE NOMINEES ARE
In our six categories …
BLOCKBUSTERS

We separated blockbusters from all other films because we didn't want to pit $200 million epics against more modest, less known, but possibly equally freedom-oriented flicks. So the big boys compete only with each other.
CLASSICS

Liberty-loving films at least 25 years old.
CONTEMPORARY DRAMAS

Freedom-promoting dramas of recent years.
CONTEMPORARY COMEDIES/FAMILY FILMS

Recent films that lightly uplift the heart and maybe bring a smile to the lips.
FOREIGN LANGUAGE

Don't let the subtitles stop you.
SCIENCE FICTION (ANY ERA)

Filmmakers often sneak freedom messages into SF that they couldn't get away with in more "serious" movies. The SF genre is filled with liberty-loving messages. Unfortunately, it's also filled with a lot of real turkeys that substitute pizzaz or atmosphere for good storytelling – which is why you won't find some recent popular favorites like Equilibrium and Minority Report among our nominees. But you will find some choice classics.
And that is it. The 2004 Hardyville Freedom Festival nominees. Enjoy – and VOTE before August 20, 2004.