Archive for the 'Gardening' Category
Jackie Clay
Tuesday, November 22nd, 2016
Jackie Clay
Wednesday, November 16th, 2016
We heard the dreaded four letter word: snow! And eight inches plus is forecast. In Northern Minnesota, that means it'll probably stick all winter. This will most likely be our first permanent snowfall (which will not melt until spring), so we've been hurrying around all day getting chores done. We split up some more dry wood to add to the wood shed along with all the small wood Will has been cutting.
Then Will took the splitter off the tractor and attached the rototiller. He wants to get all of the gardens tilled before it snows so the sheet of manure he lays on it will more easily leach nutrients into the soil between now and spring. David's girlfriend, Ashley, came out and Will says she's now tilling the North garden! Wow, I'm impressed!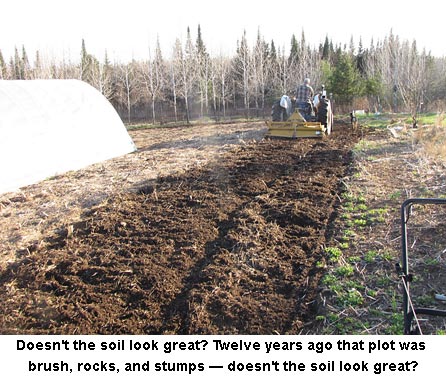 Meanwhile, I've been updating our Seed Treasures website as I know lots of folks are anxious to see what goodies we're offering this year (and there are a lot). I have also been printing off hundreds of labels for all the different varieties. My printer is a dinosaur so every once in a while it has fits and won't, but it is getting done. Now if that darned snow would just hold off … — Jackie
Jackie Clay
Tuesday, November 15th, 2016
We listened to the weather radio — which we just about live by — and they're expecting rain and snow tomorrow and on through the week. And we still have a bunch to do. I just finished up the rest of our beautiful apples and now have dozens of quarts of apple slices and apple juice. (I put the peels and cores through the Mehu Liisa and turned out beautiful apple juice. Then the goats got the leftovers.)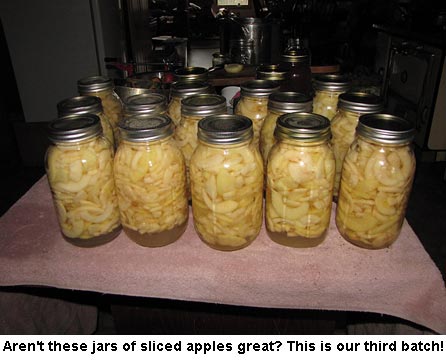 I've still got a crate of carrots to do and some chili but that's on hold right now as Will is sawing up lots of dry popple poles for our small wood. This stuff is great kindling and also works extremely well in our kitchen range. It's pretty darned good when you can keep the house toasty and also be cooking and baking on the same stove at the same time. What a win-win situation!
My oldest son, Bill, got a nice fat five-point buck which is now in our freezer waiting to be cut up and canned. He'll be up next weekend to help do that. We always have a great time visiting while we process venison. David saw a big eight-point buck but it ran straight away from him and he didn't get a decent shot. So he'll try again this week and see if he can also bring home the "bacon." We really love making venison summer sausage with my electric meat grinder which has a sausage stuffing horn. It tastes SO good!
Well, I'm finally done processing all the seeds except some Hopi Pale Grey squash. All I have to do is update our website and I have to get at that pronto as we're already getting seed orders coming in.
Gotta run so I can go help Will. Snow's on the way… — Jackie
Jackie Clay
Thursday, November 10th, 2016
And with the warm weather, we're getting a lot done. Yep, we should have had it done earlier, but it's nasty to work in rainy, cold weather. So while the sun is out, we're really hustling.
I've been cleaning the kitchen, which had turned into a pig sty while I canned and this afternoon I'm going to get the rest of the apples canned up.
Will has been busy hauling big round bales of hay home on our hay transport. Okay, most farmers use a REAL hay transport such as a Notch Wagon. But we can't afford that. So Will traded some lumber sawing on our bandsaw mill for an old, stripped-down bus frame. It's heavy, clunky, and doesn't turn sharp like a Notch Wagon does. But it didn't cost us anything except gas for the sawmill. And it lets Will haul home between five and six hay bales at a time so we get more home faster than two at a time on just the tractor. Plus it's easier on the hydraulics than having a 1,400 pound bale bouncing up our bumpy driveway on the front forks of the tractor!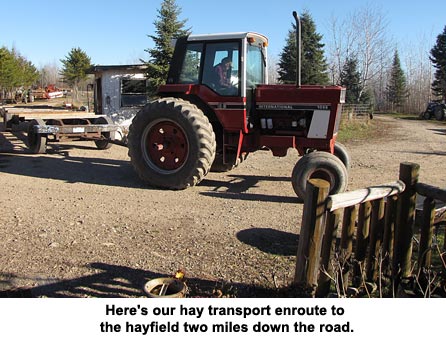 Will also got the tomato vines burned which he'd raked into a pile on the main garden. The livestock has been let into our North and Central gardens to glean the leftovers there and also to eat all the grass, clover and weeds which grew there due to our tremendously wet summer. They sure liked that. Now the gardens look nearly ready to plant, they're so bare. We hope to be able to get the gardens tilled and spread with rotted manure before the ground freezes. We'll see how that goes. You know you always have more plans than time allows!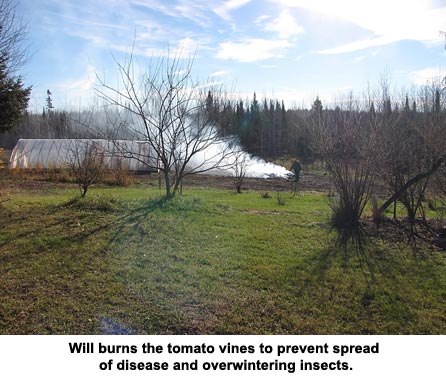 — Jackie
Jackie Clay
Tuesday, November 8th, 2016
I had a great time at the Expo, meeting both old Backwoods Home family and new subscribers. And I got a chance to visit with Don and Nancy Childers (the wonderful BHM artist and his wife) as well as Ilene and Dave Duffy, and alternative energy guru, Jeff Yago.
We had a great Denver show! If you'd like to see some great photos, check out Dave Duffy's Twitter page. Just click on "home page" to the left, then click on blogs and go down to Dave on Twitter and click. Lots of nice pictures of us all.
I will admit that when I flew over big metropolis areas such as Denver and Minneapolis/St.Paul I thought a lot about what would happen if some emergency struck and all those millions of homes were suddenly without power. Not a pretty thought, for sure. And it made me even more glad to get home to our own backwoods home, way in the woods!
While I was gone, Will and David's girlfriend, Ashley, removed all the tomato cages and stakes. Then Will borrowed our friend's tractor-mounted rock rake and raked all the tomato debris into a big pile in the garden to burn. It was a BIG pile this year due to our 107 tomato plants!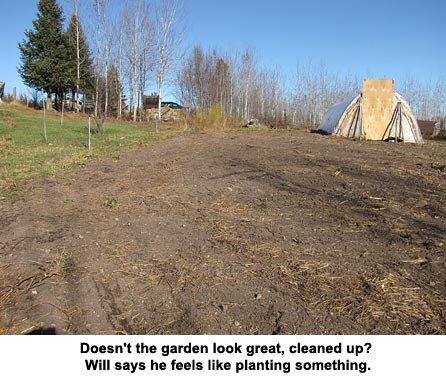 Now Will is busy hauling in big round bales of hay as the fields are finally drying out enough to drive on. And I'm playing catch-up. I've got a few apples and carrots to get canned up. Then I want to can up a huge batch of chili to use up some of our last-year's beef. I opened two quarts of chili last night and boy did it ever taste great. Especially when I added some New Mexico red chile powder a friend, Mike, picked up for me while I was at the Expo. It's addicting! Okay, so I can only use mild now because of hot setting off my diverticulitis. But even mild is simply wonderful!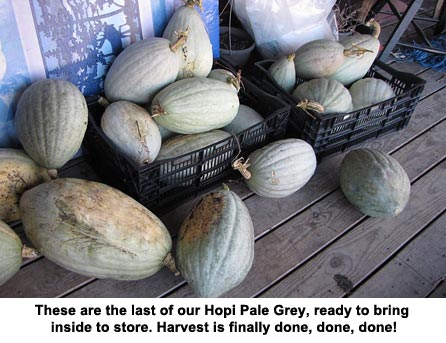 Well, I voted this morning. Not because I was enthused about my choice but that it was the best I could do. Both candidates stink, I figure. Oh well, now we get to see how things play out. But at least all the political ads are done with. Thank God! — Jackie
Jackie Clay
Wednesday, November 2nd, 2016
Way back about 35 years ago, Mom and Dad owned a small apple orchard in southern Michigan. Most of their apples were Red Rome. Our family traveled there from Minnesota each fall to pick a lot of apples to bring home (and, of course, visit the folks). Mom had a great hand-cranked apple peeler/corer/slicer and we all had fun preparing lots of apples for her to can.
But somewhere along the way, I put mine away and have been hand peeling apples for years and years. It did the job but the job was WORK and went so slow.
Now that we have a young, bearing orchard, the thought of peeling several five gallon buckets full of apples gave me the willies! So, remembering Mom's apple peeler, I picked up one at our local L & M farm store. It cost $14.99. I wondered if it would work nearly as well as Mom's did back when…
David's girlfriend, Ashley, came over and we fastened the peeler to the top of our kitchen island and started peeling apples. It worked every bit as well as Mom's peeler, giving us a whole big pan full of apples, all peeled, cored, and sliced in about half an hour!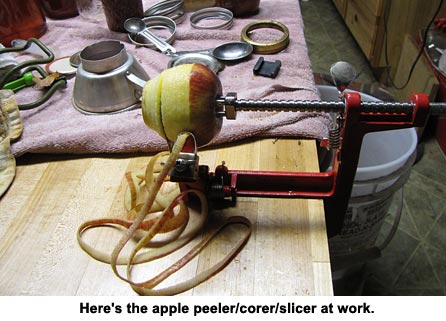 I made a light syrup and we added the apples, heating them until they got limp and shrunk down so more would fit into a quart jar. We ended up with nine quarts from that first batch. We had so much fun peeling them, too. She ran the peeler and I retrieved them, cutting off any bad spots and cutting the sliced apple in half, which made perfect pie pieces. Then we had a big pot full of peelings and cores. I put those into my Mehu Liisa steam juicer as those apples were really juicy. We ended up with three quarts of beautiful juice!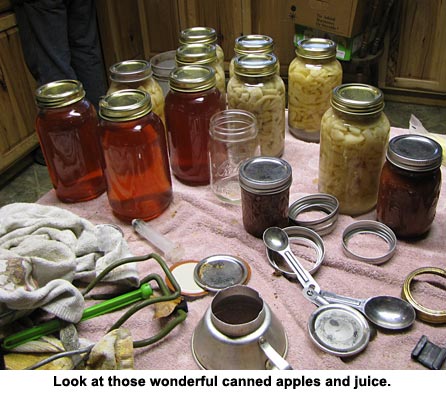 I'm real excited because we've got a crate plus a bucket and a half of apples still on the porch. What fun! And the pantry is getting stuffed too.
Don't forget the Denver Self-Reliance Expo as I'll be there, along with Dave and Ilene Duffy, Don Childers and his wife, and Jeff Yago the alternative energy guru. Come, stop by the Backwoods Home booth and say hi! (I'll also be speaking on gardening and canning.) — Jackie
Jackie Clay
Friday, October 28th, 2016
This afternoon we're going out to dig the last of our potatoes, two 75-foot rows in our old pig pasture. We already have the North Garden and the Main Garden, so instead of continuing to call it the "pig pasture garden," we changed its name to "The Central Garden." Isn't that high class? Anyway, we've got to get those late potatoes dug before the ground freezes. We sure don't want to waste them.
I'm getting ready for a trip to Denver, Colorado. I've been asked to speak at the Self Reliance Expo there which is November 4-5th. So if any of you would like to come, I'd sure be real happy to meet you. Just come up to the Backwoods Home booth. Jeff Yago, Dave and Ilene Duffy, and Don Childers will also be there so it'll be kind of an "old home weekend."
We had a pile of Hopi Pale Grey squash on the front porch but as the nights are getting colder, I'm moving them into our downstairs spare bedroom to store. (We still have four from last year!) These squash taste and store so well they've always been our favorites. I don't know how they possibly nearly went extinct! They're so much better than plain old acorn or buttercup squash, favored by commercial growers.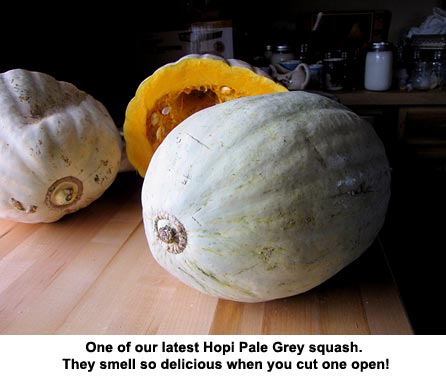 I've got a crate of nice carrots to can up, grown by my friend Dara. Our main garden was filled with extra tomatoes and beans this year, so we decided that this spring, she would grow extra carrots and we'd trade sweet corn for carrots. That was sure a win-win trade. She got to can up two crates of sweet corn and I've got carrots I didn't grow.
This afternoon David's girlfriend, Ashley, is coming over to help me can apples. She's never canned before so she's getting hands-on lessons. I've got tons of apples and the extra help is much appreciated, for sure. — Jackie
Jackie Clay
Wednesday, October 26th, 2016
We've been getting some real cold nights along with rainy days, so we've been continuing our harvest. I've been shelling the last of our new beans and the star is a dry bean, Monachelle di Trevio. I bought ten bean seeds for this productive pole bean and ended up harvesting two pounds of seed! It isn't enough to offer this year in our seed catalog, but it is enough that I can plant tons next year. Besides being beautiful red and white, this round bean is easy to shell, and quite early to dry down. We'll be tasting a few too, but being from Italy, I'm sure it's very good.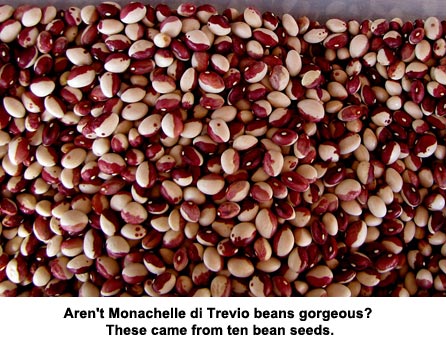 I picked nearly all of our peppers as the plants in our hoop house got frozen a couple of nights ago. Besides taking the seeds from the mature peppers, I've been making big batches of Cowgirl Candy. I'm even thinking of how good it would taste as a topping for cheesecake — sweet with a pop of hot.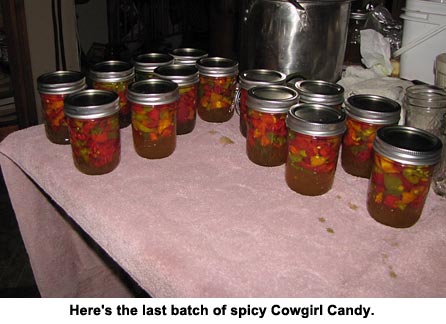 Will got busy and picked the last of our apples, Keepsake, Frostbite and Chestnut crabs, which are two inches in diameter and very good eating apples. Now I've got to get busy and can 'em up as none besides Keepsake really will keep long. Boy, have we ever been munching on them with buckets full on the front porch. Nothing beats an icy, juicy, sweet, crisp apple!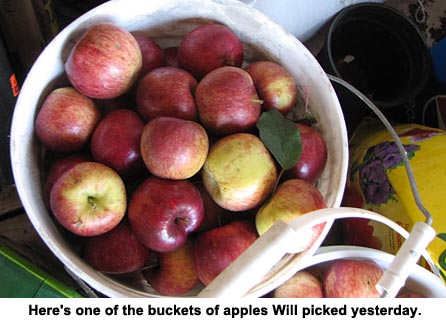 We've also been splitting up more firewood. The last pile will fill the wood shed but I'm sure Will is going to go down and get more to pile up on our enclosed back porch. It's great to have plenty of wood to cook with and keep us toasty warm. Wonderful!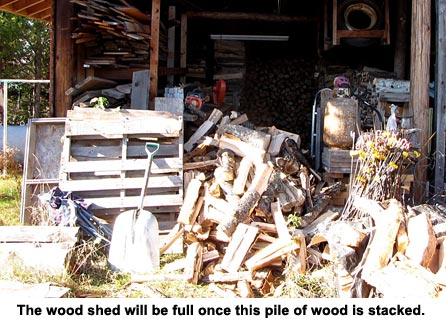 — Jackie