Tuesday, July 29th, 2014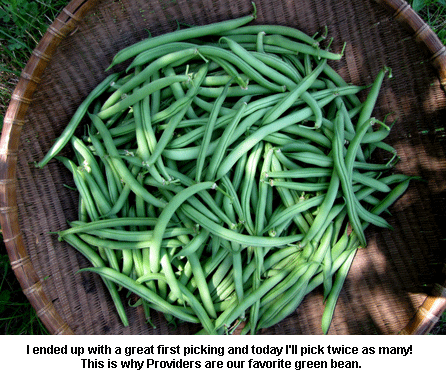 We're so happy. Not only is our haying under full swing but I'm starting to can like mad! I've already put up two nice batches of pin cherry jelly with a lot more on the trees (if I can foil the sneaky robins and cedar waxwings). And three days ago I harvested 3/4 of a basket of very nice Provider bush beans that yielded 9 pints of canned beans. How nice it is to sit in the shade on our front porch and cut beans! Talk about your old-time comforts — can't be beat! I watch the birds and look out on the flowers in our front flower beds. The hummingbirds even come right up on the porch to sip out of the petunias.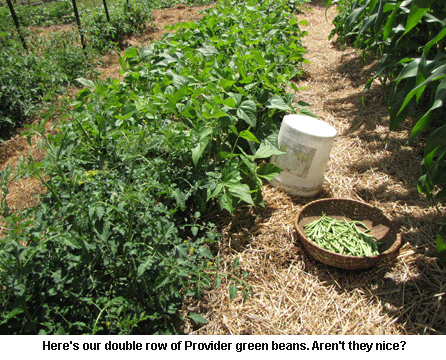 We've got hay down in two fields but it showered this morning so we won't be baling today. The hay will be fine waiting to dry, as it hasn't been raked yet. Boy, are we having trouble finding anyone to "buck bales." We pay $10 an hour and can't find a soul who wants to work! What the heck is wrong with people today? Way back when, when I farmed down by Sturgeon Lake, teens would drive around looking for farmers haying and ask if they needed any help on the wagon or in the hayloft. And the going rate then was $2.50 an hour! Now you can't drag them off the video games. We really miss having David. He's working overtime for our farming neighbor, Jerry, also haying. Yesterday, he hit the field at 7 a.m. and got done just before dark.
He did have time to "sneak away" for an hour as his brother, Bill, and his family came to visit us. We sure had a great time. The grandkids, Mason and Ava, were introduced to raspberries and had a wonderful experience picking raspberries out of our berry patch and wild blueberries out in the woods. It was exciting showing them the "good" wild berries and the "bad" ones. They caught on VERY quickly!
We also picked berries so their mom, Kelly, could take a bucket full to turn into jam. It was frustrating for me as my knee still won't take kneeling down to pick and sitting on a bucket was way too slow. I can pick the pin cherries and the swamp blueberries just fine standing, as they are taller. But ours are only about eight inches high. Oh well, everyone else picked like mad and I was able to bend to pick for about an hour before my back quit.
We don't take the dogs berry picking because they pick and eat more than we do! — Jackie