Tuesday, March 11th, 2014
Yesterday it was 45 and today they say we'll hit 50 and the sun is out. What a relief! I never appreciated water dripping from our roof so much as this year. Yesterday Will and I, along with the dogs, took a nice walk down the drive and onto some of the trails he's been making with the dozer through the pines on our ridge. They are getting so big that they need thinning and in between other projects, he's been going out there and thinning and pruning the lower branches so they'll grow quickly and be nice and straight. In the bargain, we're getting some nice walking/riding/atv trails. The rabbits are starting to eat the bark off of tender young popple trees so we know the sap is starting to run. Luckily they don't actually kill many trees but I hate to see them munching the bark on our few maple saplings as some of the trees get girdled and don't survive.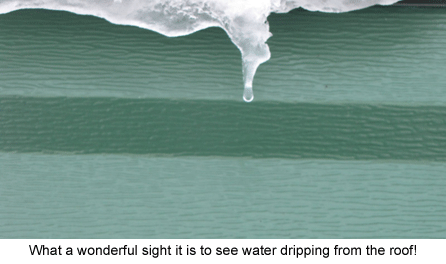 Today I saw a raven with nesting material in its beak! And I saw the first grove of blooming pussy willows. (Okay, so that bunch always blooms early.) Will has taken the OSB octagon down from the 12-foot peak in our living room. He is plotting out the pattern of wood pieces he'll place on it to finish the peak with a decorative medallion. (I think this was hurried when the ceiling fan crashed to the floor a couple weeks ago! It shocked both of us. Luckily the dogs and I were in the kitchen and Will was sitting in his chair so nobody was injured. The glass globe shattered as did the four light bulbs but no other damage was done to the fan. Also lucky that the new laminate flooring was not done.) After examining everything Will found that he had "temporarily" left the locking ring loose so he could finish off the octagonal piece in the center of the peak which did not get done for quite awhile. The ceiling fan jiggled around and popped the ball that it hangs from loose and down she came! When Will's finished, it will look great, I"m sure. And he is going to be sure to lock the fan in place this time.
For those of you who were wondering what the Idingtion Spring looks like, here's a photo of where we are getting our water until our water line thaws out. It's a bit inconvenient but not so bad. We're sure glad that spring is there and has great water!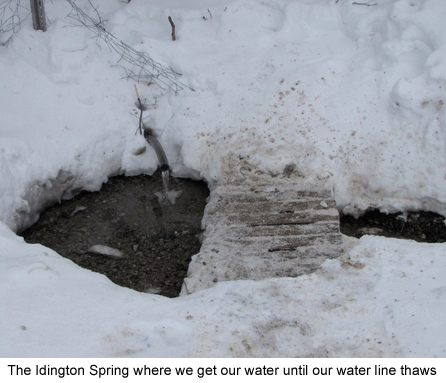 I'm starting my tomato plants next week. It's so exciting. Not only are we planting our old favorites but we're trying several other great open pollinated tomatoes too so we can add the good ones to our seed listing for next year. (By the way, we still have a lot of seeds so if you're wondering if you should order, go right ahead. We're still in great shape and spring is coming quickly!) — Jackie