Tuesday, February 23rd, 2016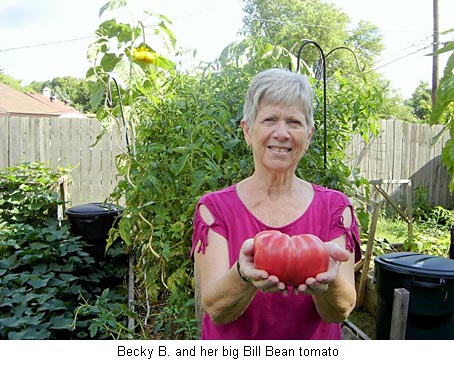 Becky B. sent us this photo of her Bill Bean tomato she raised last year from our seeds. Isn't it pretty? And BIG too! — Good job, Becky!
I baked up half a ham and got 16 jars full of ham dices and pieces. Today I'm boiling the bone and will be canning up pints of bean and ham soup. As spring is coming, I need to empty our freezer, which we can't keep running during the summer. That means eating/canning everything that is in it. I've made a good start on it and next will be mixing up some Italian sausage from our ground pork to can as crumbles. I use this on pizzas and in spaghetti sauce, among other things.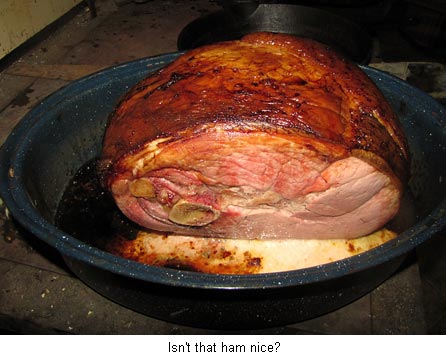 I had to laugh at Hondo last night. I had been looking at several seed catalogs and he fell asleep upside down on the couch, right by the Fedco catalog. I think he was reading it then drifted off!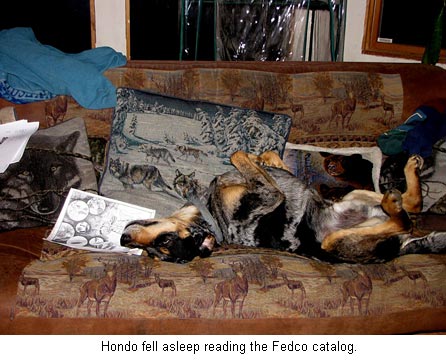 We've got four more inches of new snow today so Will and Hondo are out plowing the driveway. We've got a butcher steer scheduled to butcher tomorrow so we'll need to get him loaded this afternoon. We helped a neighbor yesterday do that same thing. But all did not go well. The animal jumped out over the fence, knocking my friend Jeri down. Luckily she wasn't hurt bad but we ended up taking four hours to get the bugger in the trailer! Will was about pooped out, trying to head the cow off on foot through deep snow in the pasture. Our friend Sam was trying to help, too and we were worried about him because he has already had a couple of heart attacks, a knee replacement, and another bad knee to boot. We were sure glad when we were done and the cow was in the trailer … and no one was hurt. — Jackie