Tuesday, November 11th, 2014
We listened to the weather radio yesterday morning, cringing when they talked about significant snowfall for our area and south of us. Eek! Luckily, we only got a dusting but Duluth and parts south and east got hammered with 12 to 18 inches of snow.
We knew it was coming and Will and I have been working like mad to get things done ahead of winter. I pulled the last ears of our Glass Gem popcorn and was really happy with the ears (and colors!) we got. We didn't get a full crop as it was quite late-maturing. Next year I'm planting it farther apart so the stalks get more sunlight. I discovered that the rows on the outside matured faster than those on the inner rows because it's such a thick-growing corn. But the colors — Wow! Colors I've never seen in corn: light blue, pink, mauve, and pastels. We'll definitely plant it again!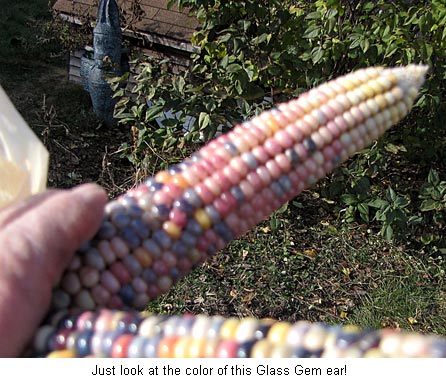 I wrapped up the last of the fruit trees and bushes yesterday. Will salvaged some heavy aluminum screening from an old TV dish so we could wrap the honeyberries and a couple of bush cherries that were too bushy for a regular screen to fit around. It worked great. We had quite a bit of vole damage to our trees last winter so we wanted to make sure the same wouldn't happen this year. We have a friend whose big apple tree was killed because the voles had totally girdled the trunk. That's depressing. Some of our orchard trees have grown so much that the white spiral plastic tree guards won't fit. I used old aluminum window screen instead. We aren't taking any chances!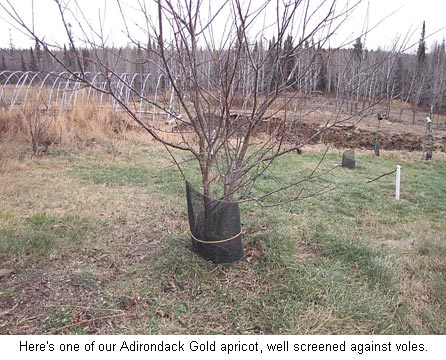 I got a whole pork loin on sale at our local store for $1.99 a pound. I roasted it up for dinner, cut into two chunks to fit my roaster. Then the next day I warmed it up and canned what was left from dinner, using the pan drippings with water added for a broth. We got two meals plus three quarts and a pint to add to our pantry. And I also got busy and readied another batch of carrots to go in the canner after the pork came out. I've only got one more batch to go plus some rutabagas.
We aren't hunting deer this fall because winter killed off about half of our local deer herd. Besides, we are butchering a steer and we already have half a pig left in my son's, freezer. And canned venison down in our basement from last fall. And the meat chickens… We sure don't need more meat and we feel sorry for the neighboring deer herd and decided to let them rest with plenty of feed (Will's oats/clover patch!). There's always next year if we need one. — Jackie