Wednesday, January 7th, 2015
Our little half-pint kitty, Mittens, has turned out to be a very efficient homestead varmint catcher. She's caught hundreds of mice, voles and shrews, several full-sized rabbits and lately, she's caught three weasels! Now weasels are pretty tough customers, being able to kill full-sized rabbits even though they only weigh a few ounces. We really do like weasels as they are not only pretty but very good mousers in their own right. Unfortunately, they also eat eggs and kill chickens. (Long ago one weasel wiped out my fancy pheasants and six purebred rabbits in one night.)
So when Mittens brings in weasels as well as voles, mice, and shrews, we're pleased and pretty surprised too.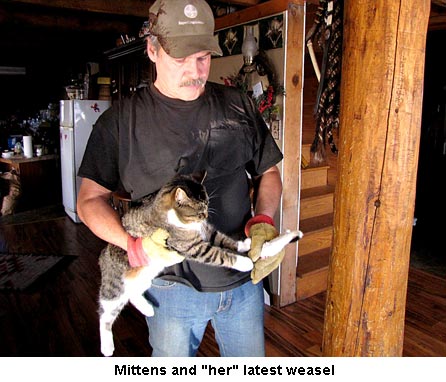 It's been cold these past few days with wind chill temperatures down to -50, so we do chores, tuck in our critters and find plenty to do inside! We're already starting to order a few fruit trees. St. Lawrence Nurseries carries an Ely pear, which is grafted from a pear in nearby Ely that has been standing there for more than 100 years. We really want one for ourselves! But the owners of St. Lawrence Nurseries are retiring and we don't know if we'll ever get a chance to get it again, so we're ordering early.
Although it may seem strange, we're starting to "think spring." I've got a speaking engagement down in Aberdeen, SD, at the Northern Plains Sustainable Agriculture Conference from Jan 22rd to 24th. So if you're in the area, I'd love for you to stop by and say hi! I have an all afternoon, pre-conference workshop on the 22nd and others the following two days so I'll be busy. But there'll be plenty of time to visit between and after workshops.
Then in February, it's time to start some peppers and petunias. — Jackie