Wednesday, March 4th, 2015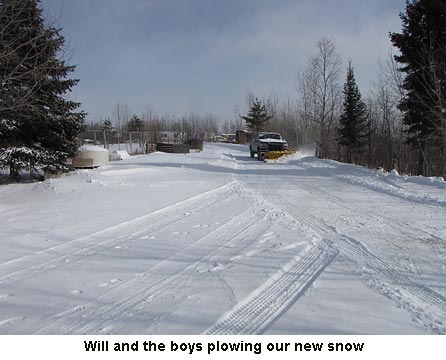 As we're crawling towards spring, we've been stuck in a cold arctic spell. Last night it was -18 and today at noon, it warmed up to zero. With a wind. Plus we just got four inches of new snow. So Will and the "boys" set out to plow the driveway.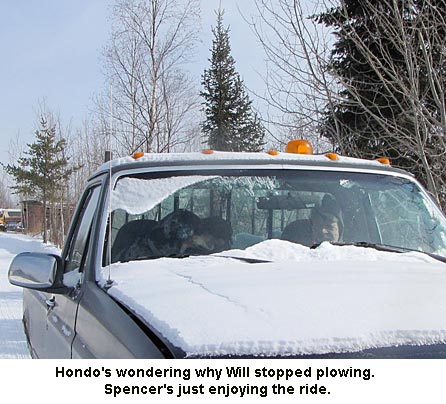 Hondo used to hate going in the truck. He got sick, drooled, and shook. But Will worked with him all winter, putting him in the truck and only driving around the circle in the yard, parking the truck with Hondo and Spencer in it. And it worked. Just lately, Hondo decided that he loves to ride! Now when Will says "load up boys," Hondo is the first one to the truck door and the first inside. He sits right up and watches with interest as the snow flies, observing the birds, squirrels, and other wildlife he spots on the driveway. To Spencer, it's old hat; he's ridden shotgun in the pickup all his life and has always loved to go. It got so we even had to spell the word "go." Then he learned to spell. Go figure…

While the boys were plowing, I started soaking my peat pellets so I can get my peppers and petunias planted. I've found that when I use hot water to soak them, they swell up faster and the warm, damp pellets encourage very fast germination of the seeds. I cram several pellets into a variety of trays I've saved for this purpose, plant two seeds per pellet, then slip the whole works into a plastic shopping bag. The containers then go on the shelves of my cheapo little plastic-covered greenhouse that I've got on the side of the wood stove. So they stay nice and warm, out of the way of Mittens; and seedlings pop up very fast.
They say it's supposed to be 40° F or even higher, come Sunday. And let me say we're REALLY looking forward to that! — Jackie