Thursday, December 5th, 2013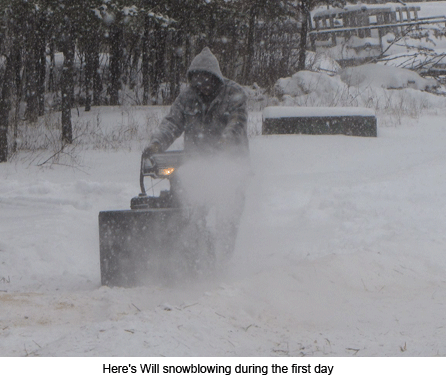 They said it was going to snow pretty bad so we got ready, moving things we hadn't gotten out of the way, putting the snowplow on the truck, making sure the animals had plenty of bedding and feed. Then it started snowing — inches per hour. And it snowed all day. Later in the afternoon, David plowed the driveway so he could get out to school (they still hadn't cancelled it!) and Will started snowblowing the trails around the buildings.
If you've never had a snowblower and live in "winter country," let me tell you how much work they save! Now we would never be without one.
Yeah, both Will and I have shoveled hundreds of feet of driveway and paths on the homestead. But Will's grandfather also dropped dead shoveling snow, as do many people every single snow storm. Not only is the snowblower easier on you but it blows the snow in any direction you wish and leaves the edges of the clean areas smooth with no big berm that gets bigger as winter progresses…and also causes snow drifts to form.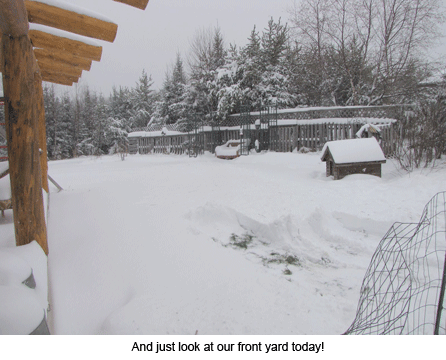 We ended up with about two feet of new snow out of this storm and the temps are dropping to HIGHS of around zero all of this week. I guess it is lucky we got the snow first as it'll help keep things such as septic tanks and water lines from freezing. But BRrrrrrrrrrrr! Hey Will, throw another log on the fire. — Jackie