Saturday, December 20th, 2014
We're really grateful for so many different things. We are grateful for each other and for this wonderful homestead that just keeps getting better every day.
When I think of moving here in 2003, in February, when there was nothing but small trees, old logs and stumps with big woods all around and all we've accomplished it doesn't seem possible: the log house, huge storage building, big gardens, berry patch, orchard, tons of fencing, fenced pig pastures or extra garden (whichever is needed), a training ring and adjacent barn, clearing two pastures, then the third huge one on the new forty acres we bought three years ago, plowing and planting many acres, buying haying equipment, and building the new barn.
Stocking up the pantry after nearly depleting it after our move here is beyond belief. We're eating our own home-raised pork, chicken, eggs, milk, and beef along with some canned venison from last year as well as plenty of fruits and vegetables from our homestead.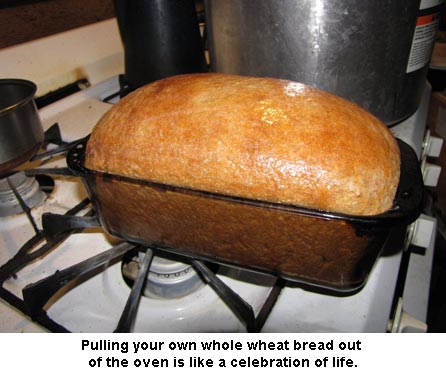 The bread we bake is from flour we grind and after that bout with diverticulitis, I'm SO happy to be able to eat whole wheat bread again! It's like a celebration, pulling a loaf out of the oven. We never take things for granted but appreciate every single day. — Jackie