The Hardy Awards 2006

By Claire Wolfe
with Wally Conger and Oliver Del Signore

November 1, 2006
Yes, even with government supremacists invading Hardyville life goes on. And so do the annual Hardy Awards. In September, you saw the nominees in our famous Freedom Film Festival. Now, with trumpets blaring and freedom flags (still) flying, it's time to present The Hardy Awards.
As you know, we give a People's Choice Award and a Judges' Award in each category. You readers v*te on the former. Wally-the-Media-Maven, Oliver-the-BHM-Webmaster, and I argue, wave our arms around, agree on almost nothing, and eventually issue the Judges' Awards.
This year we also present a list of special awards for achievements that don't fit peacefully into any regular category. So without further bating of breath, we give you:
The Hardy Awards
BEST FILM
Theatrical or DVD release within the last two years

The nominees were:

The winners are:
People's Choice Award: V for Vendetta
Judges' Award: V for Vendetta
In a year when almost nobody agreed on almost anything, V was everybody's choice for everything. This rebellious thriller from the makers of The Matrix got all but 14 of the People's votes and was the Judges unanimous choice for best freedom film of the year.
After that, everybody went back to disagreeing.
DOCUMENTARIES
Any year

The nominees were: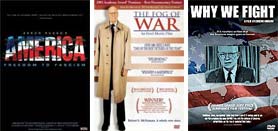 The winners are:
People's Choice Award: America: Freedom to Fascism
Judges' Award: The Fog of War
The People were adamant about this category, also. You gave Freedom to Fascism about four times more votes than either competitor. Your humble judges felt like heels for voting against what was clearly the most freedom-oriented film in its class. But for all its worthy intentions, we simply couldn't call Freedom To Fascism the best overall documentary.
BEST FOREIGN-LANGUAGE FILM
Any year

The nominees were: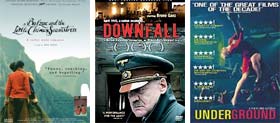 The winners are:
People's Choice Award: Underground
Judges' Award: Downfall
An enthusiastic cabal of voters pushed the madcap Underground ahead of the competition. Although my fellow judges outvoted me, I personally agree with the People on this one.
HALL OF FAME
Older than 10 years

The nominees were:

The winners are:
People's Choice Award: The Fountainhead
Judges' Award: Metropolis
The People, it seems, went for ideology and heroic sentiment. The judges opted for film-buffery, choosing a little-watched but forever-praised silent film as this year's greatest classic.
And now …
THE HARDY ODDBALL AWARDS
A previously unannounced selection of Your Humble Judges' favorite moments, characters, features, bugs, and quirks in recent films.
Sleaziest Politician: Powers Boothe as Senator Roark in Sin City
Slimiest Ensemble of Villains: Almost everyone in Syriana (and in the real-world struggle for the control of Middle Eastern oil)
Hottest Freedom Fighter (Male Perspective): Milla Jovovich as Violet Song jat Shariff in
Ultraviolet
Hottest Pirate and General All-Round Anti-Authoritarian (Female Perspective): Johnny Depp as Captain Jack Sparrow in both Pirates of the Caribbean movies
Lead Character You'd Most Like to Beat with a 2×4: A tie: Bruno Ganz as Hitler in Downfall, Anthony Hopkins as Nixon in Nixon
Lead Character You'd Most Like to Have Dinner with: Whodathunkit? But it's true: Robert McNamara as himself in The Fog of War
Most Shamefully Underappreciated and Neglected Freedom Film: Reefer Madness: The Movie Musical Whassup with you guys, anyhow? This is a hysterically wonderful film with a sharp-as-a-tack message and not a single one of the People voted for it.
Most People Stuffed into a Tank: Underground
Most Authentic Portrayal of a Cop: Benicio Del Toro as Jackie Boy in Sin City
Best 132-Minute Performance Behind a Guy Fawkes Mask: Hugo Weaving as V in V for Vendetta
Worst Hairstyle on a Rebel Leader: Frances McDormand as Handler in Aeon Flux
Best Song Segue into Closing Credits — Ever: The Rolling Stones' "Street Fighting Man" in V for Vendetta
Most Ass-Kicking Hero in a Recent Motion Picture: Who else? Hugo Weaving and various stuntpersons as V in V for Vendetta
And finally …
Best Demolition of a Government Building: Parliament to the tune of "The 1812 Overture" in V for Vendetta