Letters To The Editor
From Issue #87
The benefits of storing onions in nylon stockings
There was a person in Jackie Clay's section of the Jan/Feb 2004 issue that was looking for ways to store onions (Edwin Long, Plymouth, NC). I also did not know what to do with all my onions as they seem to grow like weeds up here! My grandmother gave me the perfect solution (I am not sure where she got it from). I purchase nylons (I buy them when I see a great sale as they have a multitude of uses and you can get the cheapest ones on sale most times less than 50 cents), cut the tops off so you have just the legs. After I clean off the onions (I don't wash them) I drop one onion into the leg of the nylon, tie a knot just above the onion, drop another onion in and tie another knot. Because the nylon stretches so much I have been known to get 10-15 large onions in one leg and more importantly the onion is suspended without any pressure points. Continue until the leg is just about full, leaving a bit at the top. You end up with a long string of onions with knots tied in between each one. I then hang my "onion leg" from a hook in the pantry or the rack in a closet that stays fairly cool and dark. It is important when hanging them to make sure they are not touching anything else like the wall or another 'leg.' When I need one for cooking I simply cut the bottom onion off the leg below the last knot and the rest stay put for next time. Peel them and you have nice fresh onions all winter. I have never had a problem with smell and although I have the odd one go bad, I keep approximately 95% of my onion crop. As for length of time they stay good, I am currently eating from a 'leg' put up in June of '03 and have always eaten them up long' before they go bad.
Nicole Marcotte
panbear@telus.net
Is there a carbon monoxide threat from woodstoves?
I want to switch to a woodstove once I can find a used one in decent condition. My husband says that we should stick with propane because he is concerned about carbon monoxide poisoning with a woodstove. Is this a real danger? How often does it become a serious threat, and what actions if any could be taken to minimize this risk? Also, how much money should we have in savings before we begin our own life in the backwoods? We are currently paying off our credit card debts and destroying the cards as we get them cleared, and then we will begin putting that money into savings. Right now we live in a low income part of the suburbs, but I am anxious to move past this part of my life to live the life I have dreamed of since I was a small girl. I am a pioneer at heart, but I can't seem to figure out where to start cutting the strings of society.
Jami Carrell
jamicarrell@msn.com
I have heated with a woodstove for about 20 years. Properly installed, the technology is very safe today. If you are real concerned you can always get a carbon monoxide detector that will alert you to any problem. Keep in mind that propane appliances also have a flame. Any device, improperly installed, whether it's a propane heater or a woodstove, has the potential to produce dangerous levels of carbon monoxide.

Getting out of debt and figuring out a way to make an income in the country are two key financial things you must do. You'll go through any savings more quickly than you want, so you must figure out how to earn more money to sustain the lifestyle you choose. — Dave
Found BHM on a newsstand rack
I found your magazine on a rack at the book store. I was a reader of ASG and found your magazine by luck. I missed ASG, that is until I found your magazine. I read it and then my wife. We both love your magazine.
Pete Smith
Roseville, CA
Glad you found us. We are pulling the magazine off many newsstand racks now, but remaining in the large bookstores such as Walden's, Crowne, B. Dalton, etc. — Dave
Dorothy Ainsworth is an inspiration
What a woman! I have bragged about this woman to my entire family and read portions of her story. I read the prior articles when she built her first home that burned.
She is an inspiration to women who want to accomplish dreams in their lives, but for some reason feel they cannot. Here is a woman, obviously well read, with gumption and intelligence and most of all, self-confidence.
Not only can she build, but she can write. She is a superior woman who makes it all look so easy because I believe she loves every moment of her life and she has the energy, patience and God given gifts.
Ruth Plante
San Antonio, TX
I think Dorothy Ainsworth is gorgeous, not just because she IS built, but because she CAN BUILD! I have a mother and four older sisters who are incredibly strong women, not just physically, but that too. They think she's way cool because of her abilities and her outlook, as well. All of them are gorgeous and "brainy," too. I apologize on behalf of the dough-heads (both men and women) who saw the cover of the book and made their false judgments, both probably not being able to comprehend the technical details of her accomplishments. Good looking house. Nice job.
Sam Nuckolls, Arabic Linguist
Baghdad, Iraq
Silveira to a shrink
Here's my check for 3 more years of BHM. I've been reading for 4 or 5 years now and I've always enjoyed it. My favorite is anything by Jackie Clay. I also like Dave's editorials, especially the one about the "Cat Loonies."
It's hard to pick one thing I like about BHM because I like it all. In closing I'd just like to say I think you need to get Silveira to a shrink as soon as possible. There may still be time to save him.
Sam Walters
Newark, OH
I'll replace wackos who cancelled their subscriptions
I just got off the phone with your subscription office. I renewed for 3 years. No, it wasn't time to renew. I had just finished reading the "letters" section of the March/April magazine. For the "wackos" you had cancel I just took up the slack. No one should be silenced or punished for telling the truth. I will just follow a unique American tradition by putting my money where my mouth is.
Bill Scott
Summerfield, FL
Letter tones reveal nature of the person
I enjoy your magazine very much. I normally wouldn't write but I had an observation. While reading the letters to the editor in issue #86, I noticed the well-thought out, literate letters supporting the barnyard scramble (sounds like a blast!) and the irate, rude, fanatical replies against it. Could it be that some people have spent so much time humanizing animals that they've forgotten how to deal with actual humans? Hmmm….I wonder. Wouldn't it be nice if we all could force our beliefs on everyone else?
A.B. King
Groveton, NH
City rube makes the move to country life
My wife and I recently moved to a 20 acre 'hobby farm' from a Detroit suburb. We still live near Detroit, but about 40 miles north of it. There are so many new things to learn, and thankfully your magazine has covered quite a few areas of information over the last three years I have subscribed. I have been looking for an article written by a city rube (like me) that recently moved to the country, and all the trials and tribulations that they faced. Have not really seen one, but will keep searching. I have a couple of anthologies, but should probably get a few more. I guess my favorite is Jackie. She walks the talk.
Charles Cline
twopatriots@peoplepc.com
Our back issue anthologies are where you'll find such articles. — Dave
Building a home and preserving food in Alaska
Greetings from Tok, Alaska! We are still hovering around zero and have about two feet of snow on the ground, so the arrival of the Backwoods Home Magazine is really a welcome treat! I always read it from cover to cover to find all the tips and goodies in there. For my own personal interests, this has been the best issue yet!
We finally got fed up with the rat race about three years ago, so we sold almost everything we owned, quit our long standing jobs, packed what we had left, and moved here from central Oregon. Our kids are all grown and gone, so we decided it was Mom and Dad's turn to live the "American Dream."
It hasn't been easy, but has been so satisfying and rewarding that we have no regrets. We built our own 1900-square-foot log home with our own hands—milling, peeling, sanding, lifting, and stacking our own logs. The only things we had to have hired done was to have the concrete brought in for the footings and foundation. We had a well drilled, the trenches dug for power and sewer, (frostline here can reach as deep as 7 feet!) and we had the main ridge log set. Beyond that, we did everything ourselves and worked full time jobs as well. The house isn't finished by any means, but we've been in it for two years now. Milling and making all of our own lumber slows that process down some, and since we are paying for it as it goes up, finances play a part as well. Bartering has been a Godsend, and we've done some recycling as well by using salvaged 50-year-old cedar telephone poles to make 1×4 tongue and groove for the bathroom walls and cabinetry. My husband built houses for a living in the '70s in Oregon, so has done a beautiful job putting this home together, even with no prior "log" experience.
One of my many interests is food preservation and gardening. I noticed a couple of good canning recipes in Jackie's column this issue…I don't suppose she has any kind of canning cookbook or the like does she? I have regular canning books, but she seems to have some unique recipes for "whole meal" type canning that really interest me. Her article on mushrooms was great! I'm going to try to "plant" some shaggy manes on my property next year like she did. I never knew they could be propagated like that. Also, I know that Gold Beach is in the "banana belt" of Oregon, (we lived there in '92 and '93) but might any of you, or your readers, have any tips for growing things in Zone 1? It got down to 68 degrees below zero in January, and I can't imagine much surviving that! Got any ideas?
Jerry Cnossen
jcnossen@aptalaska.net
Jackie has a CD-ROM with, among other things, canning techniques. She also lives in the "cold" northern Midwest so I'll send her your letter so she can address growing things at 68° below zero. — Dave
Try Blake's Pride and Potomac pears
In a recent article, "No worrying about fire blight with Orient and Kieffer pears" Alice Brantley Yeager discussed fire blight and pears. She made no mention of two varieties recently released by USDA, Potomac and Blake's Pride. These are high quality European pears that are very resistant to fire blight. In a test block in West Virginia, I've seen hundreds of blight-susceptible varieties turned completely black and brown by midsummer, with Potomac and Blake's Pride standing as green islands among them.
We don't know yet whether these two new varieties can be produced as dwarf trees by grafting onto quince rootstock; that is under test. Semidwarf trees can be made by grafting onto some of the Old Home Farmingdale rootstocks—if they can be found.
One cultural technique not mentioned in Yeagers's article: limb spreading will bring any pear variety into earlier production and will slightly reduce eventual tree size. We use spring-type clothespins during the first 2 or 3 growing seasons to obtain wide crotch angles, and once limbs develop we use homemade spreaders to bring down those vertical limbs.
James N. Cummins, PhD
Geneva, NY
Using newspaper to wrap canning jars
Just read canning basics by Jackie Clay in issue #85. As usual, great information. I would like to add a tip that may be helpful.
Until 6 years ago, my mom canned about 200 quarts of tomatoes as tomatoes alone and as sauce, as well as about 200 quarts each of peaches and pears, sliced and halved. Each year she put up one item, which lasted about 3 years for us, on a rotating basis.
For some 45 years my job was to "wrap the jars." In those days money was tight and we couldn't afford a rack for keeping the jars apart and off the bottom. I individually wrapped each jar in newspaper (black ink only). Wearing winter leather gloves, I would wrap each hot-filled and capped jar my mom placed in the center of 6-8 open sheets of newspaper, and slowly put them into a large pot of simmering hot water. As newspaper got saturated, it kept its shape long enough to place all the jars the pot could hold. The newspaper wrapping kept the "dancing jars" in the boiling water separated and intact. When finished and cool, the jars were lifted out for storage, and the pot of water and soggy newspaper was dumped into pre-dug holes in the garden, for burying together with kitchen scraps, and composted. Never lost a jar.
B. Galioto
East Elmhurst, NY
Making it easy to buy a copy of the U.S. Constitution
Please send me a single copy of the greatest documents ever written, the Declaration of Independence and the Constitution of the United States. I have enclosed $3 cash for 1 copy. Thank you for making it possible for people on low incomes to purchase this.
Pamela Housden
Jasper, AR
A great pass from ASG to BHM
I was an ASG subscriber until they were 'coerced' into caving in to the jack-booted Gov't thugs. T'was a shame, their freedoms trampled by those who should be defending them. However, I am glad they left us an 'out,' and a chance to try a truly great magazine, Backwoods Home. A great pass, and a terrific save. Keep up the good work guys, and I'll keep on renewing. Pass on your wisdom to those who will use it wisely so that when you must retire the good works will live on. Long live the free. Amen.
James Brown
Lancaster, OH
Underground homes
Some time ago a reader asked about inexpensive homes. This might interest her.
Many Indians lived underground or partly underground, as did many Europeans. Dugouts, hogans, and caves were used. In North Africa today, entire peoples still live in underground homes. These can be built of tarred-wood, stone, or other forms. Wood rots eventually. I can, using today's materials, build a 40'x40′ earth-sheltered home for under $20,000 that will last for, probably, centuries…In the Great Plains, most people dug/built "underground" homes. They also built soddies. These are just rectangles of sod laid in a square or circle, one on top of another, until the desired height is reached. A water-proof roof is built, extending out in "eaves" to protect the sods from rain. They grow grass in damp seasons, which hangs down dry later, and are quite hard to find if built properly. Roofs are often overlapping sheets of bark with soil piled on top to insulate and grow more grass. A soddy, about two stories high, still exists in the town where I built my cabin, and is probably a hundred years old. It has been faced with wood now.
Paul Doerr
Fairfield, CA
Thanks for welcoming opposing views
We would like to order the Whole Sheebang. We have been reading your magazine for about 2 years now from the library. We enjoy the many articles and am surprised and pleased that you also respect the fact that opposing views are even welcome. Most publications wouldn't even print them. We are looking forward to the many articles that will give us loads of information and the opportunity to learn even more with our two year subscription. Have read Mother Earth News for years. Upon discovering your magazine, I have found it much more informative and articles more in tune for the average person.
Jack and Beverly Koncz
Franklin, OH
BHM helped me deliver my triplets
I'm renewing again. I cannot say enough about your magazine. It helped me thru a difficult triplet pregnancy. When I was on bed rest I could hardly wait for Backwoods Home to show up in the mailbox. As always, I read you from cover to cover and have for many years. I finally have my husband reading you also. My dream is getting closer as my family will be moving from our current 6 acres to 30 acres with a lake.
Jesika Bird
Crestwood, KY
Best move ever
The best magazine I have ever read. I was a plumbing heating contractor for 25 years in the city. (What a hell hole.) Three years ago I moved to the country, best move I ever made. I feel better, health wise, and no crime to speak of. I feel free, no police to hassle you on silly things. Thanks again for a great magazine.
Don Cooley
Wellsboro, PA
My dream home is a place I build myself
I would like to see more articles on cabin construction. Off the grid living. Such as—going on to the land, clearing a site, felling the trees used to build, then building. Or sod type homes. Or whatever is possible to keep away the socialites and heirs to fortunes that are available to "have built" their dream homes. My dream home is a solid place I can build, with a few friends help, to be left alone and raise my family.
R. Appleby
Represa, CA
One of the only no B.S. mags around
Hi, I'm writing to let you's know that I am extremely happy with your publication. I wait anxiously for the next issue when it comes time for it. Yours is one of the ONLY no B.S. mags around. Thanks for all your help. Keep up the good work, actually great work, and may God keep us strong and healthy. Long live America, the country not the government.
Wally Roberts
Sharpsburg, GA
Not just old folks get Social Security
Here is a little known fact. Social Security encompasses a whole spectrum of entitlement programs. The entitlement programs include, but are not limited to: Aid to Dependent Children, Public Assistance, General Assistance, Supplement Security Income, Aid to the Disabled, Blind Pension, the list goes on. My point? The Social Security Program encompasses the entire public welfare system. It is a fallacy to think of just the old folks pension program.
Truth be told the old folks would march on D.C. if they ever found out their "grey power" was used to increase the welfare grants.
If the welfare (Public Assistance, et al) monies were segregated from old age pension there would be some real astonished folks. Few realize that there are generations of welfare recipients who now get old age pension. Folks who never paid into the "system." How do I know this to be fact? Twenty five years as a welfare fraud investigator for the Commonwealth of Pennsylvania.
Initially the Social Security program was to provide an income for those who worked until they could no longer perform a useful service.
Since 1939 the politicians used the program to gain voters.
Harry Nemec
Interlachen, FL
Buying land and living the good life
This is a first, writing to a magazine. Your magazine was a great influence in my buying land and planning to live the good life. I have 3.5 acres, 4 miles off the black top, in the White Mountains of Arizona, (paid for), have put in septic, also paid for. At present I am living in a small travel tailer (read storage shed) waiting for the weather to break (snow to melt and temp. above 32 degrees) to start my house.
I am hoping to emulate Dorothy Ainsworth and do it all myself (yeah no problem, Ha) But I have most of the knowledge and the incentive so hopefully it will come to fruition…
Love all the articles, especially Solar (which I am now using). Jackie Clay, Massad Ayoob, and your views on the small factions that want to tell the rest of us how we should live and the hell with what we want. The NOW generation needs to learn to live an easier and simpler life free from the constant striving to keep up with the Joneses, and expecting the government to take care of them.
I must compliment you on having such pretty ladies working for you (issue #85 pg. 9). You can send one down here to help me although I probably don't pay as well as you.
Richard Maier
Concho, AZ
Shaving with a straight razor
It's been three and a half months since I read Steve Gregg's article on "Shaving with a straight razor." After reading it, I immediately got out my great grandfather's razor, and started to sharpen it on the finest stone I had. Found the razor strop, finished the blade on it, and started to shave.
At last! A decent shave from that old razor! I was very pleased.
I should back up a little bit. About 12 years ago I was talking with my Grandad and mentioned that I would like to learn how to shave with a straight razor. Upon hearing this, he gave me his Dad's razor and strop. He then showed me how to run the razor on the strop. Giving no other details, I assumed that was all there was to it. So I went home to give it a try. Wow! The razor was sharp, but not nearly sharp enough. All it did was tug on the whiskers and give me severe razor burn.
I figured my skin was too sensitive and that a hundred years ago shaving wasn't for wimps. So after reading your article, and getting the correct details on sharpening the thing, I've been shaving with it ever since. My thanks go out to you for a great magazine and to Mr. Gregg for writing the article.
Clint Clarin
East Wenatchee, WA
Health insurance for the self-employed
We are longtime readers of your magazine and don't miss an issue. I was also fortunate enough to meet and talk to you at a self reliant energy conference in Wisconsin some years ago. Keep up the good work and don't let them silence us. We can be the conscience of the country.
Anyway my wife and I are throwing in the towel and giving up our dull, boring and horrendous day time jobs for an exciting new adventure as self-reliant and self employed homesteaders. We plan on moving to Michigan and opening up our own business. Our problem, which gives us pause in giving up our day time job, is that we would have to start paying for our own health insurance. (Ugh). We know that it is expensive but are also aware that there are some "catastrophic" plans that are less expensive, but protect one from losing all of your savings in case of a life threatening illness or accident.
…It would be nice if your magazine could take a look at what plans, and relative costs, would be out there in the real world of which we "self employed" could take advantage. I've done some research but in most cases I end with providers wanting me to buy their plans.
Daniel & Jennifer Grahovac
North Middlesex, VT
It is a topic we will likely try to cover. I'm not sure there is a satisfactory answer, however. I'm age 60 and am looking for a plan that will cover me in case I get catastrophically ill after age 65 when I'm forced to rely on Medicare (right now I and the other BHM employees have the company plan). Believing Medicare will be inadequate for my age group (I am part of that enormous baby boom bubble that will likely swamp both social security and Medicare in coming years), I've been talking with some insurers to see what I can find after I no longer qualify for BHM's policy, but I have yet to find a suitable plan. I've asked an acquaintance with far more knowledge in the area than I have to do further research. So we'll see what she comes up with.

For people under age 65, there are catastrophic plans available with high deductibles, which is essentially what BHM and other small businesses offer their employees. All are very expensive. BHM's plan, for example, costs $425 per month per employee and it has a $1,000 deductible. But it protects well against catastrophic illness. You should be able to find a similar plan for individuals. — Dave
Pursuing tourism peril for small towns
Your article on Raymond, WA, was very interesting. I lived in another town in Washington (Leavenworth, the "Bavarian Village") twice: both before it pulled itself up by the bootstraps, and 20 years later when it had become a "success"—and I'd like to make some observations on the pursuit of tourism, which I hope the citizens of Raymond will take to heart.
Space: If the town has little room to grow, it will quickly be overcome when tourists and new residents, descend on it. Zoning is not the answer, however. A crucial understanding of where you really want to go is more important than just passing laws. Zoning only complicates what you have.
Politics: Big fish in little ponds tend to splash mightily while going nowhere. Many leading citizens of a small community are not capable of handling the problems that present themselves when growth takes off. And many jump on the newest trends without realizing 'it just won't work' in their community. Be very careful who you put in charge, and know what they advocate before you choose them.
Cost of living: The price of land and homes, including rentals, jumps exorbitantly when tourism is promoted, especially after developers move in. This often prices the current or potential resident right out of the picture. Taxes invariably rise like a helium balloon, as does the cost of products and services beyond their worth—and certainly beyond what the residents, if not tourists, can afford. This is patently unfair to those of any community who must stay and tough it out after the tourist goes home.
Regulations: Individuals and committees try to pass every law they can think of to prove they are doing their jobs. And many of the regulations are absurd and ultimately defeat the purpose of the town's intent.
An example in Leavenworth: MacDonald's wished to place a restaurant there, but the town was adamantly opposed to anything that did not look like 'Bavaria,' so MacDonald's could not put up its Golden Arch, and could only paint it on the store window no bigger than a certain size. For months they negotiated, till MacDonald's gave up and pulled out. Who lost here, if not the town? (In actuality the town already had a better hamburger than MacDonald's, in a small hamburger joint that had been around for several years—but MacDonald's jobs and sales were lost nevertheless.) Don't be so determined to regulate the town that you don't comprehend the results before you act. Frequently it's better to have NO law than to live under the WRONG law.
It looks and sounds as if Raymond has a very good chance: it has the space to expand, and is far enough off the beaten path that it will not be overwhelmed by tourists before it can determine its own mission. I hope it thinks carefully before it acts.
Pat Taylor
ceridwen@inna.net
A workbench vise to crack black walnuts
I collect and open black walnuts. I use my workbench vise to crack the nuts because I can control the pressure so the parts don't fly all over. When I have them open I use a 6″ side cutter to finish opening the nuts. This way I can get full quarters. I put the pointed ends of the nuts on the faces of the vise and this opens the nuts long for easy finishing.
Charlie Jones
crjones66@insightbb.com
Who's destroying American jobs?
John, how many more Americans will lose their job before guys like you stop buying Jap cars? I'm a bit surprised.
Ted
FarRockwy@aol.com
First of all, my car may have a Honda name on it, but it was built in Ohio. I can tell by the VIN. If a Honda's VIN starts with a 1 (as mine does) it was built here. Second, your "American" car wasn't built here. Parts of it were, and it may even have been assembled here, but go through it and you'll be surprised how many parts come from somewhere else. Third, even if my car was 100% Japanese, what I find laughable is that people ask why I don't buy an American car. Here's my answer: When Americans start building a car as well as the Japanese do, I'll buy it. The trouble is that American automobile manufacturers and American unions are too greedy to build me a decent car, yet they want my support. So, instead of quality, what they've been reduced to is trying to get me to buy their products by waving an American flag over it.

And before you say they work cheaper overseas (the Japanese don't work all that much cheaper), well, I work cheaper, too. I don't make as much as the guys on the line in the autoworker's union, and I certainly don't make as much as someone in management. But believe me, I still work hard for my money. Maybe you don't. Maybe you have dough to throw away to guys making more than I do. I don't. And as long as the Japanese are willing to give me a fair deal (Remember when Americans used to do that, give you a good buy for your money?) they'll get my business, not people who won't give me quality for my dough.

Go out on line and read how Honda is building "Japanese" cars I'm willing to buy, in Ohio, with American workers. It's interesting. It'll give you an insight into how "good" cars are built. Here's a place to start. http://www.wsjclassroomedition.com/archive/03jan/AUTO.htm

In the meantime, people who willingly buy second-rate American products make it safe for American manufacturers to continue building second-rate products. If you work hard for your money as I do, and you have as little as I do, yet you still buy an American car and expect things to change for the better…well then, "I'm a bit surprised."
— John Silveira
Animal rights activists—a strange group
Please do not be overly concerned with the minority of subscribers who are cancelling their subscriptions in lieu of the "Animal Rights Loonies" editorial. I will be subscribing to your magazine shortly, after being a newsstand reader for a couple of years. Hopefully this will help make up for these cancellations.
Animal rights activists are a very strange group. The desire to pursue the well-being of animals becomes a life-consuming addiction, and they take this out on anyone who digresses from their views. The funny thing is that they do not give a damn about other human beings! When was the last time an animal rights activist stopped to help a homeless person in need? Or volunteer time for mortally ill children? Almost never. They would rather jump in their Toyotas and head to Starbucks to ponder their issues.
Most animal rights activists that I have met are pro-choice (abortion)!
What a dichotomy, when an individual can retain an intense passion for saving the lives of lower species while allowing (and supporting) the death of human beings! And I am not a pro-lifer, either (actually, I do not have a stance on that one).
The truth of the matter is that animal husbandry and slaughter is an important skill of self-sufficiency. A true homesteader would likely not survive on vegetables alone during the winter months. Animal foods contain significantly more energy per unit consumed and can actually keep better when canned or jerked. I am sure that in some cases a homestead can suffice on vegetables alone, but that is the exception and not the rule.
As for the woman who cancelled her subscription due to your "limited value magazine"—if she found the value to be so limited, why did she renew her subscription? And Steve, who took the time to so graciously f-bomb the editor—ignore him, he is most likely a miseducated college lackey.
Bob
nobody@mail.futureworlds.it
Upgrading electrical and water with solar
A few years ago, a decision to upgrade the aging electrical and water systems at our remote, off-grid home site near Angus, New Mexico, was made. The original electrical system was powered by a diesel fueled 10kw Onan generator. Well water was pumped by a 2-horsepower submersible pump to a 1000-gallon storage tank for gravity flow to the cabin.
Our old well house was refurbished with stucco walls and a new metal roof. As the structure had been built into a hillside, dirt was piled around the north and west exterior for added insulation. Rain gutters direct water away from the structure. A RV-style Onan gasoline powered generator was installed in the new generator closet as was a marine-style automatic fire control system, a breaker box, and 120-volt outlet.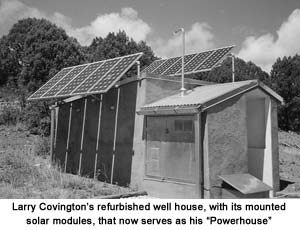 Along with the exterior remodel, solar panel mounting racks were included. Ten Astropower 75-watt modules were mounted onto the south-facing adjustable mounts. Trace safety disconnects and C-series charge controllers were added to handle charging the 10 Trojan L16 6-volt batteries. The batteries were linked by series and parallel cables into a 12-volt battery bank. A Trace 250-amp disconnect was used as overload/disconnect equipment. A Portawattz modified sine wave inverter delivers 2500 continuous watts to the main breader box nearby. Automatic transfer switches provide generator power as back up for the cabin, for water pumping, and for battery charging. An Iota PLS series charger is used to charge the battery bank when the solar is not enough.
The original 240-volt 2-horsepower submersible well pump was replaced with a 120-volt 1-horsepower model. The new pump can be activated manually on a timer switch to fill the original storage tank using inverter or generator power. An automatic pressure tank system has also been installed.
Our future plans include extending the solar panel mountings to accommodate four additional 75-watt modules and a wind generator to compliment the solar charging. A sealed and vented battery enclosure is also in the works.
We now call the old pump house our "Powerhouse" and it has been up and running since July 2000.
Larry Covington
Dallas, TX
Memories of my Irish Catholic Mom
Here is my check for my two year renewal. A great magazine. Enjoy all articles even if I don't do some of the things. I pass the magazine on to my two God children, both hunters, fishermen and outdoorsmen, a father and son. Enjoyed your article in Jan/Feb 2002, #79 (Questions I'm not supposed to ask). Brought back memories of my Irish Catholic Mom, and her thought and discipline. Outstanding stuff and great work.
David T. Eberle
Philadelphia, PA
Newsstand convert
I've been news-standing your magazine forever. Got the first issue. It's about time to subscribe. You have the best magazine I have ever read.
John P. Grahl
Eden, WI
Will trade stamps for the U.S. Constitution
Hello, I was recently blessed with a gift subscription to your magazine.
I cannot express just how much I love and look forward to each new issue. I can't open it or turn a page without learning something that is new to me.
As I am currently in jail, I have cause to love this magazine even more than the average citizen, because it keeps my brain from turning into a lump of mush.
I wish I could purchase all the books and magazines that you offer in the BHM bookstore. But I can't.
I want to ask about the "Pocket size U.S. Constitution" you sell for $3. Could I pay for it with mint condition U.S. postage stamps? I may well be in jail, but I do love my country and the document (law) that makes the life we know in America possible.
Please let me know if this method of payment is possible.
Thank you all so very much for all you do.
Joey LeBlanc
Corcoran, CA
Yes. — Dave
Turn off the tube & turn on talk radio
After purchasing your magazine at the newsstand for over two years I'm finally subscribing. (Talk about procrastinating). I'm going to make this short as possible. I have studied where the world and especially the U. S. are headed since the early '80s and it looks bleak at best. Turn off the boob tube and turn on shortwave talk radio. You will learn why real fast. I enjoyed vol. #74 and #81. Don't ignore what your heart's telling you Dave Duffy. I like the way you put it. My wife and I are Christians using your magazine to help learn self reliant living, so we can be prepared to take care of ourselves and others when the fecal matter hits the rotary oscillator. And I did say when not if. Tell John Silveira I think he's on target. We enjoy your magazine.
Rob Pilar