Tuesday, September 16th, 2014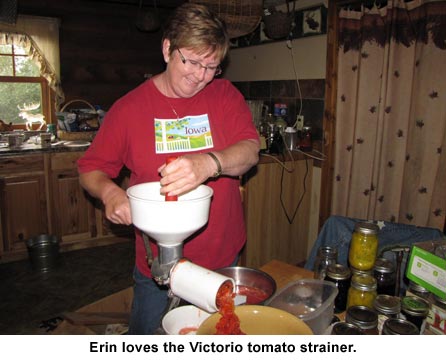 This fall we only had one person attend our canning/homesteading seminar. But I'm sure Erin had fun and learned a lot. And being the only person, she got our undivided personal attention. We canned chicken stew, harvested tomatoes, extracted seeds from tomatoes to save, rinsed fermented tomato seeds and set them to dry, ground tomatoes through the Victorio tomato squeezer, talked extensively about heirloom vegetables and how to save their seeds, toured the orchard and the rest of the homestead, butchered chickens (included the maiden voyage of Will's tornado clucker plucker, which worked VERY well!), and we answered a ton of questions. It was fun for us too, even though I was only a week past gallbladder surgery.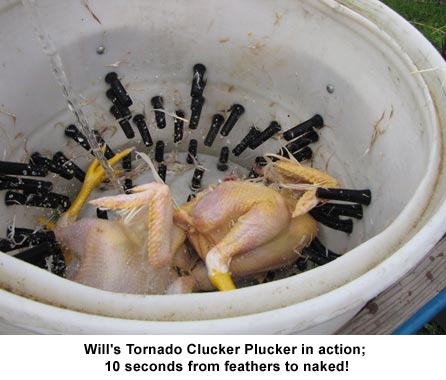 As usual, we parted on Sunday afternoon feeling a bit lost like we do when a member of our family goes home.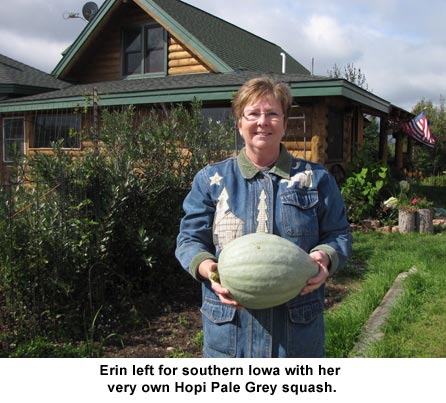 Now it's back to homesteading, harvesting tomatoes that weren't frozen by our cold snap, canning, canning, and canning.
Will's busy installing insulated plywood panels underneath the walls of our addition. In the spring he'll be starting to build the rock walls on top of the concrete footings using the plywood with wire attached as a backing for the rockwork. We know it'll look great and keep the wind from whistling under our floor. — Jackie