Thursday, July 3rd, 2014
The rains have seemed to quit and we're getting more caught up (or is it less behind?). Yesterday and today Will poured cement and laid up rock in the lower barn wall's slipforms. Today, he's out cutting our first hayfield. It's only a small patch (4 acres or so). It's the cleared spot down below the goat pasture that used to be log trash, willow brush, and potholes. Now it's orchard grass, clover, and birdsfoot trefoil, some six feet tall. We're not supposed to get rain for a few days so we'll see…
Meanwhile, I planted our late cabbages, broccoli, and cauliflower and weeded the berry patch. The whole garden looks great! For the first time, we will have sweet corn that's "knee high by the Fourth of July" here in northern Minnesota. Wow, usually, we're lucky if it's six inches high.
We're anxiously waiting for Mamba (our very-much-a-pet Angus-Holstein heifer that we bred to an All Jersey last summer) to have her calf. She's a few days late but that's kind of normal for heifers. Since Lace, our hard-to-breed Shorthorn didn't get bred last summer, we'll (hopefully) use Mamba for our milk cow. We've been taking extra care to handle her udder and teats and she isn't too kicky, so we have hopes…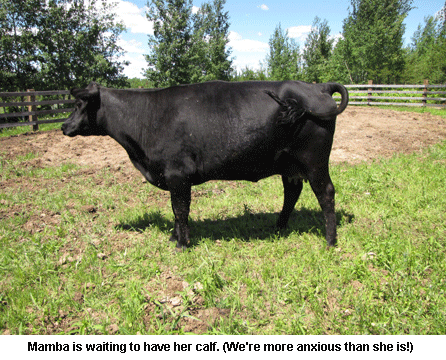 My flowers in the front beds are gorgeous. I have a dozen different peonies all blooming and the delphiniums are just starting. Luckily, they're so vigorous that they don't let weeds come in or ignore them when they do pop up.
I promised photos of the rockwork in the barn, so here's a glimpse from today to see how it's coming. When it's finished, we'll have to go around and mortar up any holes or open places. For now, I think it looks gorgeous and will last forever. Thanks to all who participated in the first laying of stone!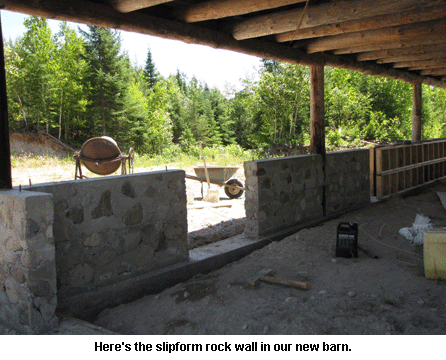 Have a great Independence day and think about the blessings you've received along the trail to your own self-reliance. — Jackie