Wednesday, September 9th, 2015
Every single day now, we're harvesting crops. As we were expecting rain, we pulled our two long rows of onions and a short one of shallots. All did very well. We had some of the largest onions ever. We ended up with four and a half 5-gallon buckets full of onions! I let them lay out in the sun, in the garden for two days then, because of forthcoming rain, I cut off the tops about two inches from the bulb as some of the tops were still green. I carried them up to the house and spread them out in the enclosed porch to finish drying down so they'll store well.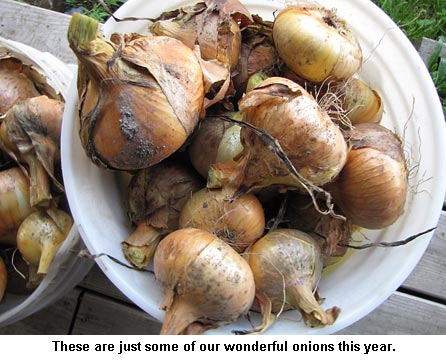 The darned bluejays are starting to get into our very rare Bear Island Chippewa flint corn so we're pulling several ears every day to keep ahead of them. This corn is very beautiful and will make lots of cornmeal as the cobs are about 9″ long with 10-12 rows of really big, fat kernels on each cob. And each plant made four or five stalks and most plants have four or five ears! Very productive…and early to dry down, too. We'll add this corn to our seed list for sure!
We harvested our first Sugar Salmon muskmelons from our small hoop house. They are a beautiful golden color with tan netting. And juicy and sweet, too. Another winner!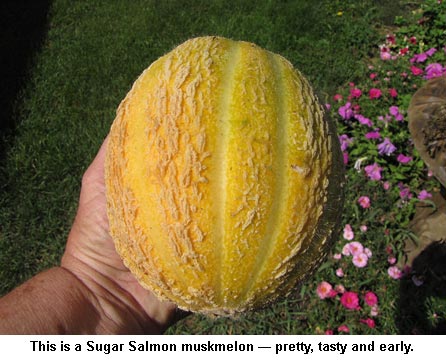 Will's busy burying our water line from the frost-free hydrant in the yard down to the one in the barn. It's not 8′ deep but we blow the line out with the air compressor after each use and he wanted it out of the way and laid with no dips to hold water. He dug the trench with our little backhoe attachment we bought from our friend Tom at a great bargain. Today Will's filling in the trench.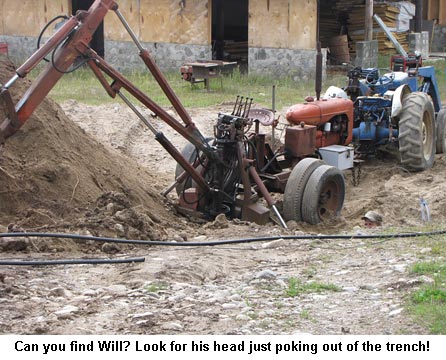 Yesterday we hosted a local garden club so we enjoyed talking about seeds, fruit trees, and plants as well as giving "the tour" of our place. The ladies enjoyed the tour and we enjoyed their company.
Our last two cows have just given birth. Mamba, our black milk cow, had a pretty gray heifer that we named Salsa and Lace, our "wedding cow" just had a huge bull. Darn; we really wanted to keep a heifer from her as she's getting older. Oh well, you don't always get what you want. The calves are all doing well and having fun playing together. — Jackie