Wednesday, October 19th, 2016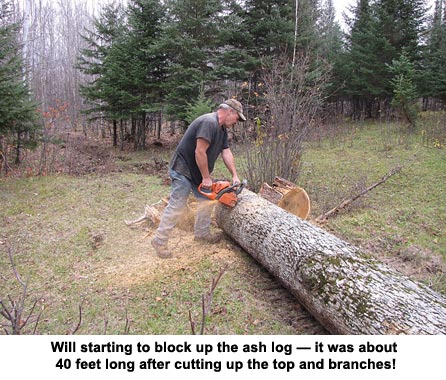 It was such a wet summer, we struggled to put up hay and work in the gardens. So that put us late getting some other stuff done — like firewood. We already had plenty in the woodshed, nice split and dry too. But we like to have it stuffed full — just in case. Last week Will found a broken off big ash tree down in the edge of the woods. Real big! He worked for a couple of days cutting smaller trees to get down to it. Then yesterday, he got it dragged out. Just the branches alone gave us half a cord, which we split and stacked before bringing out the main trunk.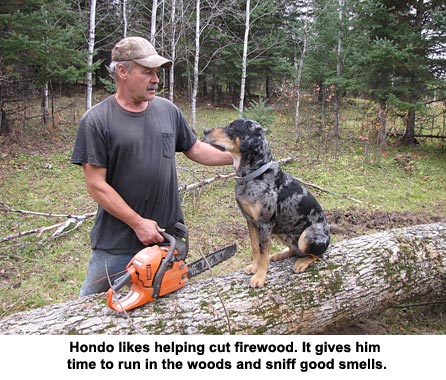 I was seeding some Early Red Bell peppers yesterday afternoon. They are hugely productive, sweet, and big too. I cut up the first batch to dehydrate. The second batch I cut into larger pieces to make Cowgirl Candy, which we really love. Then Will asked for help with the downed tree. Glad to take a break from the peppers, I hopped on the four wheeler and Will and Hondo drove the pickup to the woods. Hondo approved of the big log, running up and down on its full length. Will got it cut up into blocks, then we started splitting the blocks into pieces small enough we could lift into the pickup. (I'll admit, some I couldn't handle and didn't think Will should have either!)
We got 'em all home and this morning we split the whole works with our $100 tractor-mounted wood splitter. Now we just have to get them stacked and in the wood shed. Will took off with the truck to pick up some used tractor tires he'd bought on a Do-Bid online auction but he's anxious to get back so he can work on the stonework along the lower wall of our addition. Of course he wants to get that done before cold weather hits. It's coming along real nice and puts a lot of our "crop" of rocks to good use. (The addition has a cantilevered wall with joists extending out 2 feet over a block wall.) Will added treated plywood and lots of insulation board to back the new "foundation" of stone, mostly for looks as it doesn't support anything to any great extent.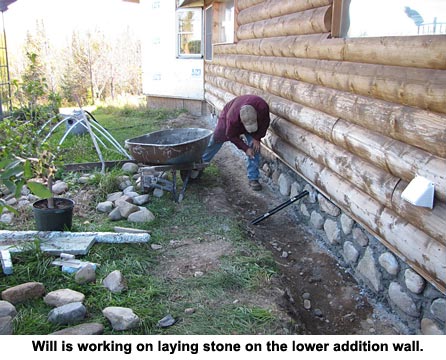 I'm still picking beans and am having such fun discovering some of the new varieties we've grown this year! — Jackie